When you shop through retailer links on our site, we may earn affiliate commissions. 100% of the fees we collect are used to support our nonprofit mission.
Learn more.
The Volkswagen I.D. Crozz Concept marks the beginning of a new, electric-powered era for the German automaker.
Unveiled at the Los Angeles Auto Show, the I.D. Crozz strongly hints at the shape and specification of a production model that VW says is due in 2020.
Don't expect every detail from this concept to become reality. The sliding rear doors and lack of any external side mirrors, for example, are typical show-car visual frosting.
Beyond those details, the styling isn't outlandish. With its coupelike side profile and Tiguan-like dimensions, the I.D. Crozz looks akin to a sports car on stilts.
The I.D. Crozz rides on the same platform that will underpin VW's electric-powered I.D. Buzz—a rectangular-shaped, 21st-century tribute to the original Microbus. That nod to Volkswagen's flower-powered past does not arrive until 2022, however. This means the upcoming production model based on the I.D. Crozz will officially launch the automaker's upcoming range of EVs. In total, VW states that it will offer 15 electric-powered models globally by 2025.

"The I.D. Crozz-based electric vehicle will be an affordable and stylish electric SUV—and there is more to come," says Hinrich J. Woebcken, president and CEO of Volkswagen Group of America. "The I.D. Crozz and the I.D. Buzz will help Volkswagen to kick off an EV revolution in the United States."
Powering the I.D. Crozz Concept are two electric motors, one located at each axle, coupled to an 83-kWh lithium-ion battery pack. VW lists total output at the equivalent of 302 hp. That power can be transferred to the front and rear axles, depending on where grip is needed most. During routine operation, power is routed to the rear wheels—something that bodes well for this electric concept car's sporting credentials.
Total range is estimated at 300 miles, a figure on par with claims for the upcoming Tesla Model 3 sedan. VW says improving recharging times is a priority with its upcoming range of I.D.-branded EVs. Using fast-charging infrastructure, the I.D. Crozz can theoretically recover 80 percent of battery charge in 30 minutes.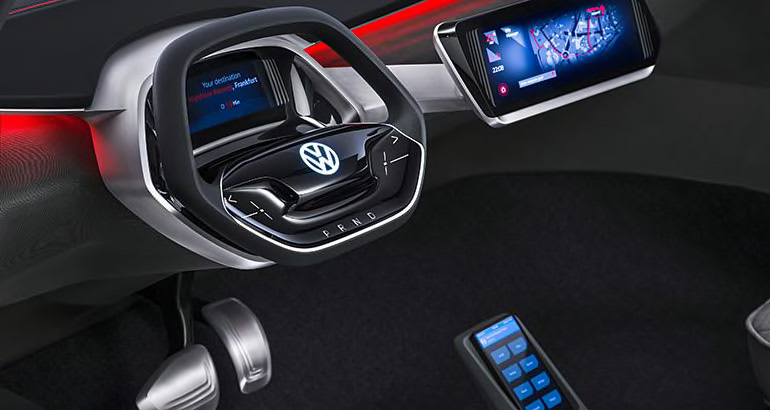 The cabin has an extremely open and airy layout that's free of buttons, knobs, or dials. This entirely touch-screen interior features two main panels, one located directly in front of the driver, with a larger 10.2-inch screen positioned in the center of the spartan dashboard.
The steering wheel is retractable. This is part of Volkswagen's I.D. Pilot self-driving system, which is being engineered for release in 2025. The system uses a radar, ultrasonic sensors, and four roof-top laser scanners, along with cameras mounted on the front and sides of the car.
Details are scarce about the system's ultimate limitations—such as where it can be used and up to what speed. VW has stated that it can be activated via voice commands or by touching the VW logo for 3 seconds. At that point, the steering wheel retracts and the car takes over driving duties.
Electric Cars 101
Electric cars are bringing some of the biggest changes the auto industry has seen in years. On the "Consumer 101" TV show, Consumer Reports expert Jake Fisher explains to host Jack Rico why these vehicles might not be as newfangled as you think.