When you shop through retailer links on our site, we may earn affiliate commissions. 100% of the fees we collect are used to support our nonprofit mission.
Learn more.
Tesla unveiled a reimagined Roadster on Thursday that is essentially a redesign of its very first vehicle but with amped-up promises for speed and performance, and a $200,000 price tag.
"The point of doing this," CEO Elon Musk said, "is to give a hardcore smackdown to gasoline cars. Driving a gasoline sports car is going to feel like a steam engine with a side of quiche."
The news comes as Musk's car company faces serious questions about its ability to mass-produce the Model 3, which has experienced delivery delays due to manufacturing issues.
Musk made the surprise announcement during a Thursday night event at the headquarters of Space X (another Musk company) in Hawthorne, Calif., just outside Los Angeles. It was organized so Musk could unveil the company's plans for a new electric big-rig.
Musk told the auddience that Tesla is making the car because fans have been asking for a new Roadster.
"We started Tesla with a sports car, a Roadster. So that baby got us going," he said at the event. "It was the foundation of the whole company. People asked us for a long time, when are you making a new roadster? We are making it now."
Shoppers interested in reserving a Roadster can do so already at the Tesla website, with a quoted base price of $200,000. Those interested in buying one of the first 1,000 produced can lock in a spot for $250,000. If they're not looking to be in that select Founders Series group, they will still be asked for $50,000. Tesla says deliveries will begin in 2020.
Built for Speed
If achieved, Tesla's promised performance numbers would be truly impressive:
From 0 to 60 mph in 1.9 seconds. Musk says it's the first time a production car "has broken 2 seconds."
Going a quarter-mile in 8.9 seconds. Musk says it's the first time that any production car has gone a quarter-mile in less than 9 seconds. Musk says these first two points would be world records.
Top speed is above 250 mph.
The 200 kilowatt-hour battery pack will give the car a 620-mile range. "You'll be able to travel from L.A. to San Francisco and back, at highway speeds, without recharging," Musk said.
"These numbers sound nutty, but they're real," Musk said.
The Roadster will have all-wheel-drive and employ three motors, Musk said. No information has been released yet on any safety or semi-autonomous systems for the Roadster.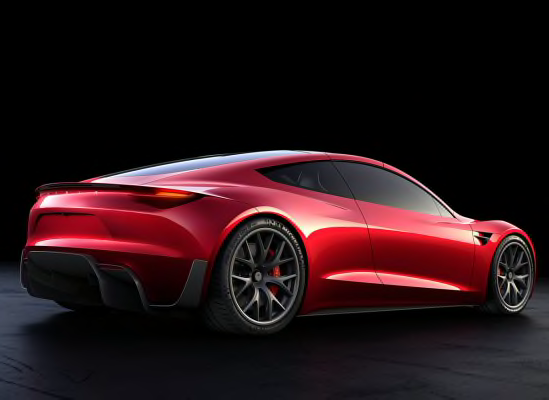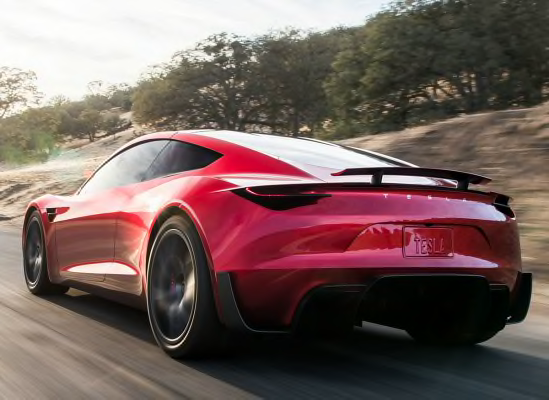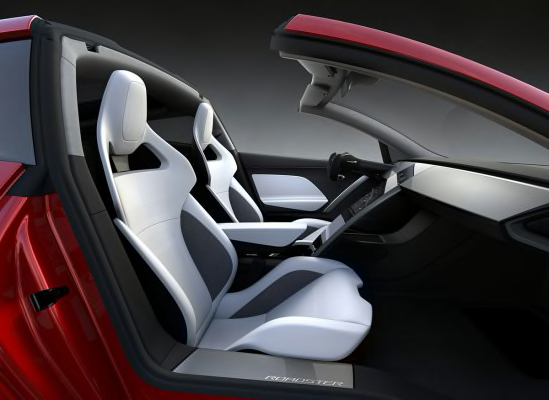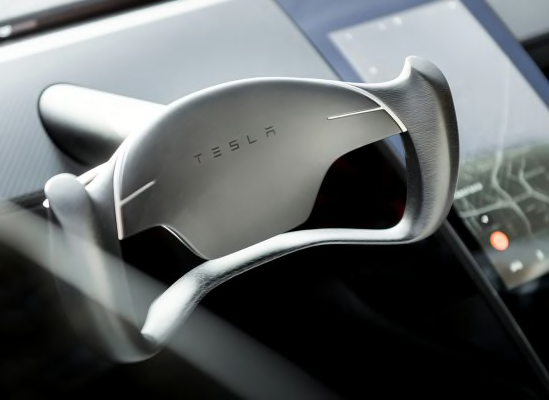 Back to the Beginning
Even though its name suggests a two-seater, Tesla says the Roadster will have four seating positions. There were no images released of the rear seat, but the roofline suggests that it may be very similar to a Porsche 911, where the rear seat is not much more than a briefcase pedestal. "OK," Musk said, "you can't put giant people in the rear seat."
But, he noted, the Roadster will have "tons of storage," Musk said at the unveiling. "It's a real car."
Tesla has come a long way since it first rolled out the original Roadster in 2008. Gabe Shenhar, CR's associate director of auto testing, drove one of the first models and found that version to be "quick—very quick."
He found the handling to be a strong suit and the ride to be jarring. But, in testimony to how long ago this was, the original Roadster did not have stability control, now standard on all cars.
"If nothing else," Shenhar wrote back then, "it's a sexy advertisement for the possibilities of electric propulsion."