When you shop through retailer links on our site, we may earn affiliate commissions. 100% of the fees we collect are used to support our nonprofit mission.
Learn more.
Consider yourself fortunate if you find yourself in the enviable situation where you face such a brutal decision: Which sports sedan should I buy? And if you've winnowed your options down to the BMW 3 Series and Mercedes-Benz C-Class, you have a tough choice to make.
Both the BMW and Mercedes are finely honed cars, worthy of lust, envy, and car payments. They offer all-wheel drive for those dwelling in winter's snowy misery and fire-breathing high-horsepower variants that can run with some of the most coveted sports cars in the world. The bottom line is that they both deliver satisfying driving experiences and provide comfortable and well-fitted cabins.
But the devil is in the details, and that's what separates these two Teutonic titans.
BMW 330i
The all-wheel-drive BMW 330i that we recently tested was fun to drive in typical 3 Series fashion. Handling is taut and agile, and the 330i tackles corners enthusiastically with quick turn-in response and limited body lean. Track-bound drivers will be rewarded with the BMW's strong grip and balanced behavior at—or even past—its cornering limits.
The 330i's 2.0-liter, turbocharged four-cylinder engine pulls strongly yet still delivers a commendable 26 mpg overall when paired with the slick eight-speed automatic transmission. We measured 0-to-60-mph acceleration at 6.9 seconds, falling right in line with the C300's turbocharged four-cylinder. Some of us miss the days when an inline six-cylinder engine was standard (and not all testers are enamored with the four-cylinder engine's rather unrefined tone). Today, you have to step up to the 340i and be ready to shell out an additional $9,150 for six-cylinder privilege.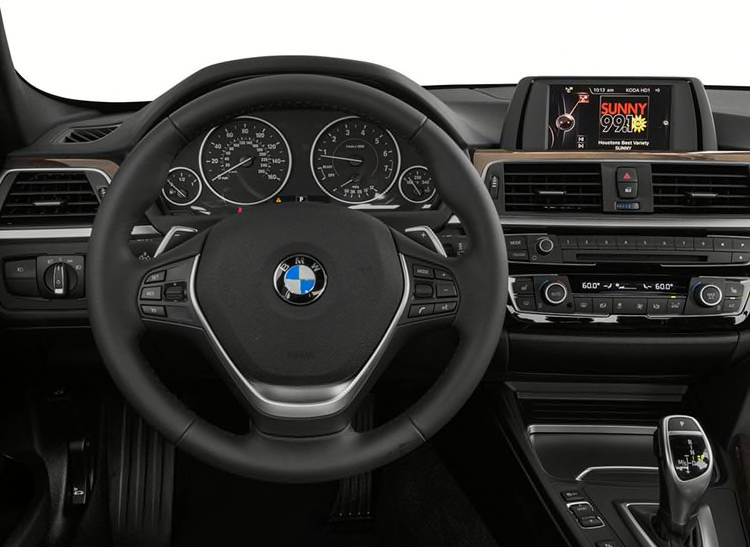 A couple of exclusives going for the 3 Series: You can still get one with a manual transmission, and it's available as a wagon—a rarity in this segment.
But the downsides of the 3 can irk even the most loyal BMW apologist: The controls and gear selector take some getting used to, and the rear seat is not the roomiest. The ride tends to be choppy. The latest C-Class is almost as engaging to drive, plus it has a more comfortable ride and a quieter cabin.
When it comes to picking which 3 Series to buy, for our money, we'd get the 330i. Opting for the no-cost Sport trim includes a sport suspension and sports seats. Buyers who want a ride that's less firm or seats that are less confining should consider getting the Luxury version and omitting the standard sports seats. We'd also add the Driver Assistance and Driver Assistance Plus packages to get expected safety features, including forward-collision warning, automatic emergency braking, and blind-spot monitoring.
Our tested 330i xDrive wasn't lavishly equipped, which shows how pricey options can boost the sticker price. Adding leather, moonroof, navigation, and the advanced safety gear brought the price of our tested car to $51,745. That's not inexpensive, but if you're ultimately interested in the sports sedan that's the sportiest to drive, many would argue that the 330i is worth every penny.
Read the complete BMW 3 Series road test.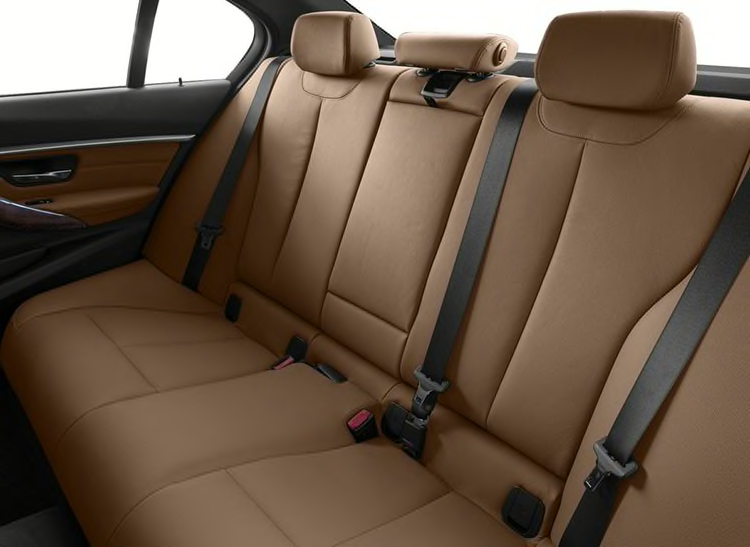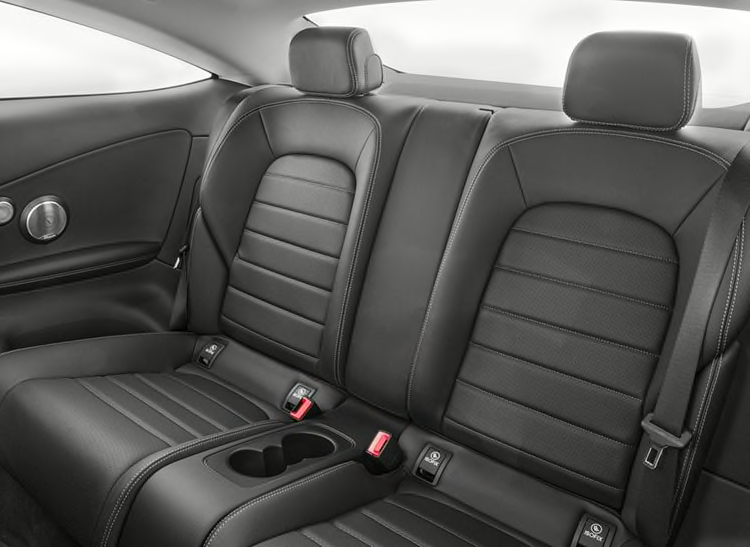 Mercedes-Benz C300
Our last tested all-wheel-drive C300 had a beautiful interior and delivered a driving experience that is close to ideal when it comes to balancing performance and comfort.
Sitting behind the wheel of the C300, you immediately feel and see just how plush the cabin is. The interior is dominated by swaths of wood, rows of meticulously crafted metallic switches, big silver speaker grilles for the fancy Burmester audio system, and big round vent registers that look like they were swiped from a steamship. By comparison, the rival BMW 3 Series cabin is much more businesslike: precise, clinical, and cold.
Despite the posh overall feel, the C300 is surprisingly engaging to drive. For a luxury car, the C-Class possesses remarkable agility. Setting brand reputations aside, when it comes to driving enjoyment, this Mercedes gives up little to its BMW archrival.
Like the 3 Series, we were always fond of the C-Class's slick six-cylinder engines. And though it may seem a bit odd at first to hear and feel the thrum and tingle of a four-cylinder engine in a Mercedes, our tested C300's 2.0-liter turbo's 241 horses provide ample punch, as evidenced by a commendable 6.8-second dash to 60 mph.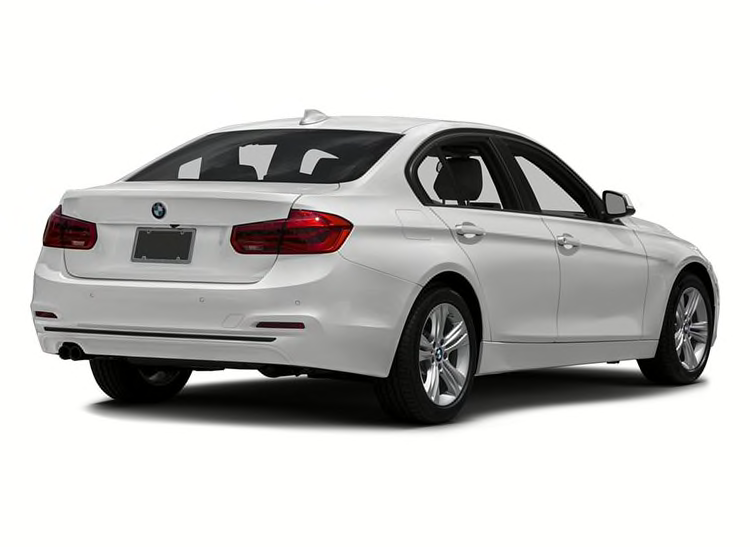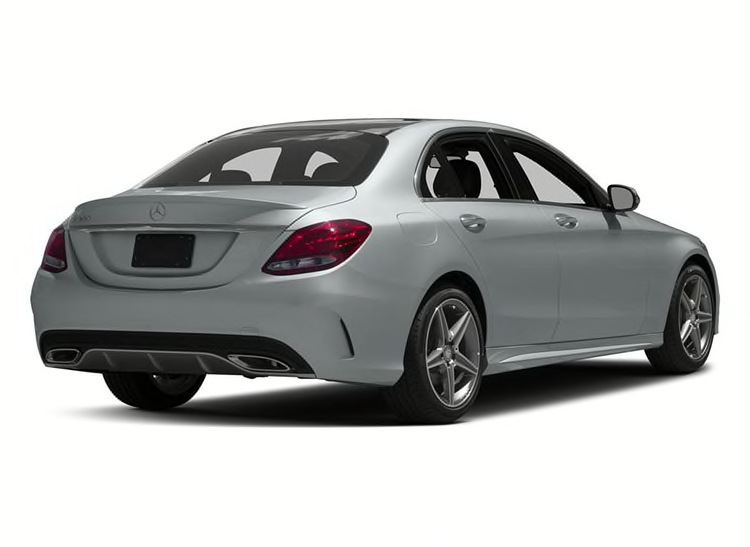 The seven-speed automatic transmission works well, but we rank it half a notch lower than the eight-speed unit serving in the BMW. Shifts are smooth and timely, but they are noticeable and some part-throttle downshifts may not be swift enough in Comfort mode. Plus, the four-cylinder engine sounding somewhat like a diesel detracts from the premium experience.
We measured 26 mpg overall—commendable for a quick 3,670-pound AWD sedan.
The arguments against the C-Class? Well, some commonly expected features, such as phone voice commands, are not standard. And brace yourself for sorting out the car's complex controls, with its combination of a controller knob and touchpad on the console that make even simple selections, like changing an audio source, a distraction.
We're not fans of the shifter design—a low-effort wand on the right side of the steering column that looks a lot like a wiper stalk. If you're new to Mercedes, you'll hit it the first few times it starts raining.
The opening bid for a base, rear-wheel drive C300 starts around $40,000. But our test car, which represents what most people buy, rang in at $47,560. It included 4Matic all-wheel drive, blind-spot assist, a sunroof, heated seats, and the Premium 2 package (Burmester stereo, LED headlights). Among compact luxury sedans, this is the higher end of the price spectrum. Like with the 330i, making liberal use of the options list can send the sticker into the stratosphere.
Posing the question of "Which one would you buy?" in an informal poll in our office showed an almost dead heat: Eight chose the 3 Series, and seven went for the C-Class. One wise guy threw a monkey wrench in the process and voted for the Audi A4—a car that we also love. But that's another story for another day.
These cars are so closely matched that only a single point separates them in our road-test scores.
Perhaps this is one of the best lines to come out of the ensuing office debate: "I'd date the 3 Series, but I'd marry the C-Class."
Which one would you choose and why? Leave us a message in the comments section below.
Read the complete Mercedes-Benz C-Class road test.