When you shop through retailer links on our site, we may earn affiliate commissions. 100% of the fees we collect are used to support our nonprofit mission.
Learn more.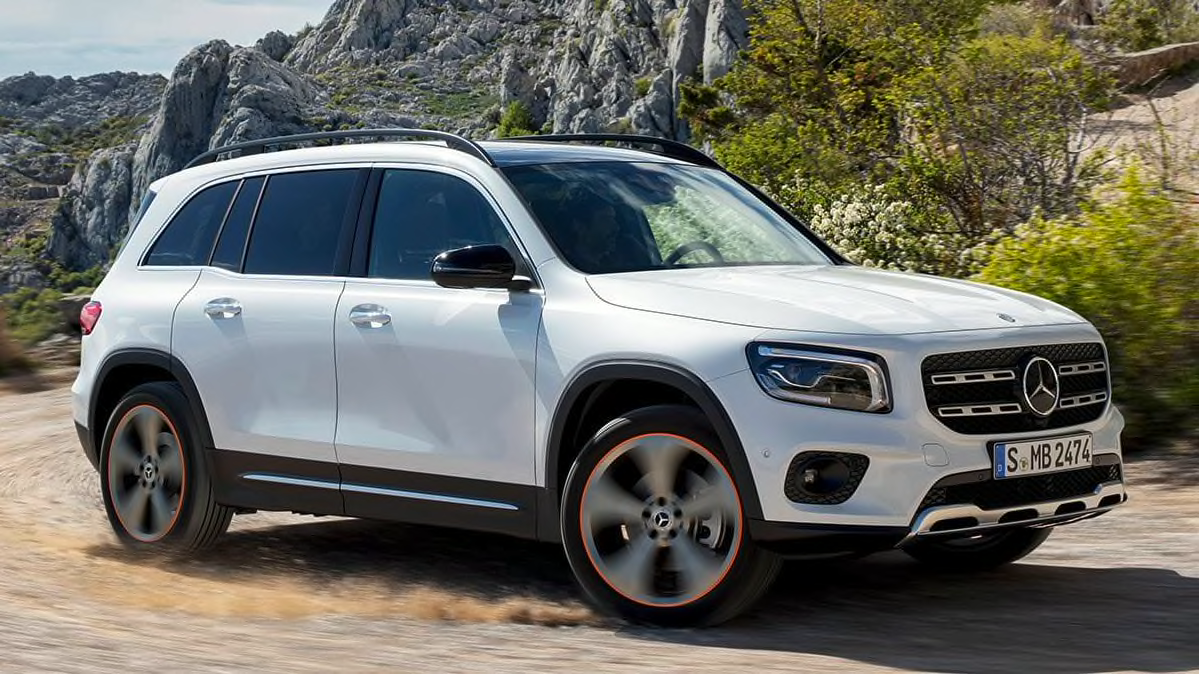 The all-new Mercedes-Benz GLB SUV is destined to slot between the GLA and the GLC later this year. The GLB is boxier than those SUVs, with a trend-bucking rugged, upright appearance. As the U.S. auto market has shifted away from cars toward SUVs, Mercedes is using the GLB to expand its own offerings by filling in small remaining niches among its existing, traditional SUVs.
The GLB will be offered in five- and seven-passenger configurations, by way of an optional third-row seat, despite its compact dimensions.
Here is what we know so far.
What it competes with: Audi Q3, BMW X1, Land Rover Discovery Sport, Volkswagen Tiguan
What it looks like: Design that looks evolved from the former GLK small SUV.
Powertrain: 221-hp, 2.0-liter turbocharged four-cylinder and 302-hp, 2.0-liter turbocharged four-cylinder; 8-speed automatic transmission; front- and all-wheel drive
Price: $36,600
On-sale date: Late 2019
Outside
The overall dimensions are quite similar to a Honda CR-V. It's 5.1 inches longer than the GLA but 1.7 inches shorter than the GLC. The design looks like an evolution of the sharp-edged GLK, which was the predecessor to the more rounded GLC.
Mercedes says body cladding and other touches, such as door seals, were designed with dirt-bound adventure in mind. Looking beyond the marketing spin and the over-dressed concept version that made the show circuit rounds earlier this year (see below), this GLB looks classy but no more rugged than a Kia Telluride.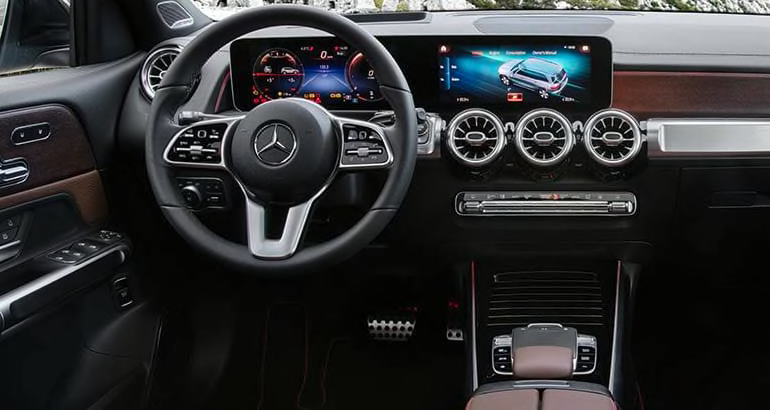 Inside
The GLB will be offered in two- and three-row configurations, a rarity among compact luxury SUVs. The second-row seats can be moved forward up to 6 inches to better accommodate passengers and cargo in the back.
Third-row passengers have cup holders, storage compartments, and USB type C ports, which are newer and smaller than most familiar USB ports.
The dash is dominated by what looks like a single wide screen that stretches across the dashboard for the instrument panel and infotainment system. (It is a pair of 7-inch screens positioned together.)
Its infotainment system is the Mercedes-Benz User Experience, which is used in several other current models from the automaker. MBUX is distinguished by its ability to learn and proactively respond, such as adjusting climate, music, and even navigation, based on past observations and current conditions. It responds to natural language commands, activated by saying, "Hey, Mercedes." It operates much like Alexa or Siri voice assistants.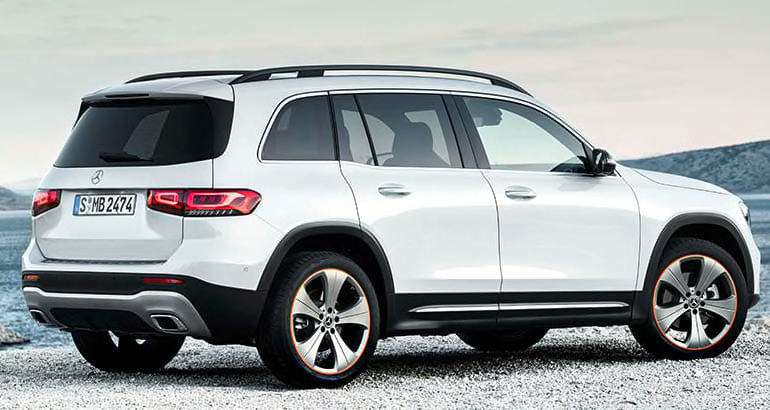 What Drives It
The GLB will be offered in front- or all-wheel-drive configurations. The base engine in the GLB 250 is a turbocharged 2.0-liter four-cylinder that produces 221 hp and is teamed with an eight-speed dual-clutch automatic transmission. Mercedes estimates the GLB 250 4Matic will go from 0 to 60 mph in 6.9 seconds.
The 2021 Mercedes-AMG GLB 35 gets a more powerful 2.0-liter engine with 302 horsespower routed to all four wheels. The company cites a 5.1-second 0-60 mph time. This version is planned to go on sale in the U.S. by late 2020.
The AWD version gains an additional driver-selected mode to adjust the engine and brakes for light-duty off-roading. That version includes graphic displays of the vehicle's angle up or down, and technical settings to help the driver with off-pavement excursions.
Safety and Driver Assist Systems
Forward collision warning and automatic emergency braking with pedestrian detection are standard.
Several advanced safety systems are available through the Driver Assistance package, including adaptive cruise control, lane keeping assist, lane centering assist, front cross traffic alert, and rear collision mitigation, which issues a warning and applies the brakes when an impact appears imminent. Blind spot warning is optional.
CR's Take
Smaller, car-based SUVs have been selling very well in the U.S., and it's clear that automakers are filling every gap in the market with SUVs of all sizes, shapes, and prices.
We've tested the two Mercedes SUVs that the GLB is slated to fit in between, the GLA and the GLC.
The GLA hasn't impressed us in testing, and it has had below-average owner satisfaction, according to our Annual Auto Survey. The GLC, on the other hand, did very well in our road test but has suffered below-average reliability. As a result, neither one is currently recommended.
The GLB looks like a promising package. Its upright stance and size should be appealing to buyers. We just hope it performs more like the impressive GLC than the disappointing GLA, with which it shares much of its powertrain and platform.