When you shop through retailer links on our site, we may earn affiliate commissions. 100% of the fees we collect are used to support our nonprofit mission.
Learn more.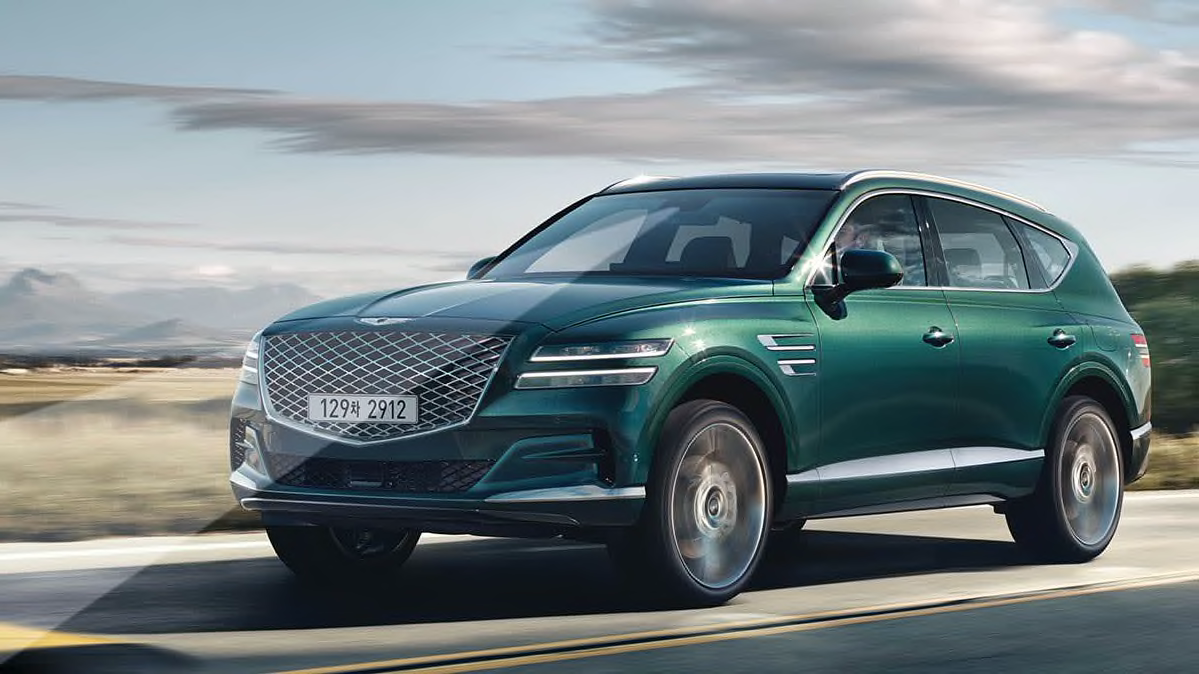 The 2021 GV80 is the first SUV from Hyundai's luxury brand, Genesis. With its split headlights and prominent grille, the three-row hauler may have a striking exterior presence, but the GV80's interior is quite understated. We predict its mix of luxury and practicality could make it a serious player in the growing luxury SUV category.
What it competes with: Lincoln Aviator, Lexus RX350 L, Cadillac XT6, Infiniti QX60, Acura MDX, BMW X7, Mercedes-Benz GLS.
What it looks like: Stately and elegant, its massive grille and small, bisected headlights give the vehicle a slightly menacing presence.
Powertrains: Turbocharged 2.5-liter and 3.5-liter engines; 8-speed automatic transmission. Optional all-wheel drive.
Price: $50,000 to 60,000 (estimated).
On-sale date: Summer 2020.
CR's Take
Since the Genesis brand debuted in 2015, its G70, G80, and G90 sedans have impressed our testers and our members alike, excelling in both road tests and member surveys. Now, the brand is adding a luxurious SUV with an optional third row.
When the GV80 goes on sale in summer 2020, we predict it will be a formidable competitor in its segment. And if the pricing of other Genesis vehicles is any guide, it might be a more affordable alternative, too.
Outside
Like the new G90, the GV80 leads with a formidable grille (Genesis says it's shaped like a crest). Bisected headlights—which Genesis calls Quad Lamps—match the air vents on the front fender. The look is muscular and antagonistic, like an animal focusing its eyes and baring its teeth before an attack. Both 19- and 22-inch wheels are available.
Although the most striking elements of the GV80's design appear to be the result of entirely independent invention, the SUV's overall presentation carries echoes of the Lincoln Aviator and Infiniti QX60, and the fender arches carry a whiff of the Bentley Bentayga.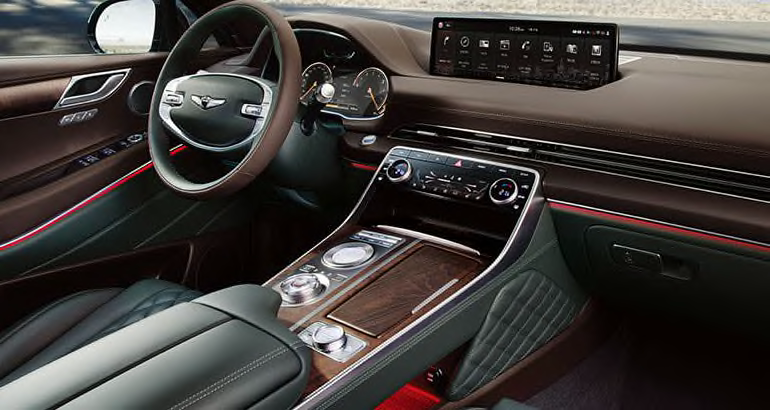 Inside
The GV80's interior is both understated and elegant. Genesis says it's developed around the concept of "white space," which is the design term for an intentionally empty part of a page or drawing. There certainly isn't much visual clutter, which is something we appreciate. Less clutter means less driver distraction.
There's a two-spoke steering wheel, a 14.5-inch touch screen at the top of the center of the dashboard, and knobs and buttons for commonly used tasks. The volume knob is located between the seats, as is the case with many newer Audi and Mercedes-Benz vehicles, and the gear selector combines a push button for park and a rotary control for gear selection. A touchpad with handwriting recognition is an alternate method of controlling the touch screen.
If other Genesis vehicles, such as the updated G90, are any guide, the GV80's interior fit and finish will be excellent. Its most visually striking features are quilted seats and a minimalist dashboard design. The dash is dominated by a vent grate that spans from the steering wheel to the passenger side. Accent lighting is also available.
At least in Korea, the GV80 will be offered with a choice of two and three rows of seating. Heated and ventilated seats are available in the first two rows, and Genesis says the "active motion" driver's seat will inflate and deflate individual air compartments within the seat. The automaker claims it reduces fatigue, and it sounds similar to a feature in newer Mercedes-Benz vehicles that automatically makes small adjustments to the driver's seat. In the Benz, it feels like a very subtle massage.
Genesis has not responded to our requests for more information about the GV80 that will sell in the U.S., but we will let you know when we know more.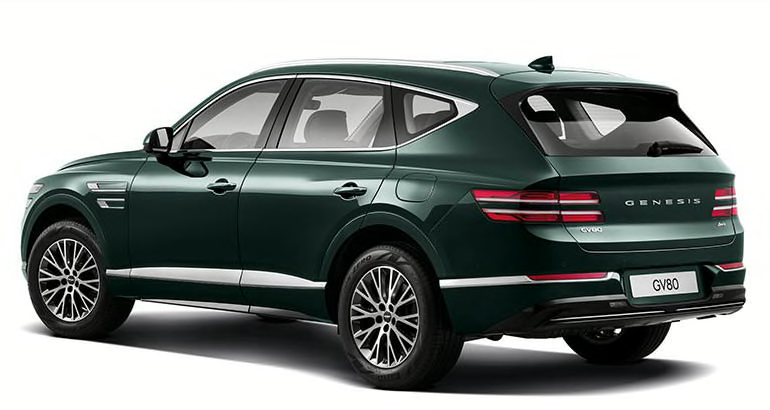 What Drives It?
Although Genesis is part of Hyundai, the GV80 does not share its underpinnings with the Palisade SUV, which is based on a front-wheel-drive design. Instead, it rides on a unique rear-wheel-drive platform. All-wheel drive is optional.
Two turbocharged engines will be offered, a base 2.5-liter four-cylinder and an optional 3.5-liter V6. Both will be paired with an eight-speed automatic transmission.
Safety and Driver Assistance
Genesis says the GV80 will come standard with forward collision warning, automatic emergency braking that can also detect vehicles approaching from the side in addition to pedestrians, blind spot warning, rear cross traffic warning with emergency braking, and a camera that monitors the driver's attention level.
Driver assistance systems include an adaptive cruise control that Genesis says can "learn" and adopt the driving characteristics of the car's human driver. There's also an upgraded version of Hyundai's Highway Driving Assist feature, which will be able to follow lane markings; control steering, acceleration, and braking; assist the driver in changing lanes; and automatically adjust the distance between the car and the vehicle in front. It can also recognize speed limits on highways and adjust the vehicle's speed accordingly.
We will test these and other features when we purchase our own GV80 as soon as it goes on sale.