When you shop through retailer links on our site, we may earn affiliate commissions. 100% of the fees we collect are used to support our nonprofit mission.
Learn more.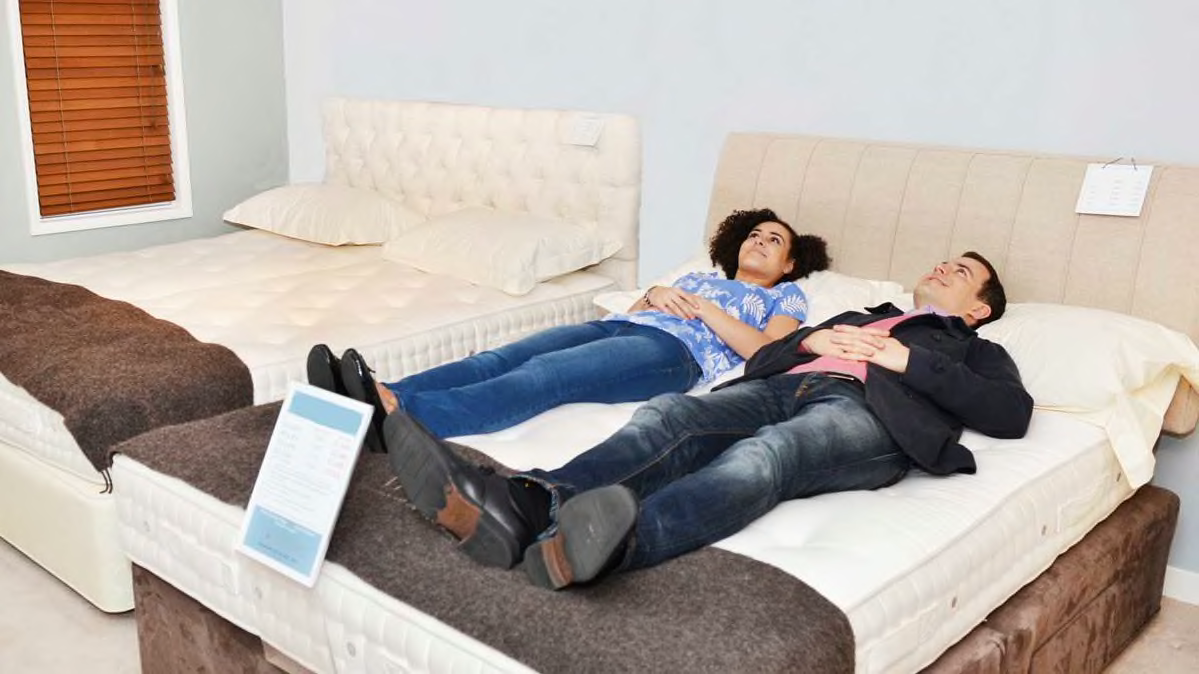 Is it better to buy a mattress online or in-store? That's a complicated question, without a tidy answer. What we can tell you, however, is which mattress retailers are best, according to Consumer Reports members.
The list below includes both online and in-store merchants, and our data shows that people tend to be equally happy purchasing a mattress either way. Among our members, more than 8 in 10 who bought a mattress online (88 percent) and in-store (82 percent) reported being satisfied with their experience.
These are just some of the findings from our Winter 2019 Mattress Retailers Survey, in which more than 4,800 members gave feedback about their recent shopping experiences, both online and in-store.
Members dished about retailers' mattress selection, sales service, and customer support, as well as whether floor models were clean and delivery was on time. We also got into price: How much did they pay, how happy they were with that price, and did they haggle?
Using our data, we created ratings for 16 mattress retail chains as well as independent retailers.
One clear trend emerged: Buying a mattress online is quickly becoming the new normal. Among CR members, 40 percent who bought a mattress between January 2018 and March 2019 made their purchase online—more than a threefold increase in six years.
"It is possible that online mattress sales may overtake in-store sales within the next few years," says Martin Lachter, a Consumer Reports survey project leader. "But the mattress market is still evolving, and many people still prefer to shop for mattresses in a brick-and-mortar store."
Below are the mattress retailers that rank highest for overall satisfaction in our mattress survey.
For each retailer, we picked a top-performing model from our mattress ratings. (CR members with digital access can read our ratings and reviews of those.) And you can read more about mattresses in our mattress buying guide.
Tuft & Needle
Founded in 2012 by two software engineers, Tuft & Needle is a mattress-in-a-box company that offers two beds, the T&N and the Mint. It mainly sells mattresses on its website, though you can also try them out in one of its seven stores nationwide, or at Lowe's or Crate & Barrel.
CR members seemed to be very happy with the prices they paid for a mattress at Tuft & Needle, which was a median of $758 in our 2019 survey, up from $661 in our previous survey. Tuft & Needle makes only two mattresses, which likely explains the store's mediocre rating for mattress selection in our survey.
Sales service and customer support both received top marks, as did on-time delivery and delivery quality.
Amazon.com
According to the survey, price matters a little more to online purchasers than those who buy in-store, and online purchasers on average report paying less for their mattresses. Amazon is a great example of a very low median price paid for an online mattress. As you might expect, the online retailer offers a wide selection of inexpensive mattresses from various manufacturers. Of the CR members who bought a mattress at Amazon, the median price paid was $456, compared with $1,205 for all mattresses members bought.
Amazon's mattress selection is impressive: In addition to its own AmazonBasics brand, you'll find brands with high-ranking mattresses in CR's tests, such as Casper, Sleep on Latex, and Tuft & Needle. In addition to price, members gave Amazon favorable marks for selection, customer support, on-time delivery and the quality of the delivery service.
The Original Mattress Factory
The Original Mattress Factory is a regional retailer, with 111 stores spanning from the East Coast to the Midwest, but it also sells mattresses online. Prices for a queen-size mattress at this retailer range from $230 to more than $1,300.
In terms of selection, CR members who bought a mattress here generally rated it well. And as for the cleanliness of floor model, sales service, on-time delivery, and the quality of the delivery service itself, CR members were thrilled.
Costco
You wouldn't think to find decent mattresses in the same place you buy giant bottles of ketchup and five-box bundles of toothpaste, but Costco sells mattresses, too. Its Novaform line performed fairly well in our ratings.
CR members paid a median price of $799 for a mattress at Costco, which is more than the $729 members reported in our previous survey. However, those who shopped at Costco were not especially excited about its sales service, for which it received only a middling rating. This retailer had better than average marks for customer support, floor-model cleanliness, on-time delivery, and delivery quality.
Worth noting: Sixty percent of members who bought a mattress from Costco made their purchases online. It may or may not be related to the fact that most Costcos won't allow you to try a mattress in the store.
Saatva
Saatva is less than a decade old and sells its mattresses online only. In our survey, Saatva earned top marks for sales service, customer support, and delivery quality. It was also rated favorably when it came to on-time delivery and the quality of its delivery.
But CR members weren't overly thrilled about this company's price and selection—it receives only so-so ratings for both. The median price that members paid was slightly higher in our 2019 survey than in our previous mattress retailers survey: $1,250 compared with $1,186.
Casper
CR members think highly of Casper's sales service, customer support, on-time delivery, and delivery quality.
Casper only got a so-so rating for mattress selection, which makes sense, given it carries just four models: its signature foam Casper, a hybrid foam-innerspring model called the Casper Hybrid (read CR's Casper Hybrid ratings), the all-foam lower-priced Casper Essential (read CR's ratings of the Essential), and the foam Casper Wave.
Casper's pricing falls between two other popular mattress-in-a-box companies, Tuft & Needle and Avocado—members paid a median price of $1,048 for a mattress from Casper as opposed to $758 for one from Tuft & Needle and $1,553 for a mattress from Avocado. Casper's Essential mattress, however, sells for $595.