How to Find the Best Medicare Part D Drug Plan
A CR analysis found huge price differences on plans within ZIP codes, sometimes even at the same pharmacies. Here are tips on how to save hundreds on your drugs each year.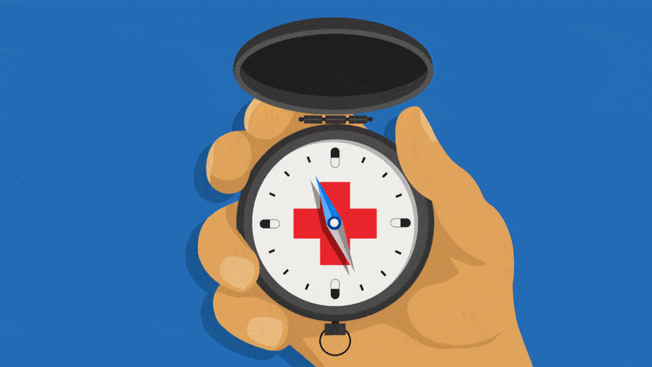 When Damian Birkel, 66, fills his prescriptions each month at his local pharmacy in Winston-Salem, N.C., he has the pharmacist run more than a dozen of his meds through his Medicare drug coverage plan, called Part D, and pays cash for three more. For those, he uses GoodRx, a company that provides discount coupons. 
The owner of a small consulting firm, Birkel says using the discount coupons is the only way he can afford meds not covered by his plan. In fact, the $500 he saves with the coupons is enough to cover his 2021 Part D monthly premiums. So far, he says he's fairly satisfied with the arrangement. 
But now he and his wife are among the roughly 48 million Americans enrolled in a Part D plan who must decide by Dec. 7, 2021, whether to reenroll in the same plan for next year or shop for a new one. 
Because much can change from year to year, it's not as straightforward a decision as it might seem.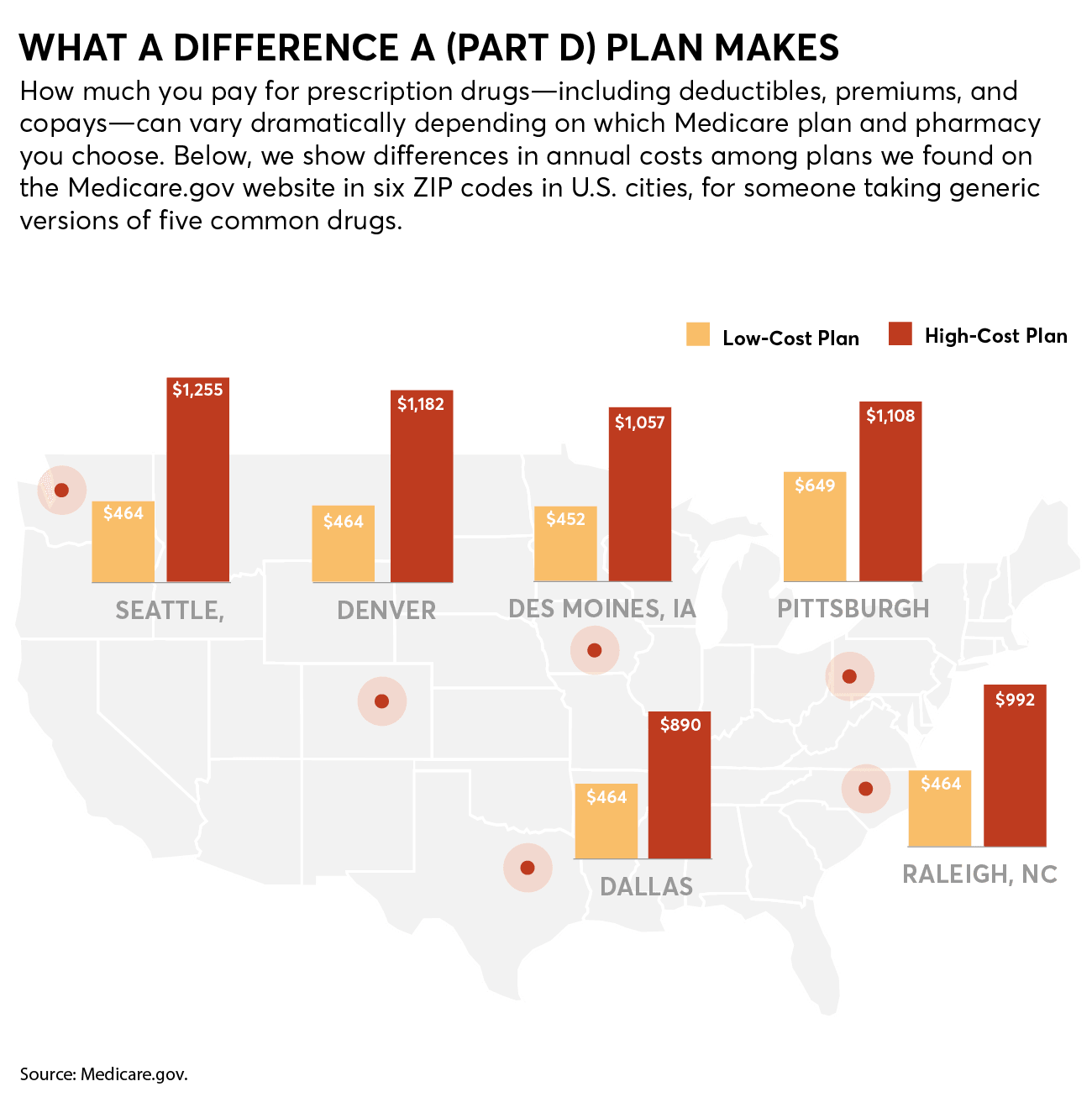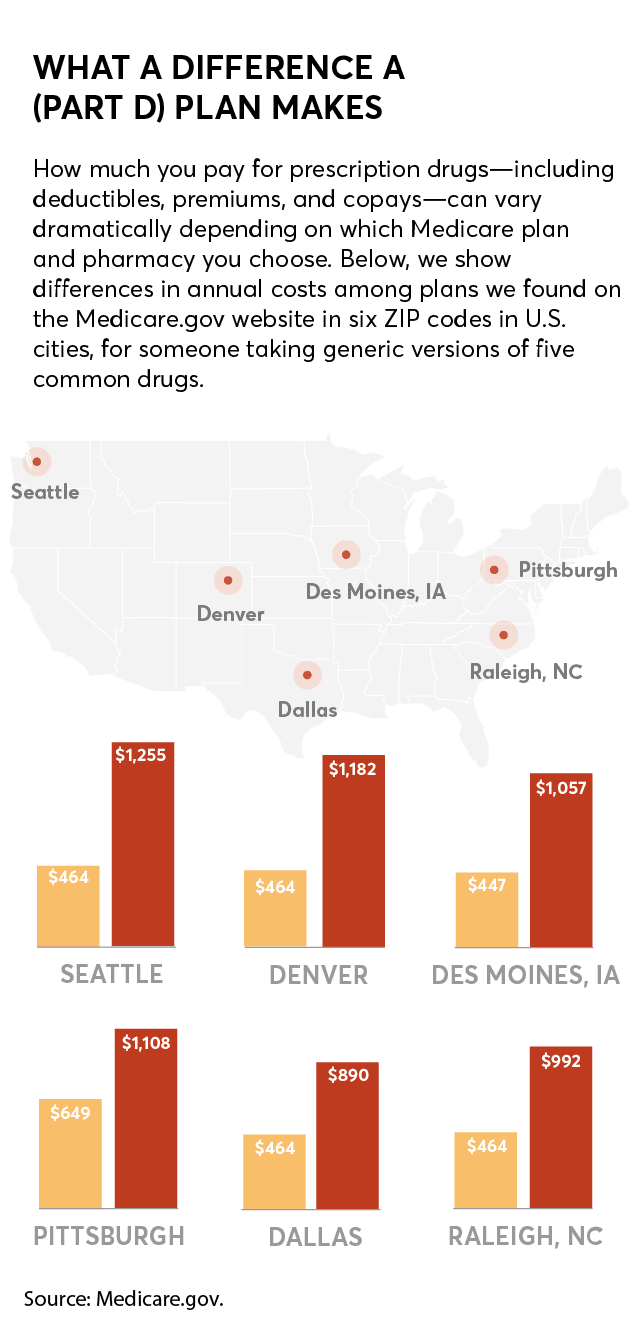 This is particularly true if you take insulin for diabetes, which can be costly. In 2022, many more Part D plans will offer certain insulin for a $35 copay, even before the deductible is reached, says Stacie Dusetzina, PhD, associate professor of health policy and a drug cost expert at Vanderbilt University in Nashville, Tenn. But it will take some work to identify them.
Even if you don't take any medications, you shouldn't skip signing up for a plan, Dusetzina says. That's because Medicare imposes a penalty—1 percent per month added to the Part D premium—if you don't sign up when you turn 65.
"Eventually you'll probably need medication, so you'll want to be covered," she says. The best solution in this circumstance, she says, is to sign up for a plan with a low or no-cost premium.
For those who do take medications and need to renew for next year, consider these steps as you go through the Medicare Part D sign-up process.
Start by adding all the medications you take into the Medicare.gov tool, including the dosages, quantity, and frequency. Your goal is to find a plan that covers all or as many of your meds as possible, says Dianne Savastano, founder of Healthassist, a healthcare consulting firm for consumers. 
Leaving one of your meds off the list can cost you hundreds of dollars. For example, for the pharmacies we selected in our analysis, when we left off the generic version of Celebrex in Dallas, a plan called Wellcare Value Script was the least expensive, coming in at $250.80 for the year, including premiums, at a preferred pharmacy. But had we included that drug, the same Wellcare plan would've cost $759.60, while a different plan, Humana Walmart Value Rx Plan, would've been the cheapest, at just $463.56 through a preferred pharmacy.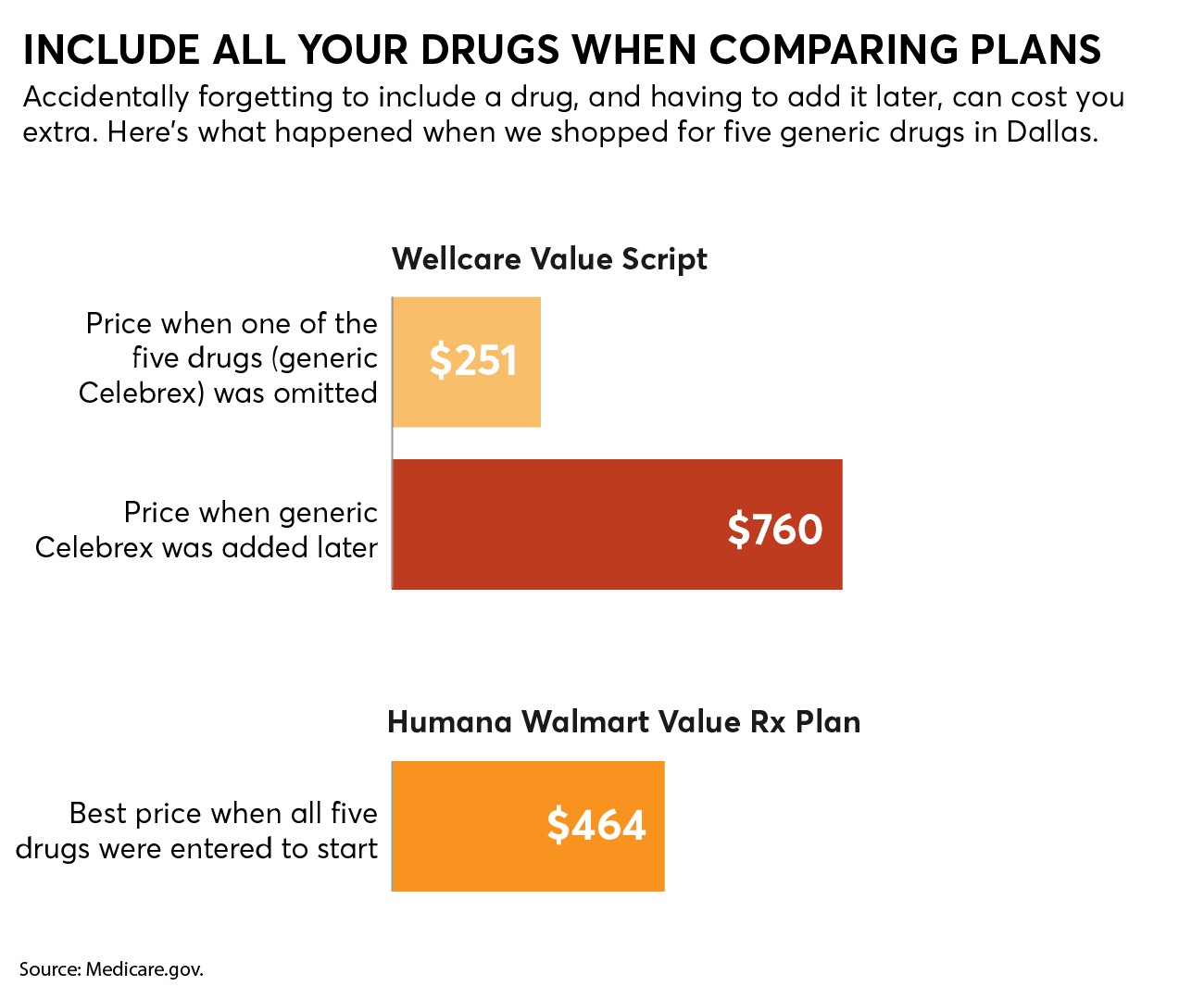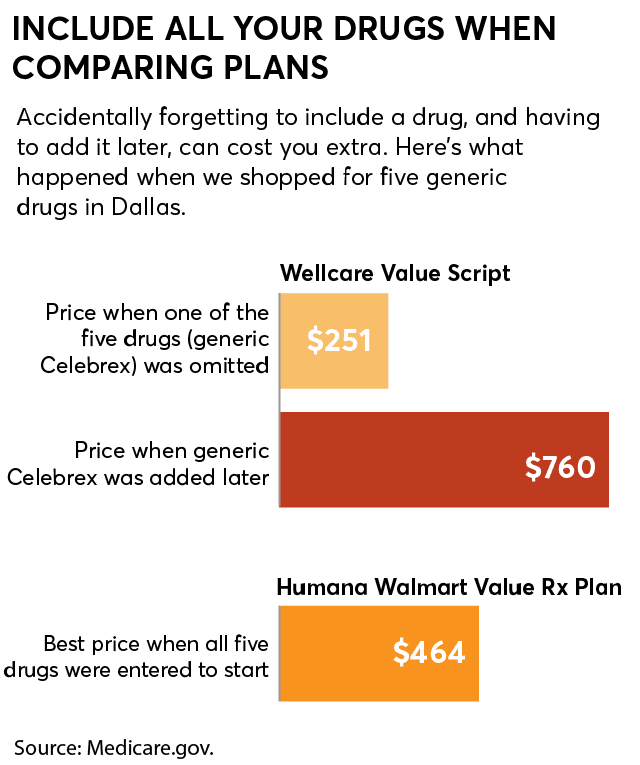 Do a Thorough Pharmacy Search
Determining which pharmacies in your area are preferred vs. in-network might be the most confusing part of signing up for a Part D plan, says Stephen Schondelmeyer, PharmD, a professor of pharmacoeconomics at the University of Minnesota in Minneapolis.
When we sorted by "lowest drug + premium cost" using the Medicare plan finder tool, which is the default setting, our spot check found that "preferred pharmacies" might offer some of the lowest prices on generic meds in particular. 
Take, for example, two plans in Denver. For our list of medications, with the Humana Walmart Value Rx plan you would spend $463.56 on the plan's premiums plus annual drug costs if you filled your prescriptions at Walmart, a preferred pharmacy. But those same drugs at that same pharmacy would cost $1,182 if you signed up for the Wellcare Value Script plan, which doesn't include Walmart as a preferred pharmacy.
On the other hand, if you did go to one of Wellcare Value Script's preferred pharmacies, in this case a Safeway, you'd pay $670.80. That's still more expensive than the Humana Walmart plan using a Walmart pharmacy but a lot less than using a nonpreferred pharmacy. 
The problem is, determining which pharmacy in your area is preferred for each Part D plan can be complicated. Here are some tips. First, using Medicare's plan finder tool, select your usual pharmacy as well as up to four additional ones when prompted, then click "Done." Next, when the results are displayed, look for pharmacies with the green "Preferred" bar next to them. You can continue to return to the pharmacy section to add or remove stores, or search using the map function. 
Then look for the pharmacy and Part D plan that have the lowest total amount for both drug and premium cost.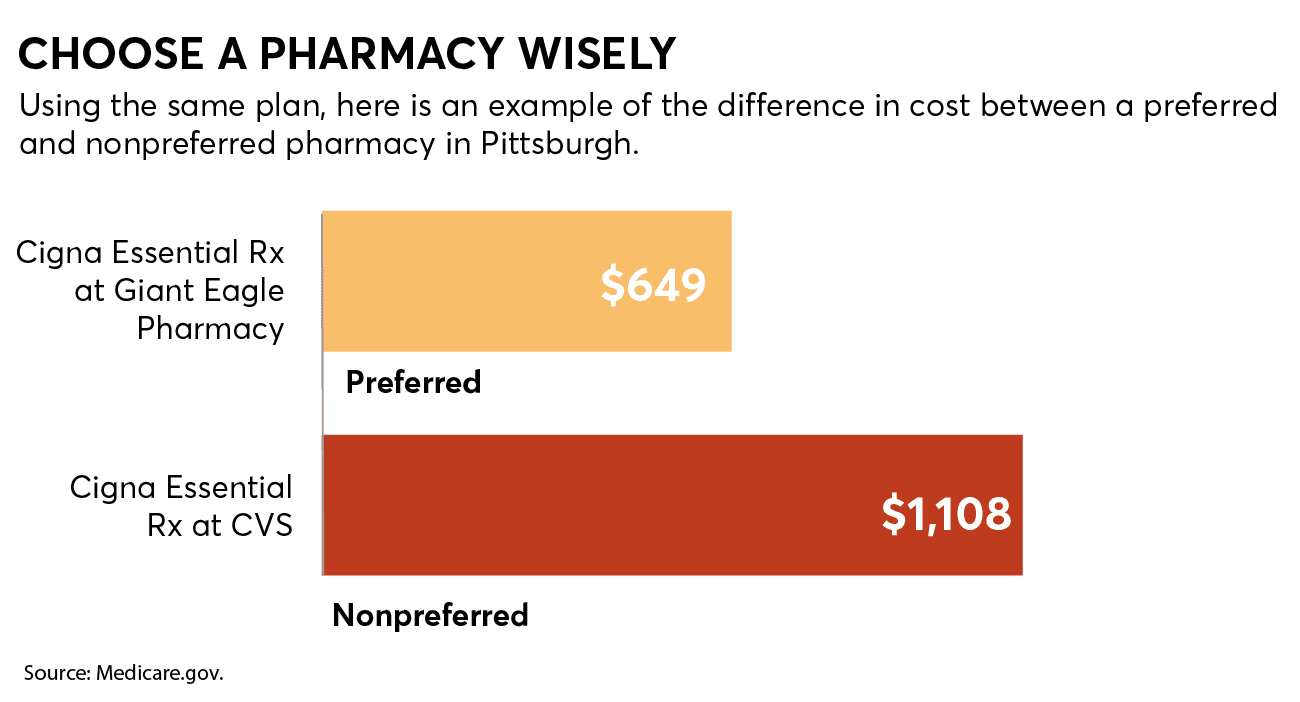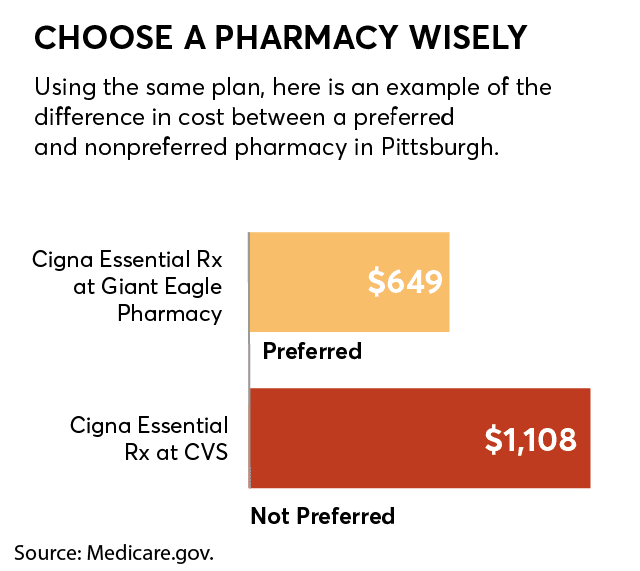 Consider the Doughnut Hole
In Medicare Part D, that is what you fall into when your annual drug costs (not including premiums) reach $4,430. It's a gap in coverage that requires you to start shelling out 25 percent of the cost for brand-name or generic drugs. Once your total drug costs reach $7,050, you climb back out of the doughnut hole and you pay just 5 percent of the cost of the drug or $3.95 (for a generic) or $9.85 (for a branded medication), whichever is greater.
A person taking the five generics we looked at in our sample comparisons would never spend enough to reach the doughnut hole. But a person who requires more expensive medication easily could. (If this is your situation, you may want to consider checking a Medicare Advantage plan to see if you could lower your costs.)
To find when you'd hit the doughnut hole, see the "Estimated Total Drug + Premium Cost" section, and then look under "When you'll enter the coverage gap." If your costs are high enough, it will list which month you'll have spent more than $4,430. If you want to stay out of the doughnut hole, look for plans in which the total amount you'd spend on drugs stays below the doughnut hole threshold of $4,430, if possible.
Sometimes you can save on drugs by paying cash instead of using insurance
In fact, GoodRx, the drug discount coupon provider, says 34 percent of its customers are people who already have Medicare coverage, 
GoodRx isn't the only game in town for discount cash options. Last year, Amazon began selling many prescription drugs in all states except Hawaii, Illinois, Kentucky, Louisiana, and Minnesota. The seller offers some generic drugs—except for controlled substances—with a six-month supply starting at just $6.
Another option: A family-owned company, ScriptCo, launched in 2020, offers all generic medications, including insulin, at wholesale prices after you pay an annual membership fee of $140, or $50 for three months. ScriptCo is licensed in all states except Alabama, California, Montana, North Carolina, and Tennessee. (ScriptCo also doesn't ship controlled substances.) 
Damian Birkel uses GoodRx to pay for drugs his Part D plan doesn't cover and is happy that that allows him to fill all his prescriptions at a single pharmacy. "Otherwise, I'd be schlepping to four different pharmacies in search of the lowest prices," he says.
Ideally, you want to get all your medications at a single pharmacy, Schondelmeyer says, so that records of everything you're taking, including vitamins and minerals or herbals, can be kept. "That way, the pharmacist can keep an eye on possible dangerous interactions," he says.
A great first source to go to could be your local pharmacist, if you have a favorite, because they can tell you the plans for which they are preferred providers. In addition: 
Note that if your annual income was below a certain amount in 2021—$19,320 for an individual or $26,130 for a married couple—you may qualify for extra help with drug costs from Medicare.