Where to Turn When Social Media Worsens Body Image Issues
The problem is common, especially among teens and young adults on Instagram and TikTok, but there are lots of ways to get help, too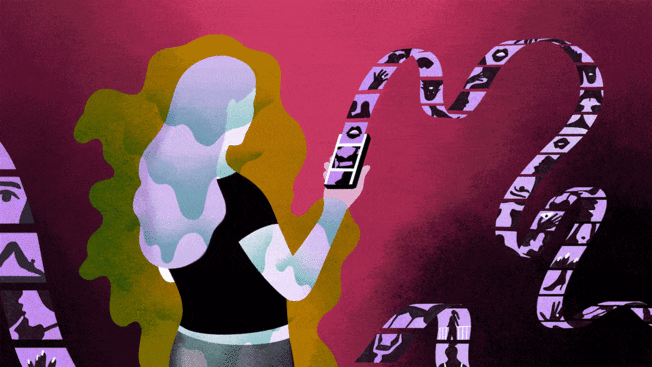 If you feel inadequate, upset, or depressed when you look at people on social media who seem to have perfect bodies and perfect lives, you're not alone.
The effect of social media on teens' and young adults' body image is well known among mental health professionals. And a September Wall Street Journal article revealed that Facebook knew that Instagram, which it owns, actually made teen girls feel worse about their bodies.
Feeling Bad About Your Body
Social media can stoke anxiety around body image and deflate a person's self-confidence. Images of celebrities, influencers, and even friends flaunting their abs or bikini pics from their latest vacation have a way of leading to self-doubt, causing people to question: Am I good enough? How do I get rid of my belly fat? Am I eating too many carbs? Should I go on an extreme diet or fast?
Those concerns don't always lead to more serious issues, says Caroline Fenkel, a licensed clinical social worker and chief clinical officer at Charlie Health, an organization that specializes in teen and young adult mental health. "There are plenty of people who have body image issues and they still eat healthy, they eat what they want."
But when you're obsessed with your body image or are anxiety-ridden about a specific part of your body, and then feel a compulsion to act on that obsession, that's body dysmorphia, an obsessive-compulsive disorder rooted in anxiety, says Arpan Parikh, MD, a psychiatrist who has a private practice working with patients in New York and California, including those who have body image issues and body dysmorphia. "It might involve compulsively trying to fix that part of the body, whether it's through, let's say, plastic surgery or it's through exercise," he says.
In some cases, isolation during the pandemic has made things worse, as many people have had limited in-person contact with friends and relatives and rely on social media much more than before.
Kids ages 4 to 15 spent 76 percent longer on social media apps in 2020 than in 2019, according to a report by parental control software company Qustodio. Before the pandemic, social media apps were used most during after-school hours. During the pandemic, kids used social media apps throughout the day, Qustodio says.
For many young people, body image issues can emerge almost as soon as they have access to social media, Fenkel says. Concerns about looking skinny can start right away. And they can escalate quickly, affecting eating and exercise habits.
Why? Even a simple search for healthy recipes on social media can lead you down a rabbit hole, directing you to "thinspiration," or images and content that encourage people to maintain a very low body weight, Fenkel says.
While discussions of body image issues tend to focus on women and girls, they're not the only ones with body image concerns.
"Boys and men actually have a really high rate of body image issues," Fenkel says, but it may sound different when they speak about it. "They may talk about bulking up or going to the gym or something like that. They usually won't talk about feeling bad about themselves or their bodies."
Transgender and nonbinary individuals may have body image concerns as well. Some research has suggested that trans and nonbinary people subject to harassment and discrimination may have more issues with body image and lower self-esteem.
Though body image issues may feel insurmountable, there are several ways to offset negative feelings about your body.
Find Peers Who Can Relate
Look for people who understand what you're going through. Even just knowing you're not the only one who's felt bad or jealous after checking your social media accounts "can be a really therapeutic and healing thing for teens and young adults who are struggling with this," Fenkel says.
Peer support can be more formal, like in group therapy, or it can just be within your group of friends.
"Surround yourself with people who affirm your value and don't ask you to change in order to be worthy of their affection, as much as you're able!" says Rachel Fox, a fat-studies scholar and PhD candidate at UC San Diego who proudly calls herself fat. "Look at as many kinds of bodies as you can" to remind you that the skinny ones aren't the only ones, says Fox, who is also the lead author of a paper called Working Toward Eradicating Weight Stigma by Combating Pathologization, which was published last year in the Journal of Applied Social Psychology.
To help you figure out the seriousness of your body image concerns, you can take a quiz or self-assessment, like the one posted by Bodywise, a program offered through the nonprofit Center for Eating Disorders and based in Ann Arbor, Mich. Even if you don't have an eating disorder or body dysmorphia per se, an online assessment could help you understand your feelings and whether you could benefit from professional help. You'll rate how you feel about your appearance, how clothes fit on you, how often you look in the mirror, and how you feel about food.
You can also check with your insurance company by calling the number on the back of your insurance card to see if they offer or cover behavioral health assessments.
If you or someone you care about needs help urgently, here's how to get help fast:  
Crisis Text Line: Even if you don't consider the situation a "crisis," you can reach out to a trained crisis counselor by texting HOME to 741741. Counselors at the Crisis Text Line are volunteers who work for the nonprofit group and can provide free confidential support 24/7.
National Alliance on Mental Illness HelpLine: NAMI, a nonprofit organization, has a HelpLine you can reach by calling 800-950-6264, Monday through Friday, 10 a.m. to 10 p.m., ET. You can also email the organization at info@nami.org. At the other end of the line or message, you'll reach a trained NAMI HelpLine staff member, intern, or volunteer who either lives with a mental health condition or cares for someone with a mental health issue, so they can relate. The organization can offer support and referrals to mental resources.
Substance Abuse and Mental Health Services Administration Helpline: The SAMHSA National Helpline can be reached at 800-662-4357. And this isn't just for people with substance abuse issues. It's a free and confidential hotline provided by the Department of Health and Human Services that can refer you to places where you can get information for both substance abuse and mental health issues. You can also find a mental health provider using SAMSHA's treatment locator.
Consider Consulting a Professional
A mental health professional such as a social worker, psychologist, psychiatrist, or other counselor will start by asking you questions to get a sense of what's troubling you.
They'll want to learn about the issues you're concerned about, how you cope with them, and how your relationships affect your life, says Parikh, the psychiatrist, who's also senior director of clinical experience at Ro Mind, a platform that creates virtual mental health treatment plans for people with anxiety and depression. They'll ask about your environment, the people you surround yourself with, and any insecurities you might have.
As you answer questions, they'll learn more about you and get a better understanding of where you're coming from, how you're feeling, how long you've been feeling that way, and what made you seek help. Then you'll work together on a treatment plan that can include therapy, medication, or both.
Besides reaching out to the hotlines listed above to find a mental health provider, you can ask your primary care doctor for a referral, use the American Psychological Association's locator tool to find a therapist, or use the American Psychiatric Association's locator tool for a psychiatrist who can prescribe medication. You can also check with your insurance provider on its website, mobile app, or by calling the number on the back of your insurance card.
Students: Resources at School May Be Available
​​Due to the mental health effects of the pandemic, new funding is available from the Department of Education for schools to hire social workers, counselors, mental health and behavioral specialists, and school psychologists. So if you're comfortable with it, check with your guidance counselor or your school's main office to find out what help is available to you. 
Considering Communities of Color
Stigma related to mental health conditions, and to the therapy and medications used to treat them, is starting to subside. But stigma does still exist, especially in some communities of color due to a general distrust in the healthcare system as well as medications that impact the brain, Parikh says.
A survey conducted earlier this year by the Harris Poll on behalf of the National Alliance on Mental Illness found that people of color with mood disorders, a type of mental illness, reported having a harder time opening up to others about their condition compared with white people.
With that in mind, Parikh says he makes it a point to be upfront with patients about medications, how they work, how they should help, and what some of the side effects might be.
"I think sometimes some of the mistrust happens because folks don't know what to expect and they're not told about the side effects or the potential risks," Parikh says.
But as we become more comfortable with talking openly about mental health, being in therapy and on medication, "slowly we're seeing some of the stigma, that barrier, start to come down," Parikh says.