When you shop through retailer links on our site, we may earn affiliate commissions. 100% of the fees we collect are used to support our nonprofit mission.
Learn more.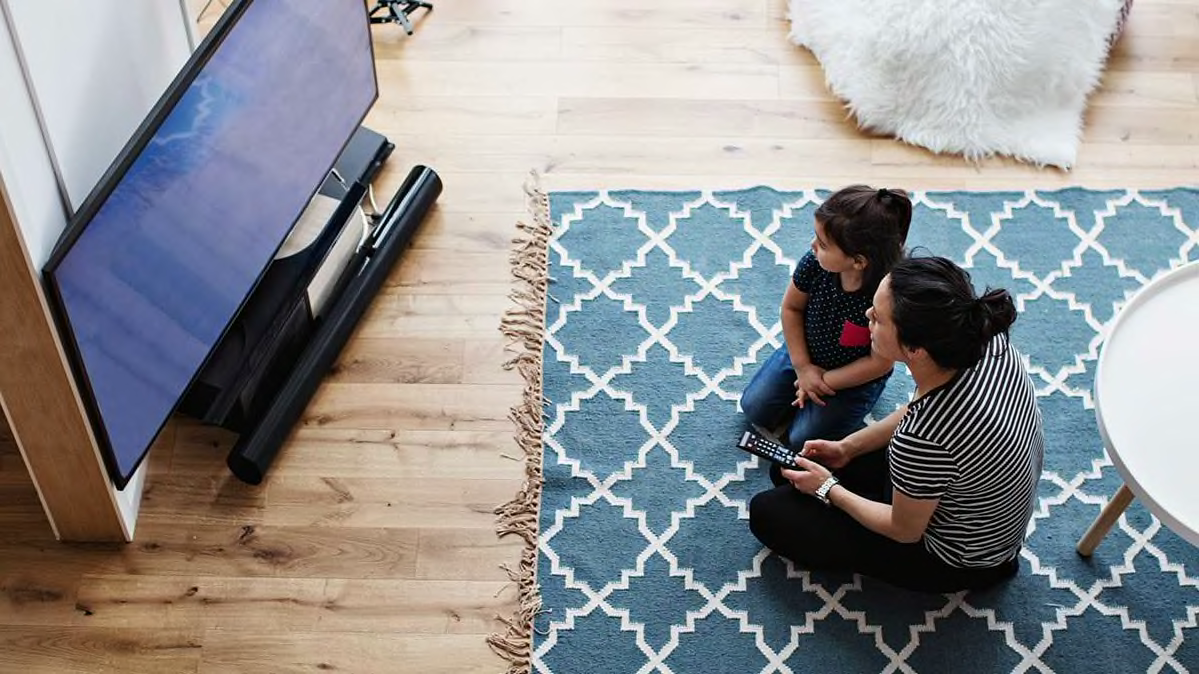 With many of us still locked down at home, it's no surprise that interest in streaming video services is surging. In fact, according to the market research firm Nielsen, Americans streamed 85 percent more minutes of video in March 2020 than they did in March 2019.
Our kids are home too, and spending a lot more times on screens—and not just doing homework. So you may be a bit concerned about this unsupervised screen time.
Three of the four major streaming device platforms—Amazon Fire TV, Apple TV, and Roku—provide ways to limit childrens' access to inappropriate content. You can see how to use those controls below.
Google's Chromecast streaming player is the exception; because it uses your mobile device to access content, there are no parental controls for Chromecast devices themselves. But the apps you can access using Chromecast usually have their own parental controls, so you can set restrictions on the individual services.
And that brings up an important point. While Amazon, Apple, and Roku provide some parental controls, you'll probably also want to set limitations for whichever streaming services you use on these devices. You can find details for the three biggest services at Amazon Prime Video's Help & Customer Service section, Hulu's Help Center, and the Netflix Help Center.
Amazon Fire TV
Fire TV is Amazon's Alexa-enabled streaming platform that's found on its streaming players and on Amazon Fire Edition televisions from brands such as Insignia and Toshiba.
Like other streaming devices, Fire TV's viewing restrictions apply to its own Amazon video content; it doesn't restrict content within third-party apps you might use, such as Netflix. You can, however, restrict access to those apps.

To use the parental controls directly from your Fire TV device, you'll first need a 5-digit Amazon PIN. To set this up, log in to your Amazon account through a web browser or use the Amazon Video app on a mobile device.
Once you've set a PIN, turn on the Fire TV player and look for Settings on the navigation bar at the top of the screen. Within the Settings menu, look for Preferences, and then select Parental Controls.
In this area, you'll be prompted to enter the PIN, a somewhat quirky process using a few buttons and the circular navigation control on the remote control. (Hint: Push the fast-forward button to show the PIN digits as you enter them to make sure they're the correct numbers.) When you're done, you can enable Parental Controls.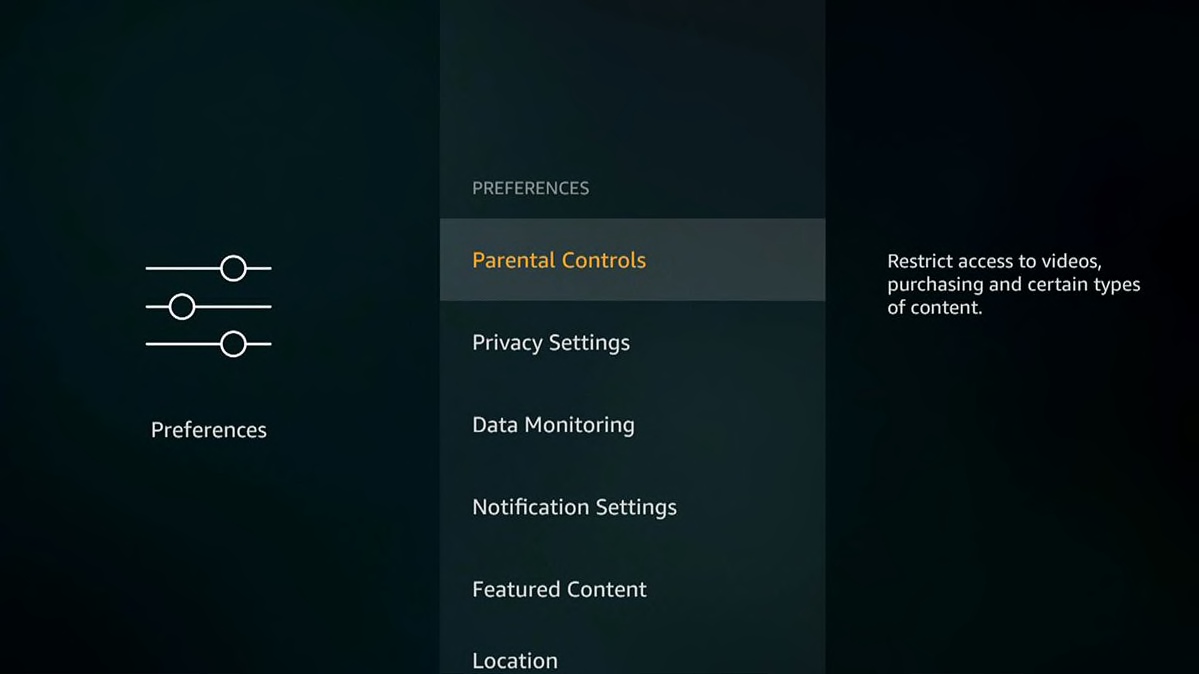 Within the Viewing Restrictions section, you can set the type of content that can be viewed. By default, General and Family content can be viewed without any restrictions. But to access Teen, Young Adults, and Mature content, which have lock icons next to them, you have to enter the PIN.
You can also require that the PIN be used to authorize purchases from Amazon, to open installed apps on your device, or to open the Prime Photos app to view personal photos and videos stored on the Amazon Drive on your Fire TV.
In addition, you can set restrictions within Amazon Prime video itself. To do this on a computer, go to Prime Video Settings, and then Parental Controls. If you're using the Prime Video app, select My Stuff from the bottom menu, then the Settings icon. From there, choose Parental Controls, then Viewing Restrictions. You can then select an age restriction and the specific devices you want it to apply to, and then click Save.
Apple TV
Apple TV requires you to set a PIN before you can use the Apple TV parental controls, which are called Restrictions. Here's how to do it right from the Apple TV device.
Using the Apple TV remote control, scroll down until you see the Settings icon at the bottom of the home screen. Then go to General and choose Restrictions from among the several options. If you haven't already set a four-digit PIN, you'll be prompted to do so. Enter the number again to confirm, and select OK to continue.
This will turn on Restrictions, where you can customize the parental control settings. (To turn off Restrictions, you'll have to re-enter your PIN.)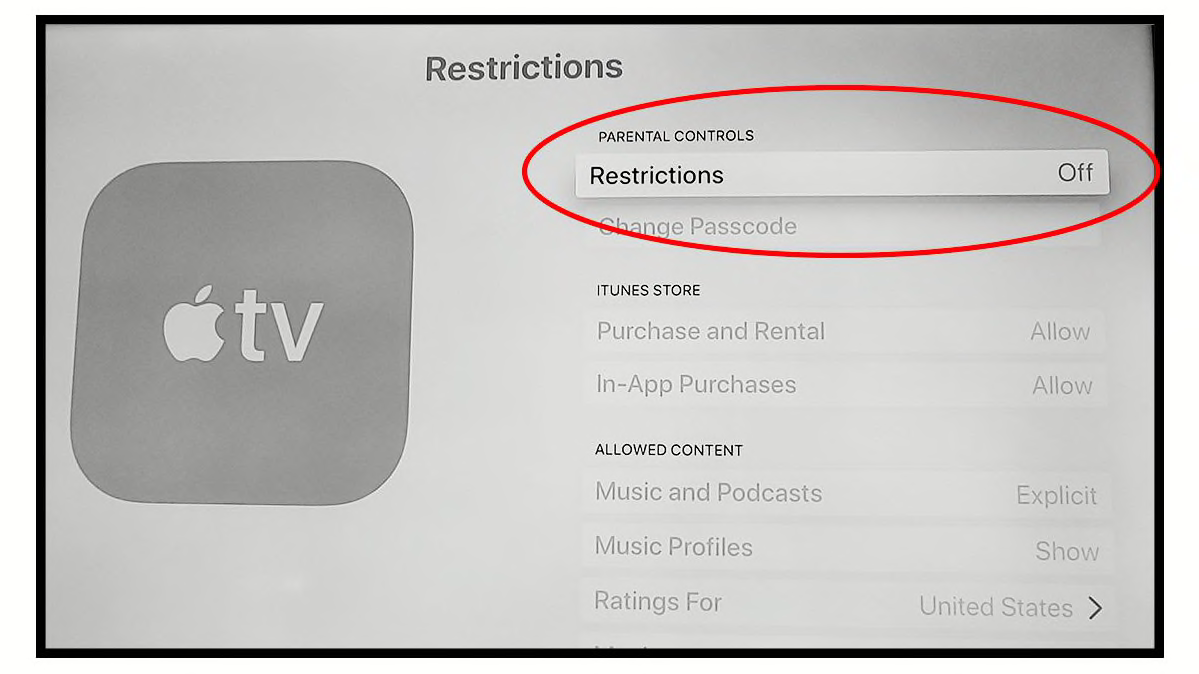 Apple lets you control access to a pretty wide range of options, including limiting or blocking block in-app purchases; banning access to apps, movies, and TV shows based on content rating; or blocking explicit music and podcasts. You can also hide apps so they don't show up in the menu, and prohibit Siri, Apple's voice-powered digital assistant, from saying or writing explicit language when responding.
Here are a few examples of how it works. For movies, TV shows, and apps, you first select your country, then you can filter or block content based on film or age ratings. For purchases, rentals, or in-app purchases from the iTunes Store, you can allow them, restrict them, or outright block them. With music and podcasts, choose the Clean option to filter out explicit language.
Earlier this year, Apple launched its first streaming service, called Apple TV+. If you're using it using an Apple TV, the restrictions you've set on that device will automatically apply to the Apple TV+ service.
But you can also set restrictions separately for Apple TV+ for each type of device you use to access it.
Roku
A big appeal of Roku streaming players (and Roku TVs from the dozen or so companies that now use that smart platform) is their access to lots of content, more than 5,000 apps or channels, according to the company.
But Roku's parental controls restrict access only to shows and movies on the Roku Channel, Roku's own free streaming service. If you have a Roku TV, you can also block or filter over-the-air broadcasts you get when using an antenna.
You can also use the parental controls to remove channels you might feel are inappropriate or hide Roku's TV and Movie stores from the Roku player home page.
To get started, go to Roku.com using a computer or mobile device and sign in to your Roku account; you can't access the parental controls from the Roku player. But you can add and delete channels right from it.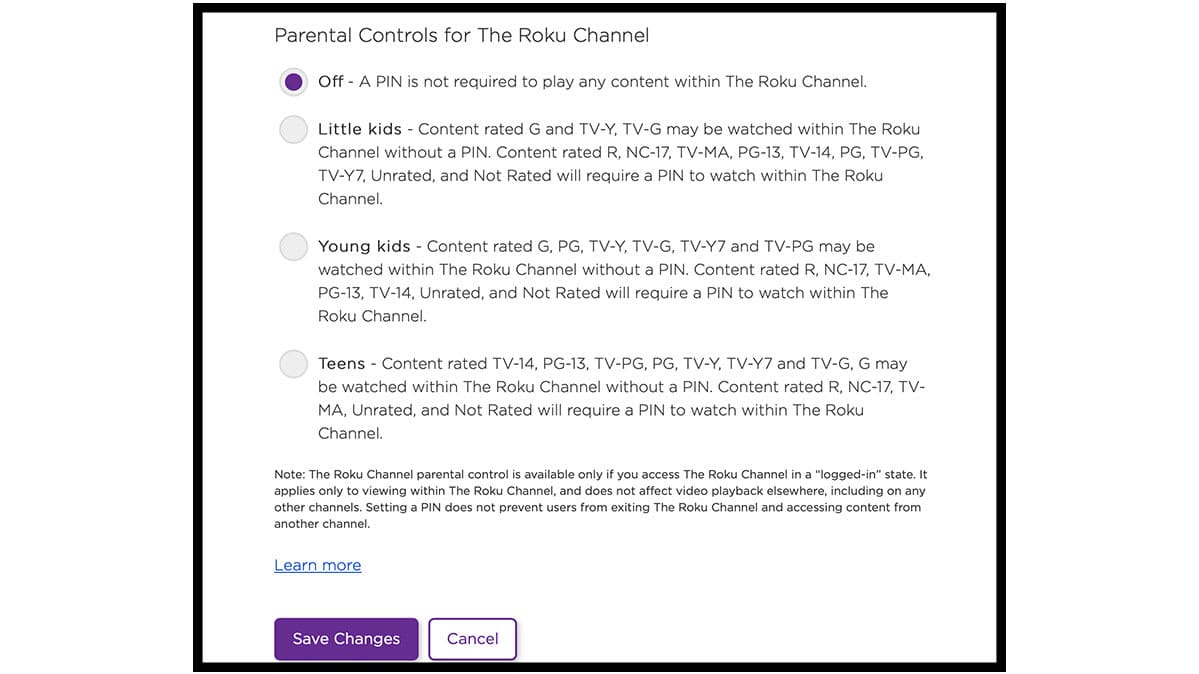 Once you're signed in, look for PIN Preference on the My Account page, and select the Update button. You can then require users to enter a PIN to make purchases or add new services from the Channel Store.
Scroll down and you'll see Parental Controls, with four choices for limiting access to content based on ratings: Off, Little Kids, Young Kids, and Teens. If you select Off, there are no restrictions on content; for the others, you'll need to enter a PIN to view any shows or movies above the selected age range. Once you've made a selection, click Save Changes.
Roku TVs also include ratings-based controls on the TV itself that let you restrict or block access to programs you get when using an antenna. You'll need to create a 4-digit PIN the first time you use this feature. To access Parental Controls, press the Home button on the Roku TV remote, then scroll up or down to select Settings.
To set controls for over-the-air channels, select the TV tuner. If it's the first time you're doing this, you'll be prompted to scan for available channels. Enable Parental Controls by turning them on. You can also set age limitations or block unrated content.
Under Parental Controls, you can also show or hide the Movie Store, TV Store, and Featured Free options from the home screen. To change any of these selections, you'll need to enter the PIN.