First Look: Apple AirTag
The $30 coin-sized device lets you add Apple's Find My tracking feature to just about any item you own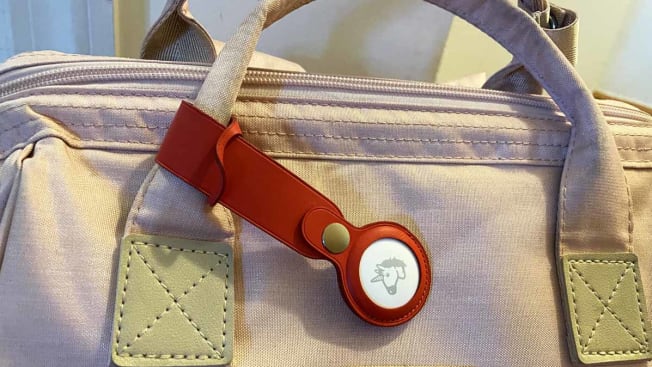 Apple's long-awaited AirTag has finally arrived, letting you add the company's Find My technology to just about anything you own.
And the thought of that is sure to appeal to people prone to misplacing things. But will the AirTag work as well as Apple fans hope?
Like other tags, the tiny $30 device gets attached to any item you want to monitor. If the item goes missing, the AirTag relays its location via Bluetooth to other nearby iPhones, which discreetly convey that info to you.
The concept isn't new. It was first popularized by Tile, which has sold 30 million trackers since its 2012 debut.
A week ago, Samsung rolled out an updated version of its own tracker, the Galaxy SmartTag+, which uses a combination of Bluetooth and ultra-wideband technology to help you find lost items.
I spent a soggy-but-fun day trying out the Samsung option. While the Galaxy SmartTag+ isn't perfect, it's useful. And if you're apt to lose things, it's probably worth the $40 cost.
An AirTag measures about 1.25 inches across, which is slightly larger than a U.S. half-dollar coin. The AirTag is a bit smaller than the SmartTag+, which is good because unlike Samsung's tracker, Apple's version doesn't have a hole for your key ring, so you'll probably have to buy some kind of accessory to fasten one to an item you own.
Apple has a variety of options for sale on its website, ranging from utilitarian plastic key chains to a $450 Hermès luggage tag that includes its own custom AirTag.
Ironically, the more modest but still stylish leather key chain I chose for myself still costs $6 more than the AirTag it contains.
If you order from the Apple Store, you can also get your initials or an emoji custom-engraved on your AirTag free of charge. My daughter, for one, quickly snapped up the AirTag decorated with a Unicorn from my handful of samples.
All of that adds a bit of fun to what would otherwise be a very practical purchase. But while you might be excited to display a custom AirTag on a personal belonging, that might not be a good idea if the item you're attaching it to could be stolen. (Think purse or backpack.)

After all, there's nothing stopping a thief from just detaching and dumping it. Years ago, when I carried a Tile, I would bury it deep within my bag for that very reason.
How to Set Up an Apple AirTag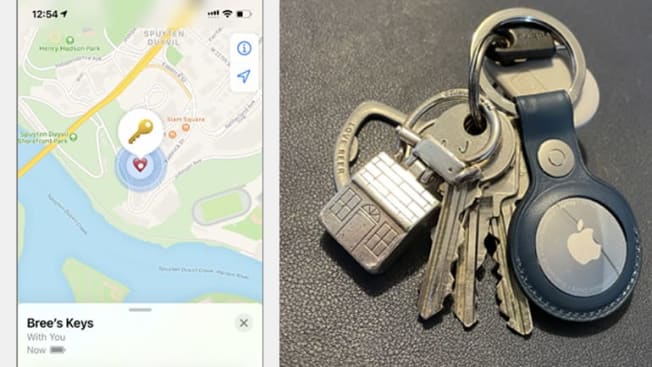 Pairing the AirTag to my phone was quick and easy, though you'll need to make sure your iPhone is running the soon-to-launch iOS 14.5. I've been running the beta version for a couple of months now, so this wasn't a problem for me.
All you have to do is pull the plastic wrapping off the AirTag to activate it and open the Find My app on your phone, which should automatically detect the tracker and prompt you to add it to your collection. Instead of appearing under Devices, each AirTag will be listed separately under Items.
After that, you're good to go. The tags, along with their last known location and time of detection, are listed and shown on a map. Need to find one? Just tap on it to select it and the app will give you options such as activating the tag's audible alert and using the Find option if the tag is within Bluetooth range.
This is where the AirTag tag shines brightest. And for the most part, its works in pretty much the same way the Samsung Galaxy SmartTag+ does. Once you get within range, graphics on your phone's screen will let you know how far away the AirTag is and which direction you need to go to find it. Once you head the right way, the arrows turn green. You'll also feel your phone vibrate.
Apple calls this Precision Finding and says it's powered by a combination of the camera, augmented reality kit, accelerometer, and gyroscope on your phone. Ultra-wideband technology found in phones with Apple's U1 chip (specifically, the regular and Pro versions of the iPhone 11 and 12) determines how far away the tag is.
I found the directions displayed on the screen to be easy to use. They're very similar to those employed by Samsung's SmartTag+. But unlike the Samsung option, there's no augmented reality overlay that places the arrows and other graphics over an image of the landscape you're searching, be it tall grass or your couch cushions. You just see the arrows on a plain screen.
While I eventually found all the trackers hidden within Bluetooth range, despite my 6-year-old son's best efforts to hide them in his collection of stuffed animals and his giant bag of ice hockey equipment, I missed the added versatility of Samsung's app. As a result, I found myself using the audible alert more.
And I wish that were a bit louder, though it's gotta be tough to cram a decent-sized speaker into a device so small.
Instead of the crazy-loud alert kicked out by lost iPhones, the AirTag emitted more of a soft chirping. You really have to listen for it, especially if, for example, it's hiding in a pile of sound-muffling hockey gear.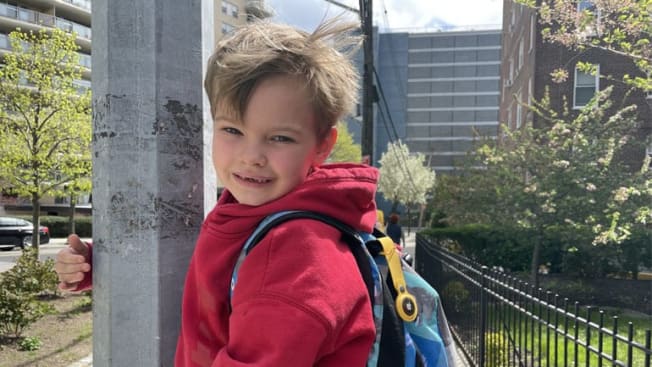 While the AirTag works pretty well inside a home, what do you do when your lost item is out of Bluetooth range? The last known location listed in the app will give you a good starting point, especially if it's an item, like your keys or your purse, that you frequently use.
You also can ask the app to notify you the next time the tag in question connects to the Find My network. I did this several times during the day to check on the locations of my kids while they were in school.
While my 11-year-old daughter carries an iPhone, my 6-year-old son doesn't. But Apple still managed to locate his backpack several times during the day, thanks no doubt to the countless iPhones carried by other students and staff members.
That aside, don't expect to get the kind of real-time tracking you might be used to if you use "Find My" to track an iPhone or another device equipped with a cellular connection.
In most cases, it took me a few minutes to locate trackers that were out of Bluetooth range, even the ones my kids took to school and others I hid just steps away from one of the busier streets in my neighborhood.
Sometimes I received the location data after a tag had moved on. For example, one located my son's backpack at his bus stop but sent me the information after he'd already gotten on the bus and rode away.
Later in the day, when I went to pick up my son, the AirTag pegged him at a stop about a quarter-mile away moments before the bus rolled up in front of me.
And just like with Samsung's trackers, the more people and phones that are out and about, the more likely you are to get a location. When I tossed my AirTag-connected keys into the weeds of an empty neighborhood park, I still had to walk back and forth through the park, electronically sweeping the area until my phone got within range and picked up the signal.
And that's one of the scenarios where Apple and Samsung both say the use of ultra-wideband technology, which helps power those arrows and other graphics, helps. Once you get close enough to pick up a signal, it makes searching easier because it provides a more exact location than Bluetooth alone.
Using Apple and Samsung's tags, I did save time during the hunt, but I sometimes had to know my keys were in the park to find them.
Should You Buy an Apple AirTag?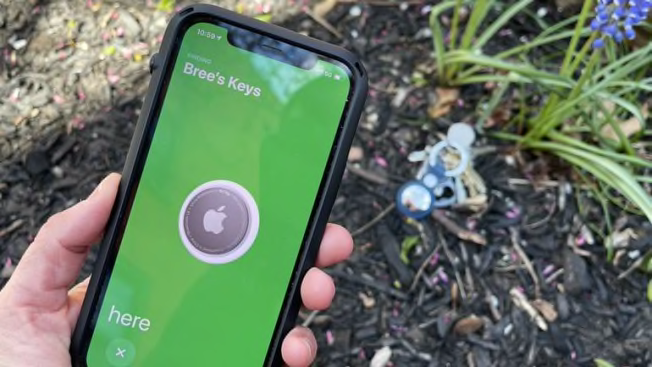 With their wallet-friendly price, along with the fun and fashionable elements Apple has wisely woven in, the AirTag should be a hot seller. And while the winter holidays are a long way off, the AirTag will make for easy gifts down the road, too.
Is the AirTag perfect? No. Its locating abilities aren't as exact as I'd like. For example, just like with Samsung's tag, an AirTag hidden in my backyard was listed as being in the building next door. That's something to keep in mind if, like me, you live in a densely populated area.
I really wish Apple had gone all in on augmented reality. Being able to see the area you're searching on your phone's screen is a big help. And as mentioned before, it would be nice if the AirTag was louder.
But it's not like you have a lot of choice just yet. If you have an iPhone, you can't use the Samsung Galaxy SmartTag+, and vice versa. And while there are third-party options, like Tile, that work well on phones from both brands, their network of friendly devices is going to have a tough time competing with the millions of devices Apple and Samsung could potentially harness.
For $30, I'd say the AirTag is worth it, just for the little peace of mind it can give you. And if you're like my daughter, it doesn't hurt that you can get one with a unicorn on it, too.
When you shop through retailer links on our site, we may earn affiliate commissions. 100% of the fees we collect are used to support our nonprofit mission. Learn more.