How Municipal Broadband Helped an Ohio Town Cope During the Pandemic • FairlawnGig is an internet service operated by the local government that offers gigabit-speed connections to local homes and businesses.
• This summer, Ohio came close to joining 18 other states in restricting or banning municipal broadband systems.
• Research indicates that by adding competition to a local market, municipal broadband systems often lead to lower prices and better service from private-sector internet service providers.
When the COVID-19 pandemic hit hard starting in 2020, residents of Fairlawn, Ohio, were well-prepared to work and attend school online, while people living in some of the surrounding towns struggled with slower, less reliable internet service.
Fairlawn, a relatively affluent Akron suburb of about 7,500 residents, had built its own fiber-based internet service called FairlawnGig several years earlier. Like other municipal broadband networks around the country, the service offers inexpensive internet services to residents and business owners who want faster speeds or lower prices than they can get from existing providers.
"FairlawnGig was a life-saver during the pandemic," resident Karen Smearsoll says. "Both my husband and I were working from home, and each of us had at least three devices running at once. I teach at Forest Hill CLC, [an elementary school in Akron], and I can run two or three class meetings at the same time with my students while my husband is able to complete his meetings and work, all with no issues at all."
To Expand Municipal Broadband, or Ban It?
Over the past 18 months, municipal broadband has been debated as one remedy to the digital divide as the COVID-19 pandemic has made the lack of fast, reliable broadband an increased hardship in many communities.
The infrastructure bill that passed the Senate in August includes $65 billion for internet projects to help close the digital divide. Some of the funds could make their way to municipal broadband projects in under-served areas. However, provisions were cut that would have prioritized those projects.
Competing bills on the subject have been proposed in Congress—both to expand city-run internet services, and, conversely, to restrict them. None of the federal proposals have gained much traction, but 18 states currently have statutes that impede communities from building or expanding internet services for their residents. Meanwhile, two other states, Arkansas and Washington, recently removed statutes restricting city-run broadband networks.
Supporters of municipal broadband say that when cities create their own internet services, customers often get faster internet speeds, lower prices, and better customer service than what's available from conventional for-profit internet service providers.
"Whether or not you support municipal broadband really comes down to whether or not you favor competition and community empowerment vs. keeping consumers stuck with a monopoly provider and zero choice," says Jonathan Schwantes, senior policy counsel at Consumer Reports.
Opponents argue that tax money shouldn't support networks that compete with private businesses, and that municipal broadband systems can discourage private investment.
One recent battle played out this summer in Ohio when Republican state legislators added a last-minute amendment to a budget bill that could have shut down or curtailed the expansion of about 30 city-run internet networks, including the one in Fairlawn, which is in Summit County.
The amendment was removed before the legislation went to the governor for signing, but it could resurface as a separate bill, according to Brian Nelsen, chief of staff for the Summit County Executive, who followed the legislative maneuvering closely. "I don't expect this [fight] to go away that easily," he says. "We just won a battle, but the war is still ongoing."
FairlawnGig emerged from an effort begun in 2013 to attract new businesses to the area, according to Ernie Staten, Fairlawn's public service director. "Our residents weren't getting the service that they wanted, honestly, and we found it was harder to attract new businesses to the area," he says.
The city approached the major internet providers in the area and offered to help subsidize the installation of fiber-optic cable to improve internet speeds in town, Staten says, but found no takers. Fairlawn then surveyed residents to gauge support for building a municipal broadband network, he says, and found that 92 percent favored the idea.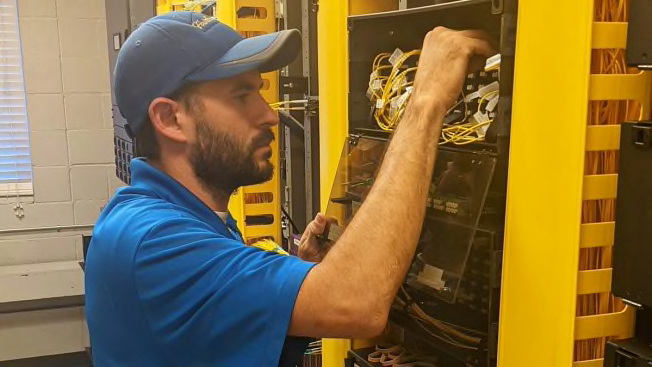 When FairlawnGig launched in 2017, it offered people in town gigabit-speed service at a time when the existing internet providers could provide service with a maximum speed of 25 megabits per second service to consumers—barely meeting a minimal definition of broadband—and 50 Mbps to businesses, according to Staten.
The system cost the city $10.1 million, paid through a general fund, with no tax increases or assessments for residents. The money went to running 55 miles of fiber and conduit that passed every address in Fairlawn, building a data center that serves as the hub of the service, and connecting about 35 percent of the town's residents.
"We blew right by the initial 35 percent connection rate and had to use additional general fund dollars to connect additional customers," Staten says, adding that 62 percent of the city's residents now get their service from FairlawnGig. "We also installed public WiFi on all traffic signals, parks, and city grounds."
A year later, the service expanded to neighboring communities, including a joint economic development district that includes Akron and the neighboring Bath Township.
FairlawnGig now offers consumers lower prices than they can typically get from big national ISPs that operate in the area, especially for very high-speed service. The basic residential plan costs $55 per month for 300-Mbps service; 1 gigabit per second costs $75 per month.
By comparison, Charter charges $45 per month for 200 Mbps in Fairlawn, and $110 per month for 1 Gbps just outside of town—the faster speed is not available in Fairlawn. These Charter prices are promotional rates that expire after 12 months, however. Afterward, according to details on the Charter website, local Charter customers pay $75 per month for 200 Mbps and 1 Gbps costs $135 per month.
Because FairlawnGig runs on fiber-optic cable, customers can get the equivalent upload and download speeds, a benefit that cable-internet providers can't match.
FairlawnGig offers businesses speed tiers that range from 100 Mbps to 100 Gbps. As an example, a 2.5-Gbps plan costs $149 per month. The availability of very high-speed connections helped the town attract businesses such as an orthopedic surgical hospital called Crystal Clinic, a $100 million facility that says it chose its location in part for access to FairlawnGig.
From Competition: Lower Prices, Better Service
People who study municipal broadband say the systems are often introduced to provide competition in areas that have previously lacked it.
The presence of municipal broadband service providers sharply reduces the average price of advertised internet service plans, and speeds up average advertised download and upload speeds, according to research by the Open Technology Institute, which is part of the New America think tank.
"The key here is competition," says Claire Park, a policy analyst at the OTI. "Municipal networks, or even new private providers, challenge reigning internet service companies to deliver higher quality and more affordable internet."
"In many markets with only one or two providers, you don't have competitive pricing, there can be a lack of investment in quality networks, and inferior customer service," says Craig Settles, a community broadband consultant based in California. "But they have to do better to compete when a city launches its own service."
That's what happened in Fairlawn, according to Staten. "When we launched FairlawnGig, the first thing that happened here was the incumbents immediately raised their speeds and lowered the prices on their packages."
After the city of Santa Monica, Calif., launched a municipal broadband service called CityNet, the local provider cut its prices below what the city service was offering, according to Gary Carter, CityNet's community broadband manager. "It wasn't that much of a difference," he says, and "we found that people continued to sign up and stay with CityNet because our customer service was so much better." Another municipal broadband system, EPB in Chattanooga, Tenn., has periodically topped Consumer Reports' ratings of telecommunications providers, which are based on large surveys of CR members.
However, municipal networks can be expensive to build and complex to manage, and there have been high-profile failures, including iProvo in Provo, Utah; a municipal service in Groton, Conn.; and a city-run service in Burlington, Vt. In those cases, the services failed and had to be sold at a loss. Google bought the iProvo network for its Google Fiber initiative for just $1.
"Broadband is not a set-it-and-forget-it technology," Jonathan Spalter, president and CEO of telecommunications trade group USTelecom, wrote in a blog post this summer. "Government broadband deployments at all scales frequently have struggled to remain solvent, even with financial subsidies, let alone keep up with the pace of technology to do frequent network upgrades and ensure cybersecurity protections."
Municipal broadband supporters acknowledge those failures and the hurdles that can arise when new systems are built. "But there are hundreds of municipal broadband networks that are incredibly successful," says Chris Mitchell, director of the Community Broadband Networks Initiative with the Institute for Local Self-Reliance, an advocacy organization.
Summit County's Nelsen says one path forward is for private internet service providers to partner with local governments on municipal broadband projects. The county approached Charter about cooperating on a county-wide broadband initiative, he says, but "not long after that meeting they went to the state legislature to try to limit municipal broadband in Ohio."
Charter didn't respond directly to questions about discussions with Summit County officials, or the company's lobbying efforts in Ohio. However, the company says it supports government spending on broadband infrastructure.
"Every American should have access to high-speed internet options, which will require building and deploying connections to 100 percent of the country," says Avery Boggs, group vice president for policy communications. However, she says, "We've consistently advocated for taxpayers' support dollars to first be prioritized to reach areas that still don't have the ability to connect to high-speed broadband—not to subsidize additional options for those who are already connected."
In Summit County, local officials are hoping to extend FairlawnGig's reach into other nearby areas. Using pandemic funding from the Coronavirus Aid, Relief and Economic Security Act, Fairlawn built a broadband "ring" around the county, initially for criminal justice facilities. This fall construction will begin on a project that could eventually extend service to a number of additional communities in the region.
"This area is a microcosm of some of the challenges being faced across the country," Staten says. "A lot of Summit County is served, but there are still areas that lack access, and there are pockets of low-income communities. So you have a combination of remoteness and inequities in household income. I think with some of the stimulus money, we have a unique opportunity to build out high-speed fiber infrastructure to help drive Ohio's economy forward."