Grocery and Meal-Kit Delivery Services Seeing Surge in Demand Due to Coronavirus
Customers may need to plan ahead—and be patient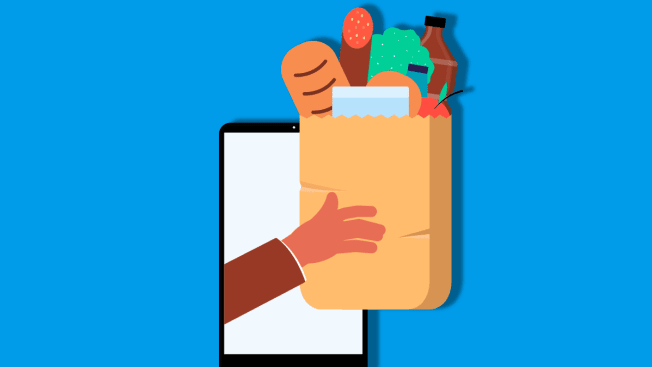 Like most Americans, Sarah Mooney is trying to adjust to drastic lifestyle changes spurred by the coronavirus pandemic. But for the 32-year-old Michigan teacher, it has been a particularly challenging week: Not only are her two young children home now that school classes were canceled across the Great Lakes state but also her husband is currently bedridden, having been felled by what is likely just a bad cold.
Expect Delays, Not Shortages
In some cases, growing demand for grocery delivery is already resulting in slowdowns. A regular Amazon Fresh customer in New York City told CR that service has no delivery timeslots available between now and April 13, the last day that can currently be selected. (Amazon said this week that it was looking to hire 100,000 new distribution workers.)
But there is no reason to worry about food shortages at present. In a statement on Monday, grocery delivery service FreshDirect said it was receiving continuous shipments of food and restocking 24/7.
"Although demand is causing delivery timeslots to fill up faster than usual, we will continue to expand our capacity to meet our community's needs," the statement said.
Instacart says that in addition to a surge in demand, bulk buying is up. The company also reports a 40 percent increase in orders from customers sending supplies to someone else and says that customers should expect to see delivery availability vary across stores, depending on location.
'Unattended' Deliveries an Option
If you're concerned about having to interact with a grocery deliveryperson, some of the services have options in which groceries are delivered without your having to come to the door or be at home.
Unattended deliveries are available if you shop for groceries from Prime Now, Amazon Fresh, and Whole Foods Market. You simply select the option at checkout. Instacart introduced its similar "Leave at My Door Delivery" option this week and has made it available to all of its customers. Doordash has a similar feature with certain supermarkets.
Meal-Kit Services Keeping Up
A Blue Apron spokesperson says the company is "carefully monitoring" its supply chain, and it's not aware of any disruption to date as a result of coronavirus. "The safety of our customers and employees is our highest priority," a spokesperson says.
A spokesperson for HelloFresh, a main Blue Apron competitor, also says the company hasn't experienced any disruptions to its service. The spokesperson underscored that the Centers for Disease Control & Prevention has found no evidence that COVID-19 can be spread through food.
"The health and well-being of our customers and employees is our highest priority," the spokesperson says. "To that end, we have implemented additional safety measures, such as more frequent hand-washing and sanitation of our facilities, along with limited access to our production site."
Instacart's spokesperson offered some tips for customers that seem applicable to anyone ordering groceries or meal kits. These include planning ahead, placing orders well in advance before your supplies at home run dry, and trying to be flexible about replacements when items you want are out of stock.
Mooney, the Michigan teacher, had some good advice, too: Only get what you need. "I mean, clearly, it's okay to stock up for a few things," she says. "But it's not necessary to get as many items as some people are getting."
FreshDirect echoed that advice in its statement posted on social media Monday. "Please," the company pleaded to customers, "buy only what you need so we can serve as many people as possible."
When you shop through retailer links on our site, we may earn affiliate commissions. 100% of the fees we collect are used to support our nonprofit mission. Learn more.