When you shop through retailer links on our site, we may earn affiliate commissions. 100% of the fees we collect are used to support our nonprofit mission.
Learn more.
Hoping to save a few bucks on your prescription, or just trying to avoid a trip to the drugstore? If so, maybe you've ordered meds from your insurance company's mail-order service. While mail order can be a good option, it can also be a hassle, and savings aren't guaranteed. Here's how to make it work for you.
Mail order pharmacy programs operate through your insurer's pharmacy benefit manager, or PBM. The companies—CVS Caremark, Express Scripts, and others—buy medications in bulk directly from drug manufacturers, and doing so can translate to lower co-pay charges for some of your medications. That's especially true for drugs you might take on a regular basis for conditions such as diabetes or high blood pressure. For example: You could get a 90-day supply of generic medication sent directly to your home with co-pays that run just a few dollars or are even free, compared to a discounted $10 co-pay for a three-month prescription at your local drugstore.

If your insurance coverage is through your employer, it's likely they offer mail order as an option. That's because employers often pay less when their employees choose it. "Since the average brand-name drug list price is about $300, the employer pays an average of $18 less for a drug dispensed by mail rather than at a store-based pharmacy," says Adam Fein, Ph.D., president of Pembroke Consulting and CEO of Drug Channels Institute.
At the same time, many retail pharmacies now offer 90-day prescriptions, too, with lower co-pays, says Fein, further closing the cost gap between mail order and brick-and-mortar pharmacies. And many chain and big-box stores are increasing competition with mail order pharmacies by offering deep discounts on hundreds of generics if you pay the retail price and forgo using insurance. For example, Walmart, CVS, Costco, and Walgreens pharmacies offer programs such as three-month supply of dozens of generics for $10 with free home delivery, and free standard shipping on prescriptions.
Convenience Could Compromise Safety
Although using mail order can be easy, it could lead to communication errors or safety problems, says Lucinda Maine, Ph.D., R.Ph., executive vice president and CEO of the American Association of Colleges of Pharmacy. The problem, says Maine, is that medications may not arrive on time, which can be dangerous for people who rely on lifesaving drugs.
The opposite problem can happen, too: Mail order pharmacies might auto-renew your prescriptions without confirming you're still taking a drug or whether your dosage has changed. When possible, pick a service that will alert you before they ship out any medication. Luckily, Medicare Part D drug plans require mail order pharmacies to get the okay from a patient or caregiver before shipping a new prescription or refill.

Mail order is also less personal, says Norman V. Carroll, Ph.D., professor at Virginia Commonwealth University's School of Pharmacy. He notes each time you call the plan's toll-free number, it's unlikely you'll speak with the same person. "With a retail pharmacy, there's a good chance you'll work with the same pharmacist or technician, and that they'll resolve your problem face-to-face," says Carroll.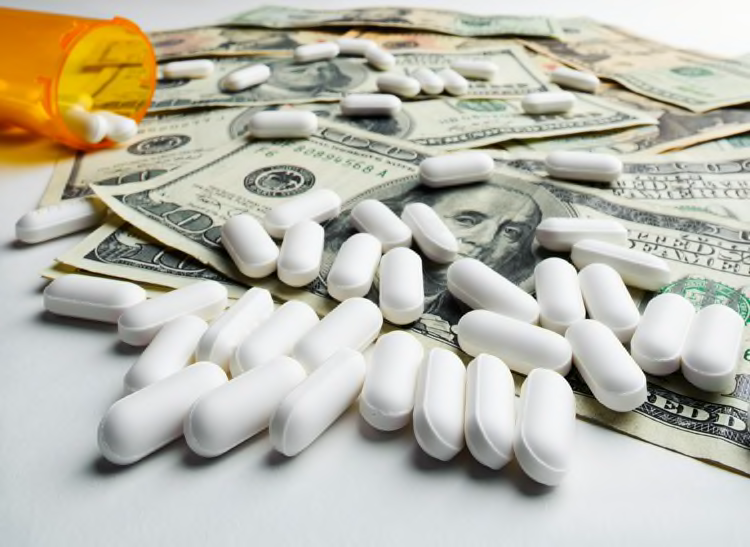 As with any type of delivery service, there's also the chance your package could be lost, stolen or damaged in the mail. But mail order pharmacy programs will try to prevent that. "We use protective packaging for medications," says Jennifer Luddy, a spokeswoman for Express Scripts, which operates one of the largest prescription mail order services in the U.S.. The PBM also uses a weather-based program that determines the best packaging for safe delivery of medications. "On the rare occasion a medication arrives damaged at a patient's home, they can call the number on the back of their card to report the damage, and we will send them a new prescription without charge," adds Luddy.
If You Choose Mail Order
For medications you take regularly, and just to get you started, ask your doctor for two prescriptions: You'll want one for a 30-day supply of medication to be filled right away at your pharmacy, and one for a 90-day supply with refills where appropriate. Send the 90-day prescription to your insurer with a mail service order form, found on your health plan's website. In the meantime, fill the 30-day prescription so that you'll have enough medication while you wait for your insurer to process and ship your mail order. If it's a new prescription, you'll submit the form with the prescription by mail or have your doctor phone or fax it in. You can usually submit refills online, over the phone or through a mobile app.
Since mail programs typically ship 90-day supplies at a time, mail order may not be feasible for medicines you need immediately or that you take for a short period of time. For controlled substances, including some pain medication, insomnia drugs, or ADHD treatments, there are usually restrictions on what can be shipped to you.
Whether you shop in store or by mail order, once you find a pharmacy that fits your needs, our medical consultants strongly recommend you fill all your prescriptions there whenever possible. That way one pharmacy has a complete record of what you're taking and can flag any potentially dangerous interactions. That might not be feasible, say, if you get your blood pressure drug through mail order and your doctor prescribes a post-surgery pain medicine that you need right away. When that happens, let each pharmacy know all the medications you're taking and update them regularly on any changes.

Editor's Note: These materials were made possible by a grant from the state Attorney General Consumer and Prescriber Education Grant Program, which is funded by a multistate settlement of consumer fraud claims regarding the marketing of the prescription drug Neurontin (gabapentin).