When you shop through retailer links on our site, we may earn affiliate commissions. 100% of the fees we collect are used to support our nonprofit mission.
Learn more.
Ram has revised its 2500 and 3500 heavy-duty pickup trucks for 2019 with an eye toward making them quieter, more luxurious, and smoother-riding, and with increased towing and hauling abilities.
Heavy-duty trucks (which typically use 2500/3500 or 250/350 nomenclature) are extra robust pickups built primarily for towing and hauling, compared with the more mainstream 1500/150-level pickups.
These trucks are often used by commercial contractors, ranchers, and farmers during the week, and on weekends by people who haul horses, RV trailers, or big boats.
Properly equipped, a 2019 Ram 3500 has the ability to tow an astounding 35,100 pounds and handle a 7,680-pound payload, which includes the weight of the passengers in the cabin and the cargo in the bed.
In other words, the heavy-duty Ram 2500 is a lot of truck. It sits so high off the ground that the optional running boards are a necessity to help passengers get in or out. On top of that, its length and height make it a bear to drive and park in congested areas, or maneuver around just about any parking lot. And it's so big that it might not fit into your garage at home. But despite its size and brawn, the Ram 2500 has become a sophisticated machine.
For 2019, Ram has made advanced safety systems available on its heavy-duty trucks for the first time, including such key features as forward collision warning (FCW), automatic emergency braking (AEB), blind spot warning (BSW), and rear cross traffic warning.
We rented a 2019 Ram 2500 Laramie Longhorn crew cab with an 8-foot bed to experience what it's like to live with a 260.8-inch-long behemoth for a couple of weeks.
These are our first impressions.
What we drove: 2019 Ram 2500 Laramie Longhorn
Powertrain: 370-hp, 6.7-liter inline-6 turbodiesel engine; six-speed automatic transmission; four-wheel drive
MSRP: $59,400
Options: $18,550: Cummins turbodiesel engine, Longhorn Level 1 Equipment Group (17-speaker Harman Kardon audio system, 12-inch infotainment screen, power running boards), rear air suspension, power sunroof, Safety Group (forward collision warning, automatic emergency braking, blind spot warning, rear cross traffic warning, adaptive cruise control)
Destination fee: $1,695
Total cost: $79,645
What We Like
We like how this Ram combines its big, burly attitude with a relatively refined driving experience, thanks to its comfortable ride (for a heavy-duty truck) and luxurious cabin.
Heavy-duty Rams come with a 410-hp, 6.4-liter V8, but the truck we rented from the automaker was outfitted with the optional 6.7-liter Cummins turbodiesel inline six-cylinder engine that makes 370 hp and 850 lb.-ft. of torque. That prodigious low-end power plays a key role in the Ram's immense towing ability. (For comparison, the Ram's standard gasoline V8 produces just 429 lb.-ft of torque.) Plus, the powerful diesel engine defines the truck's character more than anything else; it gives the driver a relaxed and confident feeling that there isn't anything this big Ram can't handle.
The engine creates plenty of diesel clatter at parking-lot speeds, but that gravelly sound feels spot-on, and it's part of the truck's appeal. The big diesel takes on a smoother character once the truck is moving down the road.
There's power without hesitation from the first prod of the accelerator, but it's not overwhelming because this truck was designed to tow heavy loads, not blister through the quarter mile. That said, the truck is so front-heavy, the wheelbase so long, and the power so readily available that it's easy for drivers to spin the rear tires in wet weather without even trying.
The Ram 2500 comes with a coil spring rear suspension, much like an SUV, that gives it a smooth ride. Other heavy-duty trucks use leaf springs that date back to horse-and-carriage days. But our rented Ram 2500 ups the ante with an optional rear air suspension that has a bed-lowering mode; that makes it easier for drivers to match the height of the truck's tow hitch to the height of their trailer.
Even with the air suspension, the Ram 2500 is bouncier and not as comfortable as the Ram 1500, but it squelches road ruts and imperfections fairly well, and isn't as stiff as most other heavy-duty pickups. The cabin is nice and quiet, with very little wind or road noise on the highway, although there's always a restrained murmur from the diesel engine.
The Ram diesel has an exhaust brake that can be switched on by the driver to kick in extra engine braking when slowing down. It's especially useful when hauling a heavy load to keep the brakes from overheating on long downhill slopes, but it's useful to slow the truck anytime. Adding to the Ram 2500's big-rig feel, it makes a soft popping noise like a very muted version of the staccato jackhammer-like sound you hear from the "Jake Brakes" on semi-trucks when they decelerate on the highway.
We appreciated the cabin's well-placed and well-padded armrests on longer drives. The large-capacity center console is wide, but it barely intrudes on the driver's right knee space at all, and it's padded for anyone whose knee rubs against it.
The steering wheel tilts but doesn't telescope to help drivers adjust their reach; luckily the power-adjustable pedals make it pretty easy for any driver to find a good seating position. The front seats are comfortable and well-suited to most body types, but we feel this truck's almost $80,000 price should have bought four-way lumbar adjustment, as opposed to just two-way.
Ram told us the company basically took the interior of the 1500—the nicest truck cabin on the market—and dropped it into their heavy-duty trucks. The fit and finish are impressive, and the Longhorn version we rented is unquestionably fancy. It features leather seats, contrasting stitching, wood trim, saddlebag-like pockets on the backs of the front seats, and a felt-lined glove box and center bin, endowing the cabin with the ambience of a Wyoming hunting lodge.
We're happy to report that advanced safety and driver-assist features—optional FCW, AEB, BSW, and rear cross traffic warning—are available on the heavy-duty Rams for the first time. Available driver-assist features include adaptive cruise control, front and rear parking sensors, and a 360-degree surround-view camera. Given how hard it can be to park such a large truck, the latter two are particularly helpful.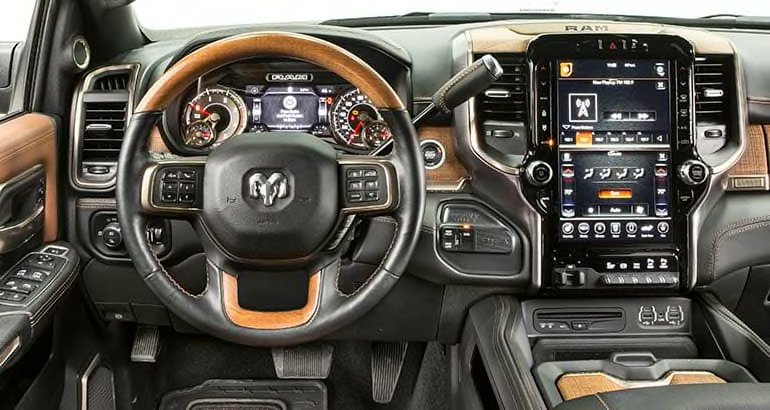 What We Don't Like
We noted the Ram 2500's stiff transmission shifts on the last model we tested, and this new one isn't much better. The six-speed automatic is responsive, and thanks to the readily available low-end power, it doesn't need to shift very often. But most shifts come with a stiff jolt, and downshifts are particularly noticeable when coming to a stop. We know from driving the rival heavy-duty trucks from Ford and General Motors that it doesn't have to be this way.
Tack the Ram 2500 into a corner and it feels like the gigantic vehicle that it is. The light steering reacts slowly, requiring lots of twirling of the wheel to make it turn. Its body lean is restrained, but its handling is ungainly and the truck isn't eager to change directions quickly, which can make the driving experience akin to navigating a big boat in water.
It's surprising the Ram's well laid-out cabin doesn't have a left footrest, but a Ram representative told us that's on the company's to-do list for the truck's next full redesign. The rear seat is very flat, with minimal contouring, and could use a bit more leg support. Foot space can be a bit cramped underneath the driver's seat if it has been fully lowered.
The $9,100 it costs to get the Cummins turbodiesel is a head-shaking sum of money for an optional engine, yet that's pretty much the going rate for domestic heavy-duty diesel pickups—both Ford and GM also charge more than $9,000 for their diesel V8s. Ram 3500 buyers can opt for a high-output version of the Cummins, for $11,795, which brings an eye-popping 1,000 lb.-ft. of torque.
What We'll Keep Our Eyes On
We want to spend more time with the Ram's new, optional 12-inch Uconnect infotainment display screen before we render a judgment, but on initial review we found that the intricacies of this vertically oriented touch screen take some time to get used to. We like that it can be separated into a split-screen configuration, for example allowing Android Auto or Apple CarPlay to be displayed on the top portion of the screen with the climate controls shown below. Android Auto and Apple CarPlay usually take over an infotainment system's entire screen.
We don't like that using functions such as the seat heaters requires wading into the display screen as opposed to pressing a hard button on the center stack or console, and it's a long reach to the screen for the front passenger. We think the smaller 8.4-inch Uconnect screen is less confusing to use, and still delivers many of the same capabilities.
CR's Take
Heavy-duty pickups like the Ram 2500 aren't for everybody. In fact, they aren't for most people because of their bulky size, towing and hauling focus, and pretty hefty price tags. But we're happy to see that Ram is continuing to make these big trucks friendlier in cabin comfort and ride quality, and that advanced safety features are now available. All that said, because so few typical consumers buy heavy-duty pickups, we won't be purchasing the 2019 Ram 2500 for our test fleet.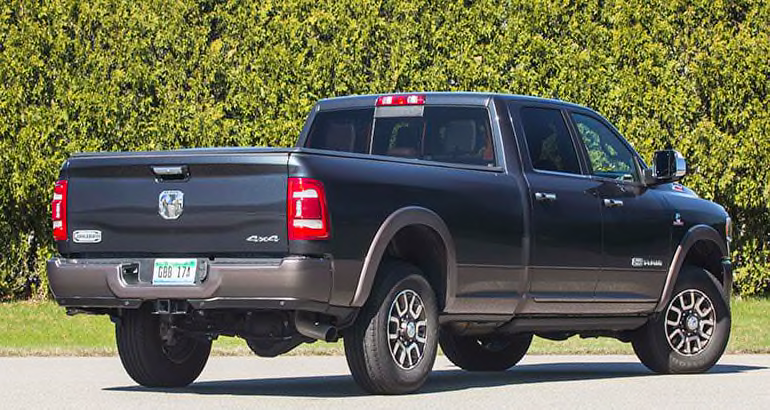 About the cars we rent: Consumer Reports tests only the cars that we purchase. We pay automakers on occasion to drive early or different versions of cars (we don't borrow press cars free of charge, as many other publications do), but those impressions are never part of the 50-plus-evaluation regimen that we put our purchased cars through.