Preview: 2022 Chevrolet Silverado Gains Key Safety Features, New Interior
We love that automatic emergency braking with pedestrian detection is now standard
The Chevrolet Silverado receives a midlife update for 2022 that brings a fresh interior, new off-road trim, enhanced trailer features, and General Motors' Super Cruise driver assistance and monitoring feature. And significantly, it makes a suite of active safety features standard equipment on all trims.
A fresh face for the Silverado signals the model change, with new grille and revised daytime running lights. Otherwise, the Silverado will be quite familiar from the outside, except for the extroverted ZR2.
This new trim goes beyond the existing Trail Boss to be the ultimate Silverado off-roader, with a fortified suspension, 33-inch-tall tires, Terrain Mode that allows for one-pedal rock crawling, front and rear locking electronic differentials, unique skid plate protection for the underbelly, a front steel bumper designed to enhance approach angles, and an exhaust system that is tucked in to protect it from potential trail damage. This dirt-bound flagship model comes with a 420-horsepower V8.
The updated Silverado is scheduled to arrive in dealerships in the first quarter of 2022. The automaker is optimistic they will be able to launch with all of the promised features, but officials acknowledge that supply issues, particularly with a global shortage of microchips, remain a fluid situation.
What it competes with: Ford F-150, GMC Sierra, Nissan Titan, Ram 1500, Toyota Tundra
What it looks like: A Silverado with a new grille.
Powertrains: 310-hp, 2.7-liter turbocharged four-cylinder engine with 8-speed automatic transmission in rear-wheel drive or four-wheel drive.
277-hp, 3.0-liter inline six diesel; 355-hp, 5.3-liter V8 engine; or 420-hp, 6.2-liter V8; with 10-speed automatic transmission in rear-wheel drive or four-wheel drive.
Price: $30,000-$59,000 (estimated)
On sale: Winter 2022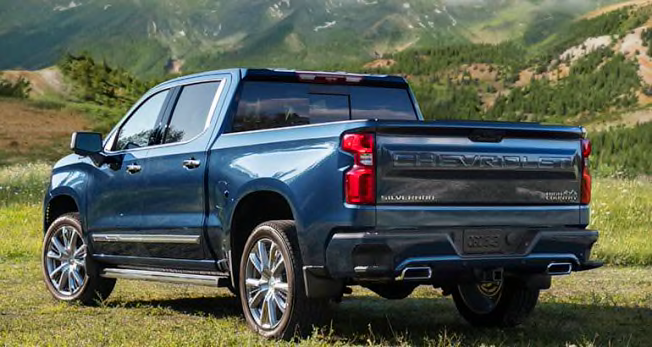 Timing is right for Chevrolet to bolster its offerings, as it faces tough, ever-evolving competition from Ford, Ram, and soon Toyota, with its redesigned Tundra. The updated interior on higher trim levels smartly nods to some consumers' desire for a truck with more comforts and conveniences.
The ZR2 trim goes beyond the Trail Boss to create an even more capable off-roader, without going to the extremes seen with the Ford Raptor and Ram TRX.
We are glad to see that important active safety features, such as automatic emergency braking, are now standard across the board. This had previously been a disadvantage when compared with the Ford F-150, and a general shortcoming. The addition of Super Cruise, with its ability to provide hands-free assistance while towing, is also notable.
Although not yet disclosed, it is reasonable to expect that the closely related GMC Sierra pickup truck will receive similar upgrades.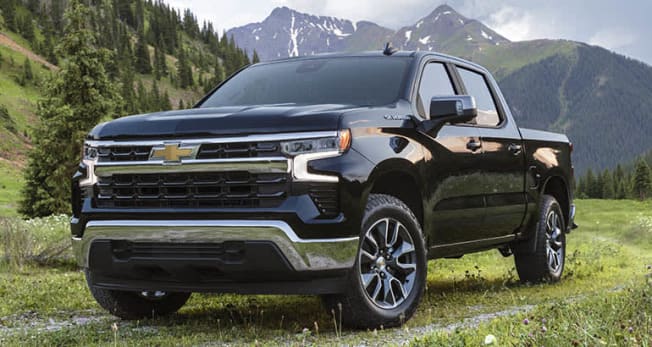 The exterior gets a mild freshening for 2022 with a new front fascia and grille on every trim. Notably, the Chevrolet "bowtie" logo is positioned higher than before, near the hood line, rather than centered in the grille. The new daytime running lamps have animated walk-up and walk-away functions. And yes, if these are the biggest changes, then this is a decidedly mild cosmetic update.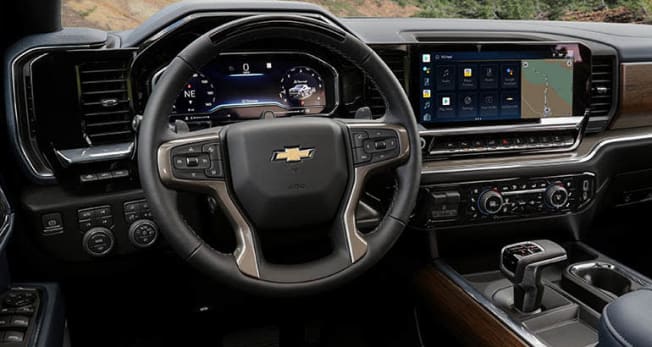 Much more attention has been paid to the interior. The base and work-focused trims use a carryover cabin, but LT and higher trims gain a more modern interior that is more inviting than before and quite different from that in the related Tahoe and Suburban SUVs.
The redesigned interior brings a configurable 12.3-inch screen for the instrument panel and a wide 13.4-inch touch screen for the infotainment system. That system is both wireless Android Auto and Apple CarPlay compatible, and it integrates built-in Google functions, such as voice commands.
Models with bucket seats have a monostable electronic gear selector in the center console, which returns to a center position once tilted to pick a gear. Trucks with a bench seat continue to use the steering column-mounted gear lever.
Moving up through the trim levels brings more premium touches, such as open-pore wood accents and perforated leather upholstery.
The 310-horsepower, 2.7-liter turbocharged four-cylinder engine has been significantly updated throughout, increasing its peak torque output to 420 pound-feet. This 20 percent increase over last year's version boosts its maximum tow capacity to 9,600 pounds. This engine is paired with an eight-speed automatic transmission.
The 277-horsepower, 3.0-liter diesel engine also was updated, with its maximum tow capacity increasing by a whopping 2 tons, to 13,300 pounds.
The mainstay 355-horsepower, 5.3-liter and uplevel 420-horsepower, 6.2-liter gasoline engines continue. Like the diesel, these use a 10-speed automatic transmission.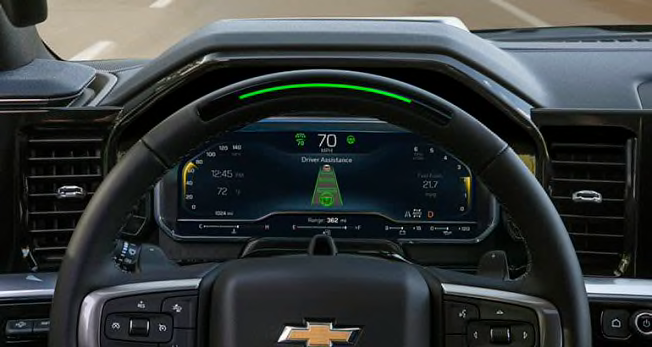 Safety and Driver Assistance Systems
Chevrolet addressed a notable shortcoming with the 2021 model by making key active safety features standard equipment on all trims. Previously, it could cost buyers thousands of dollars to upgrade a lower-trim truck to get these features.
Standard for 2022: forward collision warning, automatic emergency braking with pedestrian detection, lane keeping assist, lane departure warning, automatic high beams, a video rearview mirror, and "buckle to drive," which requires the driver seat belt be secured before the transmission will shift from Park.
The Super Cruise driver assist system is offered for the first time on a pickup truck with the updated Silverado. Available on the Silverado High Country, Super Cruise 2.0 combines various sensors and systems, including a driver attention monitor, to enable the truck to operate hands-free on more than 200,000 mapped roads in the U.S. and Canada. This latest version has lane-change capability. Super Cruise is distinguished from similar systems offered by other automakers by clearly communicating if the driver or the vehicle is in control, using colored lights on the steering wheel rim. With the Silverado, Super Cruise allows hands-free towing.
Chevrolet has expanded its electronic towing assistance features for 2022, with up to eight cameras (including a virtual rearview camera), trailer-factored blind spot warning, trailer-specific adaptive cruise control, and an in-vehicle app for tuning various factors.