When you shop through retailer links on our site, we may earn affiliate commissions. 100% of the fees we collect are used to support our nonprofit mission.
Learn more.
Pickup truck sales are the hottest they've been in a decade, and it's no wonder: Driving one is no longer a bumpy, jarring experience that you have to endure.
Truck makers today are building pickups with broader appeal, with a softer ride and more safety, convenience, and comfort features.
As a result, pickups are now attracting more buyers, including those who like the addition of backseats and more cab space and don't seem to mind sacrificing some truck bed length for the extra room inside.
Although the pickup market remains overwhelmingly dominated by male buyers, the number of women who registered full-sized pickups increased 67 percent from 2008 to 2016 (reaching more than 470,000 trucks in 2016), based on data from IHS Markit. "Family trucks are 40 to 50 percent of our mix," says David Elshoff, Ram brand spokesman. In the industry, a family truck is one with four full-sized doors in a midlevel or higher trim.
Additional seating has been a trend over the last 10 years, and those bigger cabs mean more space for adults as well as kids, says Jen Stockburger, director of operations at Consumer Reports' Auto Test Center in Connecticut. "In our tests, crew-cab pickups typically offer generous rear-seat room to install child seats," she says.
But the space needed for those seats means a trade-off in the size of the pickup beds. Twenty years ago, the Ford F-150's most popular combination was a regular cab with an 8-foot bed, according to Mel Yu, CR's automotive analyst. Today the cabs are a lot bigger and the beds are smaller. Consumers don't seem to mind: General Motors says the most popular combo now for the Chevrolet Silverado 1500 is a crew cab with a 5-foot-8-inch bed, the shortest available.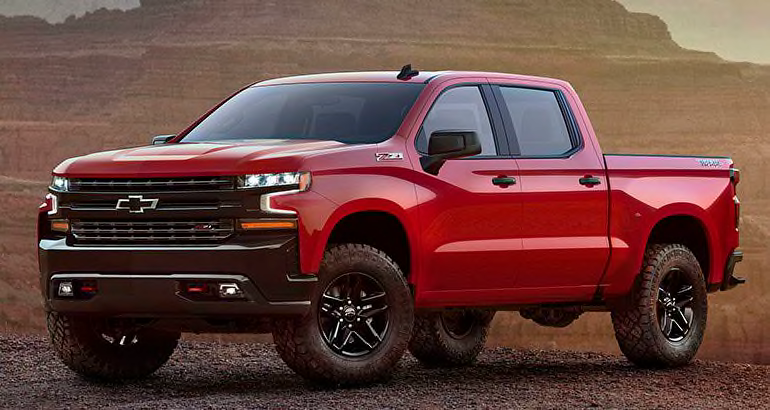 Family-Friendly Changes
Shoppers who choose a pickup as a family vehicle bring different needs to the segment than traditional buyers, says GM spokesman Nick Richards. Core truck capabilities, such as hauling, towing, and off-road ability, are still priorities, he says, but "exterior appearance, safety, and technology are now more important than ever." It also doesn't hurt that pickups sit fairly high off the ground, with acres of glass, giving drivers a good view of the world outside, although the long and tall hoods can make parking situations a challenge.
Ford has been evolving its F-150 for years, offering larger cab options, a quiet interior, and more luxury features. "Given the versatility of today's trucks, more are being utilized as a primary family vehicle," says Dawn McKenzie, a Ford spokeswoman.
True luxury pickups are a real thing, too. Hop up into a high-end truck these days and you'll find leather seats, power-adjustable pedals, soft-closing tailgates, powerful infotainment systems, and multizone climate control. Ram says demand for its high-end trims has doubled since 2009, to 20 percent of the mix.
"Among vehicles that cost more than $50,000, full-sized pickups are some of the most popular," says Gabe Shenhar, associate director of the auto test program at CR. "These are $60,000-plus vehicles with amenities and swagger."
Despite the embrace by more families, the pickup truck segment hasn't been as quick as cars and SUVs to adopt advanced safety systems. Toyota leads the pack by putting standard automatic emergency braking (AEB), forward-collision warning (FCW), and lane-departure warning (LDW) on its 2018 Tundra full-sized and Tacoma compact pickups. AEB and FCW aren't standard on the 2018 Ford F-150, but they're available, along with blind-spot warning (BSW), rear cross-traffic warning (RCTW), LDW, and lane-keeping assist (LKA). On the 2018 Chevrolet Silverado, AEB, FCW, LDW, and LKA are available, but not BSW or RCTW.
The 2018 Ram 1500 lags the most in this area, lacking any advanced safety features. That will change with Ram's 2019 redesign, which makes all of those features available, along with a 360-degree camera.
Although pickups can be gas guzzlers, automakers have improved truck mpg by using more efficient engines and transmissions, and by reducing weight. The Ram 1500 EcoDiesel is currently the most fuel-efficient full-sized pickup, managing 20 mpg overall in CR's testing. The F-150's gasoline 2.7-liter V6 turbo gets an impressive 19 mpg overall.
Ford's F-150 dropped 700 pounds when it switched to an all-aluminum body, and Ford is adding a diesel version later in 2018 that the company says could reach 30 highway mpg.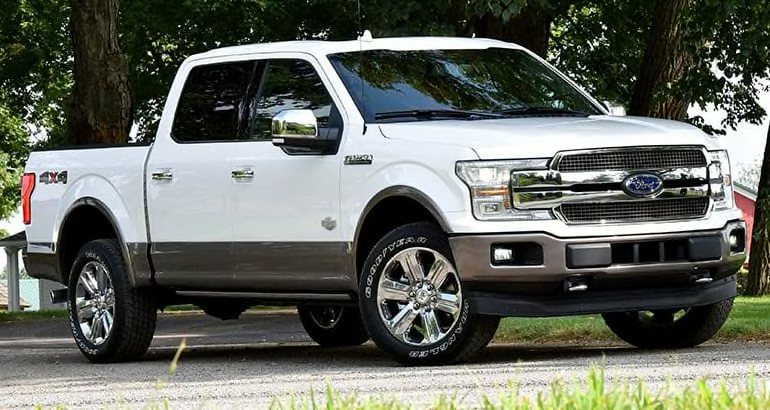 Smart Buying Advice
Pickup trucks have become more civilized, but make no mistake—they still don't ride or handle as well as cars or SUVs.
Most have a higher step-in and are more difficult to park. So unless you really need an open bed, a truck might not be for you, especially in an urban living situation.
If you're buying a pickup for the first time, be careful not to get more truck than you need. The brawnier the truck, the more it can cost you in fuel. The burlier ones also tend to have the highest step-ups, and the ride comfort will suffer.
For instance, if you're not planning to frequently carry heavy loads or pull a big trailer, you probably don't need a heavy-duty truck (¾-ton or more)—stick with a light-duty version (½-ton/1500-size). Even a compact truck, such as a Chevrolet Colorado, Honda Ridgeline, or the upcoming Ford Ranger, could fit the bill.
If you rarely haul dirty cargo, large appliances, or motorcycles, then a minivan or an SUV might be the better choice. If you truly need a pickup only once in a while for a specific task, then you might be better off renting on those occasions.
Editor's Note: This article also appeared in the April 2018 issue of Consumer Reports magazine.