When you shop through retailer links on our site, we may earn affiliate commissions. 100% of the fees we collect are used to support our nonprofit mission.
Learn more.
For Christi Mulkey, a Texas businesswoman, government fuel-economy rules are more than dry numbers and technical jargon. Money saved from the improved efficiency of her truck fleet improves her bottom line and helps pay for richer employee bonuses.
As CEO of Diverse Construction, one of the state's few female-owned communications contractors, Mulkey sweats the fuel expense for her 15 work trucks. They're mostly big, brawny Chevrolet pickups of various sizes, some strong enough to haul 18-foot trailers fully loaded with tools and materials for building and maintaining cell towers.
Mulkey has noticed fuel efficiency notching up in recent years as she rotates in new trucks. The improved efficiency saves Diverse, based in Lewisville, about 20 percent on its fuel bill. Last year, it was about $135,000, Mulkey says. A few years ago, the fleet was averaging 6 to 8 mpg; now it's more like 9 to 10. "We can tell it's improving," she says. "Every little bit helps."
See our infographic below covering two decades of fuel-economy performance.
Many other business owners and consumers are reaping the rewards of industry innovation spurred by a government push on fuel economy. The Obama administration set new efficiency targets in 2011 and 2012 after negotiating with the auto industry in the wake of the General Motors and Chrysler bankruptcies. Mulkey's trucks, like most U.S. vehicles produced in the 2000s, have benefited from advances gained in the face of tougher government rules.
But as a recovered industry now sells vehicles at a near-record clip, these targets are under attack. Car companies want relief from the goals they say are increasingly expensive and unrealistic, and the Trump administration is openly skeptical of regulation.
Weak U.S. demand for hybrids and all-electric vehicles is Exhibit A for the industry as it argues its position. But consumer and environmental groups, among others, argue that automakers don't need huge increases in EV sales to meet targets; continued advances in gas- and diesel-powered engines should be enough. They also stress that keeping targets in place is key because it forces automakers to innovate.
"There's a whole set of engineering opportunities," says John DeCicco, a professor at the University of Michigan who researches auto technology and its effect on global climate. "So far, there's no evidence that automakers have been given too tough of a job."
Mulkey, whose personal car is an all-electric Tesla Model S, says regulators need to keep the pressure on manufacturers. "It saves us money," she says. "It helps us to be able to pass those dollars on to our employees."
New targets could come this spring when regulators are expected to propose changes to federal fuel-efficiency rules, known as the Corporate Average Fuel Economy (CAFE) standards.
There's a lot at stake. If mpg targets are put on hold, the planet could see more carbon dioxide emissions, and U.S. consumers could miss out on the financial benefits of more-efficient vehicles. On the flip side, vehicles could cost less to produce if manufacturers don't see the need to invest in fuel-economy improvements. And those savings might be passed on to car buyers.
"Fuel-economy standards are working, and consumers are better off as a result," says David Friedman, director of cars and product policy and analysis for Consumers Union, the advocacy division of Consumer Reports. "Vehicles continue to hit record highs in fuel efficiency as automaker innovations save consumers money at the pump. Consumers simply can't afford for these standards to be weakened at the request of automakers."
Designing for Efficiency
So what's behind the fuel-economy advances? For the most part, it's a combination of improvements in engines, transmissions, aerodynamics, and weight reduction. (See "Fuel-Saving Innovations.") Automaker engineers are using high-powered computers to improve designs as well as gas and diesel performance.
Take the redesigned 2019 Toyota Avalon, unveiled in January at the North American International Auto Show in Detroit. Randy Stephens, chief engineer at the Toyota Technical Center, says engineers considered CAFE standards when creating the model. They shaved weight, selected more fuel-efficient tires, and refined aerodynamics. They also improved the 0-60 mph acceleration because buyers demanded it, he says. Toyota hasn't released the new mpg number. CR tested the 2016 Avalon at 24 mpg overall.
"We feel quite a bit of pressure to make sure we're increasing fuel economy," Stephens says. "We felt the need to be competitive on horsepower, too."
If you haven't been to a dealership lately, you might be in for pleasant sticker shock. The average fuel economy for all U.S. cars, SUVs, and light trucks has increased by 12 percent, to 25.2 mpg in 2017 from 22.6 mpg in 2010. The 2010 Honda Accord (four-cylinder), for example, was rated by the Environmental Protection Agency at 21 mpg for city and 31 mpg for highway. The 2018 version (four-cylinder, turbo equivalent) is 30 mpg for city and 38 mpg for highway—increases of 43 and 23 percent, respectively. In CR testing, the Ford F-150 improved to an overall 19 mpg for the 2018 model from 14 mpg in 2004, a 36 percent increase. At the same time, the truck's 0-60 mph acceleration improved to 6.8 seconds from 8.3 seconds. (See the charts below.)
Automakers have made big strides in the last decade because engineers bring fuel-saving designs to the marketplace much quicker now, says John German, an engineer who worked for Chrysler, Honda, and the EPA before joining the International Council on Clean Transportation as a senior fellow.
"If technology were the same today as it was in 2012, you might be able to make the argument that some kind of modest rollback to the standards would be appropriate," he says. "But the technology is improving at such a rapid rate."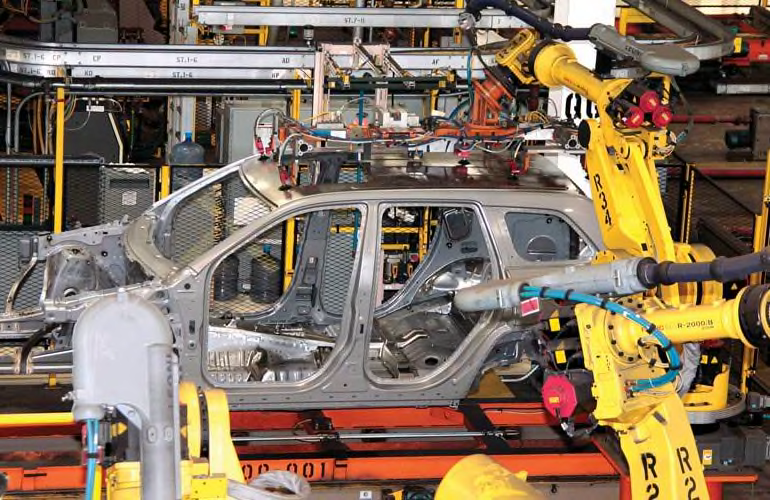 The Impact of Our SUV Nation
To be sure, consumers have demanded better fuel economy for financial and environmental reasons, and the industry has been making the smart business choice to give them what they want. So why would the industry want to backslide now?
Automakers say it's a more complex equation than many in Washington and across the nation realize, involving changing consumer tastes toward pickup trucks and SUVs. They say that U.S. car buyers aren't embracing electrified vehicles and hybrids enough for the industry to realistically meet current CAFE standards, a formula based on an automaker's mix of vehicles. For a company selling 48 percent cars and 52 percent light trucks and SUVs, the current target is equivalent to a fleet average of 45.7 mpg by 2025. After automakers use credits, and the ideal conditions of the laboratory are accounted for, the real-world target works out to 35.5 mpg.
Cheaper gas could be working against that goal, helping to renew America's love affair with larger vehicles. Pickups, SUVs, and other light trucks now account for more than half of all U.S. sales. In December, the three Detroit-area automakers sold 722,822 vehicles—and 592,665 of them were pickups, SUVs, or minivans. Only 18 percent were cars. That shift in demand has been happening for a while but has now become a tsunami.
There's only so much new fuel efficiency you can squeeze out of SUVs and trucks by shaving weight and improving aerodynamics, says Mark Chernoby, chief technical compliance officer at Fiat Chrysler Automobiles. "You won't get to the 2025 standards without significantly higher penetration of electrification than we have today," he says. "We're talking about huge increases."
And just because an automaker builds a super-efficient new hybrid or electric vehicle doesn't mean consumers will buy it. In fact, hybrid sales have remained weak overall. Last year, sales were an estimated 4 percent of the whole U.S. market.
Rick Gezelle, national manager of technical and regulatory affairs at Toyota, says the industry is proud of its steady fuel-efficiency gains, but it's concerned that conventional technologies aren't going to be enough. "Fuel economy is an important attribute. I think this notion that customers will take fuel economy over all other things is a bit of a fallacy, because we all have limited budgets," Gezelle says. "At the end of the day, you're making trade-offs."
The EPA came to a different conclusion in a 2016 technical report. It concluded that automakers could meet 2025 CAFE targets without much help from hybrid or EV sales because of rapid progress in traditional fuel technologies, such as turbo-charging, fuel injection, and engine efficiency.
Luke Tonachel, director of clean vehicles and fuels at the Natural Resources Defense Council, points out that the auto industry has been achieving record sales and profits even as it complains about the strain of reaching current fuel-economy targets. "There's been a huge benefit to consumers," he says. "Choices for consumers have been great under these standards. Rolling back the standards would disrupt that innovation."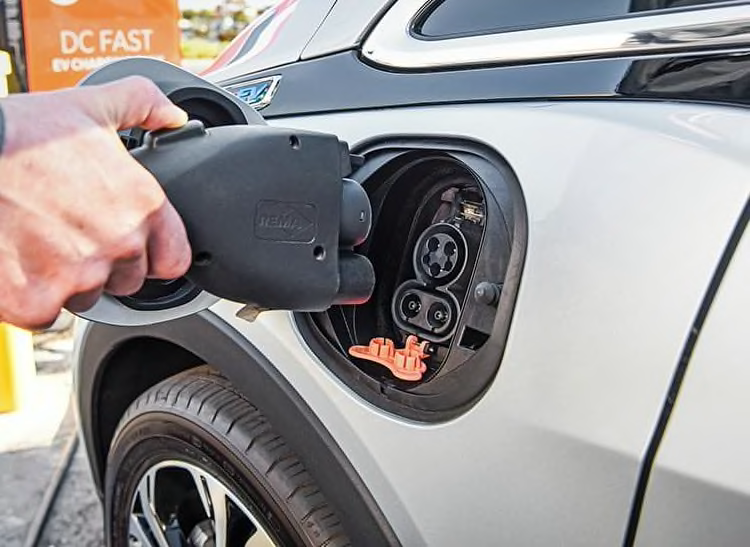 The Debate Over Government's Role
For more than four decades, auto-industry progress on fuel economy—or lack thereof—has been driven by government regulations. The CAFE program dates to the oil crisis of the early 1970s. When gasoline prices shot up after the Arab oil embargo, policymakers saw fuel economy as a national security concern and required automakers to build more-efficient cars. The original CAFE standards called for doubling the average efficiency for passenger cars from less than 14 mpg in 1975 to 27.5 mpg 10 years later. Politics changed when gas prices plummeted in the 1980s and throughout the 1990s. The industry successfully lobbied Congress to freeze CAFE standards in the mid-1990s. From 2003 to 2010, there were some small adjustments higher. At the same time, evidence of climate change was building, and environmental groups and several states, including Massachusetts and California, successfully sued the EPA under the Clean Air Act to regulate carbon dioxide as a pollutant. After a sharp increase in gas prices and the Great Recession of 2008-2009, the Obama administration and California negotiated higher fuel targets with the auto industry.
The National Highway Traffic Safety Administration (NHTSA) and the EPA are expected to release a joint plan this spring updating the rules. Consumers Union is urging Congress and regulators to maintain or strengthen the current standards.
Jim Farley, executive vice president of global markets at Ford, says the automaker is in favor of "stringent" requirements. "In general, we think it's a healthy thing to look at how customers are making decisions, and what these new standards mean for everything from affordability to how much they're actually reducing greenhouse gases," he said in a January interview at the Consumer Electronics Show in Las Vegas. He declined to say where long-term fuel-economy targets should be set.
A General Motors spokeswoman, Laura Toole, told CR in an email that improving mpg and reducing greenhouse gas emissions was an "unwavering goal" for the automaker. "It is the right thing to do, but it has to be done right," Toole said. She declined to address specific questions about GM's position on CAFE standards.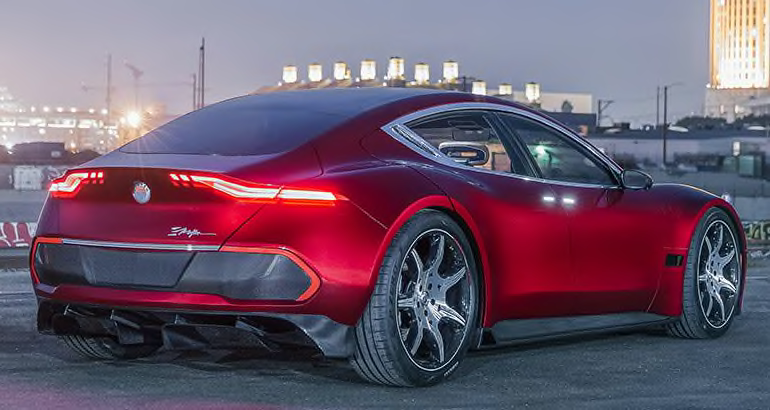 Is the Future Electric?
Consumer Reports predicts even more improvements are on the way through better technology, but only if strong standards remain in place. Analysis from Consumer Reports and government agencies, among others, shows that improving mpg saves drivers money, even when gas prices are low and even after accounting for higher technology costs. CR tests new vehicles—including an assessment of new fuel-efficiency features—at our track in Connecticut and on public roads. (See the best and worst vehicles for fuel efficiency.) If current trends continue, consumers could see leaps in innovation in coming years, says Friedman, adding that after years of trying, car companies including Mazda and Toyota say they're on the verge of bringing diesel-like efficiency to gasoline engines.
Mitch Bainwol, CEO of the Alliance of Automobile Manufacturers, the industry's leading trade group, says automakers are concerned about affordability. "If you jam standards in that are ahead of the marketplace, you drive up costs," he says. He thinks the danger is that future hybrids, EVs, and other high-mpg cars will end up sitting unsold on dealer lots.
But even as auto companies point to the soft demand for hybrid and all-electric vehicles, more carmakers have announced plans to build electrified models. Some analysts say it's a reaction to global developments. China, the world's largest vehicle market, is pushing domestic EV sales to address its air-pollution problem. "The U.S. is no longer the biggest or most influential automotive market," says Ed Kim, an analyst with AutoPacific. Also, some cities and countries in Europe have announced plans to de-emphasize gas- and diesel-powered engines in the coming decades.
There's also the Tesla factor. The Silicon Valley company has shown there's a market for high-end, all-electric sedans and SUVs. Its surging stock price has encouraged new players in the market. Ramping up electric-vehicle sales is the holy grail for automakers operating in the U.S. If consumers bought EVs in large numbers, it would free up automakers to sell higher-horsepower trucks and SUVs and also meet CAFE targets. But tepid­ EV sales are a reality.
Even so, German, the ICCT senior fellow, says it won't take an electrified revolution to meet goals. "The internal combustion engine has been castigated for years as inefficient. But the inefficiency has also been an opportunity," he says. "They're figuring out ways to dramatically increase the number of miles you get from that gallon of gas."
Two Decades of Fuel-Economy Performance
CR first measured fuel economy way back in 1936; today, we evaluate the efficiency of every car we buy. These three very popular models—among the top sellers each year—show how automakers have improved fuel economy by turning to smaller engines that create even more horsepower. They've also made these cars faster, lighter, and safer. Even better, when adjusted for inflation, these models cost about the same as they did nearly 20 years ago.
---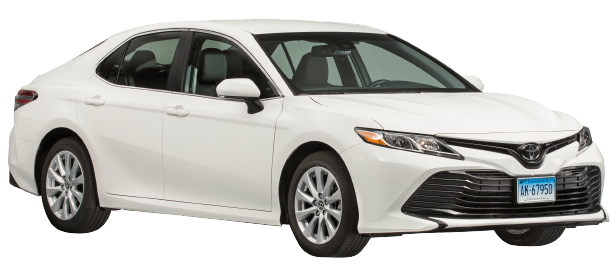 Toyota Camry
Toyota has increased efficiency by tweaking the Camry's transmission, along with other tech improvements. Horsepower has increased by 48 (31 percent), even though the engine is a similar size.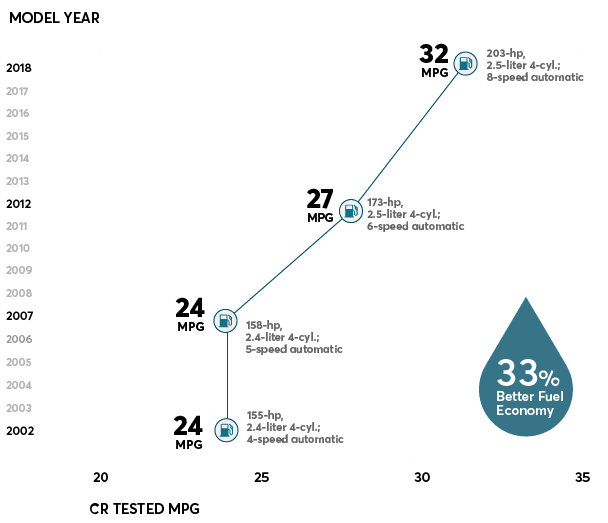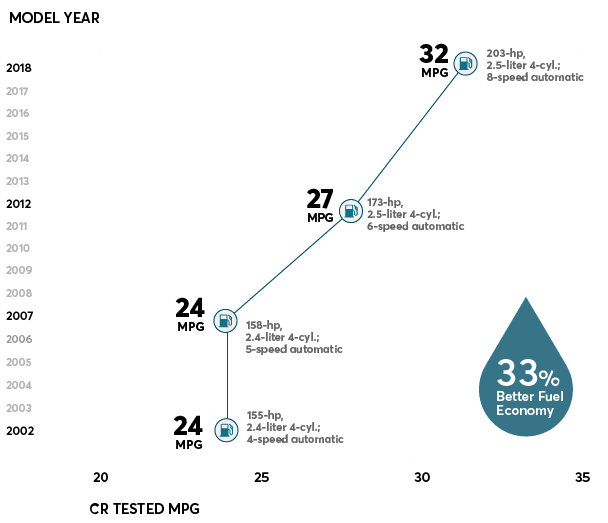 ---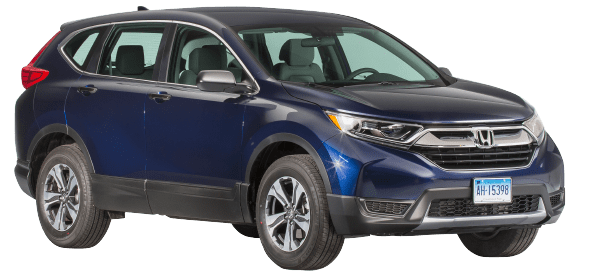 Honda CR-V
Over time, Honda's popular compact SUV has seen its engine shrink from 2.4 liters to a 1.5-liter, turbocharged one now. It has moved from a traditional transmission to a continuously variable transmission.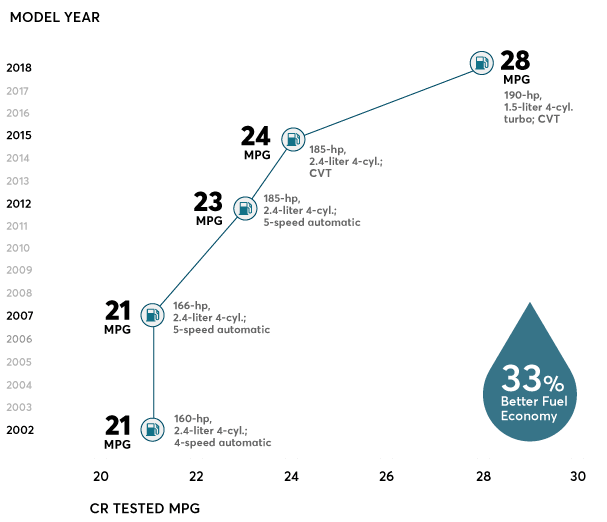 ---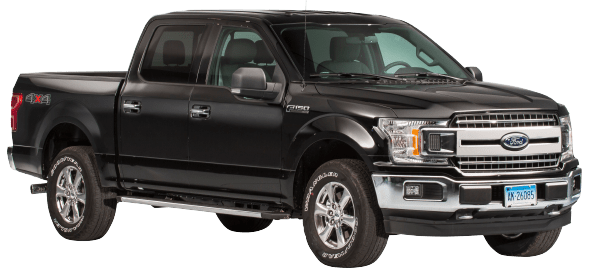 Ford F-150
Ford now offers smaller, turbocharged engines in addition to its traditional V8, and dropped hundreds of pounds, through the extensive use of aluminum. It has also gone from a four-speed transmission in 2004 to today's 10-speed transmission.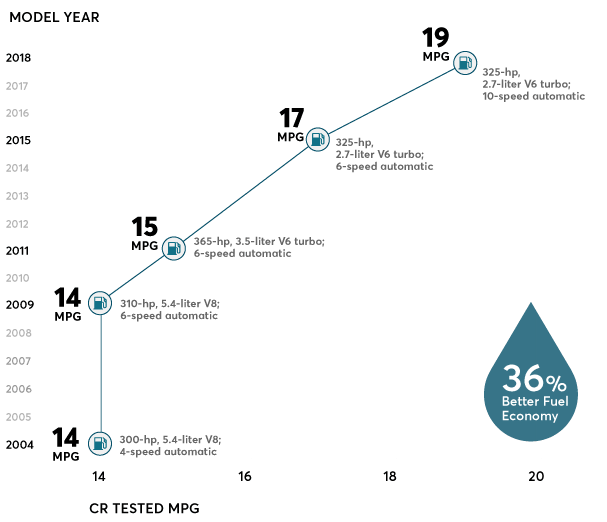 How Accurate Are Fuel Economy Estimates?
How accurate are the gas mileage estimates that come with new cars? On the 'Consumer 101' TV show, Consumer Reports' expert Ryan Pszczolkowski explains how CR confirms the amount of fuel an engine is using—and offers tips for maximizing your mpgs.
Editor's Note: This article also appeared in the April 2018 issue of Consumer Reports magazine.