When you shop through retailer links on our site, we may earn affiliate commissions. 100% of the fees we collect are used to support our nonprofit mission.
Learn more.
A sequel is often not as good as the original. But in the case of the Nissan Leaf, the second-generation electric car seems better on all counts based on initial impressions from a test drive at the Los Angeles Auto Show.
To its credit, the original Nissan Leaf was the first mass-produced plug-in, all-electric car available to the public from an established automaker. It burst onto the scene in 2011 alongside the semi-electric Chevrolet Volt.
Although the Leaf has since been overshadowed by several peers in terms of driving range, most notably the Chevrolet Bolt, it still deserves a nod for its pioneer status.
Nissan claims the new 2018 version will have a range of 150 miles from its 40-kWh battery—a significant improvement from the 107-mile range from a 30-kWh battery in the outgoing version.
The electric motor output likewise has increased, now with the equivalent of 147 hp—40 more than the outgoing model. Charging time is expected to be about 8 hours through a 240-volt connection. If 150 miles still doesn't cut it, Nissan plans to add a 60-kWh version in 2019 that the carmaker says will have a range of 200 miles. Pricing starts at $29,990, before a $7,500 federal tax credit.
We'll buy our own this winter for a thorough testing, but here are CR's first impressions.
Like all EVs, the Leaf takes off in a silent and immediate manner that proves to be satisfying and particularly handy in bustling downtown Los Angeles traffic. It builds up speed in a smooth, linear way.
A new handy feature called e-Pedal allows what's known as one-pedal driving, which means lifting your foot off the throttle can eventually bring the car to a full stop where you want. This takes some practice. The feature can be activated by a button, and we found that it works well. It's nice that the driver can choose whether to activate this feature, as opposed to the BMW i3's built-in aggressive deceleration.
The new Leaf is firmer than the softly sprung outgoing model, though its suspension still effectively takes the edge off bumps and manhole covers. Handling has improved, with less body lean and more decisive turn-in response.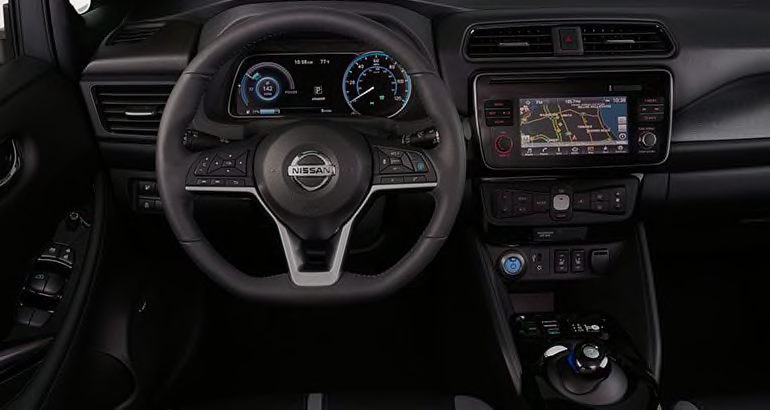 With the styling update, the cabin has become more conventional. While the hockey-puck-style gear selector remains, the gauges and controls are straightforward. Android Auto and Apple CarPlay come standard starting with the midlevel trim $32,490 SV. Newly available is a power seat with adjustable lumbar support, something the more expensive Bolt lacks. Rear-seat room is quite decent, and the trunk space suffers much less intrusion due to the battery. Cabin ambience is pleasant enough, better than the Bolt's so-so fit and finish but no match for the more premium Volkswagen e-Golf.
The Leaf can be charged through a regular 120-volt outlet, but that is likely to take around 20 hours. The home charging kit that comes with the car includes a neat dual plug that can easily convert from a regular three-prong plug to a 240-volt heavy-duty plug, compatible with outlets most households possess for their clothes dryer and oven range. That eliminates having to invest in a dedicated charger for the Leaf. As an option, one can get a port for DC fast charging that is claimed to provide an 80 percent charge in 40 minutes.
The Leaf is Nissan's second model to offer ProPilot Assist (after the Rogue), Nissan's name for adaptive cruise control that's combined with lane-keeping assist. It's not an autonomous feature, nor is it designed to be one. However, ProPilot Assist can be a convenience in stop-and-go traffic and serve as a guardian in case the driver becomes distracted.
The redesign is supposed to address the original Leaf's deficiency in the Insurance Institute for Highway Safety's small-overlap crash test, where it got a Poor rating. We'll know that as soon as the IIHS evaluates the new one.
We look forward to testing the new Leaf, including how it copes with our New England winter weather at and around the CR test track in Colchester, Conn. Cold weather is still an EV's Achilles' heel, adversely affecting driving range because of the need for cabin heat. We'll still opt for the $900 all-weather package that includes heated seats and steering wheel.
Look for a full road test on the new Leaf in the spring.
Read the complete road test of the 2017 Nissan Leaf.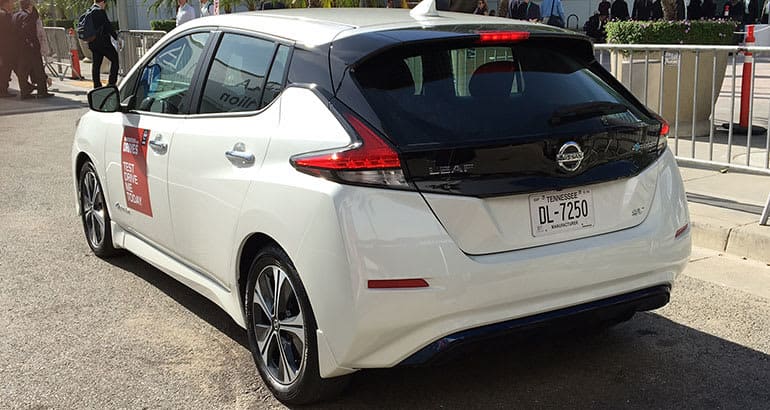 Electric Cars 101
Electric cars are bringing some of the biggest changes the auto industry has seen in years. On the "Consumer 101" TV show, Consumer Reports expert Jake Fisher explains to host Jack Rico why these vehicles might not be as newfangled as you think.