When you shop through retailer links on our site, we may earn affiliate commissions. 100% of the fees we collect are used to support our nonprofit mission.
Learn more.
Cities and countries around the world are pushing hard for automakers to reduce automotive emissions, which has the auto industry exploring alternative powertrain technology. At CES 2018, many companies are highlighting some of the most advanced, low-emissions powertrains in the pipeline.
And some of the vehicles using these cutting-edge technologies could be available to consumers within just a few years.
Hyundai set a new benchmark for hydrogen-powered fuel-cell vehicles with its Nexo concept. The mid-sized SUV will go 370 miles on a tank of hydrogen—that's 105 more than the fuel-cell Tucson, also by Hyundai and already on sale in select parts of the country.
Fuel cells convert hydrogen to electric power. The Nexo fuel-cell stack produces 120 kilowatts of energy, which is comparable to about 160 horsepower in a gasoline engine. It accelerates 25 percent faster than the Tucson.
And Hyundai claims to have cracked one of the weaknesses of hydrogen—performance in cold weather. The Nexo can start at temperatures as cold as minus 20 degrees, the automaker says.
Hydrogen-powered cars emit no traditional pollutants, only water vapor. Carmakers claim that the exhaust is cleaner than the outside air, so the cars actually improve the air quality in their cities.
The upside of hydrogen as a fuel, besides it being clean, is that its range is comparable to gasoline-powered cars, and the act of filling the tank isn't all that different from the corner filling station. The problem today, nearly 20 years into auto-industry experiments with fuel cells, is that there are still almost no hydrogen filling stations across the U.S.
At last count, the U.S. Department of Energy counts 39 hydrogen stations in the country, with all but five of them in California. By contrast, there are more than 17,000 public electric charging stations and another 49,000 outlets to power electric cars. That may explain why, at least in this country, battery-powered EVs seem to be gaining more traction as interest in zero-emissions alternative-fuel vehicles increases. For comparison, there are about 168,000 gas stations in the U.S.
Electric Promises and Dreams
Hyundai's corporate cousin, Kia, also used the Las Vegas show to show off a fully electric version of its SUV, the Niro EV. The production version will be one of 16 electrified vehicles Kia plans to sell by 2020, and that list includes a fuel-cell car.
Other companies, including Toyota, GM, Ford and Volkswagen, have made similar pledges about bringing out full-electric battery-powered cars, as well as new hybrids and plug-in hybrids. They're responding to mandates in China and pledges by European cities and countries to sharply curtail or even eliminate traditional engines.
While the industry is long on promises about an increasingly electric future, consumers in the U.S. have not yet completely signed onto it. Hybrid and EV sales have lagged in the U.S. as gas prices have been hovering around $2.50 a gallon for regular. Even backed by generous government incentives, battery-powered cars account for less than one percent of the U.S. market.
But not all upcoming EVs are being built by traditional automakers, meant for the mainstream. A reformulated Fisker company is making a different play, jumping into the super-luxury electric car market.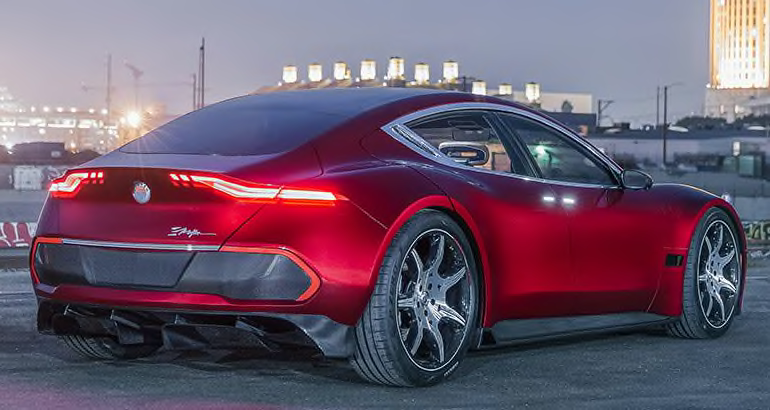 A one-time—and perhaps future—competitor of Tesla, Fisker unveiled a prototype in Las Vegas called the Emotion that could appeal to Model S buyers. Company founder and designer Henrik Fisker said the experience building the Fisker Karma in his previous company, and even that company's subsequent bankruptcy, has made his new venture stronger. He has backing from Chinese financiers, he said.
The electric-car industry has grown up a lot since the original Fisker electric sedan, the Karma, was sold in 2011-12, Fisker said. Building the Karma required the automaker to build a chain of suppliers. Now, there are several companies with a lot of experience in batteries. Fisker is claiming that better chemistry will deliver a battery pack with a range of more than 400 miles and a charging system that will add 125 miles of range in nine minutes.
Fisker's EMotion isn't just about electricity; it has hardware that will enable a level of autonomy. Solid-state lidar units made by Quanergy—which bounce laser beams off of objects like cars, curbs and buildings to create a real-time map of the surrounding environment—are embedded into the sides and front of the car. In place of a grille (which isn't a necessity in a fully electric car), is another large lidar unit. It's a more elegant design than the rooftop police light-style contraptions we're used to seeing on self-driving cars.
Fisker thinks the industry has reached the limits of what can be done with lithium ion batteries, and it needs to focus on a different kind, called solid state. If that technology can be perfected, Fisker says, cars will see much longer ranges and improved charging times that could mean 500 miles of range added in a fraction of the time it takes to charge batteries today.
"I believe a lot of people are sitting on the fence on electric cars," Fisker said. "In two or three years they may be ready. But we're going to need better range and better charging times."