Consumers Lured Into Predatory Car Repair Loans: Report
A coalition of consumer advocates is warning drivers to avoid loans with up to 189 percent interest from franchises of major car repair brands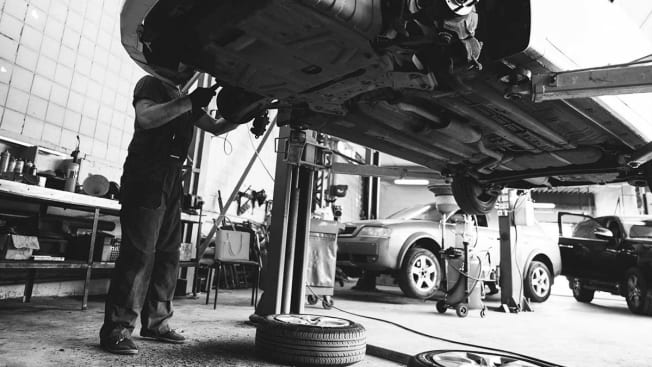 Auto repair shops affiliated with well-known brands—including AAMCO, Big O Tires, Grease Monkey, Jiffy Lube, Meineke, Midas, and Precision Tune Auto Care—are steering unsuspecting customers into loans charging up to 189 percent interest, according to a study by consumer advocacy groups including Consumer Reports.
While most states have interest-rate limits to stop lending practices such as this, a company can evade state regulations by teaming up with a bank in a state where no such rate-cap laws exist. This practice, known as "rent-a-bank," exists in a legal gray area. In this case, the auto repair shops are offering the loans through EasyPay Finance, which runs the loans through Transportation Alliance Bank (TAB,) based in Ogden, Utah, where high-interest rate-caps don't exist.
Emergency auto repairs can be expensive. One in 3 U.S. drivers isn't able to pay the average $500 to $600 cost, according to a 2017 survey by the AAA automotive group. The consumer advocates say that questionable business practices by EasyPay Finance and high interest rates make those payments even worse.
"Auto repair shops throughout the country, including major auto repair companies, are steering struggling consumers into deceptive, high-cost loans with lasting impacts, including credit report harm and debt collection harassment," says Rachel Gittleman, financial services outreach manager at Consumer Federation of America. 
In response to the allegations, Jennifer Friedmann, a spokesperson for Jiffy Lube International and its parent company, Shell, says the companies have no relationship with EasyPay Finance. However, she went on to say that "Jiffy Lube service centers are independently owned and operated by third-party franchisees, who establish relationships with a variety of different vendors. JLI has no knowledge of any of its Jiffy Lube franchisees working with EasyPay Finance."
"All of the Midas locations and most of the Big O locations are independently owned and operated by Midas and Big O franchisees," says Jonelle Compiani, a spokesperson for TBC Corporation, which is the brands' parent company. "A typical franchisee provides several financing options to ensure it can assist all customers, regardless of income or credit status, with their automotive needs. EasyPay Finance is one financing source some franchisees choose to make available to their customers. The franchisees own and operate their business and, as such, do not need the approval of Midas, Big O, or TBC to offer secondary financing through EasyPay. TBC is not a partner with EasyPay."
Consumer Reports didn't receive comments from Grease Monkey's parent company, Full Speed Automotive; from Icahn Automotive, the parent company of AAMCO and Precision Tune Autocare; or from Driven Brands, the parent company of Meineke.
This isn't the first time EasyPay Finance has been accused by consumers and advocates of poor business practices. It previously has faced complaints about loans it offered consumers seeking to purchase purebred puppies. 
According to one complaint on the CFPB database, the company allegedly reported the consumer to the credit bureaus as having a monthly payment and balance due, despite the consumer having made the payments. 
"Once I finally had satisfied the account, they continue to report me as having a monthly payment and balance due," the 2021 complaint said. "I have called, and again they are unwilling to assist by updating their reporting to the bureaus. I am requesting all interest refunded, and credit reporting updated to reflect as paid in full/satisfied. This reporting continues to negatively impact on my ability to receive credit. This company is engaged in continual predatory lending practices, and are acting maliciously against me. They need to be closed down! Where are consumer protections?"
"Based on the many complaints filed by consumers, it is clear that many borrowers are shocked by the sky-high interest rates attached to these loans, and difficulties in successfully completing repayment," says Chuck Bell, programs director at Consumer Reports. "The FDIC [Federal Deposit Insurance Corp.] and state regulators should immediately clamp down on rent-a-bank loans that evade state interest rate caps and violate state lending laws," he says.
Duvera Billing Services, the parent company of EasyPay Finance and TAB Bank, didn't respond to Consumer Reports' request for comment. The FDIC also didn't respond to an email seeking comment for this report. The CFPB declined to comment on Consumer Reports' inquiry about the issue.
While this loophole continues to be exploited, consumers need to be aware of the potential pitfalls that come with the loans offered by EasyPay Finance and others. Here are tips to avoid high-interest loans—and what to do if you've already taken out a loan with EasyPay Finance.
According to the coalition, you should always check the terms of a loan before you sign or click, especially the interest rate and any details of a promotional offer. Be aware that many of the details for these loans are in small print and hard to read on a phone or tablet.

Consumers should also consider using a credit card or obtaining a personal loan, according to the advocates. "Credit cards have protection if you have a problem with a purchase, and a personal loan at a reasonable interest rate is better than an interest-free offer that never materializes," they say.

Consumers should avoid any loan above 36 percent, they say. "Lenders who charge more than 36 percent—the widely recognized top rate for responsible loans—have a greater tendency to engage in abusive practices and to make unaffordable loans."

The coalition recommends that consumers get a copy of any agreement they sign and that they make sure it's consistent with their understanding.

The BBB recommends that consumers ask friends and family for mechanics they trust, and that they check the business's profile for reviews and complaints at BBB.org.

AAA recommends that drivers start building up their emergency reserve by saving at least $50 a month.

"It's also a good idea to find a trusted repair facility before an issue pops up," says Ellen Edmonds, a AAA spokesperson. "Looking for one when you need it can cause unnecessary stress. If consumers aren't sure where to start, they can visit aaa.com/autorepair to find a repair facility with the AAA Approved Auto Repair designation."
If You've Already Taken Out an EasyPay Finance/TAB Bank Loan and Are Unhappy With It

Share your story on the CFPB Complaint Database and on the BBB website.
Reach out to your state attorney general.

If you signed the agreement within the past two months, the advocates say that you may wish to opt out of the forced arbitration clause "in order to preserve your access to the courts and your negotiating power."

To pay off the loan in time to avoid interest, be careful and persistent when confronted with obstacles. "The EasyPay Finance agreement generally requires you to have made all scheduled payments on time and to pay the full 'amount financed' on your loan agreement plus a $40 fee before the end of the 90-day promotional period date in your contract," the advocates say.

Keep any proof of payment and send it with proof of delivery via certified mail, FedEx, or UPS. 

You may wish to contact an attorney, according to the coalition advocates. "If you are a low-income consumer, you may qualify for free legal advice at a local legal services office," they say.

Plus, the advocates say you can stop the lender from debiting your bank account by asking your bank to stop payment or by revoking the authorization for the debits, but doing so may come with added bank fees.

Finally, it's always a good idea to check your credit report at AnnualCreditReport.com and file a dispute if you notice any inaccuracies.