Best Photo Printers for the Holidays
These models produce quality prints for every budget, and they're ideal for holiday photo ops with family and friends If you're not in the habit of going to the drug store to print out your photos, chances are they're still on your camera (or on your Instagram account). But printing photos is incredibly easy nowadays, especially if you've got the right printer to do your Disney World trip justice. Whether you're making albums from old family photos or planning to create holiday cards, here are three printers that should satisfy your image quality needs, along with some tips to help you make an informed purchase.
Before you buy, make sure you keep a few things in mind. All-in-one printers have scanners that are usually meant for documents, so look for a high-resolution scanner that can handle photos well. Many printers support borderless printing, which is great for making seamless photos. Finally, printing text is cheap, but photos are much more pricey. Before you hit "print" on a folder with dozens of pictures, make sure you're comfortable with the price: It could be 50 cents a page or more.

Canon Pixma MG5620 ($70)
The Canon Pixma MG5620 is a great choice for photographers looking for a bargain. At $70 it's an inexpensive inkjet printer, but it prints excellent photos, especially on glossy paper. It has built-in Wi-Fi, and even supports email printing. Its scanner is ok for general purpose scanning, but won't reach archival quality. But beware: This Canon doesn't have some of the other features serious photographers might want: Camera card readers and direct printing from cameras using PictBridge are both missing, as is a dedicated photo paper tray.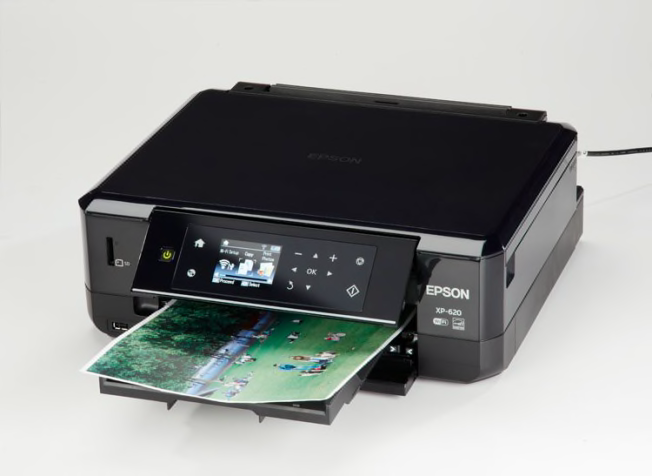 Canon Pixma MG7720 ($149)
For the more serious photographer or family historian, features like memory card readers and a quality scanner are required. The Canon Pixma MG7720 ($149) is an all-in-one printer with a top-notch scanner, useful for importing family photos into your digital library, and a memory card reader that accepts MS and SD cards. You can use the printer's 3.5 inch touchscreen to select which photos to print from the memory cards. There's also a separate tray for 4x6 or 5x7 photo paper, and it prints on CDs that have printable backs. Wireless PictBridge, Apple Airprint, Google Cloud Print, and vanilla Wi-Fi printing are all present. Unfortunately, the jump in quality comes with a jump in printing costs. It's still pretty cheap, but with a single 4x6 photo costing over 50 cents to print (including paper), putting your family vacation in a book could get costly.
Epson Expression Premium XP-820 ($149)
If you're into scrapbooking as well as photo printing, Epson's Expression Premium XP-820 ($149) fits the bill. The XP-820 is great at printing graphics as well as photos, so your Christmas cards (complete with candy cane border) will look great. You can print via email or wirelessly from a multitude of devices. Duplex printing lets you print, scan, or copy on both sides without losing quality. It has two trays for both regular and photo paper, and even prints on CDs that have printable backs. Its scanner isn't as great as the Pixma MG7720's, but it will do fine with documents or images that don't contain a wealth of detail.