Goodyear RV Tire Linked to Multiple Deaths Is Still on Motorhomes, Listings Indicate
With interest in camping booming, experts advise caution if you're buying a new or used RV A sale listing posted online in April for a late-1990s Fleetwood American Tradition motorhome touts the vehicle's amenities—plenty of storage space, a queen-size bed, a lightly used generator—and its relatively good condition, especially given its age.
Not mentioned is the make and model of the vehicle's tires: Goodyear G159s—tires linked to hundreds of RV crashes over the past quarter century that left at least 95 people dead or injured, according to court records and documents reviewed by Consumer Reports.
The G159 was allegedly not designed to be driven at highway speeds for extended periods because it could become unusually hot and experience tread separation.
The National Highway Traffic Safety Administration, which regulates vehicle and tire safety in the U.S., launched an investigation (PDF) into G159 safety problems in December 2017, more than a decade after the tire went out of production. Lawyers from the Department of Justice's criminal fraud division were investigating the matter as well, in cooperation with the Department of Transportation's Office of the Inspector General, as recently as mid-2019, and records obtained by CR suggest that probe remains ongoing.
But an attorney for Goodyear attested in court as recently as mid-2017 that the G159 was "still on the road." And online sale listings for spare tires and RVs reviewed by CR this spring, including on the Fleetwood American Tradition, suggest that remains the case.
That these tires are likely to still be on the road underscores deeper problems with how auto safety issues are addressed in the U.S. and a regulatory system that's stacked against the consumer, safety experts say. It also raises serious concerns as interest in recreational vehicles has soared amid the coronavirus pandemic: RV sales are expected to increase to record highs in 2021, according to a recent report from the RV Industry Association.
Goodyear is obligated to notify NHTSA when it becomes aware of a potential safety-related defect. The company has said it doesn't believe one exists in the G159.
Goodyear declined to comment in response to questions from CR, citing pending litigation and the ongoing NHTSA investigation. The company has long argued that user error is to blame for the many crashes associated with G159 failures—such as overloading, underinflated tires, or actions by the motorhome operator.
NHTSA declined to specifically comment about the G159. The agency's investigations normally take an average of one year to complete, a NHTSA spokesperson tells CR, but they can take longer when supplemental materials—such as inspections, tests, and surveys—need to be obtained from a manufacturer.
"It's totally unhelpful when defect investigations take years to complete," says William Wallace, manager of safety policy at CR. "Drivers don't know whether they're at risk, manufacturers can't properly plan for the future, and NHTSA—which is cash-strapped and short-staffed—keeps spending its limited resources on a single issue."
In March, Goodyear was ordered by a judge to pay about $520,000 for hiding internal high-speed testing data for the G159 from Kurtz's clients during the course of the litigation. The data showed that, at highway speeds, the G159 reached temperatures even Goodyear's own experts have testified could lead to tire failures, like tread separation.
Motorhomes are also used irregularly, NHTSA has said, which could mask potential dangers from aging tires that are several years older or more. Though they may appear to be in decent shape, the age alone could pose a serious threat because tire quality is affected by exposure and oxidation, among other factors, not just by wear to the tread. The tires on the Fleetwood identified by CR were manufactured more than 20 years ago.
"Obviously, a recall earlier in this process would've been significantly more impactful."
Jason Levine
That some used RVs on the road may be equipped with aging G159s is all the more reason for NHTSA to prioritize its investigation into the tire, says Jason Levine, executive director of the Center for Auto Safety, an advocacy organization.
"The fact that most of [the tires] are off the road, the fact that NHTSA's taken too long to get to this point in time, doesn't entirely diminish the utility of a recall," Levine says. "Obviously, a recall earlier in this process would've been significantly more impactful."
A Decades-Long Legal Battle
Kurtz's clients were the Haeger family—Leroy and Donna, their son Barry, and his wife, Suzanne—who, in June 2003, were traveling in a 38-foot motorhome in New Mexico when the right front tire of the vehicle abruptly blew out. The motorhome veered off the road and overturned before skidding to a stop.
Their injuries were severe. Donna suffered multiple fractures and permanent facial nerve damage that makes eating difficult, according to court documents. Suzanne suffered head trauma and lost 60 percent of her left arm's function. Leroy ended up trapped between the steering wheel and the driver's seat with a dislocated elbow, abdominal injuries, and his right leg nearly torn apart below the knee. He still experienced chronic pain even after 17 surgeries, according to the lawsuit.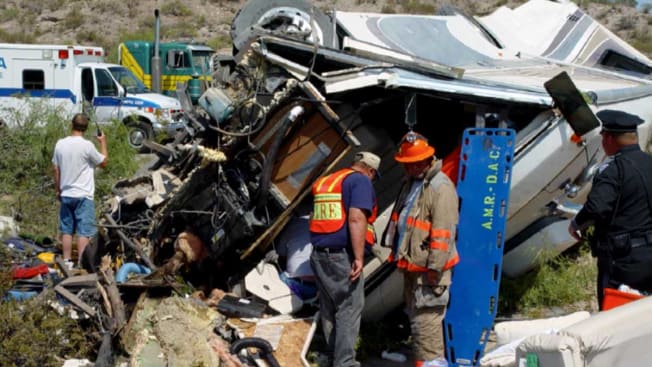 By then, Goodyear had already received numerous reports of G159 failures, and motorhome manufacturers were raising concerns about customer complaints. In the early 2000s, the RV maker Monaco, in partnership with Goodyear, upgraded tires for some customers with G159s following reports of failures and after learning some operated their vehicles with reduced tire pressure for better comfort.
Shortly before the upgrade, Monaco's then-director of customer support services analyzed internal reports associated with more than 500 motorhomes sold with G159s and found that 72 of those vehicles—about 14 percent—had experienced a tire failure, according to court documents obtained by CR.
In 2005, Kurtz took Goodyear to court on behalf of the Haeger family, the beginning of a legal battle that continues to this day.
What he found, according to a 2017 letter he later submitted to NHTSA (PDF), was that Goodyear originally designed the G159 for regional delivery trucks. But the company sold it to motorhome manufacturers as suitable for their vehicles, claiming it was fit to travel at highway speeds—first at 65 mph, and eventually up to 75 mph. By NHTSA's estimate, about 40,000 G159s may have been installed on RVs.
Kurtz alleged in court that the G159 was prone to fail if the tire became unusually hot, and sought records from Goodyear to show whether that was the case. The Haegers agreed to settle the case in 2010.
Shortly after, however, Kurtz read an article about a separate G159-related case in Florida, in which Goodyear had provided the exact kind of testing data he'd been seeking, according to court filings. Kurtz immediately went back to the judge overseeing the Haeger case and asked her to sanction Goodyear and its attorneys for failing to turn over the data to him.
The judge, Roslyn Silver, sharply criticized the company in a scathing 66-page ruling. "The troubling behavior by Goodyear and its counsel began almost immediately after the case was filed and continued throughout the entire litigation," she wrote in the 2012 order.
Kurtz then filed a separate lawsuit that eventually uncovered additional data he'd never received—in particular, the number of failure reports Goodyear had on file of G159-related crashes. Goodyear disclosed that hundreds of motorhome owners filed property damage claims after experiencing G159-related failures and that almost 100 people died or were injured in crashes.
"These failures were all occurring at highway speed," Kurtz says. "It never happened in a low-speed environment."
"The troubling behavior by Goodyear and its counsel began almost immediately after the case was filed and continued throughout the entire litigation."
Roslyn Silver
Since implementation of the TREAD Act, a bill passed by Congress in 2000, automotive and tire companies must report to NHTSA, on a quarterly basis, all injuries, deaths, and related incidents caused by a possible defect. Goodyear did report a handful of G159-related incidents that occurred after that date, but many of the crashes happened earlier, NHTSA has said.
That didn't excuse Goodyear from legal requirements to alert NHTSA of learning about a safety-related defect in a product, according to the agency's rules. NHTSA defines a safety-related defect generally as a problem that may exist in a group of vehicles or items of equipment that poses "an unreasonable risk to motor vehicle safety," such as "critical vehicle components that break, fall apart, or separate from the vehicle, causing potential loss of vehicle control or injury to people inside or outside the vehicle."
"From the time the first tire was introduced into interstate commerce to the present, Goodyear remained under a continuing obligation to report the existence of a safety-related defect in its product to NHTSA," wrote Heidi King, then-acting administrator of NHTSA, in a June 2018 letter responding to a congressional lawmaker who had inquired about the agency's G159 investigation.
The Problem With Secret Settlements
CR's Wallace says the situation underscores the risks of companies utilizing confidential agreements to settle litigation over alleged defects.
In 2014, for example, a major scandal erupted over a faulty ignition switch used in many of General Motors' small cars. The switch could shut off a car as it was in motion and, as a result, prevent airbags from inflating. The defective switch was ultimately implicated in crashes that left at least 174 people dead.
The automaker was blasted by federal lawmakers over signing confidential settlements in lawsuits about the ignition switch, which prevented disclosure of the defect for years until a recall was eventually conducted.
"It's unconscionable to keep public health or safety dangers hidden from the public," says Wallace at CR. "Secret settlements that leave people in the dark about vehicles, equipment, or other products that could hurt them should be banned nationwide in all but the most unusual circumstances."
Congress held a hearing over the GM ignition switch matter, and the company signed a deferred prosecution agreement in 2015 with the Department of Justice, paying $900 million to voluntarily settle criminal charges over the matter.
"Secret settlements that leave people in the dark about vehicles, equipment, or other products that could hurt them should be banned nationwide in all but the most unusual circumstances."
William Wallace
Attorney Kurtz believes similar action against Goodyear is merited.
In Kurtz's 2017 letter to NHTSA, he asked the agency to enforce appropriate penalties against the company for failing to take action on the G159 sooner. Kurtz said that NHTSA had asked Goodyear to turn over crash data associated with the G159 in the mid-2000s as part of a separate investigation into a motorhome tire made by a competitor. But Kurtz said his review of the records suggests that the company disclosed a fraction of the crashes it was aware of. (Kurtz's letter was first obtained by the auto news site Jalopnik, which previously published an extensive series of stories on the G159.)
Kurtz argued the evidence provides a clear foundation to recall the G159, and he urged NHTSA to refer the case to the Department of Justice for consideration of criminal charges.
"I believe there is a vast documented record of deception and misrepresentation by Goodyear to its customers as well as those who were hurt by G159 tread separations about the safety of the G159," he wrote. In a nod to the GM scandal, he added, "Most of these are the kind of communications that resulted in criminal prosecution in recent years."
Advocates Seek Transparency
Courts have held that automotive companies are still responsible for conducting a recall even if few models containing the defect exist on the roadway.
In 1977, a federal appellate panel rejected an argument by General Motors that it was not required to take action over a faulty carburetor in 1965 and 1966 Chevrolet and Buick models that the automaker admitted to be defective and had caused numerous engine fires.
The company's argument? By then, almost all—if not all—of the failures or injuries that would have resulted had occurred and the likelihood of additional instances was low. The court didn't buy it.
"The fact remains that some of these cars continue to be driven and that, according to General Motors, some 'negligible' number of them will burst into flames in the future," the court wrote. "Thus General Motors' own affidavits clearly establish that some drivers of 1965 Chevrolets and 1966 Chevrolets and Buicks face not simply an unreasonable risk of carburetor failures—but a virtual certainty."
For Goodyear, it remains to be seen what comes of NHTSA's investigation into the G159. It's unclear why the agency's probe has yet to be completed. The Department of Transportation's Office of Inspector General independently announced this month that it was conducting an audit to assess NHTSA's handling of defect investigations. (There's no indication that the audit was prompted by the G159.)
Levine, of the Center for Auto Safety, says the public has a right to learn the full scope of everything known about the G159.
"Goodyear has through use of the legal system and, with a prolonged silence from the federal government, kept really important safety information from the public," he says. "And that's unfortunate, not only for people who are encountering G159s, but for the larger environment in which safety information is so critical to avoiding tragedies."
Because RVs are used infrequently, experts strongly advise anyone considering whether to purchase an older motorhome to watch out for old tires like the G159. They could very well still be on the road. (You can find how old your tires are by reading the Department of Transportation code printed on the sidewall of the tire.)
Arizona resident Mark Salem found this out recently when he helped a friend by inspecting a motorhome the friend hoped to buy.
Salem has the qualifications to give an opinion. The 66-year-old has run an auto repair shop for more than three decades with his family, and he's a certified master automobile technician through the National Institute for Automotive Service Excellence, a nonprofit organization that works to improve the quality of vehicle repair. He teaches RV safety classes at his shop.
His inspection went fine, until Salem went around back and pulled the metal cover off the spare tire attached to the back of the vehicle. It was a G159.
Salem has personal experience with the G159 and testified as a vehicular expert in the Haeger case: Three of them failed on motorhomes he drove more than two decades ago.
With a tire that old, especially one associated with numerous crashes, Salem says he offered clear instructions to his friend: "You need to take this off."
Editor's Note: This article, originally published on May 7, 2021, has been updated to include information that the Department of Justice and Department of Transportation were also investigating the Goodyear RV tires.