When you shop through retailer links on our site, we may earn affiliate commissions. 100% of the fees we collect are used to support our nonprofit mission.
Learn more.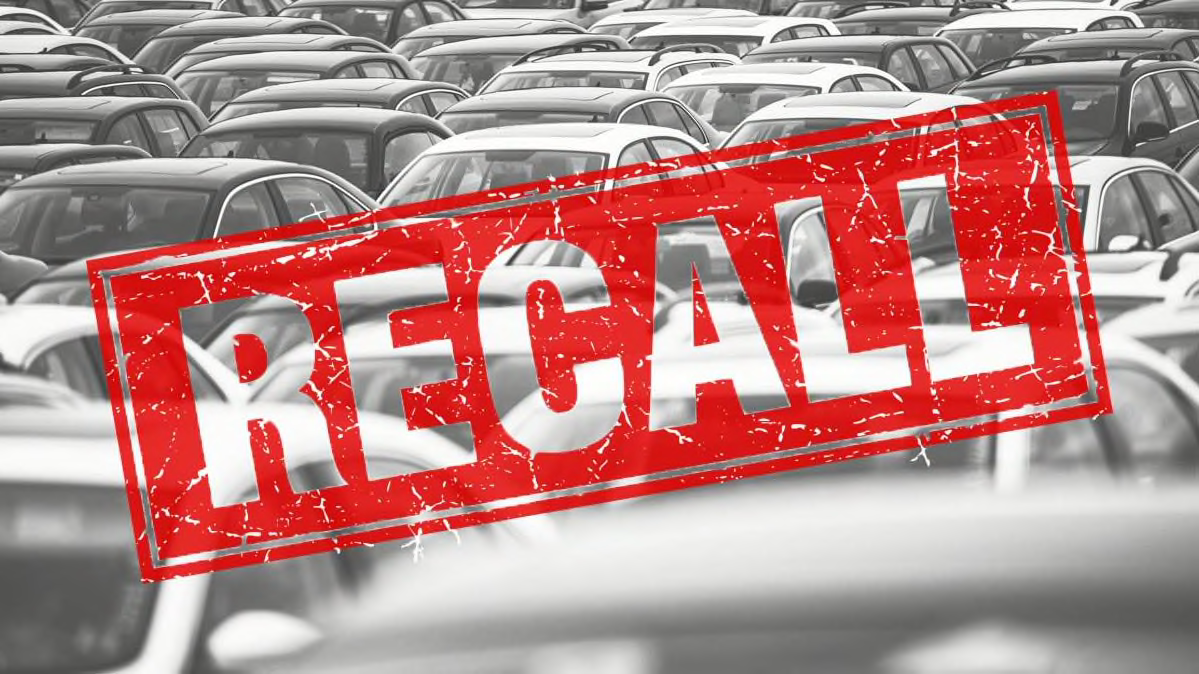 The Federal Trade Commission settled what it called a first-of-its-kind deceptive advertising case against a car dealership group in the Washington, D.C., area for allegedly sending recall warnings that were intended to boost the firm's repair business.
To settle the FTC's complaint, Passport Automotive agreed it wouldn't mislead consumers with communications meant to resemble safety recalls. The company has dealerships in Maryland and Virginia.
The dealership didn't admit to any wrongdoing as part of the settlement. Passport told CR that it settled the case to avoid "the considerable expense and disruption of defending ourselves in court."
The customer communications were sent to 7,000 Toyota owners in 2015 and 14,000 Nissan owners in 2017. The postcards were meant to resemble official federal recall notices about safety defects, with the phrase "Urgent Recall Notice" prominently displayed in red (see picture below). They didn't refer to specific models or safety defects, and consumers had to call to get additional information. The dealerships sent the mailers to increase business at their service departments, not to alert consumers about actual recalls, the FTC contended.
Consumers who called were usually told that they had to visit the dealership to learn more about the recalls, and many then paid for service that was unrelated to any recall, according to the FTC. Such marketing is fraudulent, the agency said, and it has the potential to confuse consumers and makes it less likely that they'll pay attention when they get a letter about an actual safety defect.
The settlement did not include any compensation for consumers.
Passport said in a written statement to CR that it sent the letters to its customers because it was having difficulty identifying and fixing cars with unrepaired safety defects. Manufacturer lists of unrepaired vehicles with open recalls aren't always available to dealers, it said.
"Open manufacturer recalls are a huge problem for our industry, and this advertisement actually did allow us to reach many owners and repair many vehicles with open recalls at no cost to the owners," Passport Automotive said in a written statement. "Many of those who responded to the advertisement did in fact have unrepaired recalls."
The colors and lettering on the envelope, set against a bright red background, mimicked the format of actual recall notices required by the National Highway Traffic Safety Administration (NHTSA), the FTC said. NHTSA's format is intended to help protect consumers from misleading sales and marketing materials that could lead to the purchase of "costly products and services" unrelated to a safety recall, the agency said.
"Deceptive fake recall notices may not only trick consumers into visiting a dealership, but also may cause them to ignore legitimate recall notices in the future, risking their safety," said Andrew Smith, Director of the FTC's Bureau of Consumer Protection.
If the company violates the agreement by sending out similar letters in the future, it would be liable for substantial civil penalties—as much as $41,000 per violation, per day, according to the FTC.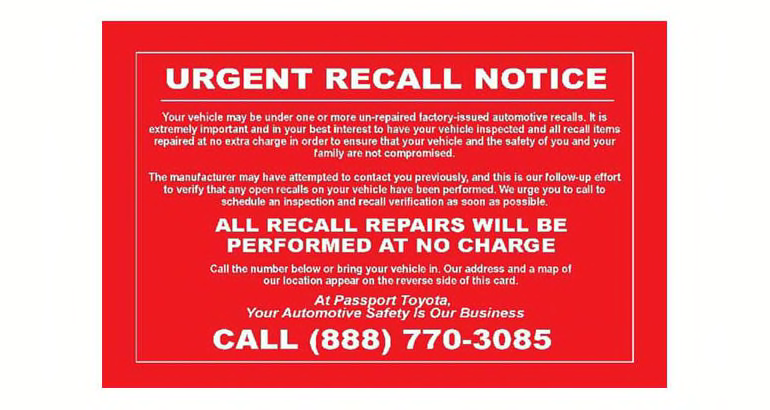 In the case of actual recalls, consumers receive letters that include a specific description of the defect, the needed repairs, and a schedule for when parts will be available. Under federal law, recall repairs must be made free of charge to consumers.
Consumers can check their vehicles for open recalls by entering a vehicle identification number at the NHTSA website. There is no need to visit a dealership in person to get this information.
Consumer Reports members can also use the Car Recall Tracker function on our website.
"Safety recalls are serious, and auto dealers should never mislead consumers about them to lure in new business," said William Wallace, senior policy analyst for Consumers Union, the advocacy division of Consumer Reports. "This kind of marketing can waste consumers' time and money, and potentially even make them pay less attention in the future to warnings about dangerous safety defects."
Passport Automotive runs nine dealerships in the Maryland and Virginia suburbs around Washington, D.C., selling BMW, Infiniti, Mazda, Mini, Nissan, and Toyota vehicles. The FTC complaint referred to communications that were sent out to nearby Toyota and Nissan owners.