When you shop through retailer links on our site, we may earn affiliate commissions. 100% of the fees we collect are used to support our nonprofit mission.
Learn more.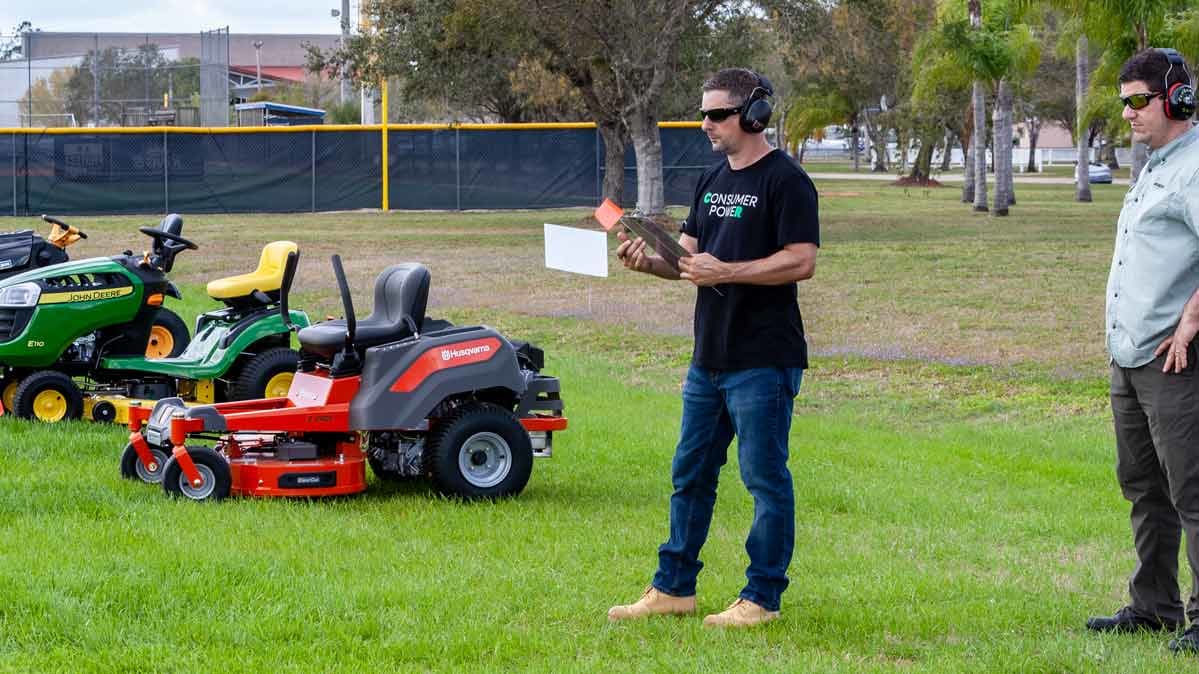 Consumer Reports tests riding lawn mowers to help you find models that cut evenly and handle with ease. And though performance is key, you'll also want a riding mower that's built to last. After all, these machines can cost $1,300 to $5,500.
Our latest member survey shows that the experience isn't always problem-free. Almost 30 percent of riding mowers are likely to develop problems or break in their first five years of ownership.
"The most commonly reported problem among riding mowers had to do with the mower belt, affecting 13 percent of riding mowers," says Martin Lachter, a senior research associate at Consumer Reports. "The next most common problem was related to the bag not filling or attaching to the mower properly."
To help you find a reliable riding mower, Consumer Reports incorporates ratings for brand reliability and owner satisfaction into its Overall Scores for lawn mowers and tractors. That's along with data collected during our extensive field testing, which covers everything from handling to how well a mower cuts in multiple modes to noise output at the user's ear and at 25 feet.
To calculate predicted reliability, we survey our members about the products they own and use the results to make projections about how new models from a given brand will hold up over time. Models from brands that rate Fair or Poor for predicted reliability aren't eligible for our recommended lists of products, regardless of their performance.
We also ask members how likely they are to recommend their mower to friends or family, and that question serves as the basis for our owner satisfaction rating.
These latest findings come from CR's exclusive member surveys, which leveraged data on more than 22,404 riding mowers that members purchased between 2010 and 2020.
Below is a detailed breakdown of the winners and losers across the three gas riding mower categories we test. This year, we also have performance results on battery riding mowers. But because battery riders are a relatively new product category, we don't have yet have reliability or owner satisfaction ratings for that group.
(For our reliability results on walk-behind mowers, check out our guide to the most and least reliable walk-behind mower brands.)
Lawn Tractors
Lawn tractors are your quintessential riding mower, with a big engine in front and a seat and steering wheel mounted over the cutting deck. They make up a whopping 64 percent of the riding mowers in CR's survey purchased in 2020, far and away the most common type of riding mower owned by CR members.

And it turns out that an old marketing tagline is true: Nothing runs like a Deere. Among the nine lawn tractor brands in our survey results, John Deere is the only brand that was rated Excellent for both predicted reliability and owner satisfaction.
The runner-up is Husqvarna, which was rated Very Good for reliability and owner satisfaction. Two other brands, Cub Cadet and Simplicity, received Good ratings for predicted reliability and Very Good ratings for satisfaction.
Two other brands—Snapper and Troy-Bilt—earned Good ratings in both predicted reliability and satisfaction.
Murray lawn tractors are the only riding mowers to be knocked for reliability, receiving a Poor rating. For this reason, CR cannot recommend Murray lawn tractors at this point in time. Another brand, Poulan Pro, was rated Good for reliability but Poor for owner satisfaction. (Neither Murray nor Poulan Pro lawn tractor models are currently tested by CR.)
Here's a top-performing John Deere—the only brand with reliability and satisfaction ratings of Excellent—from our lawn tractor ratings:

Zero-Turn Mowers
Zero-turn mowers offer the benefit of speed and the ability to turn on a dime. Among CR members, they're not as common as traditional lawn tractors, but these mowers still account for 29 percent of the riding mowers purchased in 2020 in our surveys.
Here, Bad Boy and Gravely share the winner's circle. Of the 12 zero-turn brands in our survey results, only these two earn Excellent ratings for both reliability and satisfaction.
Coming in behind are three brands with Very Good reliability ratings: Craftsman, John Deere, and Toro. For owner satisfaction, John Deere and Toro were rated Excellent, and Craftsman was rated Very Good.
The seven other brands of zero-turn mowers—Ariens, Cub Cadet, Husqvarna, Poulan Pro, Simplicity, Snapper, and Troy-Bilt—all rated Good for reliability. Ariens, Cub Cadet, and Troy-Bilt excelled in owner satisfaction; all the others were rated Very Good.
Below are highly rated models from Gravely and Bad Boy, the most reliable zero-turn mower brands in our ratings. Look for them at specialty dealers in addition to online retailers.

Rear-Engine Riders
Rear-engine riding mowers aren't very common, making up just 7 percent of all riding mowers purchased in 2020 in our survey. They're smaller than lawn tractors, and the engine is placed below the driver's seat, hence the name. Rear-engine riders are a good middle ground between wide-deck self-propelled walk-behind mowers and lawn tractors.
Our results have ratings for two rear-engine rider brands: Cub Cadet and Troy-Bilt. Both were rated Very Good for predicted reliability.
Cub Cadet received an Excellent rating for owner satisfaction. Troy-Bilt garnered a Good rating.
Here's a rear-engine rider from Cub Cadet that offers commendable performance based on our tests:

Finding the Perfect Lawn Mower
Is your lawn mower failing to make the cut? On the "Consumer 101" TV show, Consumer Reports expert John Galeotafiore explains to host Jack Rico how to find the best mower for your needs.