When you shop through retailer links on our site, we may earn affiliate commissions. 100% of the fees we collect are used to support our nonprofit mission.
Learn more.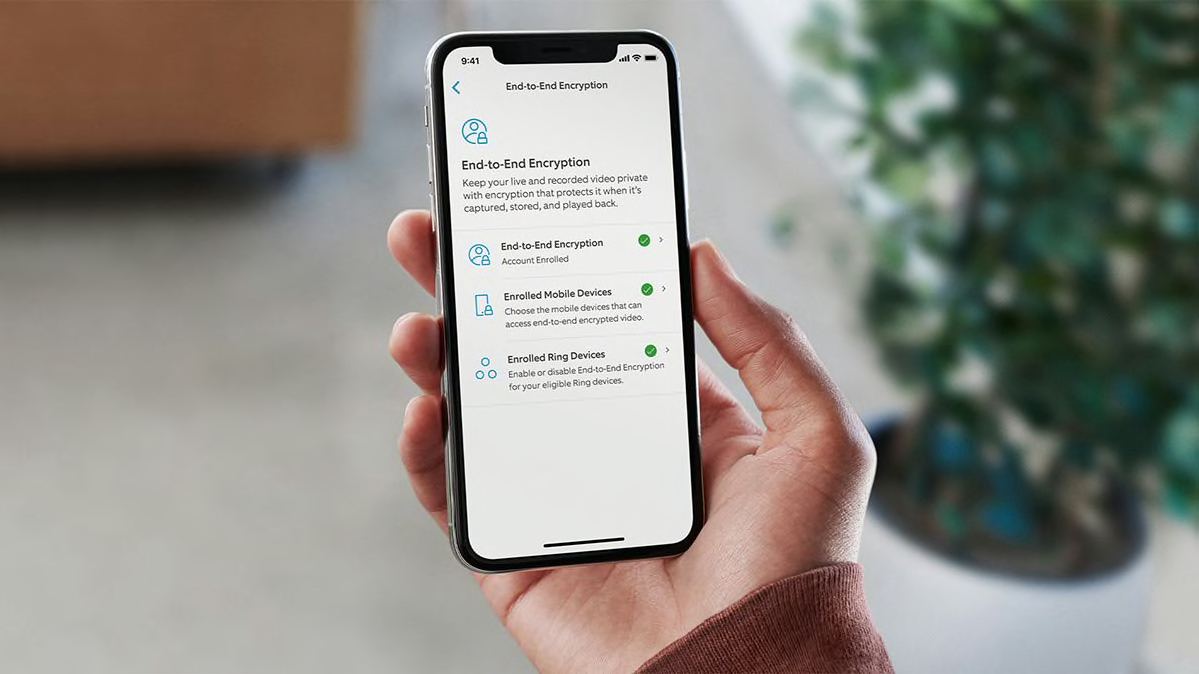 Ring started offering end-to-end encryption for hardwired and plug-in Ring security cameras and video doorbells, so only your smartphone or tablet can view the recorded footage.
That means hackers won't be able to spy on you unless they have your personal mobile device. Ring and its parent company, Amazon, won't be able to see your footage either. You can enable the feature by going to the Control Center in the Ring app.
"Based on our testing experience, it's rare to see end-to-end encryption in consumer IoT devices," says Cody Feng, CR's test engineer for privacy and security. "Ring might be one of the first home security companies to implement the feature, and we hope more companies give their users this option in the future."
The new encryption has some caveats, though.
For starters, it only works with Ring cameras and video doorbells that are hardwired into an electrical box or plugged into an outlet. The list of compatible Ring devices includes: Video Doorbell Pro, Video Doorbell Elite, Floodlight Cam, Spotlight Cam Wired, Spotlight Cam Mount, Stick Up Cam Plug-In, Stick Up Cam Elite, and Indoor Cam.
The feature does not work with Ring's popular battery-powered devices, including the new Ring Video Doorbell 3 and 3 Plus models. Unlike with hardwired and plug-in Ring devices, battery-powered models do not have the computing power needed to support end-to-end encryption.
We asked Ring if the feature will come to battery-powered devices in the future, but a Ring spokesperson would only say that "Ring is working to ensure all our customers have an enhanced security option."
In addition to limits on the types of devices that can use end-to-end encryption, enabling the feature disables a number of other features. The list includes:
Shared user accounts
Ring's apps for Mac and Windows
The Rapid Ring app for Android and iOS
Voice control through Amazon Alexa
Event timelines
Camera previews in the Ring app dashboard
The ability to easily share videos with others and the Ring Neighbors network

You'll have to decide whether the increased security is more important to you than the convenience these features provide. For more on the disabled features, see Ring's Help Center.
If you own a compatible Ring camera or doorbell and would like to try the end-to-end encryption, you can enable it in the Ring app's Control Center by clicking on Video Encryption, followed by Advanced Settings (if you end up not liking the feature, you can disable it later). For more information on securing Ring devices, see our guide to using Ring's Control Center for better privacy and security.
End-to-end encryption is the latest move by Ring to improve the security of its products. Over the past few years, the company has dealt with privacy concerns around police partnerships, software vulnerabilities in its products, and a string of instances of hacked user accounts, to name a few. The company now faces a class-action lawsuit from users affected by the hacks.
Consumer Reports last tested the data privacy and data security of Ring cameras and doorbells in the summer of 2020, after Ring implemented a number of changes to prevent future hacks. The devices received ratings of Very Good for data security and Good for data privacy.