When you shop through retailer links on our site, we may earn affiliate commissions. 100% of the fees we collect are used to support our nonprofit mission.
Learn more.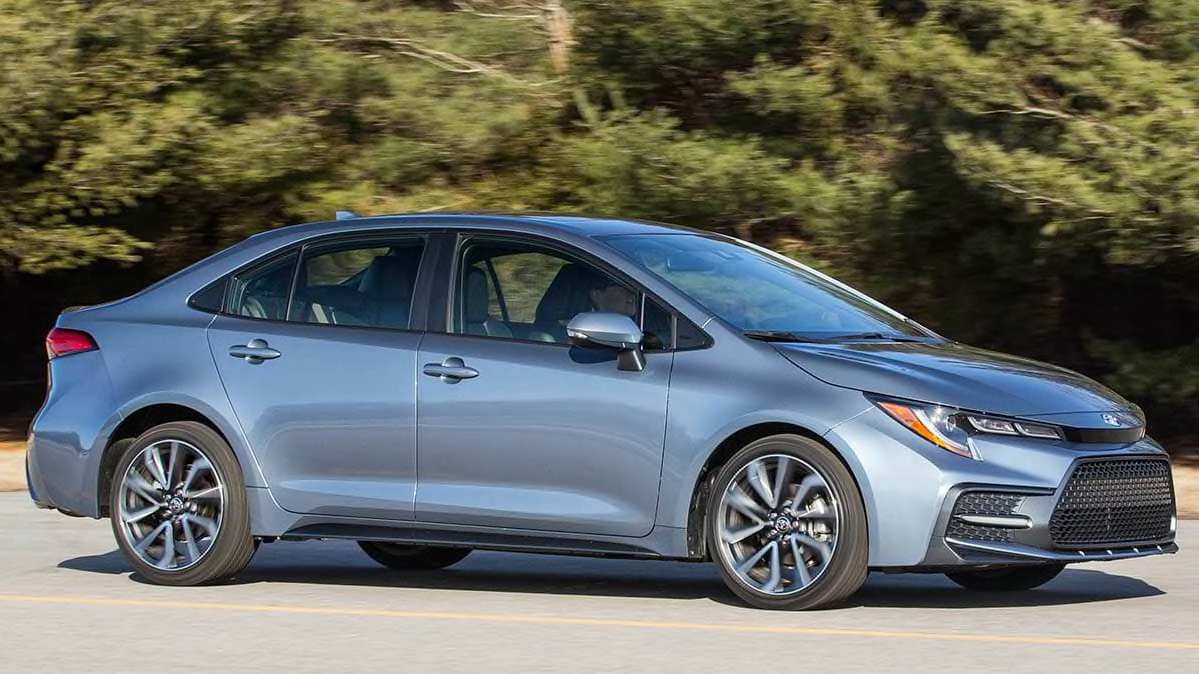 Update: Since this first drive was published in February 2019, we have finished testing.
See the complete Toyota Corolla road test.
The redesigned 2020 Toyota Corolla sedan joins the Corolla hatchback (which we've already tested), and it is offered for the first time as a hybrid.
The outgoing model is a competent yet drab sedan; Toyota aims to give the new version more sizzle, promising improvements to passenger comfort, driving dynamics, and the infotainment system.
We're pleased to see that the car gets more standard horsepower and lots of standard safety features.
We spent a couple of weeks driving two 2020 Corollas rented from Toyota—a fully loaded XSE and Hybrid LE—and came away impressed with its overall solid feel and stinginess with fuel.
What we drove: 2020 Toyota Corolla XSE and LE Hybrid
Powertrains: 169-hp, 2.0-liter four-cylinder engine; continuously variable transmission (XSE); 121-hp, 1.8-liter four-cylinder engine; continuously variable transmission (LE Hybrid); front-wheel drive
MSRP: $19,500 to $25,450
Options: None
Destination fee: $930
Total cost: $26,380 (XSE); $23,880 (LE Hybrid)
What We Like . . . So Far
The XSE is the top-shelf Corolla trim. It has a very upscale interior, with comfortable seats that come standard with a two-way lumbar support for the driver. The XSE also pampers buyers with a nicely trimmed cabin that has many soft-touch surfaces, stitching details, and a leather-trimmed steering wheel. Even though the Corolla competes with lower-priced cars, the XSE felt very substantial, and not like an econobox, as some competitors do.
The controls took no time at all to learn, and the infotainment system is straightforward.
The XSE's 169-hp, 2.0-liter engine is strong and responsive. We're pleased that a manual transmission is still offered, although we predict few buyers will choose it. Our rented Corollas had continuously variable transmissions, which got the job done without drama.
We found that the XSE's firmer suspension and wider tires make driving it mildly entertaining to drive. One tester even equated its driving dynamics to those found in the Mazda3—long among our fun-to-drive favorites for compact cars. That's no small compliment.
The LE Hybrid has 15-inch wheels and softer suspension, which delivers a pleasant ride and is indicative of how mainstream Corollas ride.
The hybrid drove a lot like the last Toyota Prius we tested. It isn't exciting, but the hybrid stretches a gallon of gas like nobody's business. We saw around 46 mpg according to the car's trip computer and a predicted road-trip-ready 510-mile cruising range. Unlike the Prius, the Corolla uses a traditional gear selector.
The Toyota Safety Sense 2.0 system of advanced safety and driver assist features is standard. It includes forward collision warning, automatic emergency braking, lane departure warning, lane keeping assist, and a lane centering feature. Blind spot warning is optional.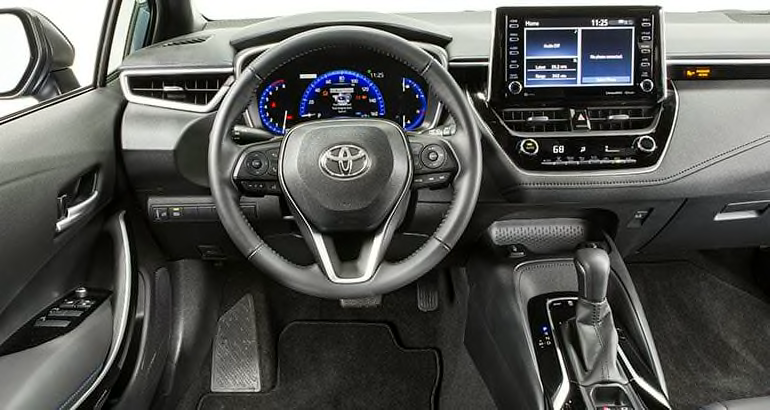 What We Don't Like
Unfortunately, the tradeoff for sporty handling is that the suspension creates a busy ride. It's exacerbated by the car's 18-inch wheels and low-profile tires, which transmit a lot of noise into the cabin.
Inside, the new Corolla feels less roomy than the previous model, and since it sits lower, the 2020 version isn't as easy to get into or out of. We also found that the hard buttons flanking the center screen can get washed out in certain lighting situations.
And is the case with many Toyotas these days, Apple CarPlay is available, but Android Auto is not.
Other complaints include weak seat heaters in the XSE ("Even on high, it was hard to tell they were on," said one tester), and the overall finish of the LE Hybrid was rather plain. The LE's manually operated seats didn't offer much support, and hard plastics throughout the hybrid's cabin made it feel cheap—like a rental car.
What We'll Keep Our Eyes On
Both Corollas feel very solid and have the potential to be competitive in this segment. The non-hybrid Corolla is still smartly priced at around $21,000 for a run-of-the-mill LE. However, in order to get blind spot warning on the LE, buyers must opt for a $2,000 package that includes such frills as a sunroof and alloy wheels.
Those buyers interested in a hybrid version with a dose of luxury are out of luck, since it's only offered in the lower-level LE trim. That's a shame, because we would like to see the upscale interior of the XSE combined with the hybrid's superior fuel economy.
We bought two versions—a conventional Corolla and a hybrid—for testing.
See the complete Toyota Corolla road test.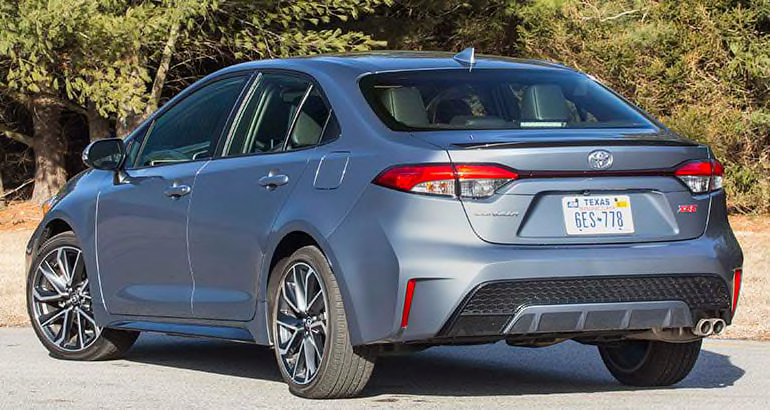 About the cars we rent: Consumer Reports only tests the cars that we purchase. We pay automakers on occasion to drive early or different versions of cars we ultimately buy (we do not borrow press cars for free, as many other publications do), but those impressions are never part of the 50-plus evaluation regimen that we put our purchased cars through.