Which $100 Smart Speaker Should You Buy?
Our testers evaluate basic models from Amazon, Apple, and Google
When you shop through retailer links on our site, we may earn affiliate commissions. 100% of the fees we collect are used to support our nonprofit mission. Learn more.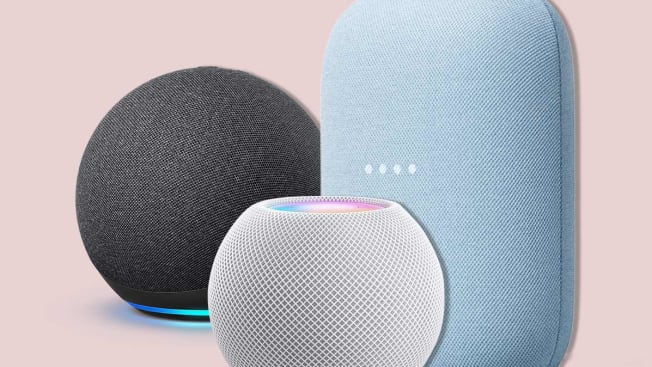 In most of the tech world, $100 doesn't buy you much. You can purchase a laptop charger, a high-end smartphone case, or maybe a really stylish band for your smartwatch, and maybe get a little change back from your Benjamin.
But when it comes to smart speakers, the economics are different—and better for consumers.
Late last year Amazon and Google totally revamped their meat-of-the-market models, the Echo and the Nest Audio. And Apple introduced the HomePod Mini as a less-expensive alternative to the now-discontinued HomePod. All three smart speakers officially list for $99 and are often discounted.
Amazon Echo (4th Generation)
What's new: The shape . . . and everything else. Gone is the cylindrical styling of the previous Amazon Echo models, replaced by a new spherical design. Under that exterior, the updated Echo features new and improved speaker drivers. It also has a Zigbee smart home hub that allows the speaker to talk directly to many Zigbee-compatible devices, such as Philips Hue smart bulbs and some Yale smart locks and Honeywell thermostats.
What's to like: The latest Amazon Echo tops its predecessor in a number of important ways. The sonics are significantly improved, with a strong but slightly boomy bass and enough volume to fill a midsized room. Our testers also found that two Echo speakers sound great when paired in stereo, delivering you-are-there appeal. And that Zigbee hub is a major plus if you're a fan of smart home devices.
What's not to like: Despite the sonic improvement, the fourth-gen still can't compete with the best-sounding smart speakers, such as the Sonos One or, for that matter, Amazon's own Echo Studio.
Who should buy it: Anyone with $100 who wants an Alexa-powered smart speaker. The fourth-gen Amazon Echo's sound is fine for casual music listening, and its better smart home integration is a substantial improvement that boosts its versatility scores in our testing.
What's new: Like the Amazon Echo, the Google Nest Audio has undergone a visual transformation. Its predecessor resembled an old-school air freshener, but the new model's look is more of a rounded rectangle. And beneath that new skin resides an all-new speaker design, with a separate tweeter and woofer replacing the single driver of the outgoing Google Home.
What's to like: Some people like Google Assistant better than Alexa; it comes down to personal preference. Alexa smart speakers have a wider variety of skills, but some users find Google's interface to be more natural and easier to use.
What's not to like: While the company touted the Nest Audio's sonic performance, our testers found that the gains are more modest. It has enough volume for a midsized room, but the midrange is a little hazy and there's some sizzle on the high frequencies. While it's better than that old Google Home, the Nest Audio still can't compete with the best-sounding smart speakers, like the recently discontinued Google Home Max or the Google-compatible Sonos One. It also doesn't sound quite as good as the similarly priced fourth-gen Amazon Echo.
Who should buy it: A Google fan who's looking for a step up sonically. The Nest Audio is a solid choice for stand-alone listening or as part of a multiroom music system with other Google speakers.
What's new: The Apple HomePod Mini is an all-new model and the company's first new smart speaker since the HomePod was introduced in 2018. The spherical shape is markedly different from the rounded, cylindrical styling of the original HomePod.
What's to like: Compared with the spendy (and now discontinued) HomePod, the HomePod Mini provides a lower-priced entry into the Apple ecosystem. The Mini is a solid option for controlling Apple HomeKit smart home products and services such as Apple Music. The Mini now allows voice control of other music services, including Pandora and iHeart Radio, and can even integrate with Apple CarPlay in your vehicle. For instance, you can ask for driving directions while making coffee in the morning, then send your chosen route to your car before leaving.
What's not to like: In terms of sound quality, our testers found that the Apple HomePod Mini rates significantly lower than the Echo or Nest Audio. Indeed, they found its somewhat congested sound to be closer to the much cheaper Echo Dot and the discontinued Google Home Mini, albeit with a fuller bass. Like the Dot and the Home Mini, the HomePod Mini is okay for podcasts or background music in a small room but not great for playing your favorite tunes. Unlike those devices, the HomePod Mini can't be paired via Bluetooth with a better-sounding wireless speaker.
Who should buy it: Someone who's deeply immersed in the Apple world and doesn't mind paying a bit of an Apple tax for a $100 speaker that's sonically closer to $50 models.