Final Results: iPhone 12, 12 Mini, 12 Pro, and 12 Pro Max
The new models receive top marks from CR's testers for their cameras, displays, and performance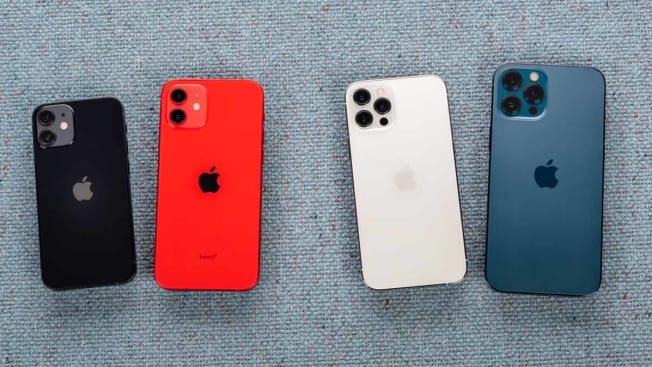 If you've been looking for smart reasons to upgrade your phone, Apple's new models—the iPhone 12, 12 Mini, 12 Pro, and 12 Pro Max—have plenty to offer.
They don't quite rise to the top of our tight smartphone ratings, but Consumer Reports' testers say they're excellent overall, receiving top marks for their improved cameras, OLED displays, and fast performance.
And, as you've probably heard, they're also the first Apple models to include the hardware needed for 5G, the next step in wireless connectivity, which is now common in phones made by Samsung, OnePlus, and LG.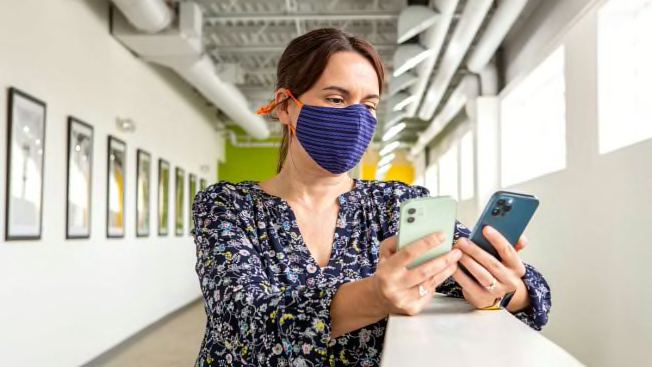 Apple has made big changes to the iPhone's refueling process, too. The new MagSafe charger, sold separately for $40, doubles the amount of wattage you can wirelessly transfer into the phone, making the wireless charging process much faster.
But to take full advantage of that convenience, you have to connect the phone to a 20-watt power adapter (aka a plug), which costs $20 in the Apple Store.
In fact, even if you don't go wireless, you need to have your own plug to charge the phone. In a departure from years past, Apple no longer includes one—or a pair of wired headphones, for that matter—in the box with its latest models.
The new phones have a sleek look and feel. The Pro models are wrapped in an elegant, though smudge-prone, stainless steel frame. The iPhone 12 and 12 Mini are encased in more modest aluminum. All have ditched the rounded edges found on recent iPhones in favor of flat sides reminiscent of models long past.
For a change, you also get a wide selection of prices this year, based for the most part on size. An iPhone 12 Mini with 64 gigabytes of storage will cost you $700. The slightly larger iPhone 12 is $800.
The 12 Pro, which now starts with 128GB—marking Apple's first storage increase since the iPhone 8—costs $1,000, the same price as last year's iPhone 11 Pro. And the iPhone 12 Pro Max will set you back $1,100. (That's all without the cost of the power adapter.)
Here's a closer look at how all four phones did in our testing.
According to telecommunications experts, 5G speeds—five times faster than 4G connections at peak performance—will eventually allow you to download a feature-length movie in just 5 seconds.
Proponents of the technology say that 5G could also pave the way for the instantaneous response times required to safely perform robotic surgery and help cars communicate with other vehicles and road infrastructure to improve safety and efficiency. Those sophisticated applications are still a way off, though.
When the technology was first launched, there were just a few compatible phones, mostly superpremium models from Samsung and LG. But as the carriers have expanded their 5G networks, the hardware required for 5G access has entered more mainstream phones.
At the moment, that access—and the technology's optimum speeds—still hinge on where you live and which carrier you use. That's all changing rather quickly, though, making this a good time to think about purchasing a 5G phone, especially if you're spending upward of $1,000.
The new iPhones, at least the models sold in the U.S., each contain the hardware needed to pick up all 5G signals. That includes the slower but more reliable low and midband 5G signals, as well as speedy millimeter waves that are often impeded by walls and other obstructions.
But it's still premature to expect significant results from a phone accessing the nation's 5G networks.
For example, sitting at my desk in Consumer Reports' headquarters in Yonkers, N.Y., I picked up Verizon 5G signals with download speeds ranging from 63 to 156 megabits per second. That's pretty lackluster, even considering that I was connected to Verizon's slower Nationwide Network, not the faster Ultra Wideband signal, which uses millimeter waves.
For comparison, I put the same SIM card back in my old iPhone 11 Pro Max, which only does LTE, and ran the same tests. The download speeds ranged between 102 and 143 Mbps, pretty much the same as with 5G.
In that location, at least, 5G wasn't doing any better than the older 4G network. It certainly didn't make me want to rush out to buy a 5G phone.
Henry Parra, CR's head of phone testing, had better luck in midtown Manhattan, which has more zones covered by Verizon's faster Ultra Wideband network. Using the same speed tests, he went to three different spots within the line of sight of Verizon 5G towers and got varied results. In one location, he captured speeds of 237 and 250 Mbps.
Keep in mind that Parra was testing in near-ideal conditions with very few people on the network. A passing car or even a tree branch can be enough to stop a 5G millimeter wave signal.
He ran the same tests with 5G phones made by Samsung and LG. Results from those phones also varied greatly, though the Samsung Galaxy Note20 Ultra posted the fastest download speed of the day, reaching 328 Mbps at one location.
Occasionally, phone testers will see a 5G speed many times as high—going well beyond a gigabit per second. But that says a lot about the inconsistency of 5G. If you happen to live in a tent at the base of the best 5G tower around, you may experience shockingly fast downloads.
But most of the time, people with these phones should expect to rely on 4G or perhaps 5G operating at 4G-like speeds.
Apple's smartphone cameras have traditionally performed well in our testing, and the ones on these phones are no exception.
The 12 Pro Max received the highest Overall Score in our ratings for camera setup, with the 12 Pro finishing just a hair behind it. The 12 and 12 Mini, which feature just two cameras on the back instead of three, essentially tied for sixth overall.
The rear cameras of all four phones excelled at recording video, sweeping the top spots in our best video-quality rankings.
In terms of features, Apple's big promise is that the cameras on the new models will produce better results in low-light situations. They have bigger sensors that let in more light and, in theory, brighten a photo that might otherwise be dark and fuzzy.
Our testers found that to be true. In our labs, they compared images taken using the iPhone 12 and 12 Pro with images taken using the iPhone 11 and 11 Pro, and discovered that the photos taken using the newer models were significantly better.
But Artur Pietruch, CR's test lab photography expert, recommends that you use a tripod or a sturdy perch to get the best results in low-light situations, regardless of which phone model you use.
To harness that extra light, the camera's shutter remains open longer, making your shot more susceptible to the slight movements that blur images.
Pietruch says the new cameras stand out when it comes to progressive blur photos, a popular technique where the subject appears in sharp focus and objects in the background get less focused the farther they are from the camera. In general, this is a very tough thing for smartphone cameras to do, he says.
And according to Pietruch, the phones' ultrawide cameras work exceptionally well. He didn't detect much of a "fisheye" effect, where the corners of the photos are distorted.
He also gives high marks to the 2x telephoto lens on the 12 Pro, which he says takes photos that are noticeably less blurry than those from other telephoto smartphone cameras.
If you buy a 12 Pro Max, you get a slightly more advanced 2.5x camera, allowing you to get a smidge closer to your subject.
A New Processor Built for 5G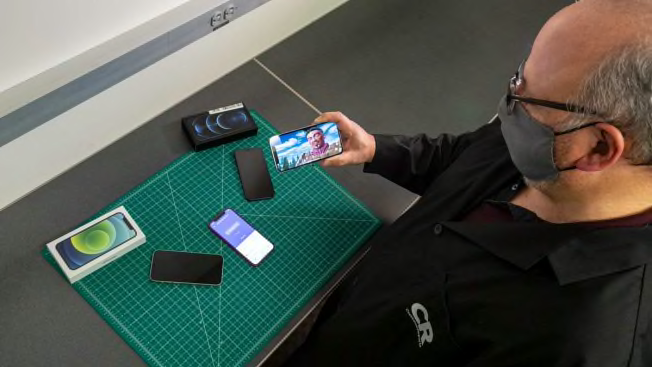 Apple says the phones' new A14 Bionic chip, designed with 5G in mind, is the company's fastest yet, and our testing confirms that. All four of the phones received Excellent ratings for performance.
We also ran standard benchmark tests on the iPhone 12 and 12 Pro, stressing the main and graphics processors by making them carry out a series of operations. For comparison's sake, we ran the same tests on the iPhone 11 and 11 Pro.
The iPhone 12 posted a 25 percent improvement over the 11, and the 12 Pro was 30 percent better than the 11 Pro (and 3 percent faster than the regular 12).
But how much do you really benefit from that extra power?
The real upside may not show up until 5G network coverage improves and we begin to see more graphic-intensive, real-time gaming, and applications for augmented and virtual reality and other processor-sucking features conceived in the next few years.
So while you might not need the equivalent of a Ferrari, you might find that the extra horsepower comes in handy down the road when you want to process truckloads of data without slowing down.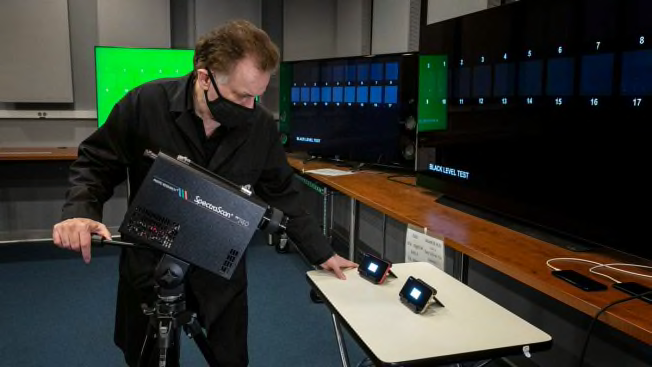 The OLED display on the iPhone 11 Pro earned an Excellent rating from our testers. And all four iPhone 12 models now feature comparable screens.
For the iPhone 12, the shift to OLED from the LCD display on the iPhone 11 is a big step forward, according to Claudio Ciacci, who heads TV testing for CR.
Any good OLED provides very deep black levels and nearly unlimited viewing angles. Performance-wise, though, the one on the iPhone 12 nearly matches that on the more expensive 12 Pro, Ciacci says; there's just a slight difference in brightness. The 12 can reach 625 nits when displaying typical content, while the 12 Pro can climb to 800 nits, just like the 11 Pro model.
That's important because a bright screen is easier to see when you're outside on a sunny day.
It can also help you take advantage of HDR, or high-dynamic range, video (a hallmark of modern TVs). When done well, HDR can make a video look more vibrant, colorful, and lifelike, with lots of detail in both the dimly lit and bright parts of the image. Think of the shadows in a nighttime scene and the intricate shapes of bright clouds.
Apple says its new phones can reach 1,200 nits in small sections of an HDR picture, such as the glint off an airplane wing. We didn't evaluate that claim.
Ciacci notes that the black levels on the iPhone 12 are as deep as expected for an OLED display. "I wish some of the TVs we test would look as good as this," he adds. While the resolution falls a little short of 4K, consumers won't notice on screens this small.
As you'd expect, when you take all of that into account, the displays of all four phones received Excellent ratings from our testers, scoring about the same as the iPhone 11 Pro and Pro Max did last year.

And if you're wondering how Apple's new Ceramic Shield may affect display quality, our testers found that it didn't change any of the viewing aspects of the screen. The new tech has tiny ceramic crystals embedded in the glass. The crystals are smaller than the wavelength of light, which makes the material highly transparent.
As for durability, the phones produced mixed results. The Ceramic Shield covering the front of all four phones made it through the equivalent of 100 drops in our specialized tumbler. The metal frames sustained minor bumps and scratches.
But after 100 drops, the glass covering the rear camera on the iPhone 12 was broken, leaving the camera unusable. The camera coverings on the other three models survived just fine.
Needless to say, with any phone at this price, you really should invest in a good protective case. If nothing else, it will buy you a little peace of mind.
As we noted earlier, the $20 fee for a wall adapter and the so-so battery life are the main reasons Apple's new phones don't make it into our top 10.
In fact, all four models score a bit lower than the iPhone 11 Pro Max, though that's no big surprise for the 12, 12 Mini, and 12 Pro given that the extra-large body on the 11 Pro Max provides ample space for a bigger battery.
While the similarly sized iPhone 12 Pro Max lasted 30 minutes longer than the 11 Pro Max—logging an outstanding 41 hours in our battery life testing—it was hurt by the slower charging speed, lowering the Overall Score just enough to place the phone lower than last year's version in our very tight standings.
If battery life is a big concern, you may also want to think twice about the 12 Mini, which made it 28.5 hours in our testing, a bit less than the 32.5 hours you'd get with the regular-sized iPhone 12 and the 34 hours provided by the 12 Pro.
But all four of these phones are great. With the wireless charging features and 5G compatibility, the iPhone 12, 12 Pro, and 12 Pro Max take a leap forward from their predecessor, too.
That alone isn't enough to justify opening your wallet. But if you're ready for a new device, why not invest in a phone that's built to serve you for years to come? All of these models deliver on that promise.

The major carriers are serving up some good deals on the new iPhones right now, too. If you have an eligible device in good condition to trade in, the swap can save you up to $700.
And with options like that, why not? After all, with everything going on in the world right now, who doesn't need a pocket-sized OLED TV fit for streaming your favorite Netflix series in bed?