When you shop through retailer links on our site, we may earn affiliate commissions. 100% of the fees we collect are used to support our nonprofit mission.
Learn more.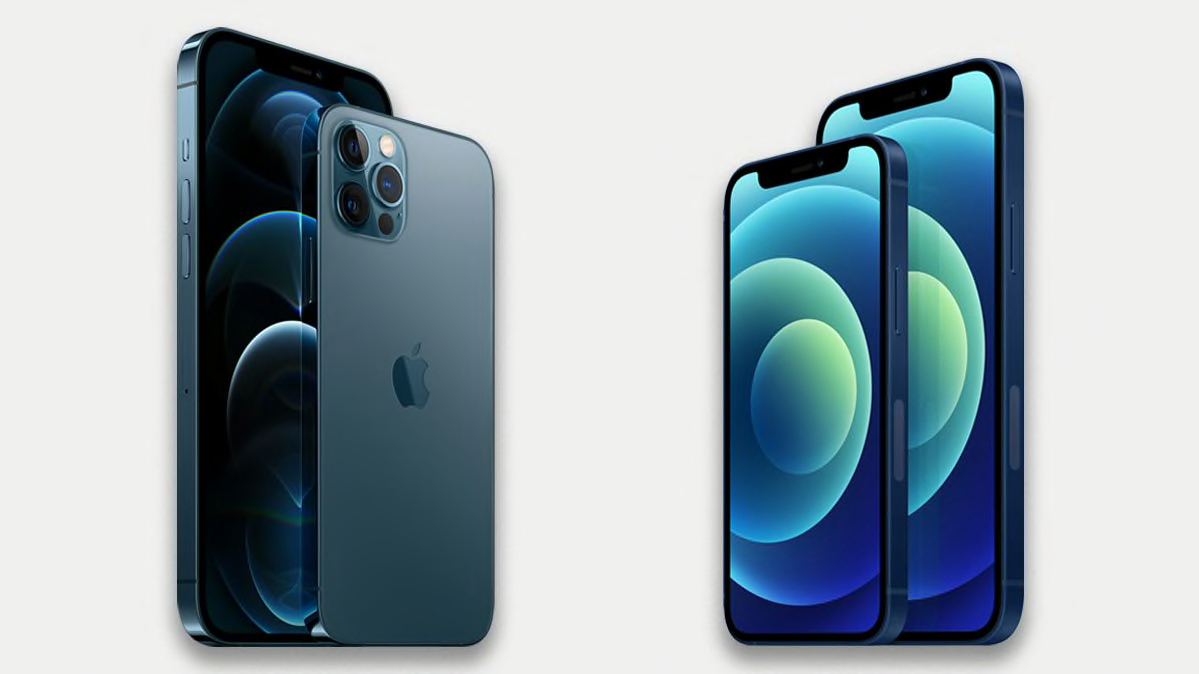 Apple's new crop of iPhones will offer faster processors, better wireless charging, new cameras, and 5G connectivity, the company says.
The long-awaited addition of 5G brings the flagship phones in line with those of Samsung and other smartphone makers.
At Tuesday's product launch, Apple also announced the HomePod Mini smart speaker. At $99, it costs about a third of what the current HomePod does and could provide a welcome alternative to popular, modest-priced options from Amazon and Google.
In total, Apple announced four new phones: regular and Mini versions of the iPhone 12, and regular and Max versions of the iPhone 12 Pro.
Apple says the iPhone 12 Mini, which starts at $700, has a display measuring 5.4 inches diagonally, considerably larger than that on the iPhone SE launched this spring. But, thanks to a design that doesn't include the SE's Home button, the Mini is actually smaller, thinner, and lighter than the SE.
The standard iPhone 12, which starts at $800, has a 6.1-inch display.
The starting prices of the Pro models remain the same as last year. Like the iPhone 12, the iPhone 12 Pro, $1,000, boasts a 6.1-inch display. The display on the iPhone 12 Pro Max, $1,100, measures 6.7 inches, making it the largest ever on an iPhone.
To help maximize the benefits of 5G, the new iPhones will employ Apple's new A14 Bionic chip, which the company says will be the fastest of any smartphone on the market. They also have new cameras designed to work better in low light.
The iPhone 12 and iPhone 12 Pro can be preordered starting Friday and will reach stores Oct. 23. The iPhone 12 Mini and iPhone 12 Pro Max are available for preorder Nov. 6, reaching stores one week later.
Preorders for the HomePod Mini also start Nov. 6, with in-store availability set for the week of Nov. 16.
We'll be testing all four phones and the smart speaker once they hit the market. In the meantime, here's a look at what the new products have to offer.
iPhone 12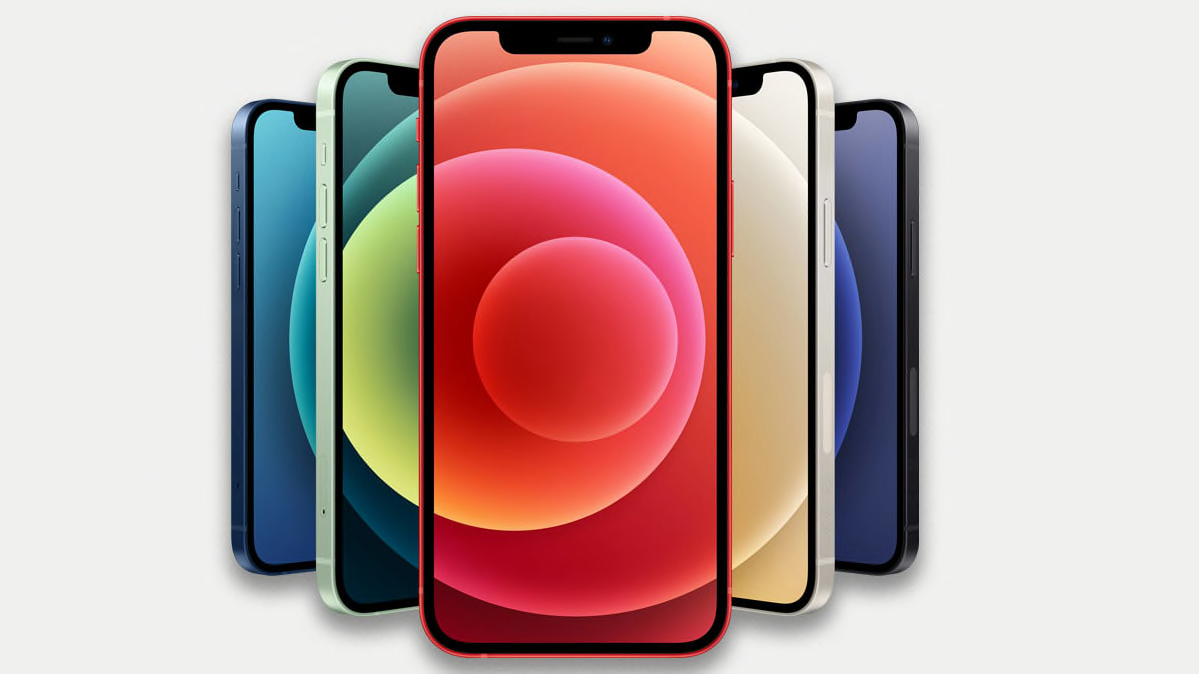 Whether you opt for the iPhone 12 or the more pocket-friendly iPhone Mini, the two lower-priced phones are remarkably similar. The iPhone 12 has a larger battery, but the processor, cameras, and display quality in the two models are the same.

New processor: Apple says the A14 Bionic chip is designed with 5G in mind, using the fastest central processing unit and graphics processing unit on the market, to provide the power needed for high-speed applications, such as gaming and machine learning.
Better durability: Apple says it has worked with Corning to create a new Ceramic Shield front cover that will make all four iPhone 12 models the most durable to date, boosting by four times their resistance to cracking and shattering when dropped.
All four models are also IP68-rated, which means they're water-resistant to a depth of 6 meters (almost 20 feet) for up to 30 minutes. By comparison, the iPhone 11 was water-resistant to a depth of 2 meters (about 6.5 feet), and the 11 Pro models were water-resistant to 4 meters (just over 13 feet).
OLED display: A year ago, you had to buy an 11 Pro or 11 Pro Max to get a display with OLED technology, known for generating blacker blacks and almost unlimited viewing angles. The iPhone 11 had an LCD screen, instead. Now OLED displays come standard on all four of the new phones.
New cameras: The 12 and 12 Mini have two rear cameras: one wide-angle and one ultrawide-angle. Speed improvements on the wide camera allow it to collect up to 27 percent more light, letting users take better pictures in low-light situations. And the cameras—front and back—on all four models now offer Apple's Night Mode.
The new phones are Apple's first to shoot HDR video with Dolby Vision, a format employed by movie studios. Apple says it has also made improvements when it comes to nighttime time-lapse photos taken with a tripod.
Improved wireless charging: Apple has brought the MagSafe charging technology found on its older laptops to the four iPhone 12 models. They now magnetically attach to a compatible wireless charger, providing up to 15 watts of power, twice as much as the iPhone 11 Pro could support.
The magnetic connection also makes it less likely that your phone won't charge if it gets bumped off the contact point.
Apple plans to roll out its own line of magnetic chargers, plus new cases and wallets that support MagSafe charging. Options from other companies will be available as well.
Don't want to buy a new wireless charger? The phones also will work with traditional Qi chargers, but at a lower wattage. (Read more about wireless chargers.)
New colors: The iPhone 12 and 12 Mini will be available in black, white, red, and new blue and green finishes.
No wall adapter or headphones: In an effort to reduce e-waste, Apple won't be including wired headphones or a wall adapter with any of the new phones. That means you'll have to rely on a wall adapter you already own if you plan to plug the phone into an outlet. (Check out CR's wireless headphone ratings and buying guide.)
You should also note that the iPhone 12 power cords will be USB-C to Lightning, which means you may have to buy a new wall adapter if your previous phone powered up with a USB-A cord.
iPhone 12 Pro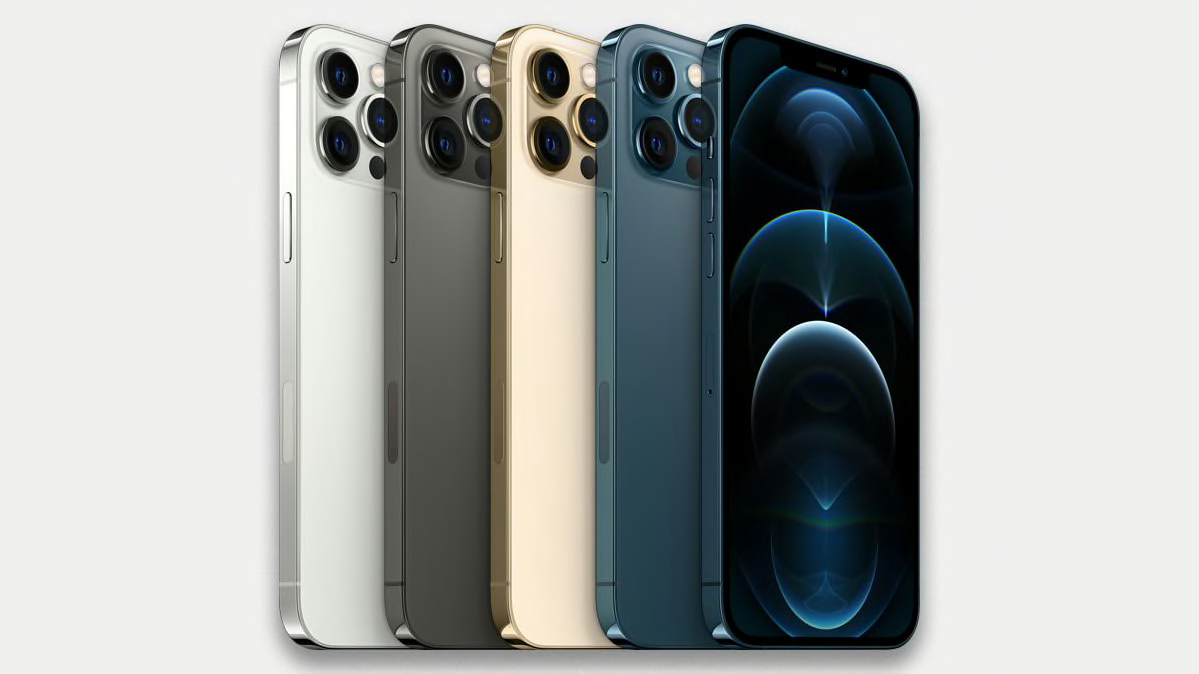 Wondering whether you should shell out the extra money for one of the two 12 Pro models? Here's what you get.
More storage: The Pro models now come standard with 128 gigabytes of storage, up from the 64GB of the older Pro models, the iPhone 12, and the 12 Mini.
New zoom lenses: The 12 Pro has a third camera on the back with a 2x optical zoom. With the 12 Pro Max, you get a 2.5x optical zoom. Both options let you get closer to your subject without the use of software that can distort the image. The iPhone 12 and 12 Mini don't have cameras with telephoto lenses.
Apple says the cameras automatically focus faster and have improved image stabilization. The sensor on the 12 Pro Max's wide-angle camera also is 47 percent larger, letting in more light when needed.
The Pro models include a new Lidar scanner that uses reflected light to map the contours of a space, potentially improving low-light photos and creating more immersive augmented reality experiences. This is not a new idea. Samsung uses similar tech on its Galaxy S20+ and S20 Ultra phones. The latest iPad Pro has a Lidar sensor, too.

Different finishes: Instead of aluminum, the Pro models are encased in stainless steel. They come in graphite, silver, gold, and a new blue color.
HomePod Mini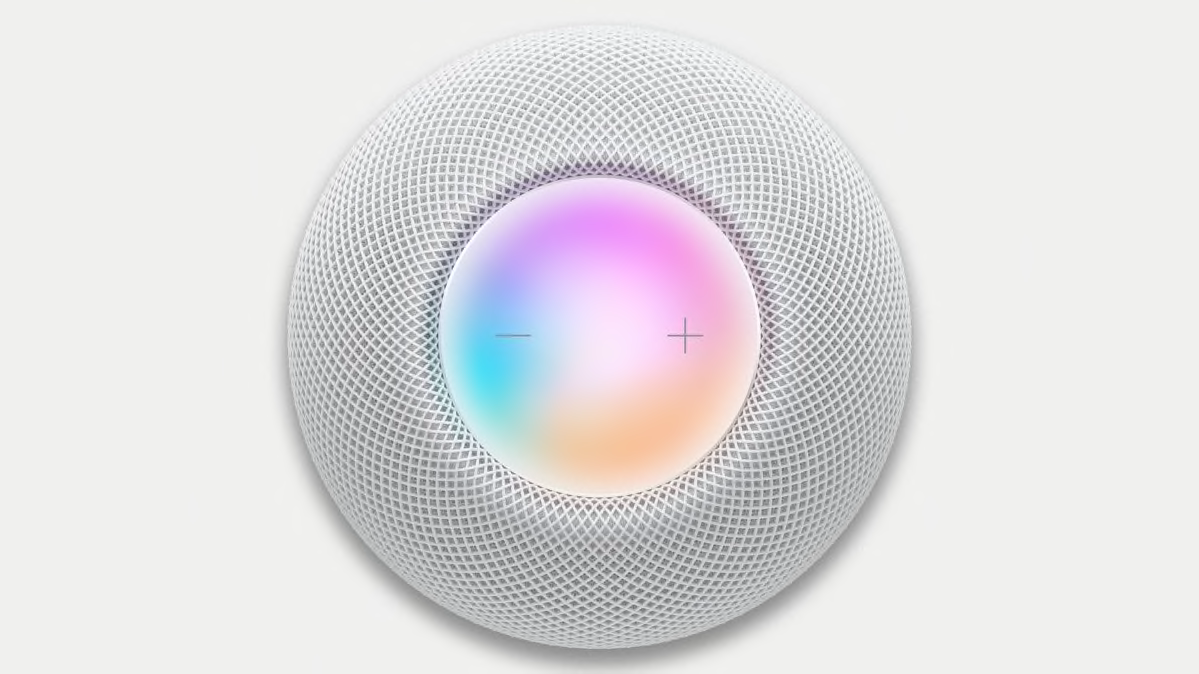 Apple is making a play for mass appeal in the smart speaker market with the new HomePod Mini. At $99, the model is not only significantly less expensive than the original HomePod, $299, but also priced to match the latest Amazon Echo and Nest Mini from Google.
The small spherical speaker, covered with a seamless acoustic mesh fabric, resembles the newly redesigned Amazon Echo, too.
In addition to having a backlit touchpad on top, the HomePod Mini harnesses Apple's S5 chip to provide "computational audio" with "balanced, fine-tuned sound at any volume," Apple says.
It also supports multiroom integration and stereo pairing.
On the smart speaker front, the Mini promises tighter Siri-powered integration with other Apple devices and technology, including iPhones, Apple Watches, and Apple CarPlay. This means you can, for example, route driving directions to your auto's infotainment system or use the new intercom function to send a message from your vehicle to a HomePod in your house.