When you shop through retailer links on our site, we may earn affiliate commissions. 100% of the fees we collect are used to support our nonprofit mission.
Learn more.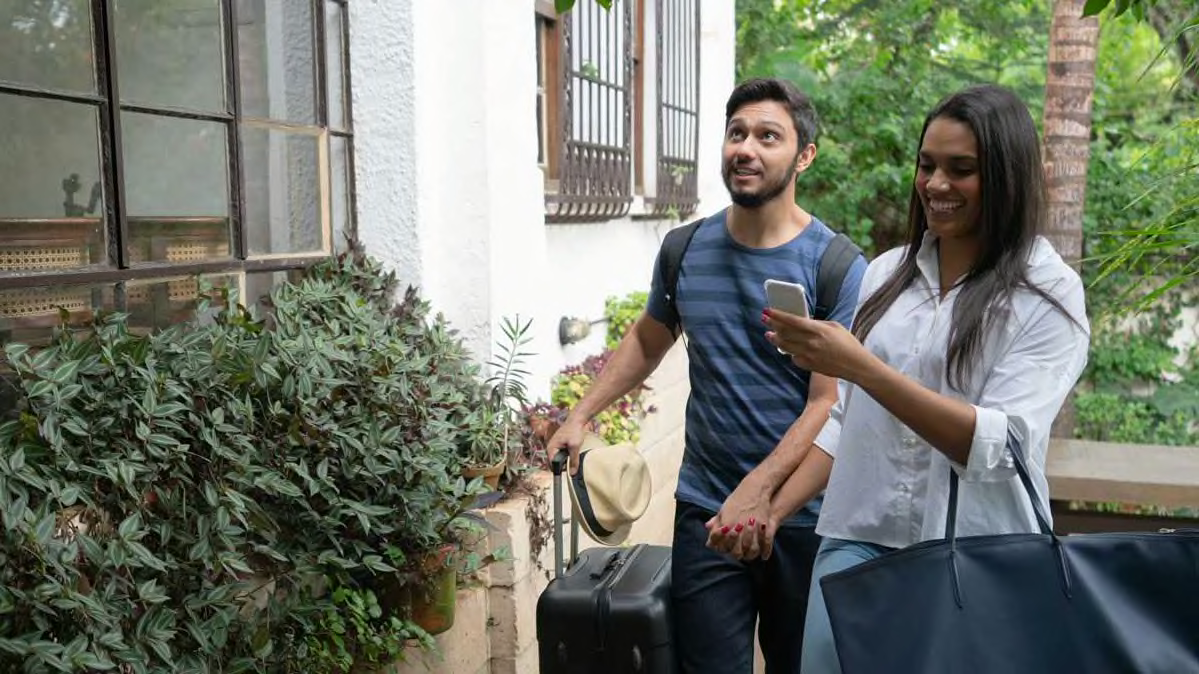 Your cell phone is an indispensable travel companion. It can help get you to the airport, keep you entertained while you're on the plane, and help you stay in touch with friends and family when you land.
But beyond the obvious, there are a few tools and tricks you might not have heard of that are especially useful when you're traveling.
Google, for one, just launched a new interpreter function in its digital assistant that will help you hold conversations in another language, without the need to install a new app. And with the right taps and swipes, you can use a map even when you're out of cell range, and save money on international calls.
Before you jet out on your next vacation, take a look at these tech travel tips, so you can cut down on the hassle and focus on having fun or reconnecting with family and friends.
Use Google Assistant as a Translator
Traveling to a country where you don't speak the language, or hosting guests that don't speak yours? Google has just begun rolling out an "interpreter mode" in Google Assistant on iPhones and Android devices. The feature will automatically translate speech between two languages, like a real-life version of the Babel Fish from "The Hitchhiker's Guide to the Galaxy."
The company says the new tool works with 44 languages. To use it, try saying "Hey Google, help me speak Italian," or "Okay, Google, be my Arabic interpreter." Then, Google Assistant will begin listening for phrases in one language, and speak them back in the other. It will also generate automatic responses that you and the person you're speaking with can tap to help speed the conversation along, or you can choose to communicate entirely via text in situations where you'd rather keep things quiet.
Google first debuted the feature on Google Home devices and smart displays in early 2019, and deployed the technology as part of a pilot program at a few hotels across the country, but this is the first time it is available on mobile devices.

Download Maps for Offline Use
Gone are the days when traveling meant stocking up on paper maps, but reliance on navigation apps can leave you stranded if you find yourself without a cell signal. Fortunately, there's an easy solution. All you need to do is download maps or specific directions in advance.
To be clear, your phone needs a cell signal to download new maps but not to pinpoint your location on an existing map—it can get satellite signals almost anywhere you can see the sky.
It's particularly easy in Google Maps. On your smartphone, open the Google Maps app and be sure you're signed in. Search for an area you want directions for. Then, tap the name or address of the location, and on the next screen, tap the button with the three dots in the top right. Select "Download offline map," then adjust the boundaries of the map to focus on how big of an area you want to be able to access offline (and limit how much space it will take up on your phone).
Alternatively, you can create a custom map by opening the menu with the three stacked lines in the top left, tapping "Offline maps," then choosing "Select Your Own Map." Google Maps lets you set an expiration date, when the data will be deleted automatically.
For now, Apple Maps doesn't let you download maps to use offline. There's a workaround if you're dedicated to the built-in iOS navigation scheme, but it takes more preparation. When you have a signal or are connected to WiFi, type in your destination and begin the navigation. Once you leave, the directions and the map will still be available even if you disconnect from the network on the way.

Save Money by Using Apps to Make Calls
When you're traveling internationally, some domestic cell-phone plans come with free data and texting in certain countries, but phone calls typically cost extra. If you know you'll need to make a lot of calls, you can contact your carrier and pay for a temporary upgraded plan. But to keep connected when you just need to phone a restaurant for dinner reservations or make a quick call to family back home, other options may be cheaper and easier.
Skype and Google Voice both let you place regular phone calls for a nominal fee, depending on the country you're calling. Google Voice rates run as low as 1 cent per minute, depending on where you're calling. Skype's costs for numbers in many countries are just 2.3 cents per minute. You can also buy packages of Skype minutes—$5 will get you 165 minutes of calls to anywhere in the world.
In many countries, the most frugal option is WhatsApp. WhatsApp calls are free, but you can call only other users of the app. That makes it less useful in the U.S. because the app hasn't quite caught on. But in other countries, WhatsApp is so popular, it has become a default form of communication—in some parts of Europe, for example, you can even make calls to many businesses. In WhatsApp, phone numbers work like usernames. Before you make a call that costs money on your next trip overseas, try adding the number to your contacts list and seeing whether there's an available WhatsApp account.
Keep in mind that all these methods work over the internet, so if you're not on WiFi, you'll need to factor in the cost of your data plan.