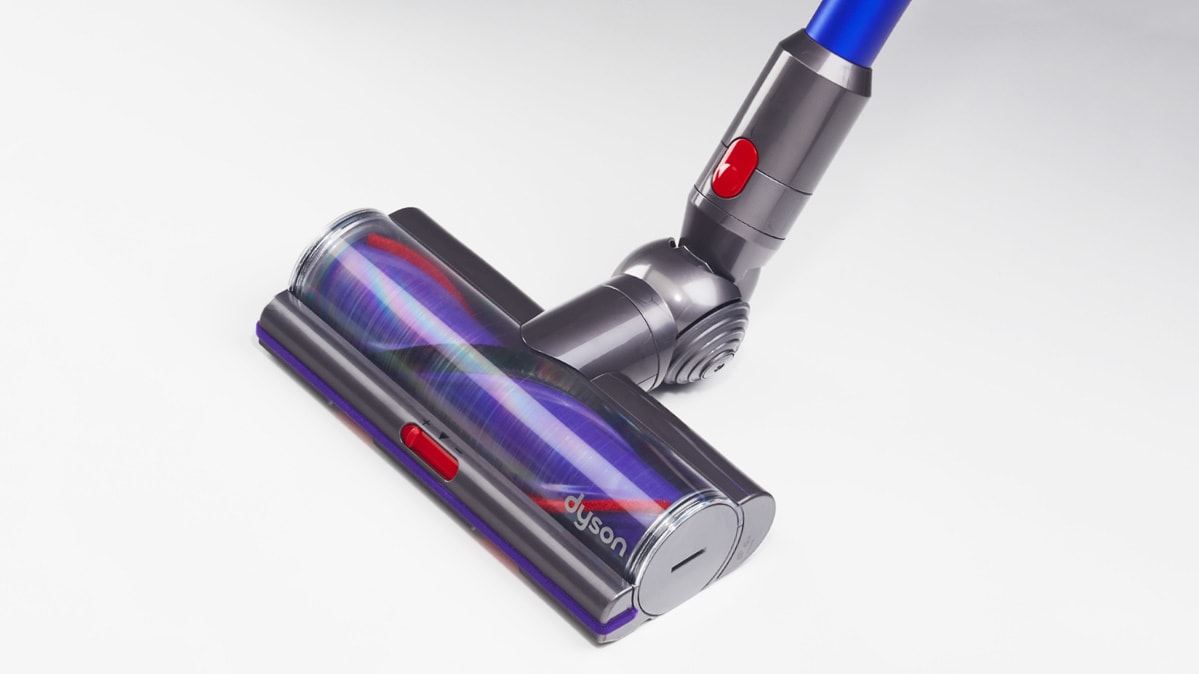 If you shell out $700 for a stick vacuum, you expect the very best.
Dyson claims the Cyclone V10 Absolute is just that—touting tech advances such as a new ceramic shaft in the motor "three times harder than steel'' and waving patents that go with them.
But when the dust settled in CR's labs, the results of all our tests didn't add up to peerless performance.
To be clear, the new V10 is a terrific stick vac, and it earns an Excellent overall in Consumer Reports' ratings. But it's not the best. That title goes to its predecessor, Dyson's V8 Absolute, which sells for $200 less.
The V10 in CR's Labs
Consumer Reports purchased a Cyclone V10 Absolute and ran it through our full gauntlet of stick vacuum tests. Weighing in at 5.9 pounds and measuring roughly 49 inches, the V10 has a long metal shaft, a clear plastic dust bin, and a trigger handle. It's fairly easy to operate with one hand, and it drives well on medium-pile carpet. Here's the blow-by-blow account of how it performs.
Carpet Cleaning
The V10 aced our carpet-cleaning tests. On medium-pile carpet, it expediently sucked up debris (a technician-calibrated mix of cat hair, rice, and Cheerios), eliminating visible surface litter in less than 23 seconds.
The V10 did push some rice around the carpet rather than sucking it right up. This problem might have been due to an open/close switch on the front of the motor head that controls a small shutter—it's meant to allow toggling between picking up larger debris and providing increased suction. But the shutter doors make it more difficult for the machine to suction up certain types of debris—such as rice. (We tested with the switch opened and closed.)
Dyson's closest competitor, the Shark IonFlex 2X DuoClean Ultra-Light Cordless IF251, didn't pick up nearly as much debris from carpet surfaces as the Dyson V10 or its predecessor, the V8.
In CR's First Look of the V10, we tested Dyson's claim that it picks up 25 percent more embedded dirt than the V8, and found it to be accurate. We don't typically put stick vacs through our embedded-dirt test—it's designed for full-sized vacuums—because most stick vacs are not engineered to handle embedded dirt. With the V10, Dyson is trying to make the case that you don't need an upright vacuum. Our testers wouldn't go that far.
Bare Floors
The V10 was effective at cleaning up along edges and on bare floors. It left tile very clean, with little visible surface debris. Again, aces.
Noise
This stick vac was loud. It fell below the threshold at which we recommend hearing protection (85 decibels), but it was loud enough to annoy those with sensitive hearing. On maximum mode, the sound power of a V10 reached 78 decibels. For reference, that would sound about 60 percent louder than the V8.
Convenience
Although we don't give vacuums a convenience rating, we do look at design and ergonomics and factor those elements into the Overall Score.
The Cyclone V10 has a good-sized dustbin, which means fewer trips to the trash can. But to access the bin for emptying, you need to remove the wand; this is difficult and a bit of a nuisance.
With a 25.2-volt lithium-ion battery, the V10 can run on low power for 52 minutes per charge, about a third longer than earlier Dyson stick vacs. At the max power setting it ran for a paltry 6 minutes.
Also, using any Dyson stick vacuum means holding down a trigger the entire time you're cleaning. There's no on/off switch. For those who may not have the strength or agility to keep the trigger down while holding and steering the vacuum, Dyson models are not a great option.
Overall Dyson Stick Reliability
In Consumer Reports' 2017 Summer Survey on Vacuums, 24 percent of CR members who owned Dyson stick vacuums said that their model broke, putting Dyson at the middle of the pack among six brands for CR's predicted reliability rating. That Dyson is not tops in reliability is important in the context of a $700 stick vac.
In our labs, the carpet head on the Dyson Cyclone V10 Absolute stopped working during testing, though it's tough to say what the problem was. At Consumer Reports, we don't consider it statistically significant when one unit breaks.
Overall Dyson Stick Satisfaction
In spite of the run-of-the-mill reliability score, Dyson owners really like their machines: Our recent survey reports that CR subscribers who own a Dyson stick vacuum are highly likely to recommend it to someone. It earns a satisfaction rating of Excellent.
Here's a look at the lineage of the V10, in chronological order.
Final Thoughts
If you look at the numbers, the Dyson Cyclone V10 Absolute is not worth the investment. A $700 second vacuum should ace all our tests, and the V10 fell short in a few ratings. It was noisy, and the dustbin was tough to empty. Yes, it has a long charge and an impressive amount of power, but if you're in the market for a Dyson, you can expect roughly the same cleaning capability from the V8 Absolute and save yourself a couple hundred bucks.
Correction: An earlier version of this article incorrectly compared the sound power of the Dyson V10 with that of two Dyson V8s runnning at the same time. In fact, the V10 in max mode would sound about 60 percent louder than the V8 in its max mode.
Shopping links are provided by eBay Commerce Network and Amazon, which makes it easy to find the right product from a variety of online retailers. Clicking any of the links will take you to the retailer's website to shop for this product. Please note that Consumer Reports collects fees from both eBay Commerce Network and Amazon for referring users. We use 100% of these fees to fund our testing programs.