The Dyson V11 Stick Vacuum Costs $700. Is It Worth It?
The latest model from Dyson adds new features, which CR put to the test in our vacuum lab
When you shop through retailer links on our site, we may earn affiliate commissions. 100% of the fees we collect are used to support our nonprofit mission. Learn more. Dyson stick vacuums have a history of stellar performance in Consumer Reports' tough lab tests. In fact, for the past five years, Dyson has dominated the top tier of our stick vac ratings.
That was until the results of our latest member survey revealed that Dyson stick vacs are more trouble-prone than most other brands' models, and therefore less reliable. As a result, CR removed Dyson from our list of recommended stick vacuums earlier this year.
To calculate predicted reliability, we survey our members about the problems they've had with the products they own (not all models currently on the market may have been available at the time of our most recent survey), then use that data to make projections about how new models from a given brand will hold up over time. Specifically, we ask: "In total, how many times did this product break or stop working as well as it should?
None of this means we've stopped testing them. We recently put the brand's newest stick vac, the Dyson V11 Torque Drive, through a battery of tests in our vacuum lab.

Dyson V11 Performance Test Results
When the Dyson V11 hit the market this spring, we brought it into our lab and put it through the same battery of tests that we use for all stick vacuums.
We assessed how well it performs its primary job of cleaning carpet and bare floors, getting into corners, keeping up with a shedding pet, and doing it all without waking the baby.
The results? Stellar again. The Dyson V11 earns our top rating in the tests for cleaning carpet, floors, edges, and pet hair as well as for clean emissions. And it's one of the quieter models in our ratings—an improvement over the V10.
The Dyson V11 has the longest run time of all the Dysons in our tests, at more than 43 minutes, second only to the run time of the Bissell Air Ram, highlighted below. But like many stick vacs, it takes a full 4 hours to recharge. At 6.6 pounds, it's a pound heavier than the Dyson V8 but is still lighter than many stick vacs from other brands.
"There are a few shortcomings," says Susan Booth, who oversees our vacuum testing. "Like other Dyson models, there's no brush on/off switch and it's not self standing, which means you have to hang it up to charge and store it."
After our basic performance tests, we took a look at the specific features Dyson touts as improvements to the V11. "We designed the V11 to address the challenges of previous models," a Dyson spokesman told CR.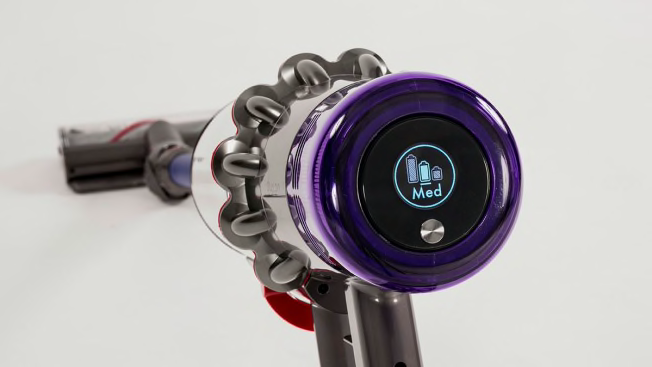 A Look at the Dyson V11's Special Features
We asked the Dyson spokesman to elaborate on the V11's new features, and he listed three problems that they were designed to address.
Problem No. 1: Consumers complained that they couldn't tell how much run time remained as they vacuumed.
The solution: Dyson added an LCD screen to the top of the V11's handle that displays the vacuuming mode you're using (see photo above) and counts down the time remaining before the battery dies.
Does it work? Yes. Our testers especially like the LCD screen and said that though the time displayed sometimes varied from our own battery-life calculations, it was fairly accurate.

Problem No. 2: Consumers said they didn't know what to do if suction suffered while they were vacuuming.
The solution: An alert on the same LCD screen lets users know when there's a problem with the filter or a clog in the machine. If there's a problem, a digital image indicates where it is.
Does it work? Yes, our testers received an alert when the filter was loose.

Problem No. 3: Consumers said their stick vac didn't clean consistently when moving from carpet to floor and back again.
The solution: An auto mode feature automatically adjusts the suction without the user having to toggle a switch as in earlier models (and most other vacuums). "That's the biggest thing," the Dyson spokesman said.
Does it work? Yes, in our tests the auto mode changes the vacuum's suction according to floor type.
Still, the problem of the reliability of Dyson's stick vacs remains. Based on our latest survey results, Consumer Reports estimates that close to half of Dyson stick vacuums will develop problems or break within five years, compared with about a quarter of the stick vacuums from Shark, the most reliable brand of stick vacuums, according to our members.
As you shop, you'll have to weigh whether it's worth paying hundreds of dollars more for a less reliable brand.
The Dyson models in our tests range in price from $250 to $700 for the V11 with the older models on the lower end of that scale. By comparison, the Shark stick vacs at the top of our tests cost $300 to $450. And a handful of our recommended vacuums can be had for $200 or less.

If you still have your heart set on a Dyson and can do without the V11's slick LCD screen, you can get the same vacuuming performance from the Dyson V8 Absolute. We purchased the V8 model we tested in 2016 for $500 but have lately seen it on sale for between $280 and $380 at Lowe's, Macy's, and Walmart. At that discounted price, Dyson's reliability problems become less of a gamble.

4 Top Stick Vacs From Reliable Brands
In our brand reliability survey, only Dyson and Electrolux receive a rating of Poor for predicted reliability, and that takes them out of the running for a CR recommendation.
We found some solid alternatives in our tests, from brands with better reliability ratings than Dyson. As a bonus, they typically cost considerably less. Here, listed in alphabetical order, are top-notch alternatives from Bissell, Black+Decker, Dirt Devil, and Shark.

Editor's note: This article, originally published May 6, 2019, has been updated with how we calculate predicted reliability, and to specify the survey question used to create our reliability ratings.