When you shop through retailer links on our site, we may earn affiliate commissions. 100% of the fees we collect are used to support our nonprofit mission.
Learn more.
We've been fans of the Roku streaming media player platform, which combines an intuitive, easy-to-use interface with more content than you'll ever be likely to view. With a sleeker look, faster operation, and some new features, the new Roku Streaming Stick both replaces and improves on its eponymous predecessor. And it does it for the same price of $50.
Most stick-style players are fairly nondescript, not surprising given their mission of disappearing in the back or side of a TV set. (Google's new colorful, disc-shaped Chromecast—a veritable peacock among streaming players—is the notable exception.) The new Roku Stick is no exception, foregoing its predecessor's purple hue in favor of a basic matte black design, though the new design is a bit sleeker.
Remote Control and Setup
The new Roku Streaming Stick comes with a fairly standard Roku RF remote control, so you don't need a direct line of sight between the remote and the TV; it will operate almost anywhere within a 30-foot range. Its layout should be familiar to anyone who's ever used a Roku player. There's a large purple navigation pad in the center of the remote, just underneath the Back and Home buttons. Below the pad are the playback controls, plus Option and replay buttons. Toward the bottom of the remote are dedicated buttons for directly accessing the Netflix, Amazon, Sling TV, and Google Play streaming services.
While the included remote works well, I found that using the Stick with the free Roku app (iOS and Android) was a better choice if you're looking for additional features. For example, though the included remote lacks the built-in microphone for voice search, you can use the app with your mobile device to perform voice searches. And while the remote lacks the headphone jacks found on the Roku 3 and 4 remotes, you can connect a set of headphones to your smartphone or tablet.
Simply tap the app's headphones icon to get audio to stop playing through the TV and start playing via the headphones—currently, this is a feature exclusive to the new Streaming Stick. You can also connect Bluetooth headphones, though you may encounter a slight delay in the sound compared to the video due to sync issues.
As you might imagine, the app works as a regular remote control. But it also lets you browse and add channels, and using the Play On Roku feature, you can send music, videos and photos from your mobile device to your TV. In addition, it has limited casting capability, so you can send Netflix and YouTube content from your phone to the TV.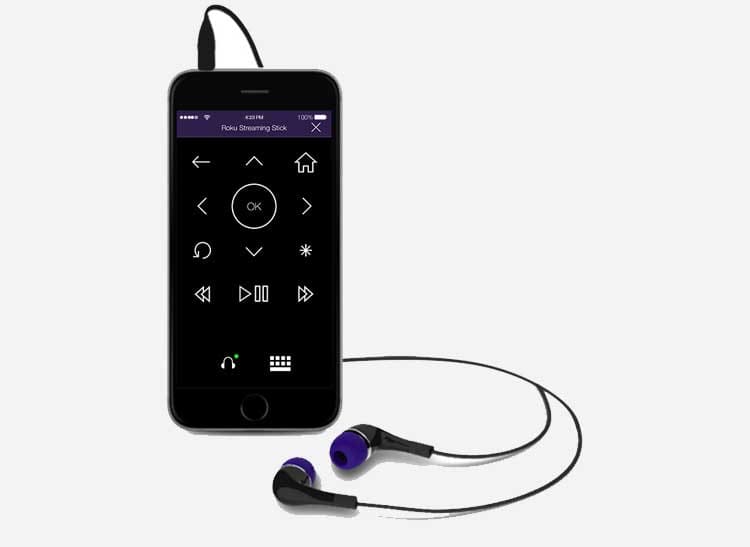 Like every other Roku I've tried, setting up the Roku Streaming Stick is a two-part process. First you insert the player into one of the TV's HDMI inputs; it gets power either from a TV's USB port, or an AC wall outlet. (It comes with a microUSB-to-USB cable and an AC adapter.) You then connect it to your network, and let it check for and download any updates. The new Roku Stick has dual-band 802.11n Wi-Fi, and it quickly found my new Eero home network; I was able to connect at both 2.5 and 5GHz frequencies. But unlike the Roku 4 I also use, it doesn't support 802.11ac.
After these steps are completed, you receive a code, plus a prompt to go to the Roku website to link the device. Once you enter the code and either set up a new account or sync the new player to an existing one, the player completes its activation. If you're adding the Roku Stick to an existing account, it will automatically populate your home screen with all your selected channels.
Putting It to the Test
One downside to stick-style players is that they often lack the super-fast processors of the latest set-top box-style players. This isn't true of the new Roku Streaming Stick. For one, it boots up much quicker than its predecessor, and apps load faster. I found that navigating through the different streaming apps was much faster, and there was less buffering when I chose to launch a service. It's still not quite in the same league as my Roku 4 player, but it's markedly quicker than the old Roku Stick, and a bit speedier than the Fire TV Stick. (It does lack the voice search and Alexa digital assistant found on Fire TV, though.) One thing to note is that you'll get better performance if you use the AC adapter rather than powering it via USB.
Roku's home page should be familiar to anyone who's used a Roku previously. The main list of options—Home, My Feed, Movie Store, TV Store, News, Search, Streaming Channels, and Settings—are all arrayed vertically along the left side of the screen. Large content tiles for streaming services occupy the rest of the home page. Unlike some other players—yes, Amazon Fire TV, I'm talking about you—you can customize the home page with the services you use most, and rearrange the order.

The only thing I haven't liked about Roku's menu system is that the Movie Store and TV Store aren't really listings of available shows and movies. Instead, clicking either link takes you to the M-Go pay-per-view service, where you can rent or buy films and shows. I hardly ever use it, since I already subscribe to several subscription services. This area has now been rebranded as FandangoNow, since Fandango recently acquired the M-Go streaming service.
Like all Rokus, the new Streaming Stick can access a class-leading assortment of content. It has all the major streaming services—Amazon Prime and Video, Google Play, FandangoNow, Hulu, Netflix, Sling TV, Vudu, and YouTube. You also get a number of broadcast channels—most of which require authentication with a pay TV service—plus premium networks such as HBO Now and HBO Go, Showtime and Showtime Anytime, and Starz Play.
Time Warner Cable and Comcast subscribers can watch live TV directly through the Roku. There's also a healthy dose of streaming music services, including Amazon Prime Music, Google Play Music, iHeartRadio, Pandora, and Spotify.
Roku's search has always been top-notch, and with the recent update to Roku's OS (OS 7.1), it's now even better on the Roku Streaming Stick, the first device to get it. The device will now crawl through 30 popular streaming services to find TV shows and movies, and you can search by actor, title, or director.
One of the things I've always liked about the platform is its agnostic approach to content, since it doesn't have any services of its own to push. Roku's results are ranked by price, with the least expensive option—including where it's free—listed first.

Thanks to the new OS, the Roku Feed now lets you look for movies and TV shows from the same area in the menu; when the search turns up a movie or show you're interested in, you can watch it immediately, or "follow" it in your Roku Feed and get automatic updates when it appears on a new service or its price changes. If you're using the Roku app, you can see your My Feed queue on your phone and get alerts when new content appears.
Given its small size and easy portability, one other new feature, called "Hotel and Dorm Connect," may be of interest to those on the go. I didn't test get a chance to test this feature, but it allows you to take the Roku Streaming Stick with you and, in conjunction with your phone, stream over public Wi-Fi connections, such as those in hotels, that require a browser-based login.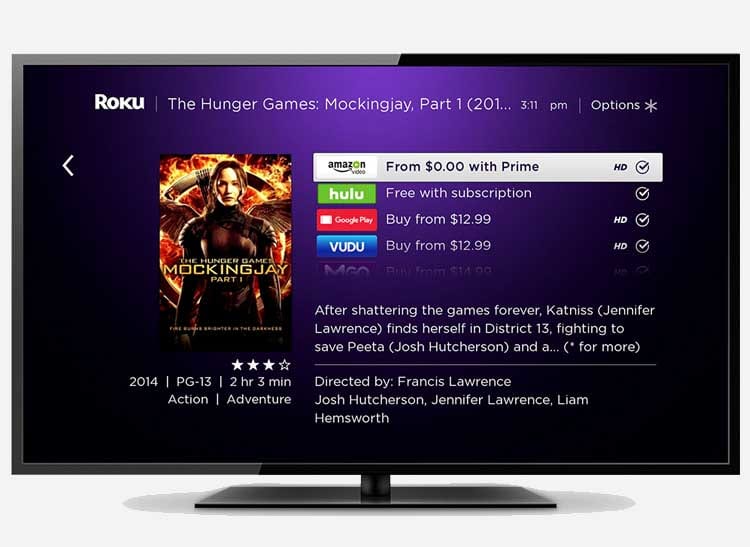 The Bottom Line
Given its relatively low price, vast array of content, and some unique features, there's a lot to recommend when it comes to the new Roku Streaming Stick. It may well now be the best stick-style player you can buy. It's faster and more versatile than its predecessor, and improvements to the Roku OS make a great feature—the Roku Feed—even better. Unlike the $70 Roku 2, it lacks an Ethernet jack, so there's no option for making a more reliable wired connection to your network. And it doesn't support the 4K video or 802.11ac Wi-Fi you get with the $130 Roku 4. But in many ways, if you choose to use the Roku app, the new Roku Streaming Stick provides a lot of the functionality you get with the Roku 3—with one a pretty big benefit: At $50, it's only half the price.