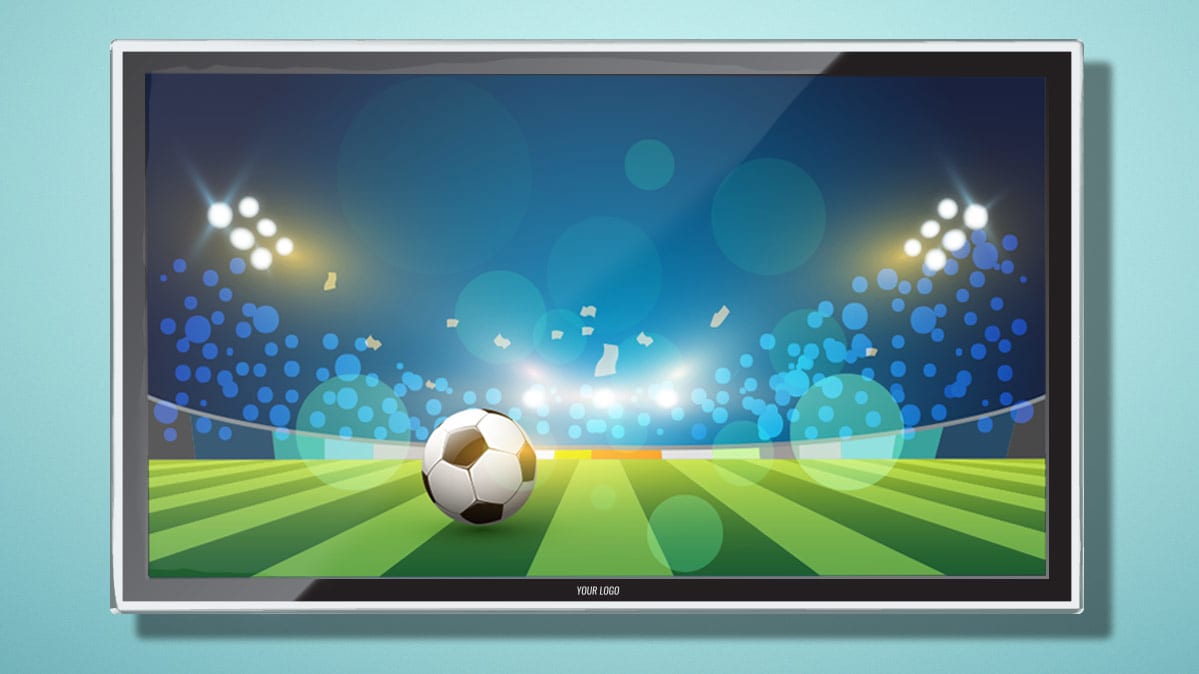 With soccer fans around the world counting down the hours until the start of the FIFA World Cup on June 14, now is the perfect time to sort out exactly how you're going to watch the games from Russia, whether that's in the comfort of your own home or on the sly at your desk at work. Thanks to the proliferation of cable replacement streaming services in the past few years, a traditional cable or satellite TV package is no longer necessary to see the likes of Messi, Ronaldo, and Neymar in action.
Call it the Cord Cutter's World Cup.
In the U.S., the World Cup will be shown in English on two Fox-owned networks, the Fox broadcast network and cable channel FS1. The tournament will also be shown in Spanish on two networks owned by Comcast, the broadcast network Telemundo and the cable channel Universo, with Telemundo carrying the majority of the games.
All four networks showing the World Cup are available on the major cable replacement services, such as DirecTV Now and Sling TV, which stream cable channels over the internet.

Become a member of Consumer Reports to get access to our TV Screen Optimizer, which will help you get the perfect picture on your TV in just minutes. Join today to get started.

If you've previously ditched cable in the face of rising fees and are making do with conventional streaming services such as Crunchyroll and Netflix, this could be the time to consider one of the new services. And if you've been worried about cutting the cord because you're a sports fan who relies on TV for watching games, these services could be the answer.
The options are described below. In brief, cable replacement services generally cost around $20 to $50 per month and offer access to a variety of channels, such as CNN, the Food Network, and HGTV. You can watch on your TV, of course, using a streaming media player such as an Apple TV or a Roku if you don't have a smart TV, but you can also watch on your Android smartphone or iPhone. That's not only convenient for, say, watching a game while at the office, but also crucially important for the 28 percent of Americans who don't have home broadband service and access the internet only via their smartphone.
Unlike cable or satellite, these services don't come with lengthy contractual commitments, meaning you could, if you were so inclined, cancel as soon as the tournament wraps up. These services also offer seven-day free trials, opening up the possibility of watching the entire tournament free if you're willing to move from service to service week after week.
Before signing up with any cable replacement service, check to make sure the channels you want are available in your location—offerings can vary depending on where you live. You also need to make sure the service works with your streaming device.

And if you already have a cable TV subscription, you're probably not tethered to the TV at home, either. Apps from companies such as Spectrum and Xfinity will let their customers stream the relevant World Cup channels on a mobile device.
What follows is a guide to the major streaming services (from least to most expensive) that should help you watch this year's World Cup. After all, just because the U.S. Men's National Team didn't qualify doesn't mean you should miss out on the world's biggest sports event.
Sling TV
Devices availability: Android, Apple TV, Chromecast, iOS, Roku, Xbox, select smart TVs, web
Starting price with soccer: $25 per month
Number of simultaneous streams: 3
Sling TV as we know it today launched in January 2015, but its history dates back to 2013, when its parent company, the Dish Network, began experimenting with streaming international content under the name DishWorld. For $25 per month you can get a package called Sling Blue that includes Fox and FS1, making this the least expensive way for English-language fans to tune in.
Spanish-language fans, however, may want to look elsewhere because Universo costs an extra $5 per month and Telemundo is not available at all. (Heads up, Spanish speakers: Your options improve dramatically from here on out.)
Cloud DVR support will run you $5 per month and includes 50 hours of storage.
DirecTV Now
Device availability: Android, Apple TV, Chromecast, Fire TV, iOS, Roku, web
Starting price with soccer: $35 per month
Number of simultaneous streams: 2 (or 3 for an extra $5)
First launched in November 2016, AT&T's DirecTV Now carries all the channels you'll need to watch the entire World Cup in English or Spanish, though Spanish speakers should note that they'll need to spring for the second-most expensive tier, called "Go Big," to access Universo. This tier costs $60 per month.

DirecTV Now has broad device support, with dedicated apps for Android and iOS as well as apps for Amazon Fire and Roku streaming devices. There's also support for Google's Chromecast, which sends (or "casts") video playing on your smartphone, tablet, or laptop to your big-screen TV. There are no major differences among the platforms in terms of pure functionality—no matter how you choose to access DirecTV Now you'll be able to watch Fox, FS1, Telemundo, and Universo just as well.

DirecTV Now also includes a cloud-based DVR, which lets you record up to 20 hours (roughly 10 games) for later playback. The AT&T service also supports two simultaneous streams (a third can be added for an additional $5 per month), which is useful here because the final group stage matches are held simultaneously on Fox/FS1 and Telemundo/Universo. One game on your smartphone with another on your TV is the type of multitasking we can get behind.

Hulu With Live TV
Device availability: Android, Chromecast, Fire TV, iOS, Nintendo Switch, Roku, Xbox, select smart TVs
Starting price with soccer: $40 per month
Number of simultaneous streams: 2 (or unlimited for an additional $15 per month)
Hulu added live television streaming in mid-2017, a compelling proposition for folks who already subscribe to the on-demand service that's home to shows like "The Handmaid's Tale." Both live television and on-demand streaming are found in the same app. Here you'll find three of the four World Cup networks, with Universo being left out.
While broadcast networks like Fox and Telemundo are available in most major markets, Hulu recommends that you check its website (you'll be asked to plug in your ZIP code) just to be on the safe side.
The base $40 package includes a cloud-based DVR with enough space for 50 hours of programming, while spending an additional $4 per month bumps this to 200 hours. You also get two simultaneous streams with the base package, but this can be increased to an unlimited number of streams by adding the appropriately named Unlimited Screens Add-On for an additional $15 per month.
YouTube TV
Device availability: Android, Apple TV, Chromecast, iOS, Roku, Xbox, select smart TVs
Starting price with soccer: $40 per month
Number of simultaneous streams: 3
YouTube TV, which launched in April 2017, is the newest of the mainstream cable replacement services, offering an array of channels and an unlimited cloud-based DVR for $40 per month. That's a good deal, especially because it includes six user accounts (meaning you can have separate favorites, settings, and recorded shows for you, your kids, and other members of the household) and three simultaneous streams per subscription.
YouTube TV carries all four of the relevant networks for the World Cup: Fox, FS1, Telemundo, and Universo. And because there's an unlimited cloud-based DVR, you can record as many of the games as you want without worrying about running out of space. If you have the willpower to avoid spoilers, this can come in handy because of how early some of the games start, especially if you're on the West Coast. (Turn off push notifications in your news apps, and stay off social media entirely.) Then again, waking up to watch France vs. Australia at 3 a.m. PDT is part of the magic of the Cup.
And while YouTube TV launched in only a handful of cities, the service is now available in most major metro areas in the U.S. A full list of compatible locations can be found on the YouTube TV website.
FuboTV
Device availability: Android, iOS, Fire TV, Chromecast, select smart TVs, web
Starting price with soccer: $45 per month
Number of simultaneous streams: 2 (or 3 for an extra $6 per month)
FuboTV is a streaming startup that launched in January 2015 and focused its early marketing efforts almost exclusively at soccer fans. As such, it's no surprise that it has all four of the World Cup networks on offer. And for the duration of the World Cup, you can add a third stream for free, which normally costs an extra $5 per month.
The service does offer a number of nonsports networks, however, including AMC, HGTV, MSNBC, and National Geographic.

Fubo also includes a cloud-based DVR, with 30 hours of storage available free and 500 hours for an additional $10 per month. And for the duration of the World Cup, you can add a third stream for free, which normally costs an extra $6 per month.
Sony PlayStation Vue
Device availability: Android, Apple TV, Chromecast, Fire TV, iOS, PlayStation 3 & 4, Roku, web
Starting price with soccer: $45 per month
Number of simultaneous streams: 5
Initially available in a limited number of markets in 2015, Sony's PlayStation Vue has evolved into one of the more robust streaming services available, offering more than 90 channels at the highest end. And no, you don't need a PlayStation gaming console to watch, with Vue available on most major platforms, including Apple TV, Roku, and both Android and iOS.

Vue is a good option for World Cup fans, with both Fox networks and Telemundo available at the $45-per-month tier. Sony warns that not every single market has access to every single over-the-air broadcast network, so you'd probably want to check ahead of time just to be sure.
Universo requires the additional $5 per month Spanish-language pack. And similar to YouTube TV, Vue offers generous cloud DVR space. Sony doesn't put a limit on how many shows you can record, but content is automatically removed after 28 days.

Consumer Reports is an independent, non-profit organization dedicated to helping consumers. We make it easy to buy the right product from a variety of retailers. Clicking a retailer link will take you to that retailer's website to shop. When you shop through retailer links on our site, we may earn an affiliate commission – 100% of the fees we collect are used to support our mission.
Learn more.
Our service is unbiased: retailers can't influence placement. All prices are subject to change.