When you shop through retailer links on our site, we may earn affiliate commissions. 100% of the fees we collect are used to support our nonprofit mission.
Learn more.
When Consumer Reports first heard about YouTube TV, we thought it held a lot of promise. And now that we've had a chance to play around with Google's new $35-a-month, cable-like TV service, we feel it's off to a great start.
But there are a few issues to address before YouTube TV becomes a truly compelling viewing option.
The biggest limitation right now is that YouTube TV is available in only five metro areas: Chicago, Los Angeles, New York, Philadelphia, and San Francisco.
Support for the service is also light. You can't access it from some of the most popular streaming player platforms, for example, including Amazon Fire TV, Apple TV, and Roku.
Finally, there are some notable content holes involving cable channels available on other streaming services.
Issues like those are common to new streaming services, and YouTube says it's working on all of them.
On the plus side, YouTube TV has a great cloud DVR and the best assortment of local channels we've seen, at least in the five markets where it's currently available. Better yet, it offers a free 30-day trial, so you can kick the tires before making a final decision. And since there's no contract, you can cancel at any time.
What YouTube TV Offers
Right now, YouTube TV is available only on iPhones, Android phones, tablets, and computers. It gives you access to live TV from up to 50 providers, including the local affiliates from ABC, CBS, Fox, and NBC.
The selection of channels includes Bravo, Disney, ESPN, FX, Fox News, Fox Sports, MSNBC, National Geographic, USA, and even some regional sports networks. The exact lineup varies slightly depending on where you live. You also get access to the original programming on YouTube Red, normally $10 a month. And you can add Showtime, Fox Soccer Plus, Shudder, and Sundance Now for an added fee.
The company says AMC, BBC America, BBC World News, IFC, Sundance TV, and WE tv will be added soon at no additional charge.
With the cloud DVR, you can record as many programs as you want and keep each recording for up to nine months. And, while only three family members can use the service at one time, up to six can create accounts—each with its own virtual DVR and program recommendations tailored to viewing habits.
During our brief test on a Mac computer and an Android phone, YouTube TV performed well. Its easy-to-use interface is divided into four main options. At Home, you'll find content suggestions, links to live shows, and shows you have not finished watching. At Live, there's a TV program guide featuring live channels with previews. You'll find all your recorded shows and movies in the Library. The Google-powered Search lets you use text and voice, and there's also an option for browsing.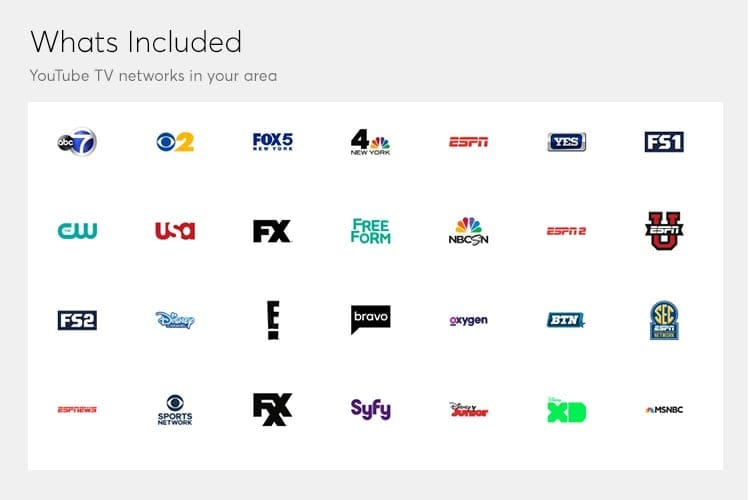 What YouTube TV Lacks
The biggest omissions from the service's channel offerings include programming from Viacom (Comedy Central, MTV), Time Warner (HBO, CNN, Cartoon Network, and TNT), Discovery Communications, and Scripps Networks Interactive (Food Network, HGTV). YouTube says it's still in discussions with networks, so more channels could be added soon.
At the moment, the lack of platform support stretches beyond Amazon Fire TV, Apple TV, and Roku. YouTube notes that the service also probably won't work well with Google's older Chromecast streaming devices. However, if you do decide to subscribe, YouTube TV will throw in a free Chromecast player "while supplies last."

What's more, the service is not conveniently available on most smart TVs, an increasingly popular venue for streaming. It is supported on sets with built-in Chromecast. That would include Android TVs from Sony and presumably SmartCast models from Vizio. To enjoy the service on other big-screen sets, you'll have to cast the programming to the TV via a newer Chromecast player or some other compatible mobile device.
YouTube TV vs. DirecTV Now and Sling TV
Content selection. YouTube TV offers roughly 50 channels for $35 per month. For the same price, DirecTV Now offers about 60 channels. It also has an 80-channel package for $50 per month. You can add HBO and Cinemax to DirecTV's plan for an extra $4 each per month and Starz for an extra $8 per month. But DirecTV Now does not provide a live local CBS channel.

Sling TV offers three options: a basic Orange plan with about 30 channels ($20 per month); a Blue plan with more than 40 channels ($25); and a combined package ($40). Add-ons each cost an extra $5 to $10 per month. Sling TV does have live local channels from ABC, FOX, and NBC, but only in select markets. There's no CBS.
Cloud DVR. YouTube TV has a clear advantage here, thanks to a DVR feature available in every market with the service. DirecTV has promised a DVR feature, but has yet to deliver one. Sling started beta-testing its cloud DVR last December, but only for Roku users. It's currently being rolled out on Amazon Fire TV, Android TV devices, and Android phones and tablets.
User accounts. Here's another YouTube TV advantage: The service supports three simultaneous users. DirecTV Now is limited to just two at once; Sling TV Orange, just one. To get three streams on Sling, you have to upgrade to the Blue plan. For four, you have to pay for the combined package.
One other option for would-be cord-cutters is Sony's PlayStation Vue, which offers about 30 channels—including a cloud DVR—for $55 per month. When you add local channels—available only in certain markets for an additional $10 per month—the service is priced well above DirecTV Now, Sling TV, and YouTube TV, so we didn't include it in our comparisons. But all these options and more are covered in our guide to streaming services.

Bottom Line
Based on our short hands-on experience, YouTube TV appears to offer a lot of promise, even if it still seems like a work in progress. It has a very nice interface, the best offering of live local channels we've seen, and a great cloud-based DVR for recording shows.
Once it's available on more devices in more locations—and plugs some content holes—it's likely to give DirecTV Now and Sling TV a run for the money.