When you shop through retailer links on our site, we may earn affiliate commissions. 100% of the fees we collect are used to support our nonprofit mission.
Learn more.
The Lincoln Navigator got a dramatic redo for 2018, with comically large proportions and an imposing front end. Based on the solid bones of the F-150 pickup truck, Ford's upscale Lincoln division morphed that massive machine into a luxurious, opulent coach.
This hulking SUV can comfortably accommodate seven, effortlessly tow more than 4 tons, and practically cast the shadow of the Queen Mary II. While the Navigator pampers you with power everything and a rich interior ambience, a few details detract from the idea of embracing this almost $90,000 behemoth.
The Navigator uses an aluminum body with the goal of reducing weight, just like its pickup truck cousin. But on our scales the Navigator registered 6,100 pounds—just 40 pounds less than the 2015 Navigator we tested.
Power is supplied courtesy of a 3.5-liter V6 making a healthy 450 hp. A 10-speed automatic is standard. In an apparent attempt to convey luxury and sophistication, trim levels reflect wine classification: Premiere, Select, Reserve, and Black Label as the top version.
We bought a short-wheelbase Select, which starts at $78,710. With the panoramic sunroof, a heavy-duty tow package, and the technology package (consisting of advanced safety features), it rang in at $86,480, placing it among the likes of the Cadillac Escalade and Land Rover Range Rover.
Here are some thoughts from our first few days of driving it:
What we bought: 2018 Lincoln Navigator 4x4 Select
Drivetrain: 3.5-liter V6 turbo, 10-Speed automatic
MSRP: $78,710
Destination fee: $1,195
Options: $6,575
Total cost: $86,480
How It Drives
The first thing we noticed is the Navigator's imposing height and width. Sitting inside, we found that we were towering over other large SUVs such as the Chevrolet Suburban. It's so wide that we needed to take extra care when navigating narrow streets and bridges lest a side mirror get lopped off.
The next thing we noticed is how far the front passenger sits from the driver—there's no danger of rubbing elbows here. Helping to fulfill its luxury mission, the interior is whisper quiet.
Not only that, the ride is comfortable, too. Once we got past some low-speed rocking, the body settled on its adjustable air suspension. Despite its mammoth 22-inch tires, the Navigator absorbs bumps quite well, much more so than its archrival Escalade.
The Navigator has abundant power. Every time we prodded the accelerator, it catapulted forward quickly and decisively. The 10-speed automatic transmission does its business behind the scenes in an unobtrusive manner.
Handling is another matter, though. Navigating around corners required us to deliberately slow, and it took a hefty twirling of the steering wheel to make the listing palatable to all those aboard.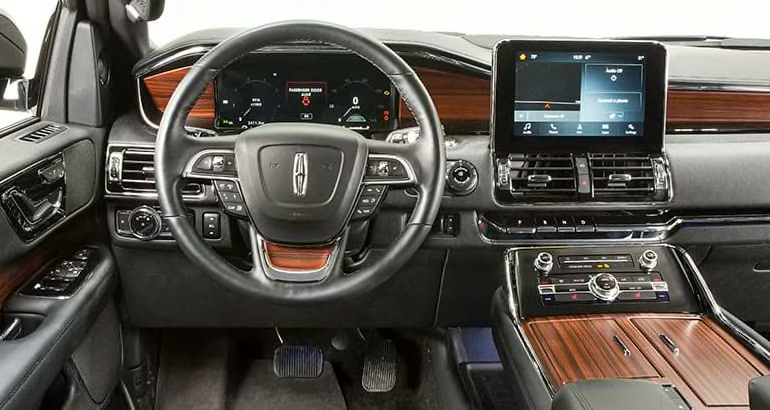 Inside
Passengers climbing up into this rig are helped by the power-operated running boards that greet them automatically upon approach, then retract into the body. That step helps immensely in climbing up or descending from the Navigator's seats, given the floor height.
Inside there's opulent leather, wood trim, and chrome. It's truly like a living room on wheels.
The standard bucket seat looks modern and ergonomic, mimicking Scandinavian furniture. However, it proves to be unsatisfying because of its short bottom cushion and only a two-way lumbar support adjustment. The $1,500 Perfect Position 30-Way seat option adds more adjustments and a massage feature. But at this price we expected a perfect seat from the get-go, rather than having to shell out more money to upgrade.
The second-row captain's chairs are large and accommodating, and their occupants get heated seats and USB ports.
Even the third row is atypically capable of comfortably hosting adults, making the Navigator head and shoulders better than the Escalade. The third row has power-folding seats that can be operated using buttons in the cargo bay.
Getting the Navigator to move requires finding the gear selector. It's a row of chrome buttons placed on the dash, at some distance from the driver. It requires careful deciphering and takes the dexterity of a pianist to conduct parking maneuvers that involve frequent Reverse to Drive shifts.
The Sync 3 infotainment system is contained in a large, floating screen that's vivid and responsive, making it easy to perform audio tasks. Paired phones can be controlled through steering wheel controls, with the corresponding action displayed in the instrument cluster, momentarily minimizing other gauges to make those easier for the driver to see.
One reason to buy the Navigator is its 8,300-pound tow rating. The optional heavy-duty towing package includes a feature that simplifies backing up with a trailer, allowing the driver to direct the vehicle with a knob while the SUV uses the automated parking ability and rearview camera to control the action. Unfortunately, the placement of this knob close to the steering wheel means that it can be easily confused with the start button.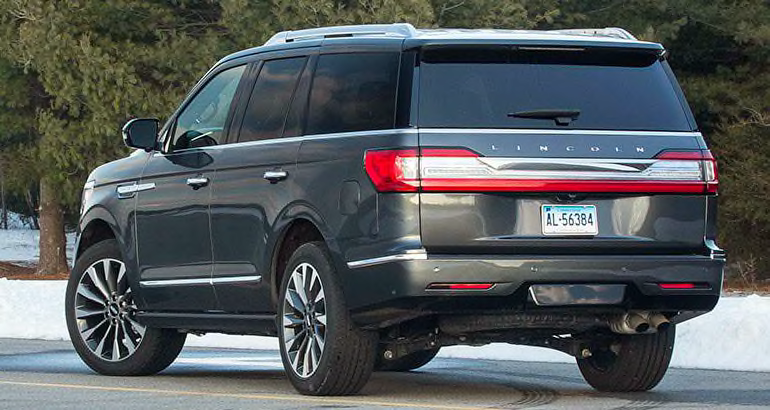 Safety
With the technology package you get automatic emergency braking and lane-keeping assist, Convenience features such as active cruise control and auto high beams are included.
Bottom Line
In terms of girth and garishness, the Navigator is clearly overkill for most people, but its strengths have already made it popular among the staff for road trips. Stay tuned for our complete road test as we finish putting the SUV through its paces.
Slide to See the Navigator's Power Running Boards in Both Positions