When you shop through retailer links on our site, we may earn affiliate commissions. 100% of the fees we collect are used to support our nonprofit mission.
Learn more.
The all-new three-row Hyundai Palisade takes on established midsized SUVs with its sharp design, spacious interior, and a roster of feature equipment including advanced safety systems, an impressive infotainment system, and even an intercom to let drivers talk to kids in the wayback seat.
This model is the mechanical sibling of the impressive Kia Telluride. Like the Kia, the Palisade hits all the right numbers for the class, with dimensions, power, and towing on a par with its chief rivals, the Chevrolet Traverse, Ford Explorer, Honda Pilot, and Toyota Highlander, among others. But it goes beyond the norm by being a well-rounded vehicle without any glaring flaws.
We rented a Palisade Limited from Hyundai to sample one before it goes on sale. This is the top-of-the-line version, with enough features and equipment to rival a luxury SUV.
These are our first impressions before we buy our own for a fully instrumented road-test version.
What we drove: 2020 Hyundai Palisade Limited
Powertrain: 291-hp, 3.8-liter V6 engine, eight-speed automatic transmission, all-wheel drive
MSRP: $46,400
Options: None
Destination fee: $1,045
Total cost: $47,445
What We Like . . . So Far
The Palisade has an attractive exterior, and the Limited trim we drove has an exclusive grille, chrome accents, body-colored wheel arches, and 20-inch wheels. These touches make the Palisade look decidedly upscale, an impression that carries to the interior.
Getting in is easy, thanks to large front doors and seats that are at hip height for an average driver. The seats are wide, mildly bolstered, heated, vented, and pretty comfortable.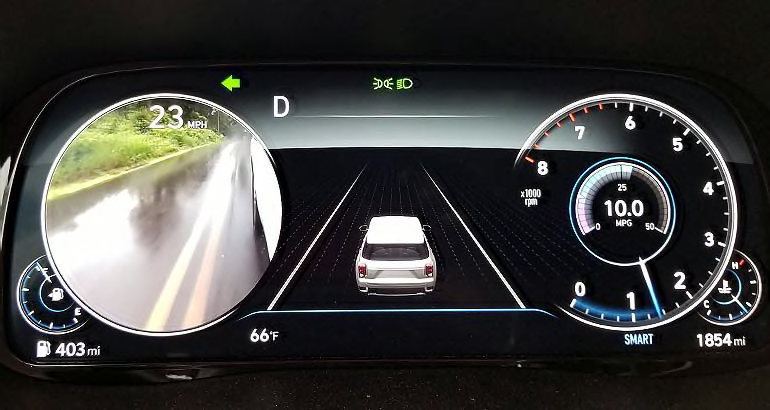 The instrument panel in the Limited uses a 12.3-inch digital display that can present a range of information directly in front of the driver. It temporarily replaces the tachometer and speedometer with a video feed from alongside the vehicle when the turn signal has been activated. Signal left, and the left-side gauge in front of the driver is filled with the left side video feed. Signal right, and the right-side gauge gets replaced with the right-side video view.
It's a clever way to augment a traditional blind spot warning system, but some of our drivers considered this feature a mere novelty while others thought it could be distracting.
The controls are clearly labeled and simple to use, a Hyundai hallmark. But it's a long reach to the screen, and the gear selector is unintuitive. Rather than being more like a traditional shifter, drivers must choose a button.
The infotainment system is easy to use, as we've experienced with other Hyundai models. Our Palisade came with a wide, 10.25-inch touch screen that can display multiple functions at a time. It's easy to choose one, such as navigation or playing music.
An intercom feature makes it easy for the driver to talk with passengers in the rear. It uses a microphone up front, and the sound comes out of the rear speakers.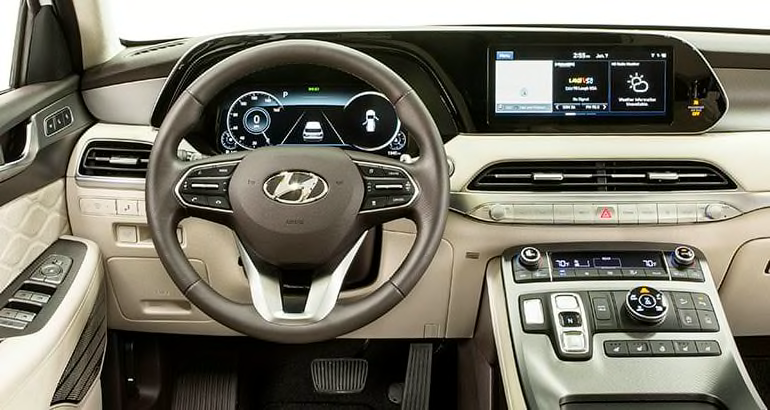 There are clever touches all around, like the center console cup holders. They're essentially cups in an open bin. But the walls of the cups can retract to open up the space when you don't need to secure a drink.
There's a large storage space in front of that console and beneath the transmission controls, where a small shopping bag or purse could be conveniently stowed. Handy USB ports are on the back of the front seats.
The second-row captain's seats are slightly elevated, and they're similar to those in the front row. They're rather comfortable, with generous legroom and headroom.
Passengers are kept cool by ceiling-mounted vents, and there are rear climate controls on the back of the center console. Two cup holders and a bottle holder are on each door. The front moonroof can open. That and the fixed rear sunroof made our Palisade feel open and airy.
The second-row seats fold and spring forward at the push of a button to allow access to the third row. That row has USB ports on each side and a power seat back-tilt control. There are up to seven USB ports in total, but only one is for data; the rest are for charging gadgets.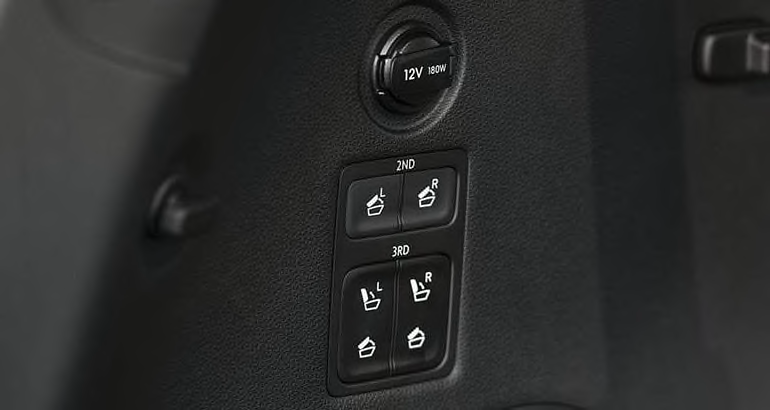 Cargo space behind the third-row seats is relatively good for the class, and there's room under the cargo floor. This is helpful for transporting groceries or other loose items so they don't tumble out when the liftgate is opened.
The Limited has a handy set of power controls for the second and third rows, so the seats can be folded from the cargo section.
The engine and transmission combination is smooth, with predictable power delivery and plenty of power in reserve. The engine never sounds harsh, even when revved.
The ride is mostly controlled with a hint of firmness, especially with the 20-inch tires that come on most versions. It's a big, tall vehicle, so it's not particularly nimble. But at least there's only limited body roll through turns.
There are modes—including Eco, Comfort, Smart, Snow and Sport—to help drivers dial in the desired engine response and traction. Twist the dial to Sport and the Palisade responds a bit faster, with sharper throttle response. We enjoyed the Smart setting, which reacts to how the vehicle is driven by switching automatically through the modes, saving fuel when cruising and accelerating when needed.
Every trim level comes with a commendable suite of advanced safety and driver assist features, including forward collision warning, automatic emergency braking with pedestrian detection, lane keeping assist, driver attention monitor, adaptive cruise control, rear occupant alert (to prevent leaving a child or pet behind), and rear parking warning.
The number and quality of the features increase as shoppers step up through the trims and options packages. The Limited we drove has occupant detection, blind spot warning and video feed, rear cross traffic alert, safe exit assist to keep a door from opening if the system senses approaching traffic from the rear, and front parking sensors to alert drivers when they're getting too close to an object.
What We Don't Like
There's little to be critical of, based on our initial experience. In fact, the greatest weaknesses that jumped out at us were typical or average for the class. Not many vehicles can make that claim.
That said, we wish the gear selector was the traditional leverlike type like in the Telluride, or at least easier to navigate without having to look at it.
The central silver buttons for infotainment modes, such as map, navigation, and radio, are difficult to read during the day when the text is not illuminated.
Space in the third-row is limited, which is usual for the class.
What We'll Keep Our Eyes On
We sampled a fully loaded Palisade, but when it goes on sale, we plan to purchase a more modestly equipped version for testing. We are eager to see whether our overall impressions remain unchanged when there are fewer pampering features.
The Palisade looks poised to give the current crop of three-row midsized SUVs a serious run for the money.
See the complete Hyundai Palisade road test.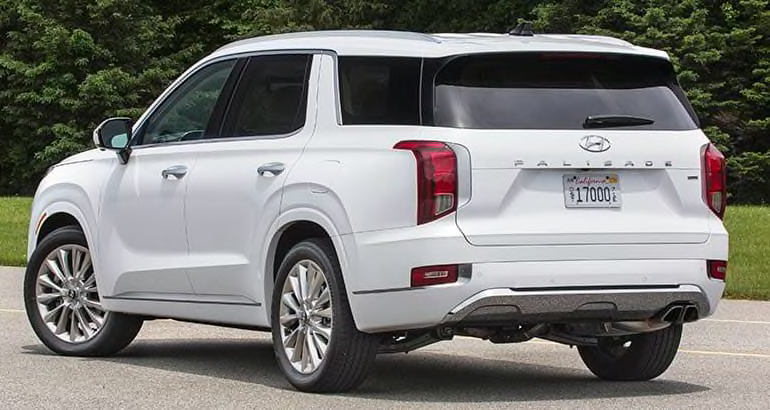 About the cars we rent: Consumer Reports tests only the cars that we purchase. We pay automakers on occasion to drive early or different versions of cars we may ultimately buy (we don't borrow press cars free of charge, as many other publications do), but those impressions are never part of the 50-plus-evaluation regimen that we put our purchased cars through.