When you shop through retailer links on our site, we may earn affiliate commissions. 100% of the fees we collect are used to support our nonprofit mission.
Learn more.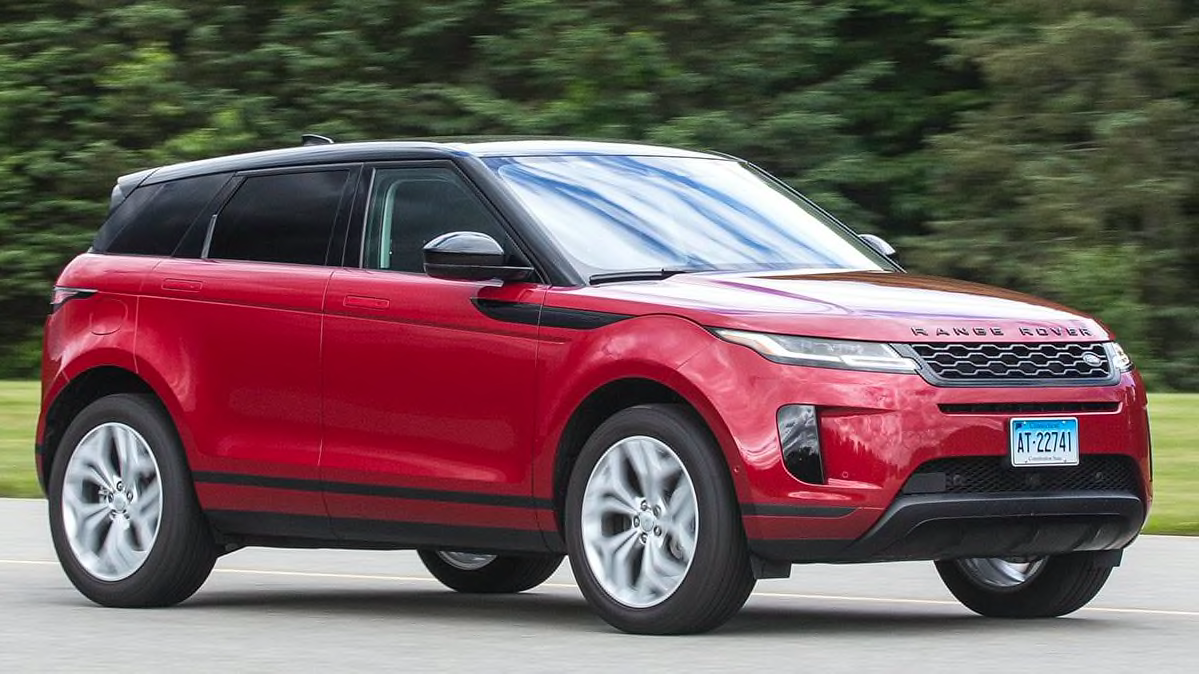 Land Rover has redesigned its Range Rover Evoque for 2020, and we've picked one up for testing. It has a new platform, a new suspension, and a new engine.
That all sounds great, but in our first weeks with the new Evoque, some doubts have popped up. Yes, it has a nice interior and some flashy new items, including retractable door handles, but it largely evokes the previous version, and we weren't impressed with that one.
These are our first impressions of the 2020 model.
What we bought: 2020 Land Rover Range Rover Evoque SE
Powertrain: 246-hp, 2.0-liter, four-cylinder turbocharged engine; nine-speed automatic transmission with all-wheel drive
MSRP: $47,200
Options: $8,802, including blind spot assist, adaptive cruise control, high-speed emergency braking, cold-climate convenience pack, fixed panoramic roof, heated front and rear seats, and more.
Destination fee: $995
Total cost: $56,997
What We Like … So Far
There are some nice touches around the cabin, which one would expect at this price. Some testers found the interior attractive, with excellent fit and finish. There are some nice materials used, but the top dashboard surface is covered in what looks like cooled black lava.
Because its handling is fairly nimble, the Evoque can take corners well, but some testers noted that it's short on steering feel. In a vehicle with good steering feel, drivers can sense how much grip the tires have and the surface quality of the pavement. They'll be able to tell when the vehicle is taking a hard turn because the steering wheel will feel heavier in their hands than when they're driving straight ahead. Vehicles that have poor steering feel don't communicate that information back to drivers well, which could make them feel disconnected.
On the plus side, the Evoque's steering-wheel controls are clever and fairly easy to use, and we found the cabin to be reasonably quiet.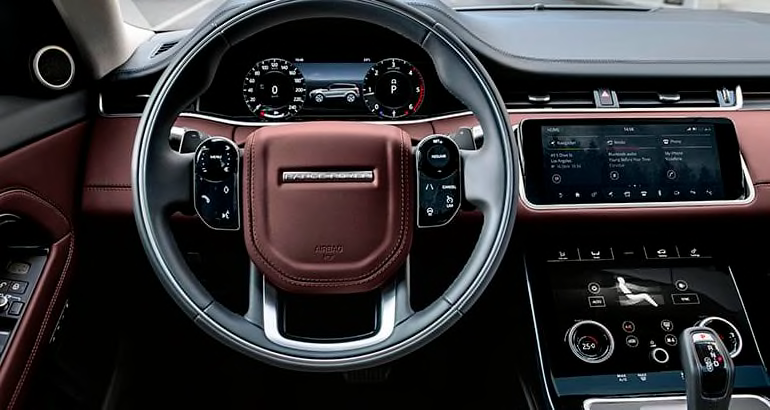 What We Don't Like
The Evoque's powertrain was among the sorest spots for our testers.
We felt a notable and frustrating initial hesitation when starting from a stop, then a huge burst of power as the turbo engine kicked in. Some felt like the SUV was lunging forward when that happened, and others noted some jerky motions when traveling at low speeds. The transmission shifts were not particularly smooth.
Drivers need to be aware that the stop/start feature can take an extra beat or two for the engine to re-engage when trying to get going again. That makes jumping into traffic tricky.
Next, the tech on the Evoque is overly fussy. The door handles retract—yes, that can be cool—but that unnecessary functionality adds to a list of things that can break with time and use. It also means it takes a couple of extra seconds to open the door, which can be annoying when drivers are trying to get in from the rain.
The SUV has a dual-screen infotainment/climate-control setup that requires a lot of a driver's attention when making changes. It can be a distraction, as we found in the Evoque's stablemate, the Range Rover Velar. The system is slow to load on startup and responses to touches often lag.
Getting into the Evoque can be a challenge. The doors are narrow, and that makes it hard to climb in or out gracefully.
We found the ride to be rather stiff and unbefitting a Range Rover, especially one that costs more than $55,000.
Last, with its thick pillars and small rear window—which follow a discouraging industry trend—visibility is tough out the front and back.
What We'll Keep an Eye On
Some of our testers found the front seats to be comfortable, even over long drives, but others weren't as impressed and found them to be too narrow. Some called out the bottom cushion for being a little short and not supplying as much thigh support as they'd like.
CR's Take
The Evoque has always been about styling. Now, with its up-to-date powertrain, infotainment system, and safety equipment, we'll have to see how competitive it is vs. its rivals, including the BMW X3 and the Porsche Macan, in our testing. So far, it's hard to see what qualities the Evoque brings to the table in addition to the allure of the Range Rover badge.