When you shop through retailer links on our site, we may earn affiliate commissions. 100% of the fees we collect are used to support our nonprofit mission.
Learn more.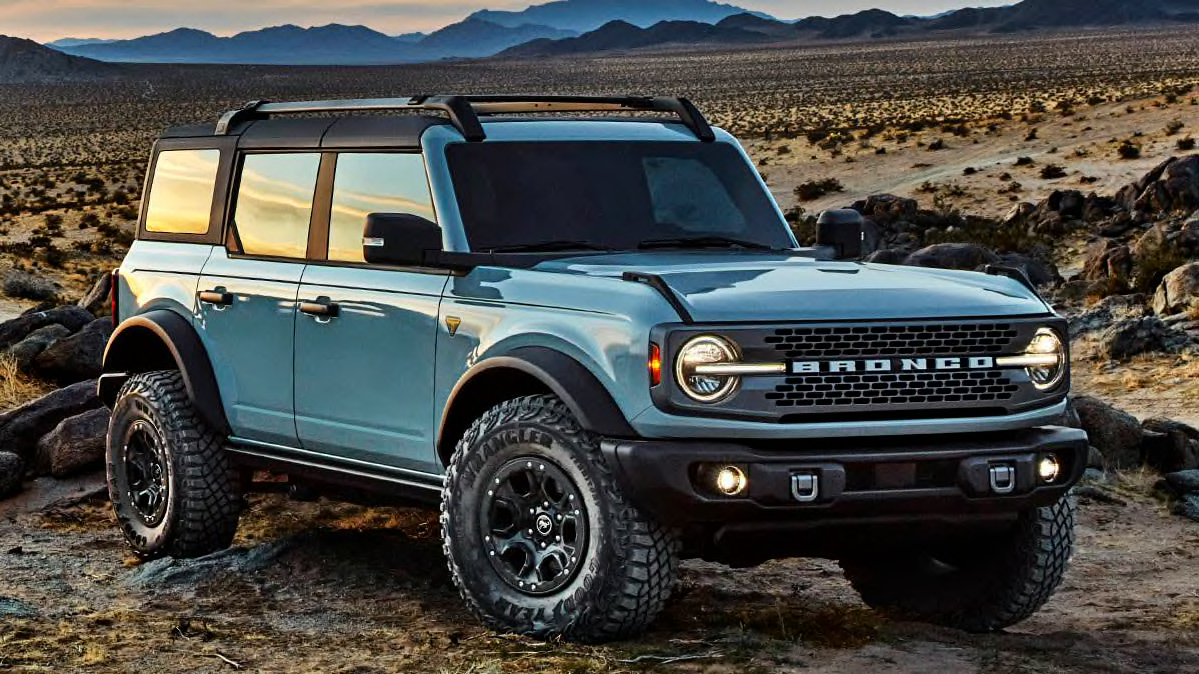 Ford introduced three Bronco versions, a two- and four-door midsized SUV (covered here), and a small Sport model.
The Bronco will be offered in seven trim levels with more 200 different components available to personalize and upgrade it.
It has a removable top and doors.
The Bronco will have a choice of two turbocharged engines: a 270-hp, 2.3-liter four-cylinder and a 310-hp, 2.7-liter V6.
Prices start at $29,995.
Customer deliveries will begin in the summer, rather than the spring as originally planned, due to Covid-related challenges that suppliers are experiencing.
Ford has resurrected one of its storied nameplates, the Bronco, to expand its SUV offerings as it shifts away from sedans. The Ford product onslaught is led by the small Bronco Sport later this year, to be soon followed by the midsized Bronco next year.
The automaker is positioning the Broncos to grab market share from Jeep by once again trying to outclass the brand at its own game, reminiscent of the 1960s competition.
The original Bronco launched for the 1966 model year as an alternative to the Jeep CJ-5, a crude off-roader with roots that date back to World War II. Jeep may be flattered at the clear imitation seen with the Bronco, and off-road enthusiasts should be excited at the fresh competition. Ford looks to improve on the breed, and this fresh rival is certain to motivate improvements to the Wrangler.
In one sign of the intense competition, Fiat Chrysler Automobiles picked the Bronco launch day to show off a "concept" Wrangler with a powerful 6.4-liter V8 engine that was later confirmed heading for production.
The new Bronco two- and four-door models go on sale in summer 2021—pushed back from the spring due to the challenges brought on by the pandemic. Prices start at $29,995 for the two-door and $34,695 for the four-door, including a $1,495 destination charge. Most of the seven trim levels have rather evocative names, such as Big Bend ($34,860), Black Diamond ($37,505), Outer Banks ($40,450), Badlands ($43,550), and Wildtrak ($48,435). A limited-production First Edition ($58,865) will be available at launch.
Ford describes the base model as being rather bare-bones, with the idea that buyers could personalize it from a catalog of more than 200 components. It is worth noting that even this version can be fitted with the Sasquatch package that brings a serious roster of hardcore off-road equipment.
Like previous generations, the sixth-generation Bronco will be built at Michigan Assembly Plant in Wayne, Mich.
Reservations are open now for $100. Ford advises that Bronco order banks will now open in mid-January instead of Dec. 7, as originally planned, and reservation holders will begin ordering in mid-January.
What it competes with: Jeep Wrangler, Toyota 4Runner
What it looks like: A mashup of the original Bronco and latest Jeep Wrangler, with a dash of Land Rover Defender.
Powertrains: 270-hp, 2.3-liter turbocharged four-cylinder engine with seven-speed manual or 10-speed automatic transmission; 310-hp, 2.7-liter turbocharged V6 engine and 10-speed automatic transmission; four-wheel drive.
Price: $29,995-$63,100
Destination charge: $1,495
On-sale: Summer 2021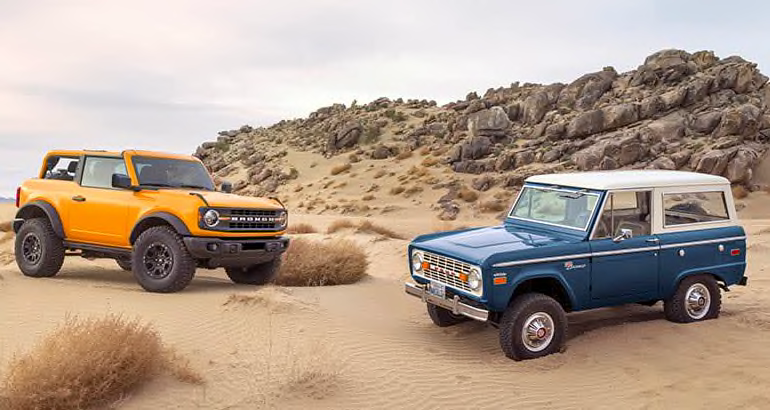 CR's Take
Ford aims to build a better mousetrap with the Bronco, benefiting from following Jeep to market once again. The Wrangler has become more livable over the past two generations. Its biggest change has been the introduction of four-door versions, which now lead sales, spurred by families seeking an iconic lifestyle vehicle.
As our surveys have shown, the Wrangler has clear appeal, earning strong marks for owner satisfaction (despite its low road-test score and dismal predicted reliability). The Wrangler has become the mechanical embodiment of freedom, having been the chariot of choice for fun-loving people for decades. But there are definite shortcomings that make it vulnerable to competition.
The Bronco will never be able to claim a long, rich Jeep-like heritage, but vintage Broncos have cultivated a following. Factor in the massive fan base for the Ford brand and there is a ready-made market for just such a vehicle. But how long can the buzz around the launch continue? Case in point: It didn't take Toyota very long to bail on its highly anticipated, off-road-worthy FJ Cruiser.
For the Bronco to become a modern institution, it has to deliver on its many promises. And stave off competition from Jeep, which is actively addressing some competitive shortcomings ahead of the Bronco's return. It appears Ford has the power, features, and styling to draw its own outdoors-loving audience. And clearly it is putting its formidable marketing muscle behind it.
We look forward to buying our own to see whether it lives up to the hype.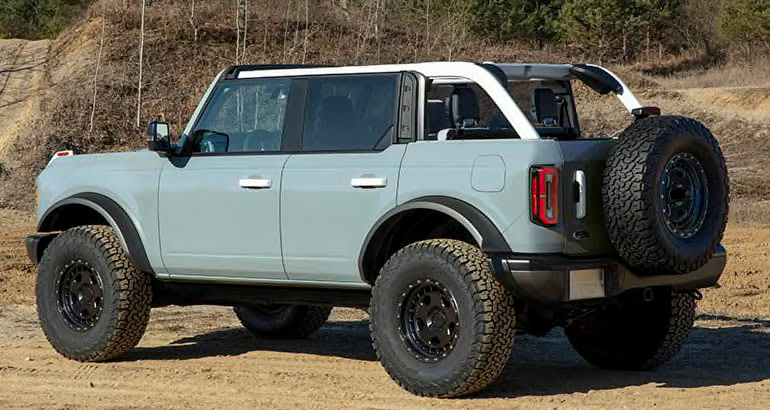 Outside
The Bronco has a clean, simple design, with dramatic branding in the grille and eye-catching headlamps. It is a boxy machine, with a connection to earlier models through its flat planes. But there isn't much that connects it to contemporary Fords.
A cloth top is standard. The removable four-piece hardtop contrasts sharply with the body work, making it clear that this is an SUV that is ready for open-air adventures. Two-door models come with a three-panel top with removable front driver- and passenger-side pieces, and a rear section. A four-panel version is available on two-door models and standard on the larger, four-door models. Ultimately the entire top can come off, exposing a protective roll cage. The top is available painted in body color.
The rear side windows are removable, and two-door Broncos can stow their panels in the cargo area.
Less obvious is that the doors can come off, while leaving the side mirrors in place. (Unlike the Wrangler, where the mirrors are attached to the doors.) There are storage bags for the doors, and they can fit in the cargo compartment, enabling removal during a trip.
Another handy feature: There are tie-downs alongside the hood for anchoring long, roof-mounted items, such as a kayak.
The two-door Bronco is about 7 inches longer than the two-door Wrangler, and the four-door Bronco is a hint longer than the Wrangler Unlimited. (The exact dimensions comparison depends on trim level and equipment, which vary widely on both models.)
Key to the visual presence, and off-road capability, for the Bronco is its wheel and tire fitment. The wheels are a modest 16 and 17 inches in diameter. The tires are quite beefy on upper trims, starting at 30 inches and climbing to 33 and 35 inches, the latter a size more often associated with aftermarket suspension lift kits.
The ground clearance is about 8.3 inches with the standard tires, and it increases to about 11.5 inches with the large 35-inch rubber that comes with the Sasquatch package.
The Bronco is rated at 33.5 inches maximum water fording depth, meaning it can traverse rather deep streams.
Underneath the chassis is a series of plates to protect the engine, transmission, transfer case, and fuel tank. Rock rails are available to protect the sides (under the doors) from potential rock damage on tough trails.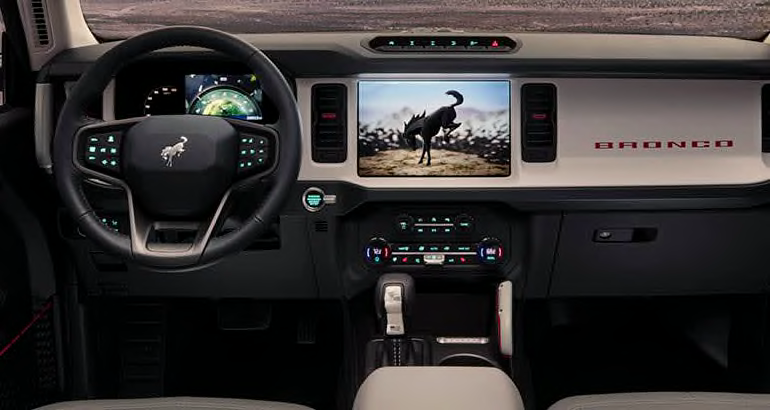 Inside
The cabin is a simple design that is a stark contrast to the busy Wrangler cockpit, with its large knobs and switches. The Bronco steering wheel and dash look like they would be at home in a car.
However, there is a lot of clever technology within this elegant presentation. The instrument panel is designed with colors and graphics meant to inspire adventure. Ford's Sync 4 infotainment system is housed in an 8- or 12-inch center screen. Among its tricks are over-the-air updates, an off-road-friendly app for route planning, topographic trail maps, and more than 1,000 curated trail guides. Further, the available 360-degree camera system can aid negotiating tight trails.
Above the screen is a row of indicator lights to communicate about the off-road hardware being used.
The various buttons and controls are designed to be wipeable, and defend against water and dirt, by extensive use of rubber and silicone. Should things get messy, or the driver decide to test the fording capabilities, the floor is rubberized and includes drains. Further, the seats can be had in marine-grade vinyl that resist mildew. (Cloth is standard, and leather is available.)
The two-door model seats four, and the larger Bronco seats five.
The rear hatch lifts up, with a swing gate akin to the Wrangler. However, the Bronco has an extendable cargo tray that can be used like a tailgate.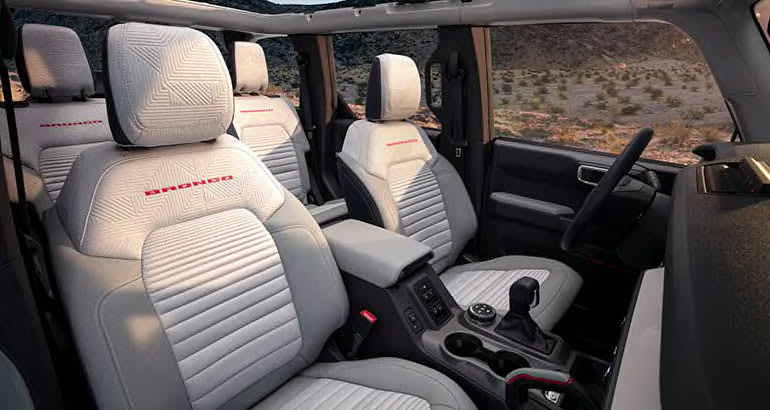 What Drives It
The Bronco will be offered with a choice of two turbocharged engines: a 270-hp, 2.3-liter four-cylinder and a 310-hp, 2.7-liter V6. There are two transmissions offered: a seven-speed manual and a 10-speed automatic. The 2.7-liter turbo is fitted with just the automatic transmission.
The 2.3-liter is shared with the Ford Ranger. We tested a truck with that engine and a 10-speed transmission, noting that the crew cab Ranger responded smartly when drivers demand power, but the engine is unduly noisy at low speeds. The more powerful version in the Explorer has plenty of oomph. We hope the four-cylinder engine proves to be more refined in the Bronco, which would better fit the potential clientele and price.
We experienced the 2.7-liter turbo V6 in a Ford F-150, where it delivered effortless acceleration and relatively good fuel economy.
These engines' outputs overlap with the Wrangler's main offerings: 2.0-liter, 270 four-cylinder and 3.6-liter, 285-hp V6. (Wrangler adds a 470-horsepower V8 to the line for 2021.)
The Bronco has a choice of two four-wheel-drive systems. The base setup uses a two-speed, shift-on-the-fly transfer case. The optional advanced system uses a two-speed electronic transfer case with an automatic mode for selecting between rear-only and four-wheel drive.
There are up to seven driver-selectable modes offered: Normal, Eco, Sport, and Slippery and Sand, with Baja, Mud/Ruts, and Rock Crawl for off-road driving. These are referred to as "G.O.A.T." modes in a nod to the Go Over Any Terrain nickname coined in the 1960s.
The manual transmission is designed with a crawl gear with a super-low gear ratio suitable for challenging, rock-strewn trails. To further aid off-roading is a Trail Toolbox with numerous driver assist features, such as low-speed cruise control and a one-pedal mode to precisely manage acceleration and braking.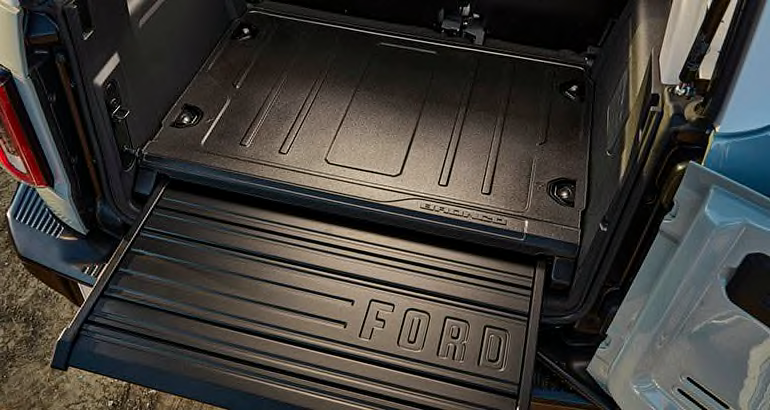 Safety and Driver Assist Systems
Each Bronco will be equipped with Ford Co-Pilot360, a suite of advanced safety and driver assist features that includes forward collision warning, automatic emergency braking with pedestrian detection, backup camera with dynamic guide lines, automatic high beams, and post-impact braking.
The Mid package adds blind spot warning with cross traffic alert, lane keeping assistance, and driver monitoring.