2023 Land Rover Range Rover Sport Gains Sleek Styling, New Tech
Luxury SUV to add a plug-in hybrid and a fully electric version in the near future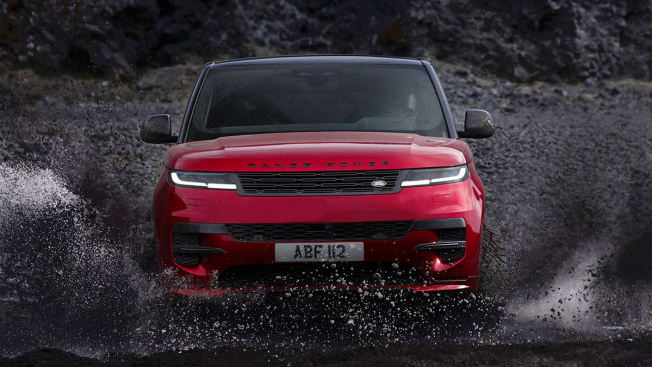 Following the introduction of the next-generation Range Rover, on sale this spring, Land Rover has unveiled the new Range Rover Sport.
This luxury midsized SUV follows the trail blazed by the larger Range Rover, with a suite of electrified powertrains, premium amenities, and ultrasmooth styling. 
The Range Rover Sport makes significant changes throughout, while preserving its distinctive side profile. The bodywork is so smooth that it will stand out in a crowd.
Like the Range Rover, it offers a surprising number of powertrains, each touting big horsepower numbers. With mild hybrids, a plug-in hybrid, a twin-turbo V8, and eventually a full electric, there will be a configuration to satisfy every would-be customer. But we expect most versions that don't plug in to still drink a fair amount of premium fuel. 
Technology upgrades abound, from a multifaceted head-up display and massaging seats, to the latest active suspension and a navigation system that can prime the vehicle for upcoming turns. Hopefully that latest suspension improves on the stiff, choppy ride noted with the last Range Rover Sport we last tested in 2014. We found some controls in that SUV to be behind the times; the dramatic makeover for this next-gen model could improve on that. 
All these features push the base price for the new Range Rover Sport up significantly. 
In total, the Range Rover Sport looks to be an elegant, high-tech upgrade that builds on its established formula. 
The redesigned Range Rover Sport casts a silhouette that's similar to that of the 2022 SUV, but the body is smoothed to the point that it looks like a concept vehicle, rather than a production model.
The slender, horizontal grilles are so subtle that the front resembles an EV. And the simple side sculpting and retracting door handles create a smooth body. Even the rear features minimal surface topography and slim LED lights. This aerodynamic shape reduces the drag coefficient to just 0.29, a figure associated with wind-cheating cars, rather than SUVs. 
This is similar to the design aesthetic seen on the new Range Rover, and it follows a recent trend among automakers where redesigned models are visually simpler than their outgoing versions.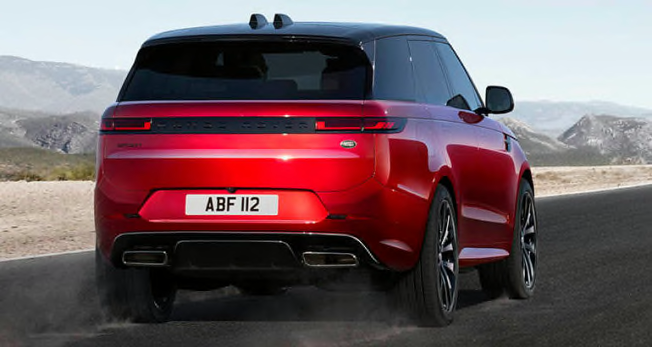 The minimalist design aesthetic display on the SUV's exterior carries over to the cabin, where simple shapes and lines create a modern, uncluttered appearance. 
Front passenger comfort is enhanced with available 22-way adjusted, heated, and ventilated seats, with massage function. The second row benefits from slightly more legroom than before. 
The large 13.1-inch curved infotainment screen combines with an available Meridian stereo system to control up to 29 speakers, including head restraint speakers, supported by 1,430 watts of amplified power. The Pivi Pro infotainment system works wirelessly with Android Auto and Apple CarPlay, and it works with the Amazon Alexa personal assistant. 
To make the most of audio, and even conversation, an active noise cancellation system uses microphones and accelerometers inside each wheel arch to monitor conditions and inform digital processors on how to cancel the potential noise intrusion. 
An available Cabin Air Purification Pro system can further isolate passengers from the outside world by filtering out odors, bacteria, allergens, and viruses. There is even a function to reduce CO2.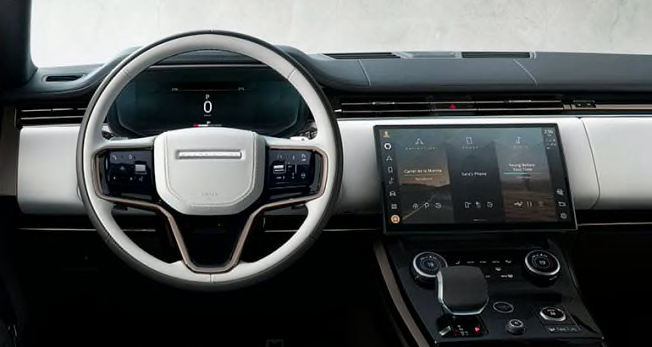 The Range Rover Sport launches with two inline turbocharged six-cylinder engines that use a mild hybrid setup, a plug-in hybrid inline turbocharged six-cylinder engine, and a twin-turbo V8. An all-electric version joins the lineup for 2024. 
The automaker estimates that the 355-hp and 395-hp engines will return 20 mpg city and 25 mpg highway. The 395-hp, 48-volt mild-hybrid engine that we experienced in the Defender proved quite potent, running from 0 to 60 mph in 6.9 seconds and returning 18 mpg overall on premium fuel. 
The plug-in boasts 434 hp and an electric-only range of 48 miles. Land Rover claims it can gallop from 0 to 60 mph in 5.5 seconds—quick for an SUV. 
For greater thrills, turn to the 523-hp V8, which can perform that feat in just 4.3 seconds. 
The Range Rover Sport features the company's latest all-wheel-drive system, with its first adaptive off-road cruise control to manage speed in accordance with the terrain. 
All engines will be matched to an eight-speed automatic transmission. 
Safety and Driver Assistance Systems
Standard equipment includes forward collision warning, automatic emergency braking with pedestrian and cyclist detection, blind spot warning, lane keeping assistance, rear cross traffic alert, traffic sign recognition, and parking obstruction warning. 
The Range Rover has a surround-view camera system with a night mode that can heighten visibility after dark. And the Range Rover has remote parking via a phone app, allowing it to be parked in narrow spots—a concern with a fancy, high-dollar SUV.