When you shop through retailer links on our site, we may earn affiliate commissions. 100% of the fees we collect are used to support our nonprofit mission.
Learn more.
Once upon a time SUVs rode like old trucks, stiff and unforgiving on bumpy roads. But even with today's more advanced, mild-mannered SUVs, we still see a wide variety of ride quality in our road-test results.
Not surprisingly, the best riding SUVs in our tests were all from luxury nameplates, including Land Rover, Lexus, and Lincoln. These pricey brands offer premium suspensions and deliver an elite driving experience.
Here, we've assembled lists of the top 5 luxury SUVs and the top 5 mainstream SUVs with the best rides. We found that shoppers don't always have to pay more to get the best ride—some of our top mainstream SUVs scored just as high as those on our luxury list.
How We Evaluate Ride
Our judgments are based on a 30-mile loop at predetermined speeds on a course that includes a variety of roads with bumps, ruts, and undulations, and also a typical highway section.
Our engineers noted whether the suspension absorbed and isolated appropriately. Our testers determined whether the ride was stiff, choppy, soft, or floaty, and how well the car coped with flawed pavement. They're attuned to adverse ride motions such as side-to-side rocking and fore-and-aft pitching. The cumulative team experience from commuting in the test cars also is factored in.
The SUVs are presented in descending order, starting with the luxury model that got the highest score for ride comfort.
Luxury SUVs: Land Rover Range Rover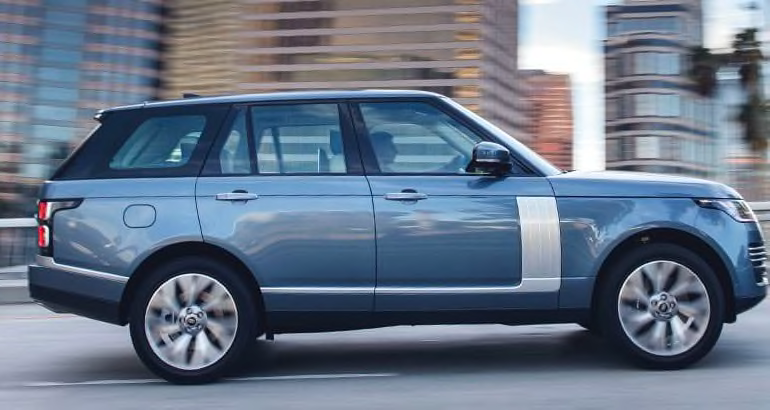 Ultra-luxury sedan owners will feel right at home in the Range Rover. The supercharged V6 engine and excellent eight-speed automatic transmission provide effortless motivation, and the air suspension swallows up bumps with ease. Handling is responsive and secure, but it's not sporty and has noticeable body lean. Terrain-coping mechanisms and adjustable ride height give it standout off-road abilities, and its ability to lower its body makes for easier cabin access. The interior furnishings and seats are first-rate, but the new, sleek-looking dual-screen control system is distracting, and completing simple tasks require extra, unneeded steps.
Read the complete Land Rover Range Rover road test.
Luxury: Lexus RX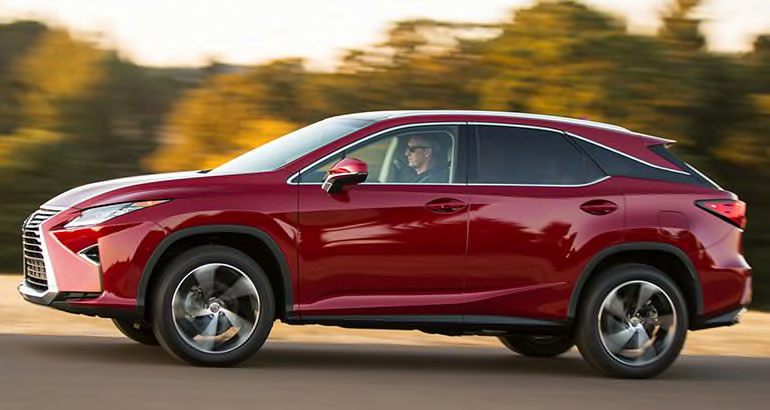 Ride comfort in the RX is plush, whether you get the base version on 18-inch tires or more uplevel versions with 20-inch tires. Inside, the RX is very quiet and well-finished. Handling, however, is ponderous and lacks any sporty feel but ultimately leaves drivers feeling secure. It sports avant-garde exterior styling and lots of advanced safety features. Its 3.5-liter V6 engine is linked to an eight-speed automatic transmission, delivering plenty of power and commendable fuel economy. Hurting it are its mouselike controller and distracting interface, both of which require a steep learning curve. Rear passengers get lots of leg and knee room. The Lexus Safety System+, which includes automatic emergency braking and lane-departure warning, is standard.
Read the complete Lexus RX road test.
Luxury: Lincoln MKX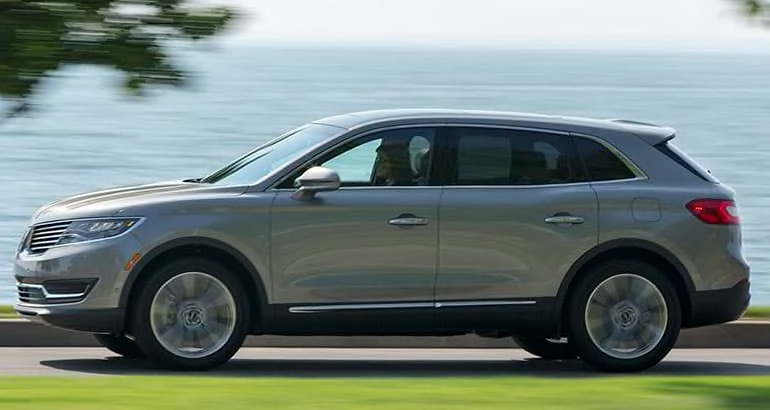 The Lincoln MKX is a quiet, refined, and high-tech vehicle that is based on the very capable Ford Edge. The ride is comfortable, steady, and composed. Tall drivers will probably find that the push-button shifter is a long reach away. The very quiet cabin feels first-class, with abundant wood, brushed metal, and leather surfaces. Its handling is quite good, which makes the MKX fun to drive. Convenience and safety features include automatic emergency braking, lane-keeping assist, and cross-traffic warning. The standard 303-hp, 3.7-liter V6 engine feels unremarkable, so we suggest getting the optional 335-hp, 2.7-liter turbo V6, which is smooth and delivers effortless thrust. The only knock against the MKX is its rather unimpressive fuel economy. Coming for 2019, the updated MKX will be renamed the Lincoln Nautilus.
Read the complete Lincoln MKX road test.
Luxury: Audi Q7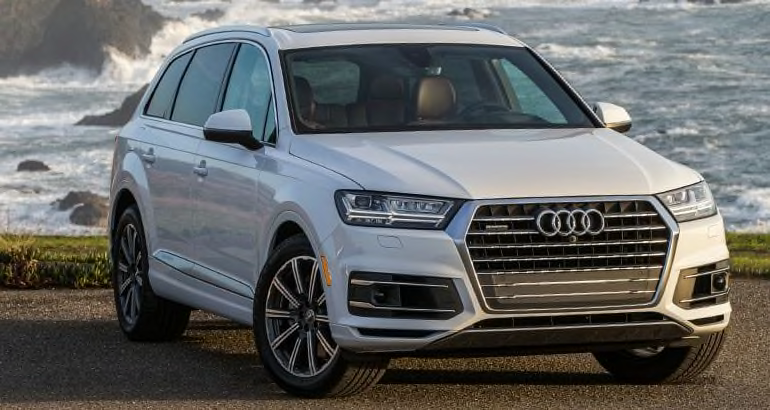 Audi's luxury three-row SUV is an impressive vehicle, and among the best we've ever tested. The Q7's ride has an underlying firmness—unless you splurge on the Prestige trim and the optional air suspension, which makes it as plush as a luxury car. Handling is responsive and confidence-inspiring. It's very quiet inside, instilling a sense of tranquility. The beautifully finished interior exudes luxury, with excellent seats and a vivid, high-tech digital instrument cluster. The controls prove logical with familiarity. The Q7 employs a supercharged 3.0-liter V6 engine that is mated to a very smooth eight-speed automatic transmission. Available advanced safety systems include automatic emergency braking and lane-keep assist.
Read the complete Audi Q7 road test.
Luxury: Mercedes-Benz GLC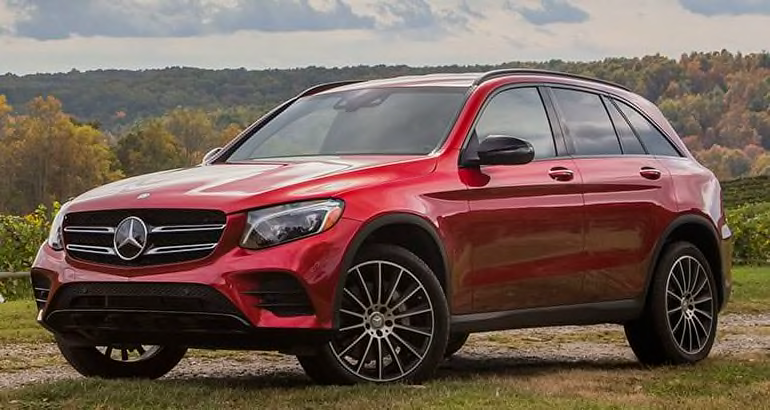 Based on the C-Class, the GLC is one of the best compact luxury SUVs on the market. The GLC rides comfortably and handles very well. The plush furnishings inside the quiet cabin are appealing, although it also has Mercedes' complex infotainment system. The front seats are very comfortable and supportive, but the rear is a bit snug. The 2.0-liter, turbo four-cylinder engine delivers ample power and is matched to a nine-speed automatic transmission that works well. Automatic braking is standard, but other safety gear—such as blind-spot monitoring and cross-traffic alert—comes only in confusing option packages. A turbo V6 AMG GL43 and a coupelike SUV, the GLC Coupe, are also available.
Read the complete Mercedes-Benz GLC road test.
Mainstream SUVs: Chevrolet Traverse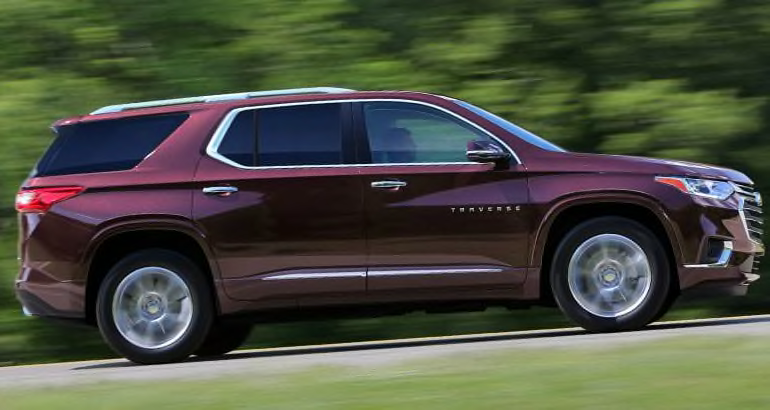 Redesigned for 2018, the Traverse has a quiet interior, a composed ride, and responsive handling, making it a viable alternative to full-sized SUVs such as the Suburban. It's also a competent challenger to established three-row SUVs. The 3.6-liter V6 engine supplies ample power and quick acceleration. Front- and second-row captain's seats are comfortable, and the third row is usable, even for adults. An eight-passenger configuration is available. The infotainment system is intuitive. Interior fit and finish is a bit too basic for the $50,000 Premier trim. Standard notable safety functions include a safety-focused teen-driver feature and rear-seat reminder designed to prevent leaving a small child behind. Only the top trims have the key safety systems of forward-collision warning and automatic emergency braking.
Read the complete Chevrolet Traverse road test.
Mainstream: Dodge Durango
The Durango's ride is composed and comfortable, making it feel sophisticated and substantial. Spacious, quiet, and comfortable, it impressively blends workhorse utility with ample creature comforts. It shares its platform with the Jeep Grand Cherokee but is longer and adds a third-row seat. Its handling is responsive, and the slick eight-speed automatic helps make for smooth and prompt power delivery. Most buyers will be satisfied with the V6 engine. The optional UConnect 8.4-inch infotainment system is one of the best, with intuitive operation. Cargo room is generous, and the Durango can tow 1,000 to 2,000 pounds more than competitors can tow. Limited visibility is a downside.
Read the complete Dodge Durango road test.
Mainstream: Mazda CX-9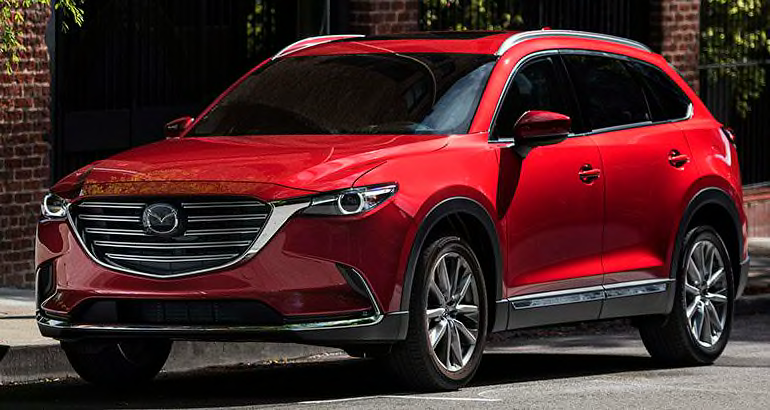 Mazda's CX-9 is a stylish three-row SUV that is quite engaging to drive. The ride is very comfortable, and the cabin is commendably quiet. Mazda's flagship SUV has nimble handling that makes it feel like a smaller vehicle. Its interior is well-finished, particularly on high-end trims, and the snug cockpit features comfortable seats. Power comes from a responsive, free-revving 227-hp, 2.5-liter turbo four-cylinder engine mated to a smooth six-speed automatic transmission. This engine is rated at 250 hp if you use premium fuel, but there's no reason to do so. While second-row seating is generous, the third row is predictably tight. Mazda's dial-controlled infotainment system takes time to master. 2018 brings standard forward-collision warning with low-speed automatic emergency braking.
Read the complete Mazda CX-9 road test.
Mainstream: Subaru Crosstrek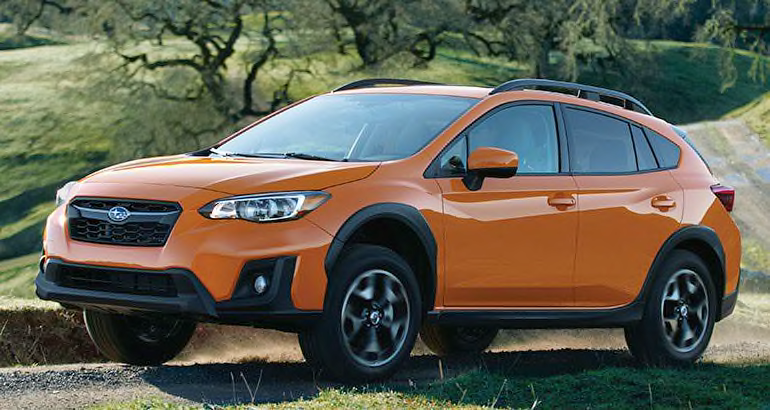 The Crosstrek transforms Subaru's Impreza hatchback into a small SUV that benefits from the improvements made to that compact car, including better fuel economy, impressive ride comfort, and reduced cabin noise. The 2.0-liter, four-cylinder engine does the job, but it won't set your heart on fire. The continuously variable transmission mimics a conventional automatic, but it still amplifies engine sound when the car is accelerating. Its handling is secure, though it isn't sporty to drive. The infotainment system is capable and user-friendly. Subaru's EyeSight driver-assist technology is optional and includes automatic emergency braking and lane-departure warning with lane-keeping assist. Other available safety features include blind-spot warning and rear cross-traffic alert. The Crosstrek is an appealing option for buyers who don't need the room of the Subaru Forester SUV.
Read the complete Subaru Crosstrek road test.
Mainstream: Ford Edge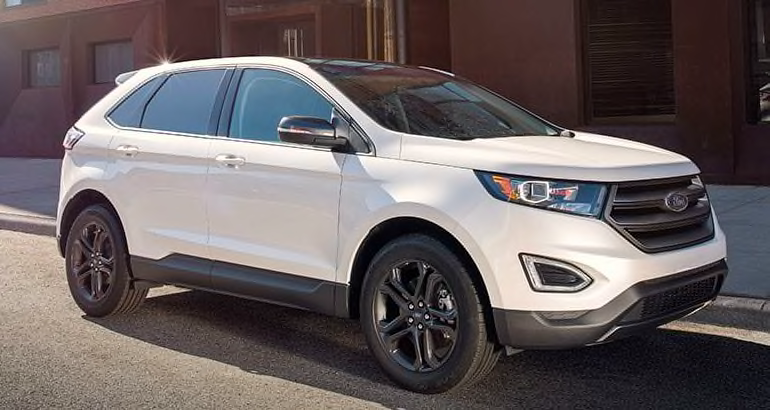 The Edge carries itself like a pricier European SUV. Based on the commendable Fusion sedan, the Edge likewise delivers a steady, comfortable ride and confident handling that make it fun to drive. The quiet cabin wouldn't be out of place in a luxury car. The roomy interior provides comfortable quarters, front and rear, and cargo space is generous. The standard 2.0-liter turbo four-cylinder is more pleasant than the 3.5-liter V6. A twin-turbo, 2.7-liter V6 engine is offered on the Sport trim. All use a smooth six-speed automatic transmission. Front- and all-wheel-drive versions are available. Ford's Sync 3 infotainment system is comprehensive and easy to use. Safety options include blind-spot monitoring, rear cross-traffic alert, and front and rear cameras.
Read the complete Ford Edge road test.
Drivetrain 101
A car's drivetrain gets power from the engine to the wheels. On the "Consumer 101" TV show, Jake Fisher, Consumer Reports' director of auto testing, explains to host Jack RIco the differences in cars with front-wheel, rear-wheel, all-wheel, and four-wheel drive.