When you shop through retailer links on our site, we may earn affiliate commissions. 100% of the fees we collect are used to support our nonprofit mission.
Learn more.
"Talking Cars" viewers don't miss much. Recent evidence? They spotted the Buick Cascada on the set of our special 100th episode even though it wasn't mentioned on the podcast. We remedy that grave oversight in this episode, finally discussing Buick's new convertible. Imported from Europe, where it is sold as an Opel, the Cascada fills a hole in the marketplace left by the departure of relaxed cruisers like the Chrysler Sebring/200, Toyota Solara, and Volkswagen Eos convertibles. Open-air details are very well-addressed with this new model, although there is nothing compelling about how the Buick drives.
Next, we answer a question about whether SUVs, like the station wagons and minivans that came (and went) before them, will ever go out of style. Our verdict: Not likely. After all, SUVs make too much sense because of their chair-height entry and generous accommodations. What's more, building them on car-based platforms has bred out most of their bad habits.
As proof that buyer interest in SUVs is unrelenting, we answer several viewer questions about which SUV to purchase. One compares the Toyota Land Cruiser, an expensive institution still surviving in the brand's lineup, with the far more modern Audi Q7 and Volvo XC90. Another question brings the shopping back to more attainable altitudes, comparing the Subaru Forester and Hyundai Santa Fe Sport. We also try to help a viewer who has a long commute and a long list of desires for an affordable all-wheel-drive car.
And last, we explain why we don't care much for the Toyota Yaris despite its reliability and low price. Perhaps the best answer exists in Toyota's own lineup: The Mazda-designed Scion/Toyota Yaris iA proves to be far more satisfying than Toyota's own home-grown hatchback.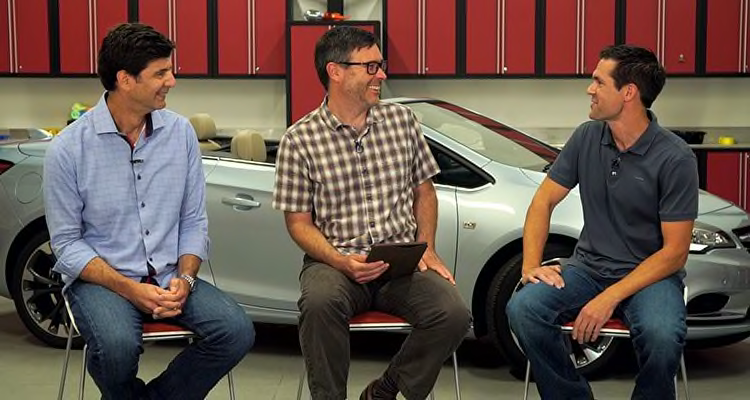 As with other "Talking Cars," this episode on popular cars is also available free through the iTunes Store. Subscribe to the video or audio. You'll also find the video on YouTube.
Share your comments on this show below, and let us know whether you need any advice about choosing a car.
Special Show: 'Talking Cars With Consumer Reports' Video Podcast Turns 100
Self-Driving Cars, episode 99
Buick Envision, Jaguar F-Pace, episode 98
Cadillac CT6 & XT5, Chevrolet Volt, viewer questions, episode 97
Mazda CX-9, Tesla, viewer questions, episode 96
GMC Acadia, Tesla Model X, episode 95