When you shop through retailer links on our site, we may earn affiliate commissions. 100% of the fees we collect are used to support our nonprofit mission.
Learn more.
Lines are forming across the country at Tesla stores where passionate consumers wait to place an order for much-hyped Model 3—the first "mainstream" targeted electric car from Tesla Motors. With an Apple iPhone-like fervor, consumers are anxious to be the first on their block with this promising car, which has its unveiling tonight.
We say, wait.

Sure, there is clear appeal in having virtues from the Model S—a luxurious electric car with a 180-plus-mile battery range—distilled down to midsized model that could be in the reach of many shoppers. Tesla has talked about a roughly $35,000 price for the Model 3.

But the price for being an early adopter goes beyond making an in-store or online $1,000 deposit to accepting the risk for unknown reliability.

As we would advise with most all-new cars: the savvy shopper should wait for the initial launch bugs to be resolved.

New cars from major automakers often stumble out of the gate, a lesson that Ford routinely reminds us. (Think: Escape, Fiesta, Focus, and Fusion.) And Ford Motor Co. has been around for more than a century.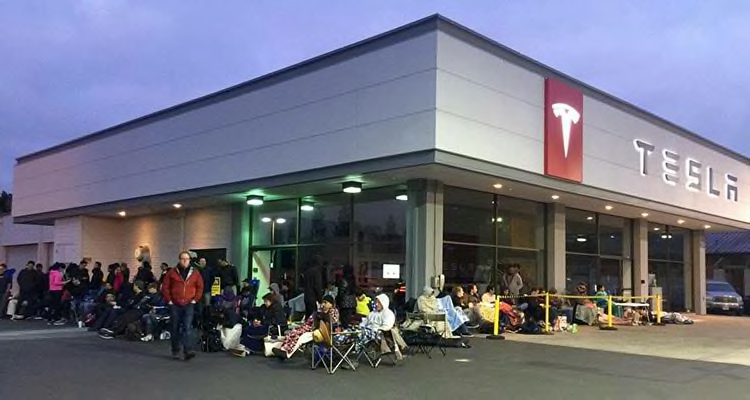 Tesla, meanwhile, was founded in 2003 and the Model 3 is all new.

Telsa's Model S has had reliability issues. As part of our subscriber survey, we collected data from owners of 1,300 Model S cars over three years and found problems spanning from door handle malfunctions to powertrain issues. The result is that the car's predicted reliability is below average.
Another reason not to rush right in is that we have seen Tesla make significant ongoing changes to the Model S, addressing both hardware and software issues that add up to the car improving in many ways over time.

So, don't rush out to place your order. Take your time, and let your neighbors sort out any bugs. Based on Tesla's ambitious production forecasts, there will be plenty of Model 3s to go around.