When you shop through retailer links on our site, we may earn affiliate commissions. 100% of the fees we collect are used to support our nonprofit mission.
Learn more.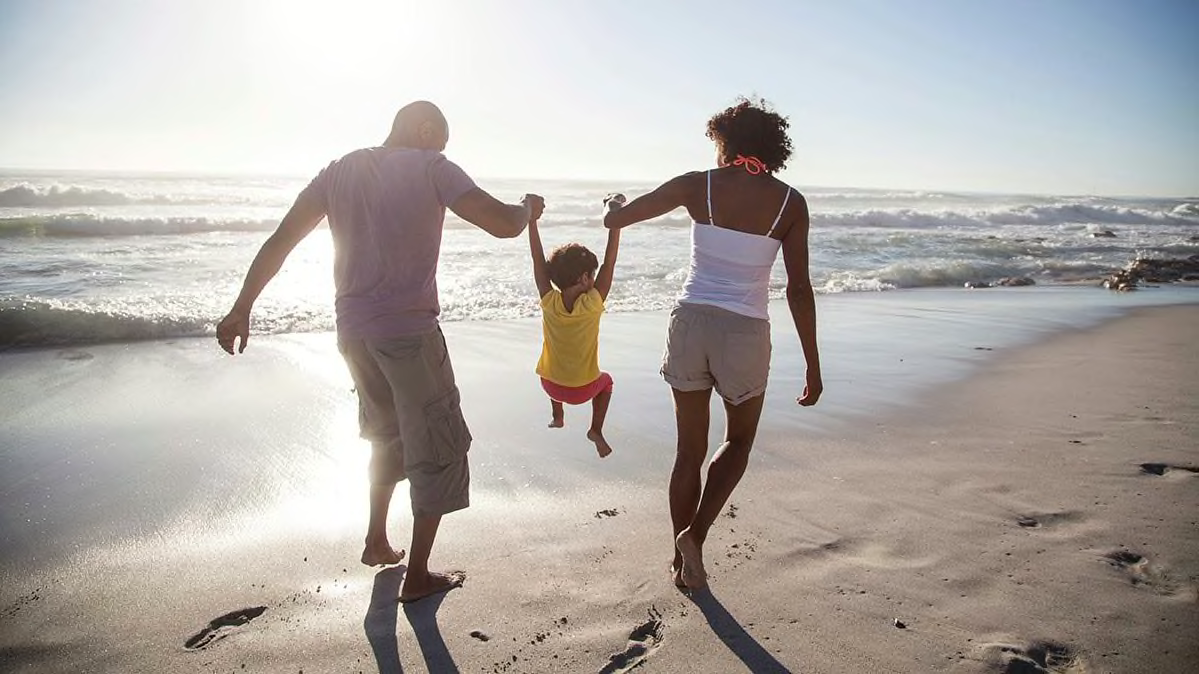 The mercury is rising, and Memorial Day is just around the corner. Your thoughts are likely turning to a burning question: "How am I going to spend my summer vacation?"

But for many people, a summer trip is a splurge that they're not sure they can afford. According to a recent survey from Bankrate, just over half of all respondents said they're planning on taking a trip this summer, and those who are traveling will spend an average of $1,979.

Staying within your budget, then, depends on how much value you can squeeze out of those travel dollars you've saved up. And this year, experts say, a combination of factors have combined to create a favorable outlook.
"It's the perfect storm," says Hayley Berg, an economist with the travel site Hopper, citing the strong U.S. dollar and added competition among airlines.
In fact, airfares from the U.S. to Europe for the peak months of June, July, and August are the lowest they've been in three years, according to Hopper's most recent search data, which showed transatlantic tickets averaging $909 round trip, versus $926 last year. (Of course, you are still paying a premium for flying in high season; fares for departures before June were around $637, according to Hopper.)
Airline prices tracked by Hopper have also dropped to U.S. cities like New York and Boston, as well as to resort destinations like Puerto Rico and Hawaii.

"For U.S. travelers, it is a great summer to get good deals," says Berg.
How to Find the Bargains
Here, some places to look for those deals this summer—as well as destinations you might want to avoid.

Off-season specials: If you want to score a great deal, consider a place where it is off season during the summer. Travel to the Caribbean from the U.S. slows dramatically following the winter and spring vacation periods, and prices drop accordingly.
"The summer months offer lots of opportunities to save," says Andres Barry, president of JetBlue Travel Products. He points out that savings are greater when a hotel and air fare are packaged together, pegging the savings at up to 20 percent, with summer offering some of the lowest prices of the year.
The airline has noticed an uptick in interest in travel to Puerto Rico, he adds, where hotels are offering attractive prices to win back visitors to newly reopened resorts, following the devastation of the hurricane in 2017. Likewise, he says, Cartagena, on Colombia's Caribbean coast, and Cancun, better known as a spring-break mecca, are both showing strength for this summer.
The same principle works for domestic travel: If you want to avoid the crowds and high summer prices, consider south Florida or desert destinations in Arizona, California, and Nevada. The trade-off is that the temperatures can rise into the triple digits in July and August, but travelers who aren't put off by the heat (or who wisely gravitate to higher altitudes) can reap huge savings.
For example, many hotels in the Palm Springs area slash their rates by as much as 50 percent off midwinter prices, according to the Greater Palm Springs Convention and Visitors Bureau. Summer is also a good time to visit ski resort areas like Vail where hotel rates drop after the snow melts but there's still plenty to see and do.
Foreign Affairs
The Brexit blip: In an odd twist, Brexit may have created an opportunity for American visitors to save money on a peak-season trip to Europe. Thomas Cook, a major U.K.-based tour operator, recently released a study that showed that fewer Britons were planning a holiday in Eurozone countries this year, in part due to fears of travel hassles and higher costs when the U.K. splits from the EU (the new deadline for the exit is scheduled for Oct. 31, but many English tourists booked their annual holidays before the original date of March 29).
Countries like Portugal and Greece normally teem with sun-seeking Brits in July and August, so experts advise travelers to watch for good deals in Mediterranean beach resorts.
"If the British holidaymaker isn't traveling to Europe, this may well be a one-year blip of opportunity for visitors from the U.S.," says John Grant, a senior analyst with the global travel data provider OAG.
Money talks: International travelers this summer are also benefiting from the strength of the U.S. dollar. At this writing, one dollar was worth 0.89 Euros; about the same as last year but up from five years ago when it was 0.73.
Other countries where the dollar goes farther: in Canada, one dollar is worth $1.35 in local currency, up from $1.28 last year and way up from $1.09 five years ago; the U.K., where $1 is worth 0.77 British pounds, up from 0.74 a year ago, and Turkey, where the dollar has gone up sharply to fetch 5.96 Turkish lira, from 4.22 in spring of 2018.
And in South America, while it's almost their winter, temperatures can still be balmy and the dollar is strong in many countries, like Argentina, where one dollar fetches 44.78 Argentine pesos, more than doubling from a year ago, when it got just 21.18 pesos.
In Brazil, a dollar gets you 3.96 Brazilian reais (compared to 2.21 in 2014), and U.S. visitors no longer need to fork over a hefty visa fee of up to $160 to visit the country: as of June 17, Brazil is waiving the visa requirement for Americans with a valid passport, good for stays of up to 90 days.
Avoiding the Crowds
End-of-summer deals: While summer technically isn't over until Labor Day, you can often get a better deal on prices starting in early to mid-August; that's when many students are starting to head back to school.
"Around August 14 is actually when you start to see some good deals," says Scott Wainner, CEO and founder of Fareness, a flight booking app that gives users the best days to depart for the best price. Among the discounts Wainner says were recently offered on the site: a $452 round-trip fare from San Francisco to London for a seven-day trip departing on August 14.
Tourist traps: Some foreign cities have become victims of their own success, with a new phrase—overtourism—to describe what happens when a place is invaded by hordes of selfie-taking visitors. And some are fighting back. Starting this month, Venice, Italy, is battling an onslaught of tourists by slapping on a landing tax of up to 10 euros (nearly $12) to enter the city.
In Barcelona, local residents in some neighborhoods have been protesting loudly against the rise of Airbnb rentals and hanging "tourists go home" banners from their windows. Suffice to say, you may want to avoid these cities in the peak of summer when these tensions will be even higher.