When you shop through retailer links on our site, we may earn affiliate commissions. 100% of the fees we collect are used to support our nonprofit mission.
Learn more.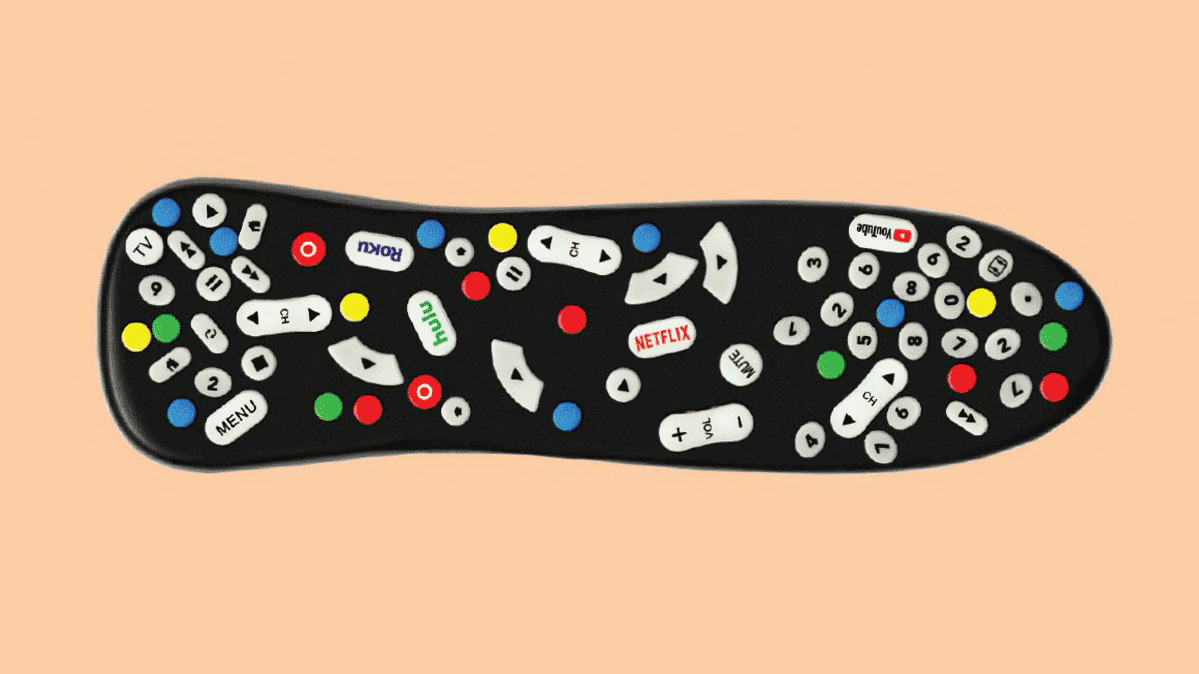 Illustration: Alvaro Dominguez
If you cut the cord on traditional cable and switch to a cable-replacement streaming service, you might feel somewhat bewildered. You'll still have your favorite channels—but they could be tricky to find.
It's not like cable TV, where you just hit the Power button and start flipping through channels.
"In many cases, you'll need to launch an app—or two—to even get to the streaming service," says Matt Ferretti, who tests TVs and streaming players at Consumer Reports.
Along the way to your show, you may find yourself threading through unfamiliar layers of menus and icons and switching between a couple of remote controls.
Here's why. First, modern smart TVs have an onscreen interface—the main home screen for the TV—with their own set of apps. If your smart TV doesn't have an app for your cable-replacement service, you're going to need a separate streaming player, such as an Apple TV or a Roku. That player will have a second menu system plus its own remote control. (Check out our ratings of streaming media players.)
And once you open the streaming service's app, it has its own interface, too.
Learning the Ropes
"There's a learning curve for many people who replace cable with a streaming service," Ferretti says. "But it's probably less daunting for those who already use a popular streaming service such as Netflix. Lots of cable-replacement services mimic that type of layout."
The screen may display rows of tiles representing programs organized in any number of ways. Depending on the service, or which view you choose, you might see content separated by genres (sports vs. news or sitcoms), movies separated from TV series, or live TV broadcasts set off from on-demand content.
If you prefer, you might be able to switch to a list of shows that looks like a cable-TV-style program guide. However, the companies that design these systems don't think you'll want to.
"A majority of our users have been traditional pay-TV subscribers," says Vikash Sharma, assistant vice president for video products at AT&T. "We wanted to welcome them into the DirecTV Now experience with the familiarity of the traditional guide, while updating several elements of the user experience to take advantage of a modern streaming environment."
For instance, on cable TV we're used to networks being arranged numerically by channel numbers. There's no reason to do that with information transmitted across the internet, so some streaming services arrange channels alphabetically.
Certain streaming apps let you customize the interface, so you can create a menu of favorite shows, or automatically get recommendations for movies and shows you might like.
It's impossible to spell out just what each person will encounter, because so many combinations of TVs, streaming devices, and streaming services are available. If you make the switch, you should expect some trial and error.
As an example, let's say three households sign up for YouTube TV, a cable-style service. One family might find the YouTube TV app preloaded on its TV. Another might access the service on an Apple TV after downloading the YouTube TV app from the App Store. The third might connect a Roku device, which already has the YouTube TV app.
Once they open the streaming service, all three households will see the same interface. But each would control it using a different remote.
Our suggestion: Don't let the quirks deter you. At Consumer Reports, we get exposed to lots of systems and talk to lots of consumers. Typically, we find that people get used to whichever system they have. Just be patient and the confusion will abate.
Conversing With Your TV
One way to find the show you're looking for is to just ask your TV. Digital voice assistants, such as Amazon Alexa and Google Assistant, are showing up on many smart TVs and streaming media players.
In addition, some of the major TV brands have their own artificial intelligence-driven digital assistants that can respond to voice commands. LG, for example has ThinQ, while Samsung uses Bixby. These, and other TV systems, let you change channels, pause and restart a show, or switch inputs with just your voice.
You may even be able to use voice commands to control other smarthome devices, such as lights and thermostats, through the TV.
You can also use voice commands to search for movies, TV shows, actors, and apps, rather than pecking out a search with your TV remote.
But every system operates a bit differently, and not all apps support voice. Some TVs support multiple voice assistants that handle separate tasks, which can get confusing. Thankfully, more sets now route voice commands to the right assistant automatically.
Editor's Note: This article also appeared in the September 2019 issue of Consumer Reports magazine.