When you shop through retailer links on our site, we may earn affiliate commissions. 100% of the fees we collect are used to support our nonprofit mission.
Learn more.
It wasn't too long ago that your options for catching favorite TV shows or movies at home were limited mainly to an antenna or a cable-TV package.
As you can see from the diagram below, that's no longer the case. Today, you can watch many of the same shows and movies any number of ways, including from cable and satellite providers, various online services, and yes, even with a trusty antenna. Here's a quick look at all the services clamoring for your attention—and dollars.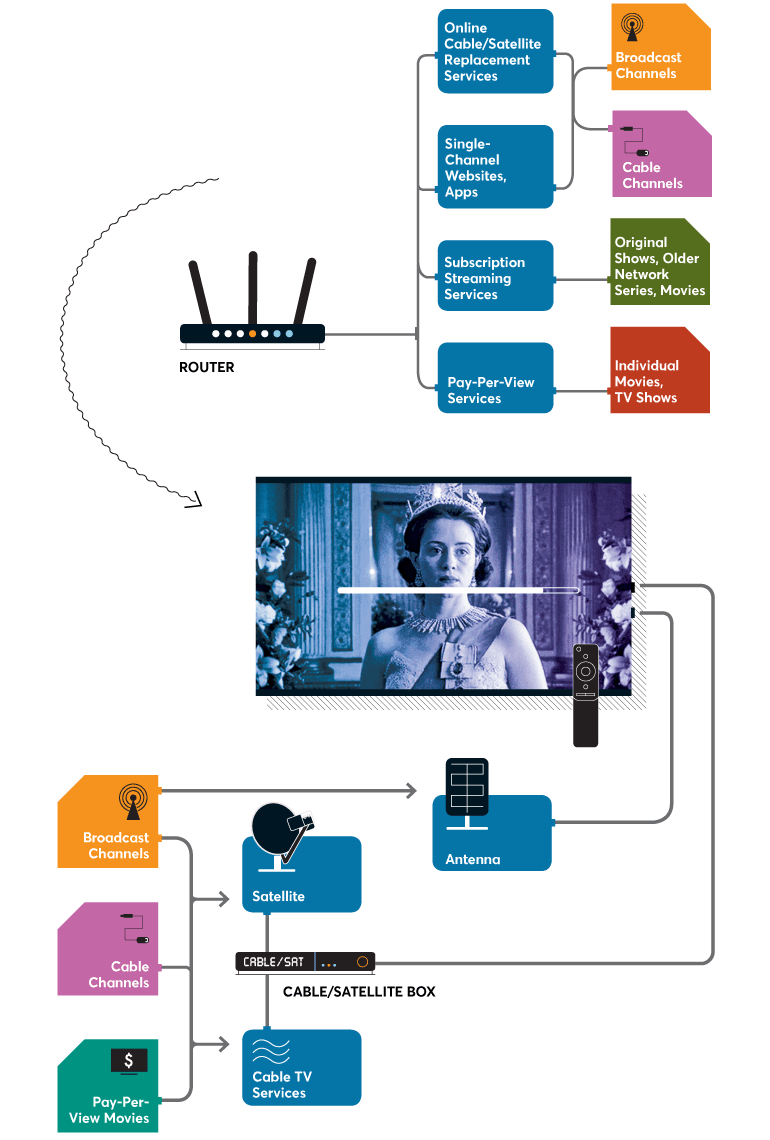 Illustration: The Tom Agency
Your Expanding Options
Cable TV
You know these guys—companies such as Comcast, Charter, and Optimum that charge you monthly fees, ranging from occasional promotional rates as low as $30 per month for TV to more than $100. If you like familiar, programmed television, as well as live local sports and news, it's hard to get around a traditional pay TV package. These same providers also supply internet and landline phone service.
Satellite TV
Satellite companies such as DirecTV and Dish provide paid TV services, just like cable companies—but you'll probably need a separate line to your home for internet. Prices usually range from $50 to $125, depending on the amount of programming. Both companies now also offer streaming services.
Online Cable Replacement
Services such as Sling TV and Hulu With Live TV compete directly with cable by offering live channels online for a monthly fee of around $20 to $40. But the choices can be limited. You can get a smattering of broadcast (such as ABC and NBC) and cable-type (Bravo, CNN, HGTV) channels. Premium channels (HBO, Showtime) may be on tap for an added fee. For more details, check out our article on cable-TV replacement services.
MORE ON TV & HOME INTERNET
Single-Channel Websites, Apps
You can subscribe to some TV channels' websites and apps to watch just their shows without signing up for a larger TV package. CBS, HBO, Showtime, and Starz all offer this option. Some channels have apps that let you watch their content only if you are already paying through a cable or satellite subscription.
Subscription Streaming
Netflix, Amazon Prime, Hulu, and other smaller players charge a subscription fee, usually around $8 to $10 per month, for unlimited viewing of all their TV content and movies, including original shows such as Netflix's "House of Cards." Shows are delivered over the internet, so you can watch on a computer, smart TV, or mobile device.
Pay-per-View Services
Services such as iTunes and Vudu let you rent or buy single titles—a movie, one episode of a show, or a whole season. Amazon Video—the company's pay-per-view service—offers this option, too. (Note, Amazon Prime members: Not all of Amazon's content is included with your subscription.)