When you shop through retailer links on our site, we may earn affiliate commissions. 100% of the fees we collect are used to support our nonprofit mission.
Learn more.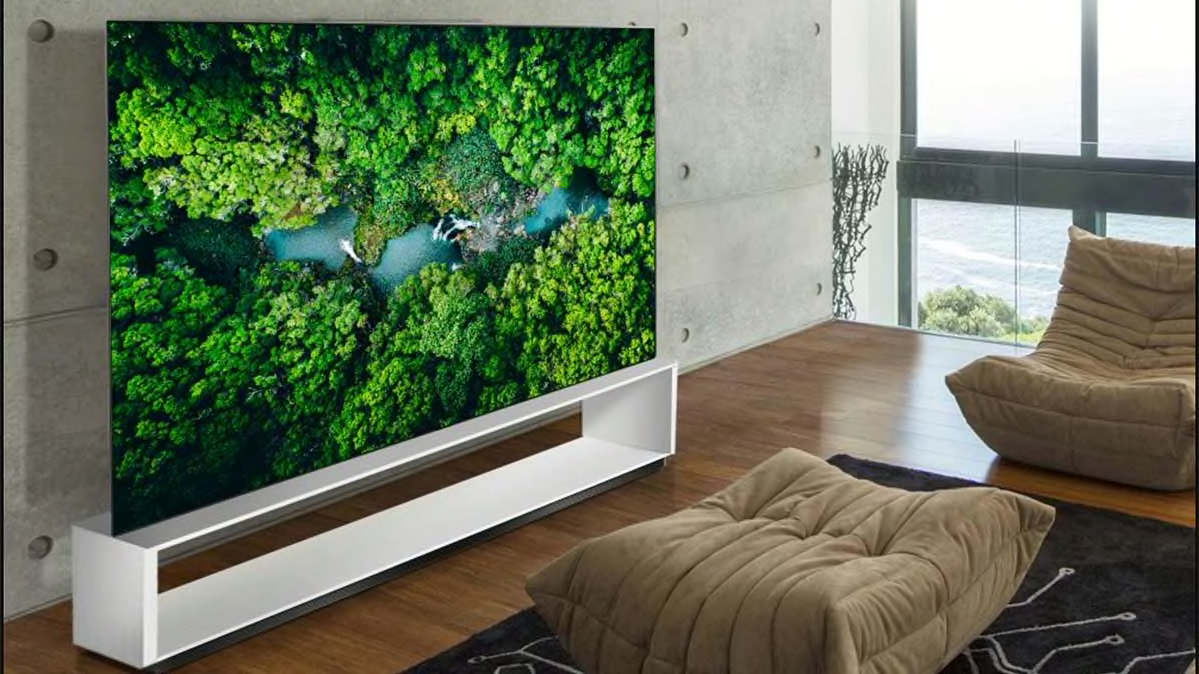 Just days into the new year, and we already have a good idea of what TV buyers can expect in 2020, starting with more 8K sets from a number of brands, and jumbo-size TVs, many with screens that measure 75 inches or more.
Many of these sets are on display at CES, the annual Consumer Electronics Show in Las Vegas.
We'll break out the most interesting TVs from each brand below, but first, here's a quick run-through of the kinds of technologies you'll see in stores.
Television brands are touting advanced processors and artificial intelligence (AI) capabilities. In 8K TVs, the computing horsepower is needed to help scale lower-resolution video to high-res screens, while in 4K TVs it can boost overall picture quality and sound.
This year, you'll seen more OLED sets alongside the LCD televisions that dominate the market. The very top sets in Consumer Reports ratings tend to be OLEDs, but in the past few years LG and Sony have been the only companies flying the OLED TV banner. When you go TV shopping this year, you'll see new—and probably cheaper—options from Vizio and emerging brands such as Konka and Skyworth.
Also in 2020, TV manufacturers are paying closer attention to gamers. Most of the major TV brands will be selling new TV models or game modes that offer lower latency and faster refresh rates to improve performance.
Finally, we've seen some interesting new sets that try to imagine the television not just as a display, but as a design element in the home.
As always, Consumer Reports is looking forward to buying and testing many of these new sets to help shoppers separate hype from performance, and make smart purchase decisions.
Hisense
Hisense has been steadily moving up the ranks in TV market share in the U.S., thanks to an affordable line of 4K and HD TVs. But the most interesting development for the company this year could be a new TV design it calls a "dual-cell" TV.
Last year we saw a dual-cell TV prototype, but Hisense says this year you'll actually be able to buy one. The technology involves binding two LCD panels together, which can enable the set to block light in darker areas of the image. The company says this can help LCD-based sets achieve OLED-like black levels, but with significantly higher brightness, which could help boost HDR performance.
Hisense says its dual-cell TV, called the XD9G, will be offered in a 65-inch screen size in the third quarter of 2020. The company didn't give a price, but said it would cost less than an equivalent-size OLED TV.
Other TVs of note this year are two "ULED" TV models. That's the name Hisense gives to a suite of proprietary technologies designed to improve TV performance. The company's top-tier H9G Quantum sets will be offered in 55- and 65-inch screen sizes, priced at $700 and $1,000, respectively, while H8G Quantum models, in 50- to 75-inch screen sizes, will carry prices ranging from $400 to $1,400.
But budget shoppers may be more interested in the H65G 4K series, where models range in price from $270 for a 43-inch set to just $1,500 for a whopping 85-inch monster. That's a pretty sweet price for a set this size.
Konka
You probably don't recognize the Konka TV brand, but the company is hoping to change that this year. A top-five TV brand in China, Konka plans to make its mark here in the U.S. this year with its first OLED TVs, along with a line of QLED LCD TVs that utilize quantum dots.
The first sets, in an entry-level H3 series, arrive this spring. These TVs are 1080p Android smart TVs in smaller screen sizes, with prices in the $200 to $300 range.
To get 4K and HDR, plus some additional picture enhancements, you'll have to step up to the U5-series sets, offered in 43- to 75-inch screen sizes. Prices will range from $400 to $1,500.
Konka's premium 4K TVs are found in the Q7 QLED series. Utilizing quantum dots for a wider range of colors, Q7 screen sizes will range from 50 inches ($700) to 75 inches ($2,000).
Finally, Konka says its X11-series 4K OLED TVs will arrive later in the year, in 55- and 65-inch screen sizes. Prices will be announced closer to launch.
LG
The big news items for LG in 2020 are that it will have more 8K TVs this year, OLED TVs in new screen sizes (including a small, 48-inch 4K model), and more powerful processors and AI to help optimize picture and sound quality.
Among the more notable TVs we'll see from any brand this year are LG's 2020 8K sets.
These include two flagship ZX OLED TVs, in 77- and 88-inch screen sizes, and three LCD-based NanoCell series. These will be available in in 65- and 75-inch sizes. LG hasn't revealed 2020 TV pricing.
LG's 4K OLED TVs are particularly interesting because they've been at, or near, the top of CR's TV ratings for the past several years. This year these sets will be offered in 55-, 65-, and 77-inch screen sizes; we'll also see a 48-inch model for the first time.
Also new for 2020 is an ultra-thin GX "Gallery" OLED TV series, which comes in 55-, 65-, and 75-inch screen sizes. The TV is completely flat—the circuitry and inputs are built right into a recessed area on the back of the panel—and comes with a dedicated wall mount that lets the TV sit flush with the wall.
Also in 2020, some premium models will have microphones built into the TV itself, so you don't need a remote control to use voice commands. For those concerned about privacy, the mics can be disabled.
Oh, and there's one more thing. LG says that its "rollable' OLED TV, shown at the top of this article, will finally be available to consumers in 2020—it's been a showstopping concept model for a couple of years. The set, which features a screen that rolls down into the cabinet when it's not in use, will cost $60,000—about the price of thirty 65-inch 4K OLED TVs, or one Porsche Boxster.
Samsung
Samsung's 2020 lineup includes some new larger screen sizes, a broader 8K lineup, and the launch of an exciting display technology that hasn't appeared before in consumer televisions. No prices have been disclosed.
Samsung was one of the few TV brands that sold 8K TVs last year, and we tested the company's QN65Q900R, which did very well in our ratings. Samsung thinks 8K sets could take off in 2020.
This year its 8K line will be highlighted by a new flagship model, the Q950 QLED TV, offered in 65-, 75-, 82-, and 98-inch screen sizes. It's a super-thin set that sports a nearly bezel-less design and some interesting features, including a new sound system with 5.1-channel sound and a feature called Object Tracking Sound+ that can identify objects moving on screen, and then position sounds to match it.
If 8K isn't your thing, Samsung will be refreshing its 4K QLED lineup, which will include Q60T, Q70T, Q80T, and Q90T models. In 2020, only the flagship Q90T sets have the super-wide viewing angle we saw on two series last year. Screen sizes will run from 49 to 85 inches, depending on series.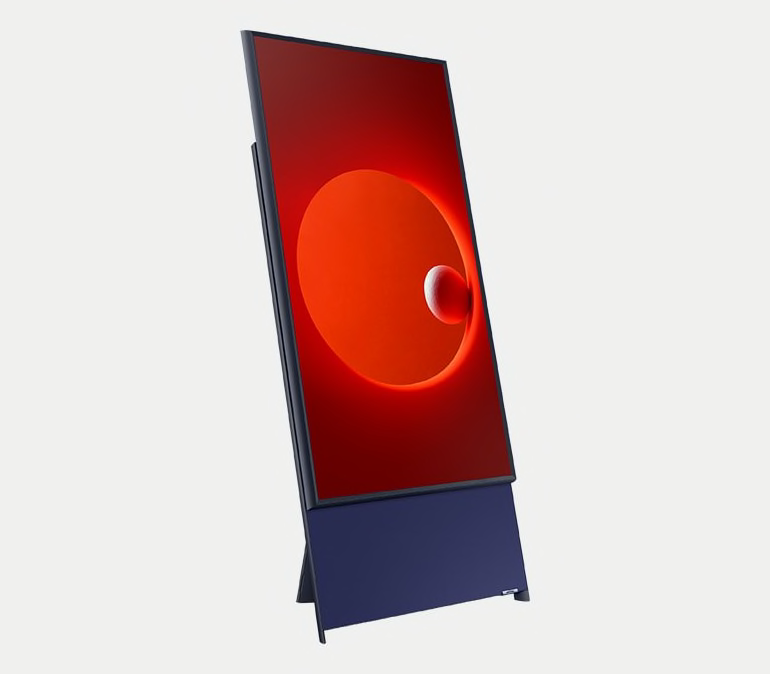 Next, Samsung is introducing the Sero, a unique 43-inch set in the company's lifestyle TV line. The Sero unique can rotate from a horizontal landscape to a vertical portrait orientation (shown above), just like a smartphone or tablet. The Sero's integrated stand includes a 4.1-channel speaker system inside.
Who will buy it? Samsung says it will appeal to millennials and Gen Z-ers who want to mirror their smartphone content. It will work with a new Samsung TV feature called Tap View that lets you mirror your phone just by touching it to the TV.
Finally, the most intriguing TV technology of the year—from Samsung or anyone else—promises to be the MicroLED display.
These screens use tiny LEDs that each give off their own light—no separate backlight required. That's a lot like OLED technology, in which each pixel produces its own light.
The result is that MicroLED TVs can offer OLED-like deep blacks and high contrast. Not only that, but they promise a higher peak brightness than OLEDs. And the screens are modular—they are actually made up of stacks of MicroLED blocks. That means that one day you may be able to connect multiple MicroLED panels together to create TVs in any size you want.
During CES, Samsung wowed the crowds with a 292-inch 8K MicroLED display that basically took up a wall, following up on smaller but still impressive demo units from the past.
Samsung says it's planning to sell fixed-size 75 -, 88-, 93- and 110-inch 4K MicroLED TVs this year. One wrinkle is that MicroLED technology has been prohibitively expensive until now, and Samsung won't say how much the new sets will cost.
Sony
Sony's 2020 TV lineup will include both new 4K OLED TVs, plus an 8K LCD series offered in larger screen sizes. These sets will be joined by a lineup of mainstream LCD-based Android TVs in screen sizes up to 85 inches.
At the top of Sony's 2020 line are the company's new Z8H 8K Master Series sets, offered in 75- and 85-inch screen sizes. They feature Sony's most powerful processor, and include Sony's "frame tweeter" technology, which vibrates the TV's frame so the sound seems to be coming directly from the screen. I've had a chance to demo the technology, and the sound quality is pretty impressive.
Basically, this is Sony's way of adopting its Acoustic Surface audio for LCD TVs. Acoustic Surface uses vibrating actuators to turn an entire OLED display panel into a speaker. It's now been around a few years, and Sony TVs that use it have done very well in our sound tests.
Sony's OLED TVs have been top performers in our ratings; the company will have two new OLED TV series for 2020, both of them 4K sets with HDR. The mainstream AH8 models will be offered in 55- and 65-inch screen sizes, while the A9S is a Master-series TV in a new 48-inch screen size, just like LG's new set.
Both series will have Acoustic Surface audio.
Sony's top mainstream LCD models this year are in the X950H series, offered in 49- to 85-inch screen sizes. These sets have full-array LED backlights with local dimming, a new wide-angle technology to improve off-axis viewing, and the audio technology used in the Z8H models.
TCL
In early 2020, TCL has provided broad strokes on its plans for the year, but so far it's been light on information about specific new models.
For example, TCL says this year it will introduce more models that use mini-LED backlights. This technology, which uses a greater number of ultra-tiny LEDs in the backlight, was introduced in last year's 8-series sets for the first time. We reviewed the TCL 75Q825 model, which uses this technology, and it did well in our TV ratings.
(Let's head off some confusion: These "mini" LEDs are bigger than the "micro" LEDs that could appear in Samsung sets, described above. And, critically, the mini-LEDs are used as backlights for an LCD, while LEDs actually make up the picture in a MicroLED display.)
TCL has an even newer mini-LED technology, called Vidrian, which embeds both the mini-LEDs and the driving circuitry right into a clear glass substrate. This, TCL claims, will improve contrast and boost brightness. Right now the technology is a prototype, and the company didn't say when the technology will make its way to the first TV sets.
TCL also said it will offer its first 8K TVs in 2020, certified by the 8K Association, in screen sizes 65 inches and larger. Among the 8K models will be the first 8K TCL Roku TV, which will be available later in the year.
Vizio
Probably the biggest news for Vizio is that it'll be joining the OLED TV crowd with its first sets that use that display technology. The company hasn't released details on pricing, but the sets will be available in 55- and 65-inch screen sizes. They're not expected until later in the year.
For the rest of its lineup this year, Vizio is adding support for HDR10+, in addition to Dolby Vision, HDR10, and HLG HDR formats in all its 4K TVs. When done well, HDR—short for high dynamic range—can produce brighter, more colorful images closer to what we see in real life.
Also, all models get Vizio's updated SmartCast smart TV system—now called SmartCast 4.0—for faster access, more personalization, and improved search. Vizio will also have a new voice remote, plus its own voice system that can handle basic tasks such as TV controls and search. Vizio TVs also support Alexa, Google Assistant, and Apple's HomeKit and AirPlay 2.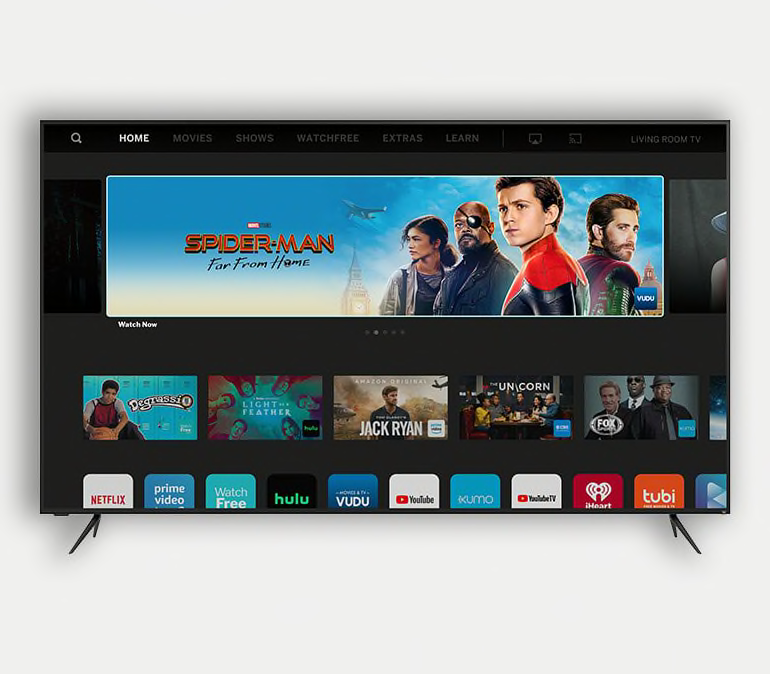 Vizio's LCD/LED TV lineup will be be similar to last year, with screen sizes ranging from 40 to 85 inches, depending on the series. The V-series models are once again its entry-level sets, with two M-series lines filling out the middle of the lineup.
The top-tier sets this year are P-Series Quantum and P-Series Quantum X models. The main differences you'll see as you move up or down Vizio's TV lineup are in peak brightness and a set's number of local dimming zones.