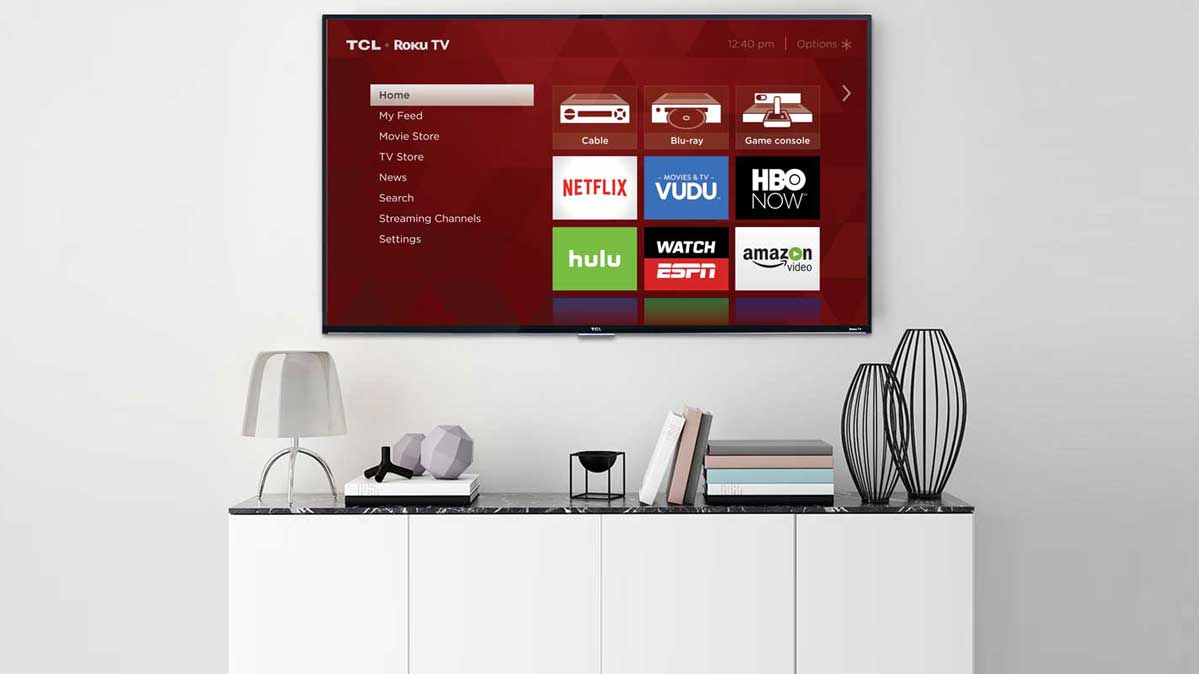 We're big fans of Roku's streaming platform and media players, which top our streaming player ratings. But how about Roku TVs, which use the operating system as their built-in smart-TV platform?
When Roku TV sets started appearing almost five years ago, not many were worth considering. The streaming platform may have been good, but the TVs were from minor brands and generally fell short when it came to picture and other measures of quality.
Consumers have more choices now, with 10 brands offering Roku TVs, including some growing brands such as Hisense and TCL.
However, none of the top-performing brands in our TV ratings have adopted the platform. LG and Samsung have proprietary systems, and Sony and Vizio use the Google Android TV or Google Cast platform.
Our lab results show that you still need to choose carefully to get a 4K, or Ultra High Definition, Roku TV set with decent performance. If you do, you can take advantage of a smart-TV platform that delivers a wide variety of content and a well-designed interface for streaming.
What We Like in Roku TVs
To start, most of the 4K Roku TVs we've tested are relatively inexpensive compared with smart TVs from better-known brands. They're easy to set up, too, thanks to an onscreen tutorial that plays when you first turn the set on. And though Roku TVs came late to the 4K video party, they now support both 4K and HDR content.
In fact, everything we like about the Roku platform is baked into the TVs themselves. That includes a wealth of content options, an easy-to-use interface, and a universal search capability that doesn't favor content from one service over another.
And just this week, Roku added support for Amazon's Alexa digital voice assistant. That means you can search for shows, pause movies, and launch a streaming channel using voice commands on an Alexa-enabled device.
All the devices you have connected to the set—cable box, Blu-ray player, game console—show up as tiles on the home screen. You can then label those tiles by the device, rather than just the input (such as HDMI 1 or HDMI 2). You just click on the tile in the menu and the TV automatically shifts to the appropriate connection.
While we like standalone Roku streaming players, they do add another remote control to your life. With a Roku TV, you just need a single remote for both TV controls, such as power and volume, and to control your streaming services. However, if you have a cable TV package you'll still need a separate remote for the cable box unless that cable service offers a Roku app.
What We Don't Like
The Roku operating system does have some shortcomings. For one, unlike most proprietary smart TVs, you need to sign in to a Roku account, or set one up, just like you do with a Roku player. Once you're logged in, the TV updates its apps, which can sometimes be a lengthy process.
And when you first turn the TV on, it defaults to the Roku home screen, not live TV as most sets do. You can change this after the initial setup, so the TV will turn on to live TV, or whatever service you'd like. To watch any programming at all, you have to select the appropriate app from the tier of onscreen tiles.
In addition, the picture-setting controls are more limited than what you get with most TVs. With some Roku TV sets, you can't control certain picture settings, such as gamma and noise reduction, from the Roku remote.
Gamma correction allows you to adjust the TV's brightness to show greater shadow detail in darker images without changing the actual black level of the set. You'd typically adjust gamma if you're watching in a brighter room.
Additionally, noise reduction, a feature we recommend you turn off, is on by default. With some Roku TV models, you can make adjustments using a smartphone app, but on others—mainly smaller, less expensive sets—the controls aren't available at all.
Using the Roku remote also requires a bit of a learning curve. There's no dedicated up/down button for channel selection, for example. You use a four-way navigation pad instead. And the volume buttons are on the side of the remote, not on the front, the way they are on most TV remotes.
Early on, most Roku TVs we tested lagged the competition in display technology, too. For instance, 4K came late to Roku TVs, and when it did arrive, the sets lacked both high dynamic range (HDR) and wider color gamuts, picture-enhancing technologies that most major brands supported.
But 4K Roku TVs now support both of the major HDR formats, HDR10 and Dolby Vision, giving consumers a choice that's missing from some major brands, such as Samsung.
Roku TVs Worth Considering
All Roku TVs may seem very similar, with the same menus and apps, plus the Roku remote control that will be familiar to anyone who has used a Roku streaming player. But when it comes to performance, there are big differences. In fact, a look at our current TV ratings—available to digital subscribers—shows that Roku TVs are still somewhat of a mixed bag. Picture quality depends not only on the brand but also on the series or model.
We've taken some of the guesswork out of the equation by highlighting five 4K Roku TVs that are worth considering. One big differentiator among sets is HDR performance, and a TV requires a high peak brightness to deliver a great HDR experience.
Only a few 4K Roku TVs in our ratings can deliver on that score, but other Roku TVs that lack top-notch HDR performance do well in other respects and could be worth considering, especially for the budget-minded.
TCL 65R615
Right now, TCL is the only Roku TV brand that's delivering sets with top-quality performance, rivaling even the best major-brand TVs. But that's true only for the R615 and R617 models in TCL's R6 series.
Let's take the R615 models first. (The R617 sets are described below.) In addition to first-rate high-definition and 4K picture quality, the 65-inch TCL 65R615 and its 55-inch sibling, the TCL 55R615, are the only Roku TVs in our ratings that also deliver a great HDR experience.
The R615 sets are sold exclusively at Best Buy. Unlike the R617 models, they don't come with a Roku voice remote, and they are slightly less expensive.
TCL 55R617
The TCL 65R617 and TCL 55R617 sets have everything you get with the R615 sets, but the Roku voice remote lets you control the TV and search for content using voice commands. You can expect to pay about $30 to $50 more for this feature.
Both TVs deliver great picture quality, but they diverge slightly in one respect. In our tests the 65-inch model's HDR performance was just a fraction behind its smaller sibling's and that of the two R615 sets described above.
Both R617 sets are still great choices.
Hitachi 65R80
Hitachi TVs have been inconsistent performers in CR's TV ratings, but this 4K Roku TV model, the Hitachi 65R80, does well overall, with satisfying HD and 4K picture quality. Like many budget TVs, it delivers pretty limited HDR performance, so you won't really get the full effect of movies and TV shows with HDR. We've seen this set selling for about $550 recently.
TCL 55S517
This model, the TCL 55S517, hails from the series below TCL's higher-rated R6-series models noted above. It's worth considering if you're on a tighter budget. You get top-notch HD picture, as well as enjoyable Ultra HD performance, but not the premium HDR performance found in those step-up models. Compared with the slightly cheaper TCL 55S515 model, this one has a bit better HD picture quality.
Sharp LC-50LBU591U
Sharp Roku TVs have also been inconsistent performers in our ratings, but this model, the Sharp LC-50LBU591U—found mainly at Best Buy—is one of the better ones. As with the majority of Roku TVs we've tested, the set's limited peak brightness yields subpar HDR performance, but otherwise the TV delivers enjoyable HD and 4K picture quality.
Consumer Reports is an independent, non-profit organization dedicated to helping consumers. We make it easy to buy the right product from a variety of retailers. Clicking a retailer link will take you to that retailer's website to shop. When you shop through retailer links on our site, we may earn an affiliate commission – 100% of the fees we collect are used to support our mission.
Learn more.
Our service is unbiased: retailers can't influence placement. All prices are subject to change.