When you shop through retailer links on our site, we may earn affiliate commissions. 100% of the fees we collect are used to support our nonprofit mission.
Learn more.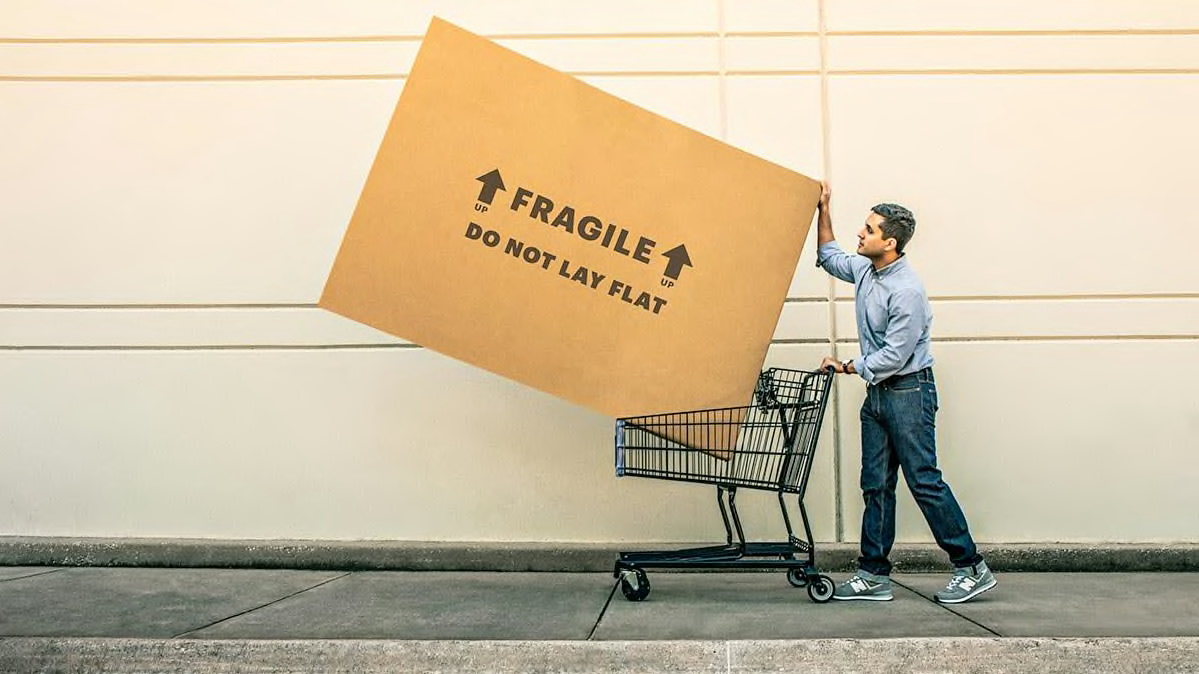 Savvy shoppers know that timing can be everything if you want a great price. That's especially true when you're shopping for a new TV.
And fall is one of the best times to get a deal on a new set as retailers scramble to lure shoppers during the long run-up to Black Friday.
"New TVs come out every year in the spring, and their pricing starts to decline quickly," says Deirdre Kennedy, senior analyst for TVs at the retail market research firm GAP Intelligence. "But they tend to really drop in October, and then even more sharply by the time Black Friday comes around. It's not just hype; this really is a great time for consumers to shop for a new set."
But you'll need some know-how to find the best deal on a TV you'll love without getting confused or misled by the avalanche of sales come-ons that materialize this time of year.
Check Out 'Look-Alike' Models
Retailers offer plenty of bargains this time of year, but they don't make their sales simple to navigate.
For starters, those eye-popping, too-good-to-be-true deals you see around Black Friday (known as "doorbuster specials") are usually available only in limited quantities. They may inspire you to head to the stores or a retailer's website, but supplies often run out quickly, and most people won't be able to take advantage of the deal.
But don't worry if you fail to snag one of those super-cheap televisions. You'll still be able to find a great deal. And many doorbuster models are very basic sets that could leave you feeling unsatisfied, anyway. For instance, last year we saw a $125 39-inch Element set and a $250 55-inch Westinghouse set. Those are very low prices, but TVs from those brands usually haven't fared well in our TV ratings.
You'll also see low-priced TVs made specifically for Black Friday and often available through a single retailer. These sets are called "derivatives" in the TV industry because they're similar to the regular production models we see all year but with different model numbers and often fewer features. For example, they may have fewer HDMI inputs or come with a simpler remote control.
Some of these TVs can be a good deal depending on which features are missing. In 2017, a 55-inch Samsung derivative we tested was about $170 cheaper than the TV it was based on and performed equally well in CR's tests. (See the chart below for details.)
"We've seen more of these derivative models in recent years," Kennedy says. "These models tend to stick around past the holidays and become part of the brands' regular assortment." In addition to derivative models, you may see completely fresh low-end models appear at this time of year.
Derivatives and new-for-the-holidays models can make it tough for consumers to judge the quality of many TVs being advertised. It can be difficult to compare prices, too. After all, if a set is being sold at only one retailer, you can't shop around or ask a store to honor a price-match guarantee.
Pick Your Timing
You've always been able to score a great deal on a mid-tier TV around Black Friday and Cyber Monday, both of which fall right after Thanksgiving. But years ago there were fewer steep discounts on fully featured top-performing sets from major brands.
That's starting to change. In fall 2017, for example, prices of some expensive LG OLED TVs dropped by as much as 40 percent from their high points, according to GAP Intelligence.
That means consumers looking for a high-end set might find one at a great price this fall. If you can't—or you're just not ready to buy—it's fine to wait a couple of months. You'll have another chance at a deal during the promotions that traditionally start just before the Super Bowl, in early February.
An analysis of two years of pricing data, conducted by Consumer Reports and GAP, showed that TV prices on many retail sites climbed sharply in early January. But then Super Bowl sales pushed prices back down to around their Black Friday levels. And those deals included many crowd-pleasing large-screen sets.
If history is a guide, prices on leftover 2018 TVs will stay low into the spring as retailers try to make room on the shelves for 2019 models.
When to Get the Best Prices on TVs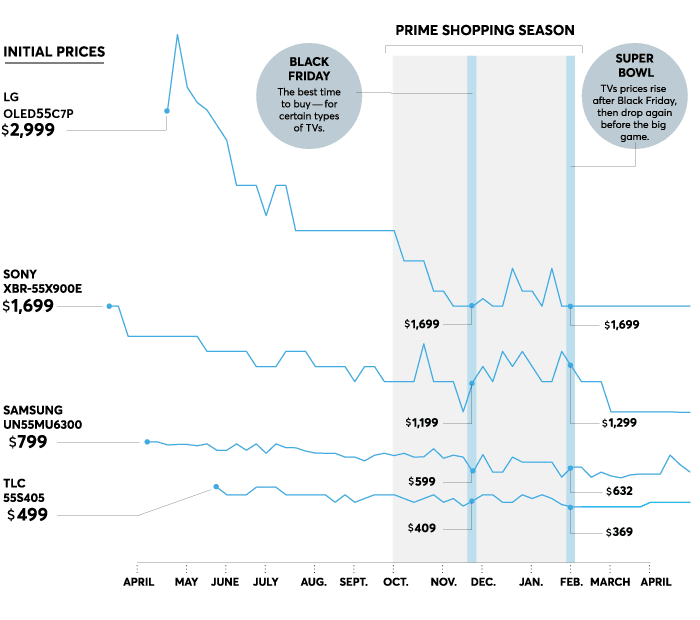 *Source: Pricing data supplied by GAP Intelligence; all TVs in chart are 2017 55-inch models.
When to Get the Best Prices on TVs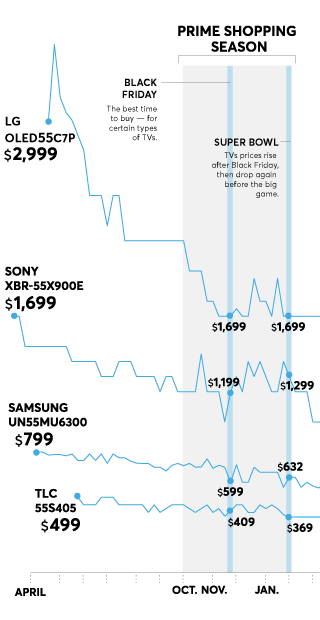 *Source: Pricing data supplied by GAP Intelligence; all TVs in chart are 2017 55-inch models.
Explore Your Buying Options
In recent years, when we've asked Consumer Reports members about their experience shopping for electronics, those who shopped online were more satisfied than those who walked into a store regarding things like ease of checkout, product quality, selection, customer support, and price. But consumers had good experiences in walk-in stores, too.
Each approach has advantages. The web makes it easy to compare prices and can help you avoid holiday-season crowds. Going to a store lets you really see what you're buying and provides instant gratification if you bring your new TV home or arrange for same-day delivery.
Our most recent member survey on electronics retailers reflects tens of thousands of shopping experiences at dozens of outlets. One takeaway from all that research is that if you don't like the service or selection at one store, keep looking, because a number of retailers get high marks. Among the online and walk-in retailers that sell TVs, Abt Electronics, B&H Photo, Crutchfield, and independent walk-in stores as a group all rated well for product quality and customer service.
Don't Hesitate to Haggle
You can ask for a better deal whether you're shopping online or at a walk-in store. Our surveys on electronics shopping show that many consumers don't try to bargain, but that a majority of people who do try succeed in getting a better deal. You can ask in person at a walk-in store or by picking up the phone or opening a chat window if you're shopping online.
Haggling may seem intimidating, but you don't need expert negotiating skills. Thirty-one percent of the in-store shoppers who negotiated said they simply asked for a better deal.
It can be helpful to come in armed with competitors' prices. And if you can't get a break on price, ask for something else. For instance, Karen Jaffe, a manager in Consumer Reports' survey research department, notes that 57 percent of shoppers who negotiated for a free warranty or warranty extension were successful. "So it's always worth trying to haggle," she says, "and more often than not you'll have some level of success."
Pick Your Priorities
A steep discount on a high-end set can still have you spending $1,500 or more. Even if that fits in with your budget, you won't know if it's a worthwhile purchase until you decide what you're looking for in a television.
Would you rather skimp a bit on picture quality to buy a set with a bigger screen, or get the best possible picture on a smaller set? Do you plan to use an external sound system or sound-bar speaker? If you do, don't pay extra for a TV with great sound.
The viewing angle is especially important if you plan to invite friends to watch movies or sports with you. The wider the viewing angle, the better the picture looks for anyone sitting off-center.
These decisions can help you use our ratings more effectively. Not all of the columns, which cover different features and tests, matter as much to all people.
Don't Be Afraid to Go Big
Bigger screens tend to take a bigger bite out of your budget, but not as much as they used to. Prices for TVs in the 55- to 65-inch range have dropped considerably. You can still spend $3,000 or more for a 65-inch set, but there are also models that size that deliver a satisfying experience for $700 or even a bit less.
If you have the room for it, a mega-screen TV can be inspiring, really showcasing your favorite movies and TV shows. Just make sure that the seating distance from the TV puts the whole image comfortably within view.
The TVs in our ratings are divided by screen size because this is such an important factor for most shoppers.
Consult Our HDR Scores
A majority of the models in our ratings can deliver a satisfying TV-watching experience, but there are some clear differences between the top-performing models and those in the middle of the pack. And right now, the biggest differentiator in performance is HDR, or high dynamic range. Among TVs that support HDR, the more expensive models tend to do better.
"When done well, HDR represents a more natural illumination of image content," says Claudio Ciacci, who heads up TV testing at Consumer Reports. "That includes the TV's ability to retain the vibrancy of colors as a scene gets brighter."
TVs with good HDR performance can display finer gradations from black to white. You'll see more nuanced detail in the shadows of dark scenes—such as nighttime in a garden—that otherwise might just look black. And you'll be able to discern more detail in bright scenes, such as a daytime sky with both the sun and clouds. The best HDR TVs have high peak brightness levels that can deliver more realistic "specular highlights," such as the sun glinting off a truck's chrome bumper. The result looks more like what we see in real life.
The TV show or movie you're watching has to be shot and transmitted to your set in HDR for this feature to work. (If you're streaming a movie, you'll usually see a flag on the title that lets you know it's in 4K HDR.) There's a growing selection of this content available, especially from streaming services such as Amazon and Netflix, and on 4K Ultra HD Blu-ray discs.
But not all TVs that tout HDR do a great job presenting these images in all their lifelike glory. That's why you'll find a separate HDR evaluation our ratings (available to members), which is included as part of our detailed test results. On a TV that lacks sufficient brightness, HDR movies don't look much different from TVs that lack the capability entirely.
Factor In Sound Quality
A TV's sound is an afterthought for many shoppers, but a set with satisfying sound can add visceral excitement to what you see on screen. After all, a movie's soundtrack often gets as much loving attention as any other part of the production.
Further, if your new TV has Bluetooth, like an increasing number of sets, you may want to use it to play music beamed from a phone or tablet.
After years of declining sound quality—a consequence of ever-slimming TV profiles—we're starting to see improvements.
These days, a number of sets in our ratings have Very Good or even Excellent sound quality, especially if you're looking for a larger TV. But most TVs, especially smaller sets, still produce mediocre sound.
There's an easy remedy for a TV with so-so audio: a sound-bar speaker. Anyone can look through CR's sound-bar buying guide to get more info, and members can use our sound-bar speaker ratings to find the right model for their needs and budget.

Money-Saving Tactics
Use price and coupon tools:
You don't have to go retailer-by-retailer to compare prices. Try Google Shopping, plus services such as NexTag, PriceGrabber, Pricewatch, and Shopzilla. In the store, apps such as BuyVia, ShopSavvy, and Shopular let you scan bar codes to compare prices, get discounts, and score coupons.
Sign up for store loyalty programs:
This will get you members-only alerts for sales and promotions, and help you earn rewards if you buy.
Avoid pricey accessories:
You've just scored an awesome giant-screen 4K TV at an all-time low price, so don't blow your savings by splurging on pricey accessories. If you know you'll need an HDMI cable, for instance, buy it in advance from an online retailer.
Check store policies in advance:
Some retailers may suspend price-match guarantees or return policies on some Black Friday deals.
'Look-alike' TVs:
Samsung's UN55MU6290, launched in September 2017, was a "derivative" TV based on the UN55MU6300. (We tracked both models in the pricing graph, above.) The derivative was cheaper, but the two sets performed almost identically in CR testing, with Excellent HD picture quality, Very Good UHD performance, and Very Good sound. (The pricier MU6300 had a more sophisticated remote, voice control, and Bluetooth.) The price difference? About $170.
Television Terminology
When it comes to buying a new TV, it's not easy keeping track of the sometimes confusing terminology. From 4k to OLED, Consumer Reports' expert, Jim Willcox, explains to 'Consumer 101' TV show host, Jack Rico, what consumers need to know.
Editor's Note: This article also appeared in the November 2018 issue of Consumer Reports magazine.