When you shop through retailer links on our site, we may earn affiliate commissions. 100% of the fees we collect are used to support our nonprofit mission.
Learn more.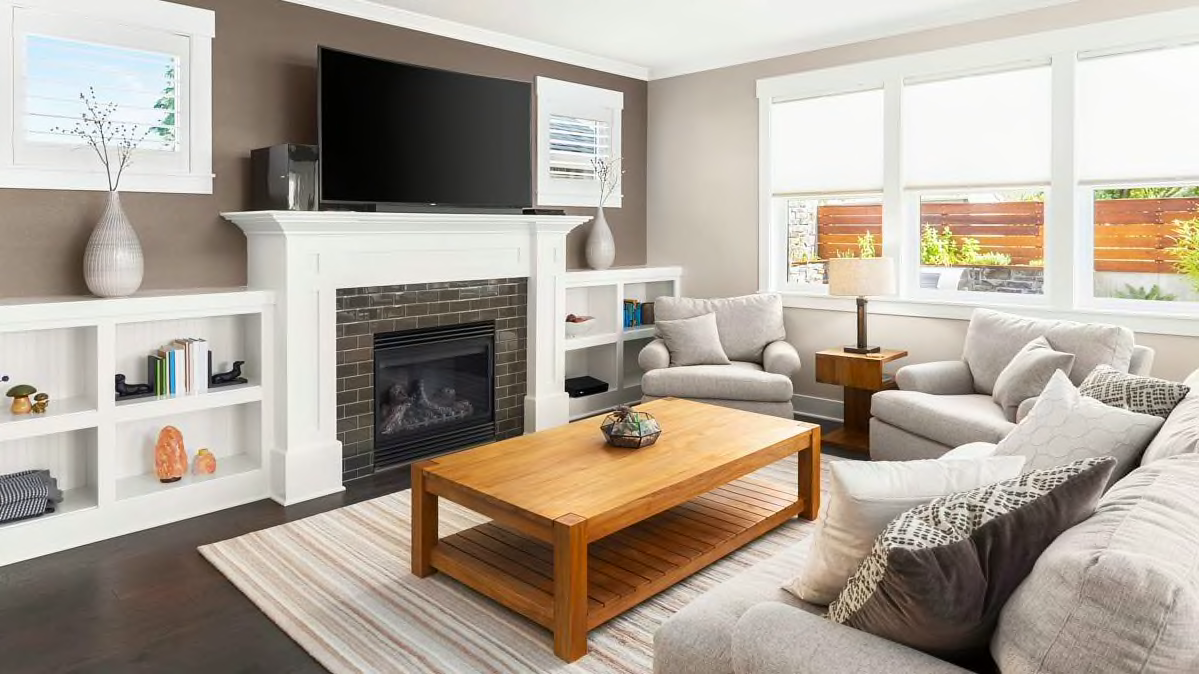 If you love jumbo TVs but not their big prices, here's some good news: You don't have to pay a fortune to get a great 4K model.
A quick look at Consumer Reports' ratings of more than 200 TVs shows that the top-performing 65-inch sets typically cost $2,000 or more.
But dig a bit deeper and you'll see that many larger sets that aren't quite as expensive still do pretty well in our ratings. That's where you can find some big-screen TV bargains that deliver a satisfying balance of performance and price.
Here are five big sets available right now that cost $1,000 or less.
LG 65SM8600AUA
Okay, we cheated a bit; this warehouse club model tips the price scale at a bit over $1,000. But we expect its price to drop relatively soon. It does a great job with high-definition and 4K content, but don't expect top-notch HDR (high dynamic range) performance. It does have better-than-average sound, plus a wider-than-average viewing angle.
The LG 65SM8600AUA—in the company's step-up line of "NanoCell" sets that replaced last year's Super UHD models—is a smart TV that includes the brand's ThinQ voice-enabled artificial intelligence platform as well as compatibility with Amazon Alexa and Google Assistant.
Samsung UN65RU8000
Samsung sets have typically done well in our ratings, and this 65-inch 4K smart TV is no exception. Like the LG above, it delivers satisfying picture quality in all aspects except HDR performance. It also has better-than-average sound.
The Samsung UN65RU8000—the successor to last year's Samsung UN65NU8000—is in Samsung's mainstream 4K series for 2019. It has Samsung's smart-TV platform, which includes the company's own Bixby AI-powered digital voice assistant, as well as compatibility with Amazon Alexa and Google Assistant.
TCL 65R615
This 6-Series 4K Roku TV model from TCL, in the company's top series for 2018, delivers a lot for the money. In fact, when you consider the set's high marks for high-def and UHD picture quality, it was arguably one of the best 4K TV deals of last year. It's also the only model in this group that delivers a compelling HDR experience, unusual in this price range.
The TCL R615 models are Best Buy exclusives and are currently selling for less than $750. They're almost identical to the R617 sets sold elsewhere (see below), but the R617 models come with a voice-enabled Roku remote and cost about $50 more. This model may not be around much longer; TCL just announced a replacement for it.
TCL 65R617
This 65-inch 4K UHD smart TV from TCL is a great buy. It's similar to the 65R615 TV above except it comes with a voice-enabled Roku remote and sells for a bit more. It performs very similarly to the model above, but its HDR performance was just a notch below that set's, though still quite good. (The TV supports both the HDR10 and Dolby Vision HDR formats.) And while the set above is a Best Buy exclusive, TCL 65R617 TVs are sold at several retailers. However, this is a 2018 television and supplies appear to be dwindling.
Samsung UN65RU7300
This 65-inch 4K UHD smart TV from Samsung sits in the company's entry-level 4K series for 2019. It's a good bet for buyers on a budget looking for satisfying overall picture quality and can live with less-than-stellar HDR performance. It has better-than-average sound.
The Samsung UN65RU7300 uses Samsung's smart TV platform, plus its Bixby digital voice assistant, which works with other Bixby and SmartThings-enabled devices. It's also compatible with Google Home and Amazon Alexa voice assistants. (If you come across the Samsung UN65RU7100, that's essentially the same set, but the 7300 version has a curved screen.)